Garmin Marq: A Sports Watch with a Luxury Build
With a new line of premium watches, Garmin aims upmarket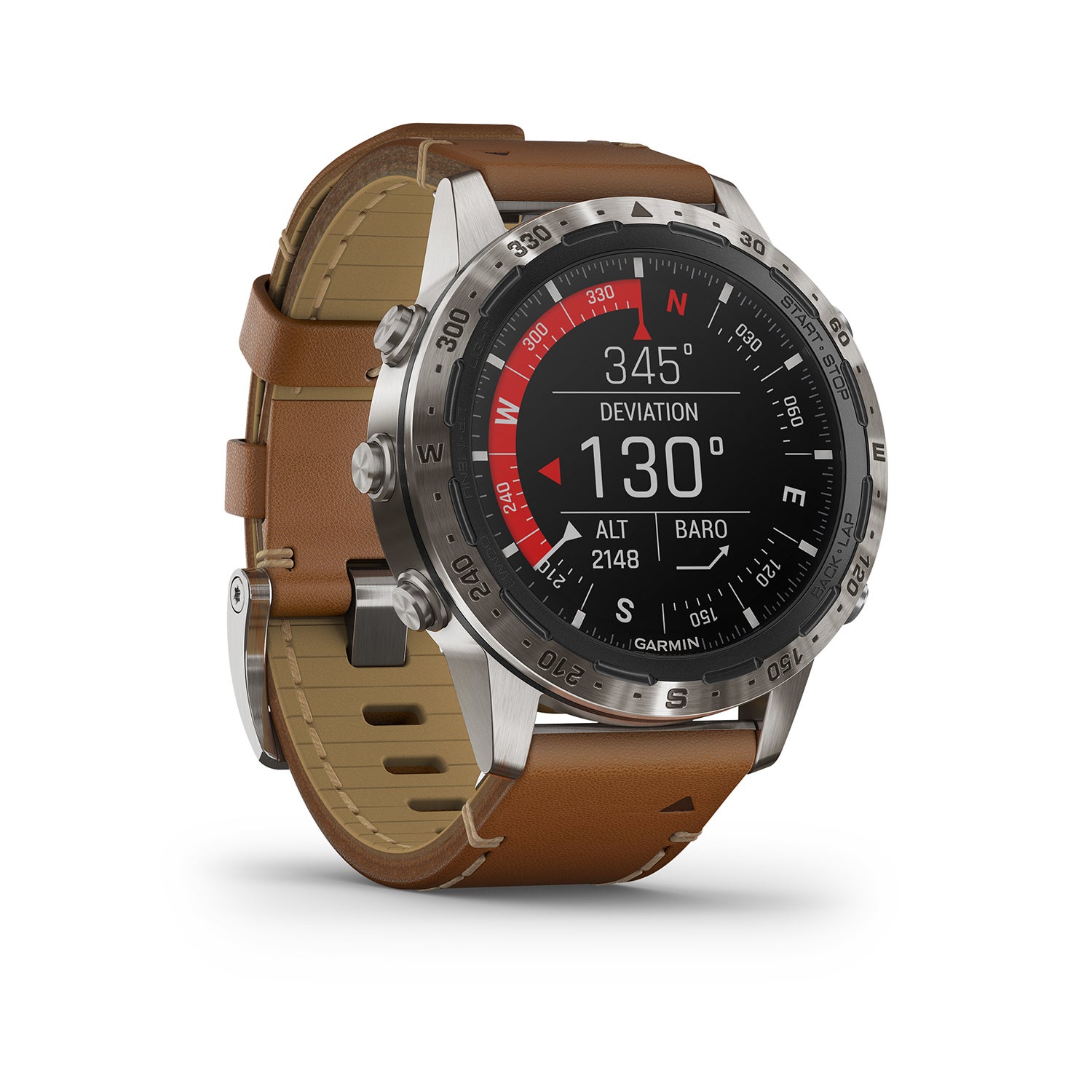 Courtesy Garmin(Photo)
Heading out the door? Read this article on the new Outside+ app available now on iOS devices for members! Download the app.
To paraphrase Mark Twain, rumors of the luxury watch's demise are greatly exaggerated.
Consider the recent attempts by several digital- and smartwatch makers to tap into the je-ne-sais-quoi magic of traditional high-end timepieces: an Apple Watch with an Hermès leather strap, for example, or a solid gold Casio G-Shock. But it's not just a one-way street. Alpina, Breitling, and TAG Heuer, all old names in the luxury-watch space, have released their own connected watches that retain the materials, build quality, and prices of their classic offerings. Clearly these brands all feel that consumers still want luxury even in products that are largely designed for obsolescence. Now Garmin gets in on the game with a new line of distinctly high-end watches that target specific groups of affluent buyers.
Garmin gained its cutting-edge reputation in the early days of GPS products, with its first customer being none other than the U.S. Army in the 1990s. Since then, the company has expanded from handheld GPS devices to everything from car navigation to aircraft systems, to bike computers, to perhaps its most widely known offering: connected wristwatches. Garmin has become a leader in this field, and if you show up at any bike, ski, or running event or trailhead, you'll likely see Garmins on most wrists. Garmin's watches bristle with technology—notifications, heart-rate monitoring, activity-specific tracking, and color GPS screens—appealing to the athlete-geek who likes to slice and dice their workout data. But to date, the brand has aesthetically been on the—shall we charitably say—sporty side: oversized and black with long elastomer straps. The new Marq line aims to change that and appeal to a new audience, one that might want to wear a high-tech watch beyond the weekend.
There are five Marq watches, each crafted with different features and design cues aimed at a specific sport: the Aviator for pilots, the Driver for car enthusiasts, the Captain for sailors, the Athlete for endurance junkies, and the Expedition for hikers and mountaineers. All of the watches feature a set of standard features, including an always-on, sunlight-readable display with GPS, built-in music storage, notifications, daily activity tracking, a wrist-based heart-rate monitor, and a wrist-based pulse oximeter. From there, each differs in its sport-specific offerings. For example, the Driver has information from 250 of the world's best-known race tracks that allows for live lap splits, average speed calculations, and race timing. The Aviator offers aviation maps, Nexrad weather radar, airport information, and Garmin cockpit integration. And the Expedition allows for remote control of Garmin's InReach Mini GPS device, which allows messaging from anywhere on the planet.
In addition to these specialized features, the watches also stand apart in their design and materials. Their cases are made from light, corrosion-resistant titanium and look distinctly like luxury watches from the likes of Omega or TAG Heuer, with angled strap horns and sleek ceramic bezels. The straps are designed for each watch's intended activity, in both spirit and function—the Captain has a water-repelling jacquard fabric strap woven in France, while the Driver's titanium band has a soft inner silicone lining. In other words, these watches wouldn't look out of place in a boardroom, albeit not easily sliding under a shirtsleeve, but with the added bonus of built-in bragging rights about the weekend's adventures.
The Marq watches have only just launched, coincidentally (or not) just ahead of Baselworld, the biggest Swiss watch trade show. A few years ago, Garmin rival Suunto tried a similar strategy with its Elementum line aimed at sailors, divers, and hikers, with swanky straps and sapphire crystals. But those more primitive digital watches never quite caught on and frustratingly left off some key features in favor of sport-specific ones. Perhaps they came a few years too early, before the age of feature-packed smartwatches. Garmin is banking on a generation of well-heeled weekend warriors who want it all—the functionality of a connected watch, sport-specific features for their diversions, and the design and quality of a luxury timepiece.
So will the Marq series be a hit for Garmin? Will the company's existing clientele pony up $1,500 (Athlete) to $2,500 (Driver) for a premium connected watch? Have those who already own luxury watches been waiting for a timepiece that does all the things the Marq does while also possessing cred among the horological cognoscenti? Garmin hopes so and has invested a lot in the faith that they will. Time will tell.
We're at an interesting point in watch history, where people want bleeding-edge functionality but aren't quite ready to abandon well-made things that last for generations. Watch companies haven't entirely figured out how to marry these ideas, but it sure keeps those of us who follow the industry busy and entertained.
Lead Photo: Courtesy Garmin