Sponsor Content: Fjällräven
Nobody Takes Pants as Seriously as Fjällräven
The Swedish apparel brand has a tough pair of trousers—or tights—for every trail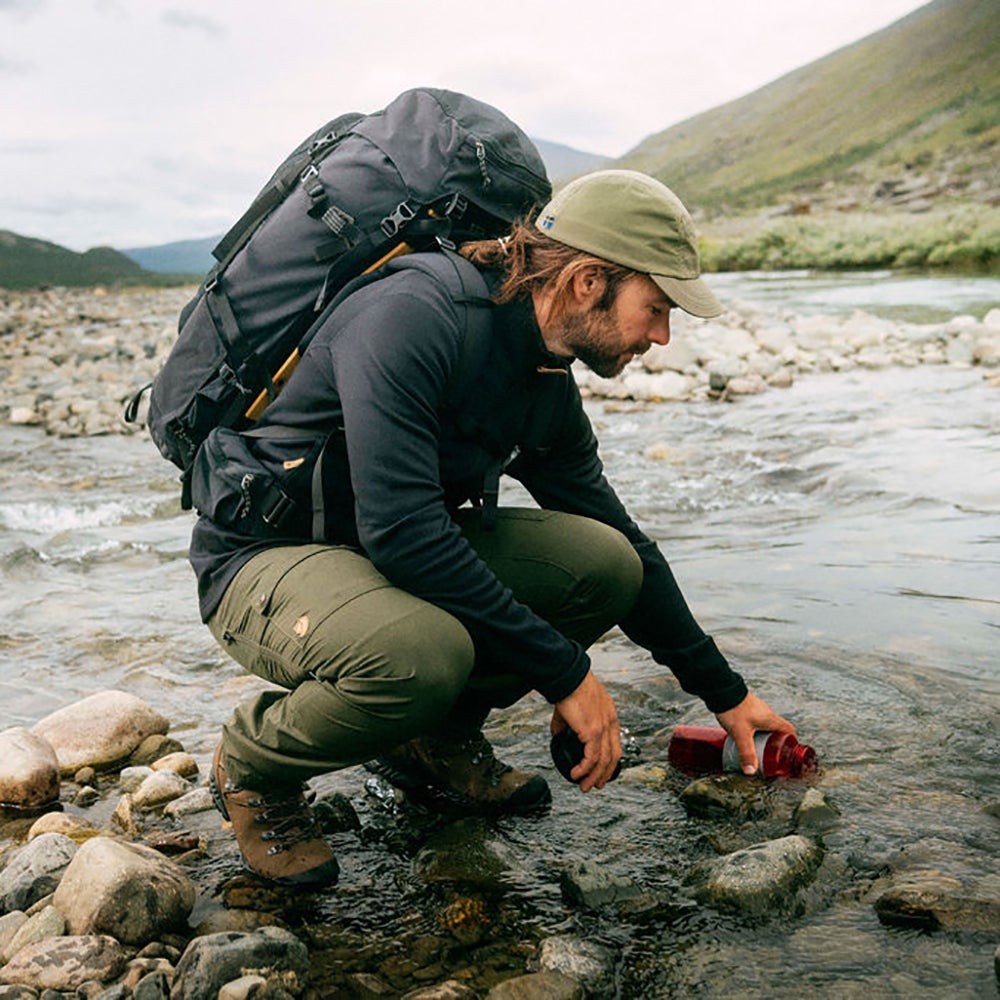 When it comes to choosing the right outdoor gear for your adventures, chances are pants won't top your list of critical equipment. Pants are pants are pants, right? Not so, say the Swedes, whose rugged yet comfortable trousers are revered by trekkers, climbers, and outdoorsy folks around the world. At the forefront of tough trouser design, Swedish outfit Fjällräven has a line of pants (and now tights) that are both bomber and built to move in.
The Mighty Minimalist
Abisko Trail Tight | $150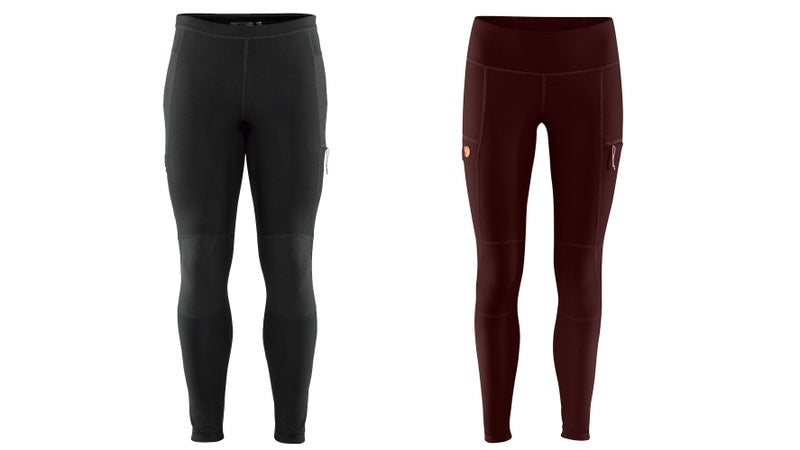 Fjällräven's Curved Fit
Got shapes to your shape? Fjällräven's Curved Fit options for women are roomier at the seat and thighs and include stretch paneling below the waistband, which sits higher than standard cuts. Snaps and straps are left off the ankle cuffs to allow for custom length tailoring. Available in the Keb (available in May) and Nikka Trousers.

Why They're Tough: At first glance, the new Abisko Trail Tight looks like a standard four-way stretch legging cut from a breathable fabric. But upon closer inspection, it's clear these tights were built for much more than mild stretching and neighborhood jogs. For starters, they have pockets—yes, pockets—for snacks or keys or lip balm. An abrasion-resistant ceramic printing in the seat and knees really ups these tights' trailworthiness.

Field Test: Fjällräven product designer Elísabet Elfa has been testing the Abisko Trail Tight for two years. She raves about their versatility. On cool, wet-weather treks, she'll wear them under a rain shell until the sun comes out. On longer trad-climbing routes, she'll just go with the tights. And in winter, she'll wear a silk base layer under them while cross-country skiing or running on packed snow. "I'm originally from Iceland, where the weather can change dramatically in two minutes," says Elfa. "I like adaptable clothing."
---
The Breathable Bushwhacker
Abisko Lite Trekking Trouser | $190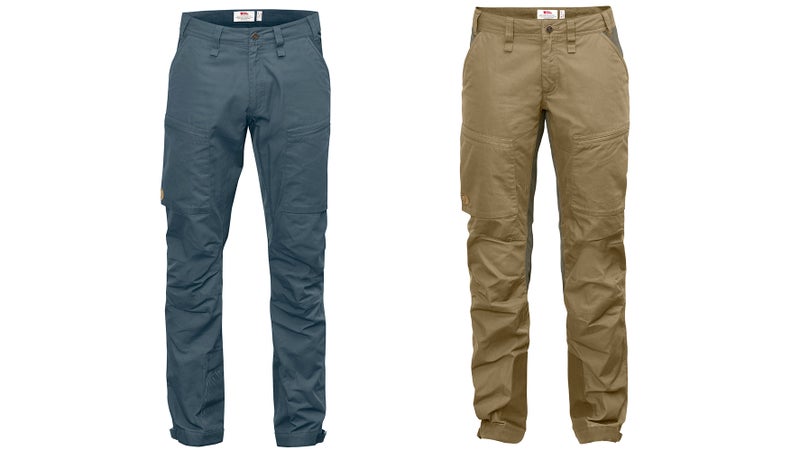 Why They're Tough: In warm weather and on gentle terrain, shorts work just fine. But if you're into fending off brush while bushwhacking, scree when scrambling, and bugs when marsh slogging, you need a mobile pant that can offer some protection without causing overheating. That's the Abisko Lite, which is cut from Fjällräven's proprietary G-1000 Lite canvas fabric, features the brand's famed knee articulation, includes bootlace hooks to seal out nasties, and offers two extended zippered vents to dump extra heat.
Field Test: Brian Ireland, Fjällräven's North American director of product and merchandising, says the Abisko Lites are his go-to pants ­­­for summer treks in the Sierra Nevada. They're also the only pants he brought on last year's Fjällräven Classic, a burly through-trek that wended across Colorado's rugged high country from Montezuma to Copper Mountain. "They're super hard-wearing," says Ireland. "I know I'm not going to blow out my pant on the trail."
---
The Tough-as-Nails Trekker
Keb Trouser | $225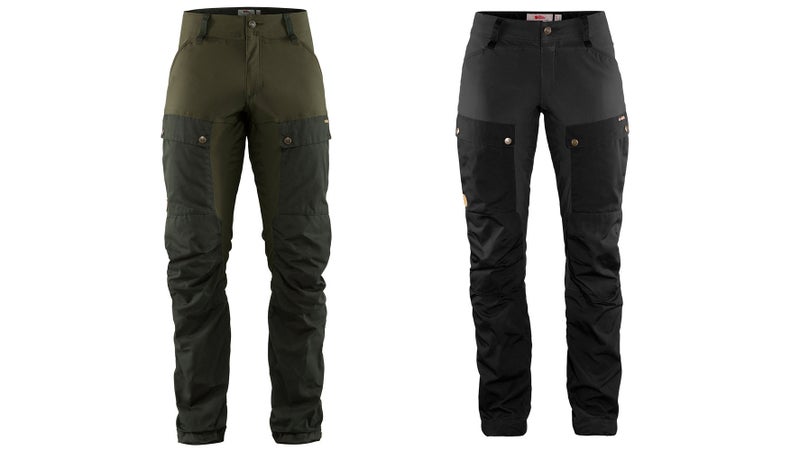 Why They're Tough: The Keb Trouser features burly G-1000 Eco waxable canvas that's both articulated in the tailoring and paired with four-way stretch fabric in the saddle for maximum mobility. Reinforcements in the seat and knees, along with multiple pockets for maps, tools, and gear, make them mountain worthy. A combination of features like extended thigh vents, slots for kneepads, and closures at the ankle let you transform them from beefy to super beefy, as befits the outing.
Field Test: Donnie Vincent is a wildlife filmmaker and Keb Trouser fan from Wisconsin. He knew the Keb would be tough enough for his home woods but worried that the bombproof canvas might be overkill for a recent off-trail trip to Mexico. He was wrong. "I thought the canvas would drag me down in sweat, but it wasn't like that. They never felt sweaty," says Vincent. "And back home, I wore them all winter with a base layer out snowshoeing in the polar vortex."
---
The Adaptable All-Arounder
Vidda Pro Trouser | $150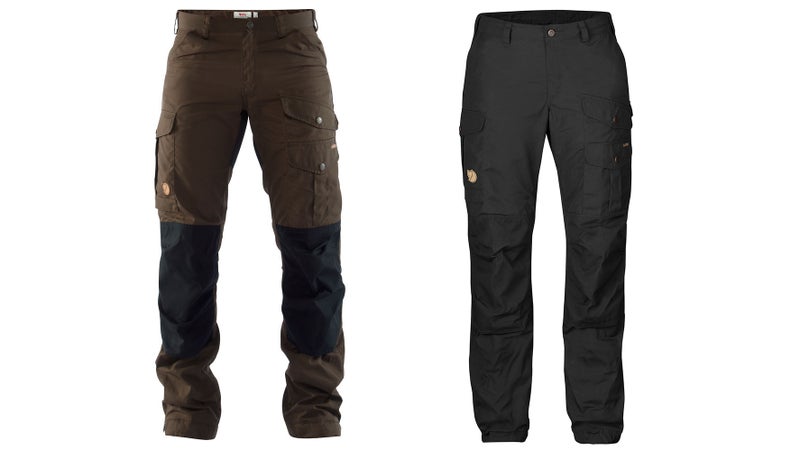 Why They're Tough: Perhaps Fjällräven's most versatile, hard-wearing trail pants, the Vidda Pro Trousers are cut from durable G-1000 fabric and feature pre-shaped knees for maximum mobility. Six pockets make them more than trail worthy, and closures at the ankle—plus the option to slip in pads at the knee—means you can take them anywhere the Keb can go.
Field Test: Jordon Griffler, Fjällräven's Boulder, Colorado, store manager, first saw the Vidda Pro ten years ago while trekking in South America at El Chaltén. Nearly all the trekkers were wearing Fjällräven, in fact, but the Vidda Pro Trousers stood out. "They're tough enough to trek in year-round, but I find that arborists and construction workers also love them," says Griffler. "They come in with years of use and ask for little repairs. I get it—the Viddas only feel better the longer you own them. They break in; they don't break down."
Trending on Outside Online