Colorado's Singletrack Wars
Since 2011, a venomous battle has been waged over the two-wheeled soul of Nederland, Colorado (population 1,500). On the one side: locals who ride the trails every day. On the other: people from down canyon in Boulder (population 107,000) who mostly ride them on weekends.
Heading out the door? Read this article on the new Outside+ app available now on iOS devices for members! Download the app.
Josh Harrod pedals through his hometown at a child's pace, savoring the autumn emptiness and crisp air at 8,200 feet. It's early October in Nederland, a last bastion of Front Range freedom located 13 miles west of Boulder, which might as well be New York City as far as local Nedheads like Harrod are concerned. Theirs is a place where residents go door to door asking if anyone needs firewood, and where locals fought the idea of putting sidewalks on their dirt roads. There's a co-op grocery and funky boutiques and the only chain is Ace Hardware. About 1,500 people live in the city limits, but the broader population extends five miles in any direction and totals around 7,500. "The reason I moved up here 20 years ago is because it wasn't Boulder," Harrod says. "You could go out and get lost in the woods."
Harrod, 47, has graying stubble and is wearing a plaid, collared shirt for our mellow weekday jaunt. We met that morning at Tin Shed Sports, a local shop where he works as a bike and ski tech. Tin Shed also serves as unofficial headquarters of the Nederland Area Trails Organization, an advocacy group that Harrod cofounded. The organization has no paid membership but counts about 200 people on its e-mail list as well as $2,000 in donations in the bank and $1,000 in tools that Harrod, NATO's president, stores in his garage.
Five minutes into our ride, Harrod turns onto a trail called Sugar Magnolia. Known as Sugar Mag, or High Fructose Mag to locals, the boulder-strewn singletrack used to be a steep, ripping connector from downtown Nederland to West Magnolia's broader trail network on the southwest side of town. One day in the spring of 2011, Harrod was riding home from work when he found the trail flagged for a reroute. Two days later, a new trail had been cut adjacent to the original. Some of it had been machine graded into a four-foot-wide path with none of the technical challenge that defined the prior route. Locals soon learned that the work had been completed by, among others, the Boulder Mountainbike Alliance (BMA), an advocacy organization that made its name fighting for trails around its home city. This struck them as strange and more than mildly infuriating. Why would a group headquartered a half-hour east and 3,000 feet lower be messing with their backyard?
The answer was complicated. Despite the seemingly sudden intrusion, BMA had been working on trails in West Magnolia since 2004, soon after the U.S. Forest Service published a travel management plan that indicated Sugar Mag crossed private property and was too steep in places. Rerouting Sugar Mag had been on the docket for years, but almost nobody in Nederland knew about it, which is where the strife began. The 2011 work served as an appetizer of sorts for a broader undertaking that became known as the Magnolia Non-Motorized Trails Project, a Forest Service–approved overhaul of the entire network.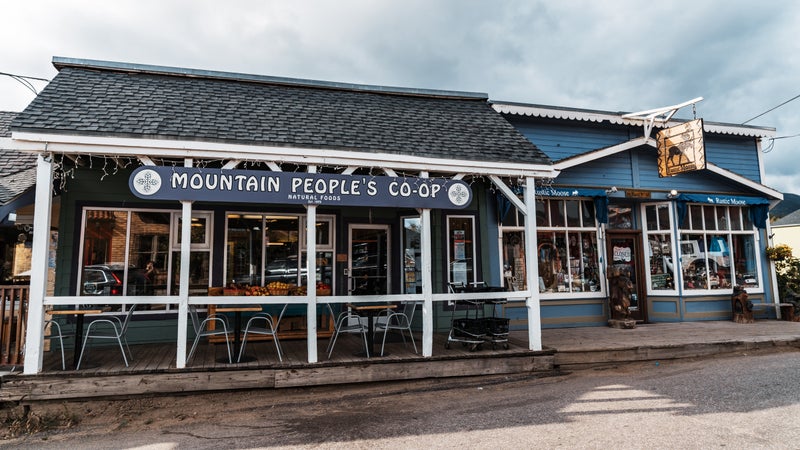 Until recently, the Nederland system included more than 60 miles of singletrack, mostly trails that locals had built ad hoc over a period of decades. Only about 16 miles were considered legal by the Forest Service, which is where things got sticky. BMA drafted a master plan in 2014 that inventoried all the unofficial trails, many of which were subsequently marked for obliteration, including some that locals had been riding for years. BMA claims its goal is to expand the network—bringing it up to 44 miles of system trails—and generally make it more rideable, smoothing out technical features and widening certain sections of singletrack close to town, for example. Nedheads contend that the organization is overstepping its bounds and should focus on its own backyard. But since the trails are all on federal land and part of Boulder County, they fall under BMA's purview.
The genesis of the conflict can be traced back a decade, when forest transients were Nederland's biggest problem; they often set up camp in the middle of trails or used the singletrack as their bathroom. There were knife fights, rampant drug use and methamphetamine production and discarded needles, unattended campfires, burning diapers, and massive amounts of trash and human waste. Regular law-enforcement patrols helped clean that up, as did a proliferation of bike trails, which brought a lot more people than had ridden there before.
Despite their positive impacts, the increase in singletrack and crowds also created problems. Eventually, it boiled into the rarest kind of mountain-bike-access dispute, wherein two groups of riders (as opposed to, say, cyclists clashing with hikers) battled for control of the same trails. The situation included threats of physical harm and cloak-and-dagger tactics to undermine each other's efforts. 
"I don't know if people are missing this or just don't want to see it," says Corey Keizer, 41, a member of BMA and NATO who lives in Boulder and is close friends with a lot of riders in Ned. "But the crux of the issue is that people in Boulder feel like Nederland is theirs. And it's not."
"If I moved to Nederland tomorrow, would my opinion suddenly be more valuable?" counters Jason Vogel, a longtime BMA board member and its former president. "Every time I hear someone from Nederland say, 'These are our trails, it's our backyard, so we should have more of a say than you do in what goes on here,' it just rubs me the wrong way." 
---
There probably wouldn't be a problem if Boulder didn't have some of the worst mountain-bike access for a supposed outdoor mecca in America. It was the first U.S. city to ban mountain bikes, in 1983, and any local will tell you the allotment of bike-legal trails remains laughably small. BMA was founded in 1991 as the Boulder Offroad Alliance to combat the closure of Boulder's trails to bikes. It now has more than 1,000 members, which is still a fraction of the nearly 40,000 mountain bikers around Boulder who want somewhere to ride.
Despite BMA's influence as the most powerful fat-tire advocate in the region, it still doesn't trump the established guard in Boulder, which is decidedly hiker first. Time and again through the years, local mountain bikers have encountered a wall of resistance when they've tried to expand access anywhere close to their homes.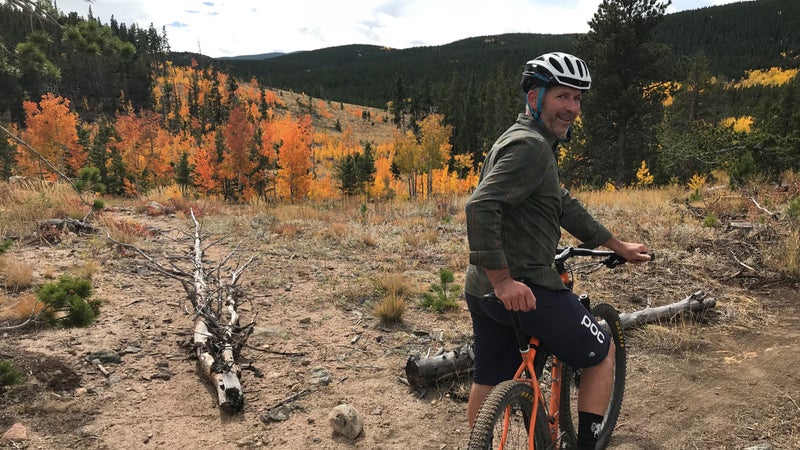 Nederland, meanwhile, has long held tight to a ripping trail system accessible from town, primarily in West Magnolia, a.k.a. West Mag. Locals started building singletrack in the late 1980s, and they added to it in the early and mid-1990s, often duct-taping rakes to their chainstays and dragging trails into shape. Maintenance happened organically; everyone pitched in. But problems arose when word began to trickle downhill.
An hourly bus between Nederland and Boulder served as a pipeline of sorts for new riders to discover the bounty of singletrack around town. It wasn't uncommon for Nederland locals who worked in Boulder to ride two hours of trail to work then take the bus home, as current Nederland mayor Kris Larsen, a research scientist at the University of Colorado, often does. Harrod did that too for a spell before taking a job at Tin Shed when it opened in 2012. "The trails," Harrod says, "are the reason this shop happened."
"There's a ruggedness to them, a backcountry feel close to good restaurants and bars," adds Keizer. "That's been intentional."
But as anyone with a secret stash knows, once the door opens, it can be hard to close. Awareness of the network spread as Boulder grew. Outsiders poked around West Mag and got to know its nooks and crannies. This included Vogel, a 40-year-old Austin, Texas, transplant who might be public enemy number one to Nederland riders—a distinction he doesn't exactly run from. "The only reason why BMA knows about social trails is because I like to explore in the woods, and I happen to be BMA's main advocacy guy," Vogel told me the first time we spoke.
Vogel, who's been riding West Mag for more than a decade and built the kiosk at the trailhead, also started a bike patrol to crack down on the transients who were shouting at cyclists. He believes that Ned locals' claims are outdated and driven by NIMBYism. "The West Mag area is discovered. Like, these aren't your hidden trails anymore," he says. "They haven't been hidden since the Forest Service did their first travel-management plan in 2003. That put them on the map. Latitude 40 had them on their map, all the map companies have these trails on their maps."
Longtime local John Colton, who has been riding Nederland's trails since the mid-eighties, has heard that stance before. "Please look at it from our point of view," he says. "There wasn't a problem. You coming up and building a system is creating a problem for us." 
---
The Magnolia Non-Motorized Trails Project overcame numerous hurdles on its way to approval. They included a massive 2013 flood and 2014 wildfire, to say nothing of the social dynamics simmering under the surface.
One might think that a forest in distress would coalesce two groups of like-minded recreationists. Instead, with few exceptions, BMA and NATO got along like battering rams. There's a saying in access disputes: if you're not at the table, you're on the menu. And as Nederland residents continued to find trails that had been flagged for reroutes without their input, they wondered what was going on behind the scenes. So in 2013, they filed a Freedom of Information Act request with the Forest Service and learned that then BMA president Vogel had been sending condescending e-mails about NATO to the grand overseer—Boulder's district ranger, Sylvia Clark. In one, Vogel wrote: "Will NATO be an effective partner in managing the forest? Once I've had a chance to feel them out, I will report back and let you know how I personally see the situation evolving." He asked Clark to keep their exchanges confidential, but the FOIA request resulted in NATO seeing everything he'd written.
"I didn't mean it to be some underhanded maneuver to discredit them," Vogel says now, "but I can totally see how they would be like, That asshole was talking behind our backs the whole time."
As anyone with a secret stash knows, once the door opens, it can be hard to close.
A furious Nederland local sent a threatening Facebook message to BMA's executive director at the time, Steve Watts. "You fucking losers stay away from the Nederland woods and trails or you are going to have some bigger problems on your back." Watts reported it to the police. The local apologized two hours later for his "idle threat."
Still, the bad blood festered. A garage band in Ned wrote a song called "Trail Vultures," in reference to BMA. Tin Shed installed a large map outside its entry showing "trails to be obliterated" and refuting BMA's claim that it is helping to build a new 44-mile network.
The Forest Service is stuck playing referee, but the agency doesn't seem to mind. "We think projects like this benefit from having different opinions," Boulder Ranger District spokesperson Reid Armstrong says.
Implementation of the Magnolia project began in the summer of 2017. That September a beloved ribbon of singletrack called Aspen Alley was demolished and replaced with a much wider, more basic trail. Harrod calls that loss "the biggest blow." Ironically, BMA had included footage of people charging down the old Aspen Alley in a fundraising video—which ultimately helped to pay for the trail's destruction.
NATO members believe BMA's machine-built trails are incompatible with the area's rugged character. "People come to Nederland because it's different," Harrod says. "This has made stuff far easier." BMA leaders point out that the trails closest to trailheads are designed to be more attainable and that many of the "more desirable" trails in West Mag won't be completed for a decade.
"Look, we need to be able to take people up to the forest, because we have such capacity issues in Boulder. And we need for them to not get in over their heads," says BMA President Marcus Popetz. "In a perfect world, if there was a trail that could be built three minutes away from Boulder, yeah, I'd do that, because then I wouldn't have to drive my car. But since there's not, your emotional attachment to these trails doesn't trump the fact that I have tens of thousands of mountain bikers who would like to use a resource that they own."
---
We reach the top of High Fructose Mag, and Harrod turns onto Supervü, a newly built, NATO-named trail with a stunning panorama. We snake down the new Aspen Alley—much wider than the original, with whoop-de-do jumps—and make our way over to Hobbit Two and Three, where BMA's machines are working to expand and smooth the trail. Harrod harrumphs and decides to turn around before encountering any workers. "I see West Mag as our sacrifice area," he sighs, adding that he doesn't tell anyone about his secret trails now.
So far only five miles of trail has been eliminated, with the same amount added or rebuilt. But everyone knows more is coming. People are dealing with that in different ways.
"On one side, I'm trying to tell my guys in Ned, Change is going to happen, so you can sit here and put a stake in the ground and try to fight it for as long as you can, but eventually that stake is going to come up and get moved," Corey Keizer, BMA and NATO member, says. "Or you can be the force that steers that change."
Not everyone in Nederland is against BMA. Mayor Larsen, 43, who was born and raised in Boulder, believes it is "doing really good work" and that denying the inevitability of change is "not realistic" due to the Front Range's growth.
"Your emotional attachment to these trails doesn't trump the fact that I have tens of thousands of mountain bikers who would like to use a resource that they own."
Despite their disagreement over whether an opinion should count more if someone lives three or 30 minutes away, leaders of BMA and NATO meet and discuss plans now, a prospect that would've been laughable two years ago. "It's not great," Popetz says, "but we do meet."
"Shared leadership is the wave of the future, as far as designing and implementing projects like this across our public lands," says the Forest Service's Armstrong. "That's not how we handled these projects historically. We would just make decisions."
Harrod and I continue to Hobbit One, then Re-Root, a popular legacy trail near West Magnolia Road. For all that has happened since he stumbled upon the Sugar Mag pin flags eight years ago, Harrod seems to have found a balance, albeit uncomfortable, between begrudging and accepting the changes.
That doesn't mean he forgives the principle, however. We hop onto a newly built section that he calls Bathroom View only half-jokingly. The trail initially was routed within 10 yards of a local residence, allowing riders a clear sight line into the house as they pedaled past. The owner begged the Forest Service and BMA to move it farther away, which they did. But Harrod still wonders why it was placed so close to a local's home to begin with, given the less intrusive options nearby. He shakes his head.  
"Just because you can," he says, "doesn't mean you should."
Lead Photo: Topher Donahue/Aurora