A Ski Area with No Chairlifts Is the Next Big Thing
Trolls thought I was friggin' nuts to propose a controlled backcountry ski area. But it's already happening.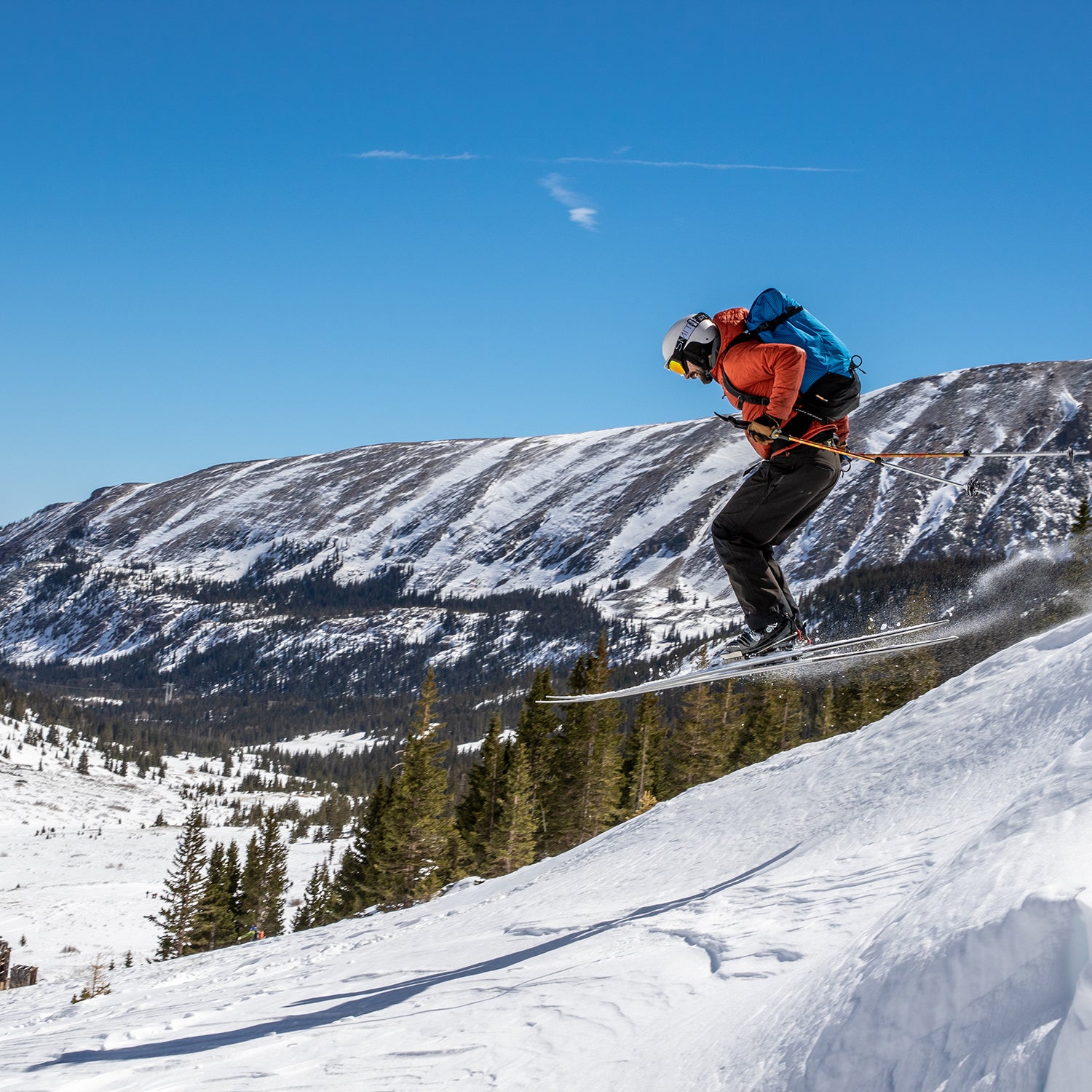 Scott Cody(Photo)
Heading out the door? Read this article on the new Outside+ app available now on iOS devices for members! Download the app.
Back in March, I made the case that skiing could benefit from a handful of backcountry ski areas that don't feature any lifts but offer gear rentals, educational opportunities, varied terrain, and—this was the controversial part—avalanche-mitigation work, including bombs. For those who actually read the piece as opposed to weighing in blindly on social (Russian bots), the conceit might have seemed pretty far out there, even for a mouthy and opinionated Masshole-bred blowhard like me.
Turns out it wasn't that much of a stretch. A few days after that column went up, Erik Lambert and Jeff Woodward, the cofounders of a new company called Bluebird Backcountry, reached out to let me know that they were gearing up for their first of several prototype sessions testing a backcountry ski-area concept eerily similar to the one I proposed—minus the bombing as of yet, but that's the dream scenario. A permanent home for the project has not been settled on, but over two March weekends on Mosquito Pass, Colorado, Bluebird took 100 skiers—it was all human powered—into the high country, where they tested everything from skin-track logistics (two parallel tracks make for easier instruction) to cost ($50 is the sweet spot for the amount of services rendered) to sustenance (they set up a skin-track bacon station and fried up ten pounds' worth to distract newbies from the uphill suffering). For this prototype event, Bluebird hired Colorado Mountain School guides to lead the groups. It wasn't a free-for-all.
Then, on April 10, Bluebird announced its next pop-up session, to be held April 27 and 28 on 200 acres at Colorado's Winter Park ski area after the resort closes for the season. Winter Park will be another test of the "in-bounds backcountry" model Bluebird is proving has merit.
To be clear, the Mosquito Pass and Winter Park events are just test runs: Bluebird's stated goal, though, is an "avalanche-controlled and ski-patrolled ski area that's 100-percent human powered." Lambert and Woodward, who have quietly been working on the endeavor for two and a half years, say their hope is to eventually offer backcountry skiing on multiple permanent sites throughout the U.S. "We believe the demand exists to have a number of locations across the country, and that U.S. ski culture will morph as a result," Lambert says. "Backcountry skiing is a cultural shift." 
Mosquito Pass was a proof-of-concept exercise that also helped them refine their approach. "What we were doing there was incredibly detailed observation," says Woodward, who has a background in the tech-startup world. "In addition to the guests, we had 25 volunteers taking notes on pain points and logistics. Of the 336 observations that we're now analyzing, we made 44 adaptations from day one to day four. We were learning what people are looking for."
Mosquito Pass was a natural choice for the prototyping session because of its terrain and proximity to Denver. But it might be primed to become a backcountry ski area for another reason: an existing, if long neglected, base structure. Beneath Mosquito Peak, an outfit dubbed North London Mill Preservation (NoLo) is currently restoring an old mill site on leased property, with the hopes of having a backcountry hut operational in the next two years. Before they got invested in the historic-preservation component of the site, which is now well underway, NoLo founders Jeff Crane and Kate McCoy had planned to run their own backcountry ski area, complete with avalanche control if it made sense. After collaborating with Bluebird, they're seeing another potential path forward.
"They have an idea, and they were looking for a place to test it," says Crane. "We have a place, but the idea of what it will become is changing. I think what we'll do is work with a variety of guides including Bluebird, Colorado Mountain School, Backcountry Babes, and the like."
NoLo and Bluebird—and, yeah, me—share a vision of opening up the sport of backcountry skiing and splitboarding to more users. Some of them might be newbies who don't have a mentor to ease their entry into the sport, others might be seasoned tourers looking to take kids or family out in mitigated terrain far from ski-resort infrastructure, still more might be recruited from the ground swell of resort uphillers, and others yet might be experts looking for a place to ski during high-hazard avalanche conditions in the more exposed backcountry.
Bluebird's Lambert draws an analogy to what indoor walls have done for climbing. "Until the gyms came along, there was no easy entry point for would-be climbers," he says. "If you didn't know somebody that climbed, you weren't going. Climbing needed safe places to go, creature comforts like toilets, and instruction on a basic level. That's where these backcountry ski areas come in. Backcountry skiing, though, is 30 years behind climbing."
All this is in keeping with a third push by the town of Aspen, Colorado, to shift itself to a human-powered hub for resort uphillers, mountain bikers, trail runners, nordic skiers, and traditional backcountry skiers, too. (Advocates have been in touch with Bluebird Backcountry as well.) The town has even gone so far as to build the Aspen Uphill Economy Recreation Plan to make those goals more tangible. "There's such a surge of folks that are interested in backcountry skiing now," says Kent Sharp, president of the SE Group, which consults with and devises strategies for ski areas and towns in their dealings with public land managers. "Part of that trend is great, part of it's terrifying. Nobody wants to see people in the backcountry who as of yet have no business there. It's even scarier to think of them following a buddy who isn't as experienced as he or she claimed. It's not an irretrievable commitment of resources to build such a place and see how it goes for a few years. You can remove the infrastructure in a few days, and you're right back to pristine national forest."
Judging by the photos, Bluebird's test of concept was a smashing success. An astounding 35 of the 100 guests were first-time backcountry skiers. And if the business model plays out as planned, with the possibility of including rentals and other services that nascent backcountry skiers might need, they believe the operation will be successful. "Our hope is not only to provide controlled places for this sport to grow," says Lambert, "but to revolutionize the educational flow of backcountry skiing, help new users understand the human factors involved, and develop a mountain sense. There will be some people that love the safe experience and return just for that. Others will use it as a stepping stone to get into the true backcountry. We recognize that backcountry skiing isn't for everyone, but it should be open to more people." 
And that (which you, dear reader, have long since gleaned, having actually read both of these stories) was exactly my point with that original column. But all this will be lost on the trolls that love to hate but hate to read.
If skiing in the backcountry interests you but, beyond taking your Avalanche 1 class, you don't know where to start, head to Bluebird Backcountry and fill out its survey (2,000 respondents and counting).
Lead Photo: Scott Cody
Trending on Outside Online