What's the Best Way to Keep Your Dog Safe in a Car?
Depending on the space you have and how far you're going, there are options
Chris O'Neill(Photo)
Heading out the door? Read this article on the new Outside+ app available now on iOS devices for members! Download the app.
My fiancée and I have two dogs: Lola, a six-year-old cocker spaniel, and Timber, a three-year-old golden retriever. They're our adventure companions, traveling with us in the car for camping trips over long weekends and quick jaunts to the trailhead for evening hikes. But cars are made for humans, so it takes extra effort to ensure my four-legged family members are properly restrained. In addition, when they aren't belted in, they like to climb all over the place, getting in the way and making the interior filthy in the process. "This is a big issue," says Lindsey Wolko, founder of the Center for Pet Safety. "We get numerous reports a year of pets injured in the car, along with reports of people injured by projectile pets in crashes." As a dog dad, here's how I keep my pets (and my sanity) safe while ferrying them around in my old Land Cruiser.
Hammocks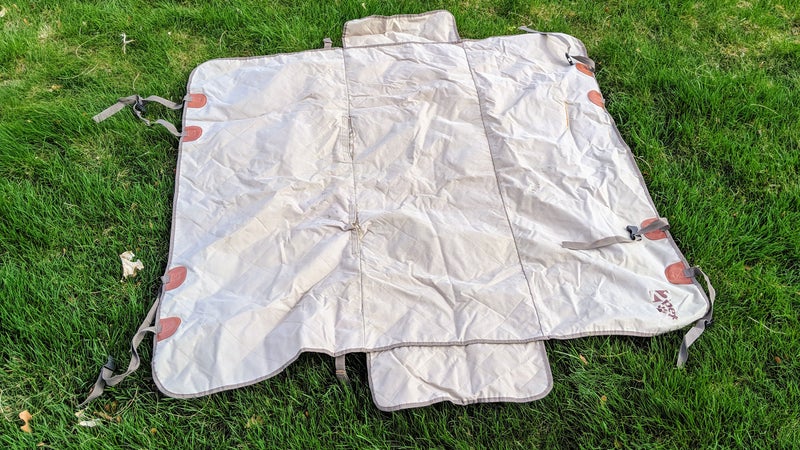 Pet "hammocks" are both cheap and extremely practical, not to mention they work in any vehicle's back seat. These are big squares of fabric—typically waterproof canvas—that drape over the second row, clipping around the back- and front-seat headrests to form a loose sling for the dogs to lie in. While it protects the seats from dirty paws and hair, it also blocks your dogs from poking their head between the front seats and keeps them from flying into the footwell or front passenger area during sudden stops. Wolko is quick to point out that it's important your hammock not slide around on your seat. "If you're using one that's too slick, it can pose a risk to the dog's ACL," she says. Our hammock has a nonslip back and works really well for Timber and Lola, who seldom ride in the car without it. Timber likes to climb down around the hammock to lay on the floor. (We call it his basement apartment.)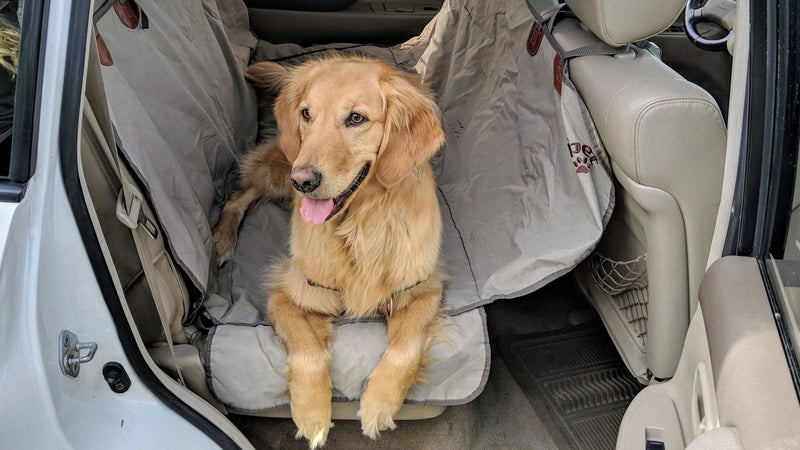 While it's great for short trips with just two people, the hammock doesn't quite work when you also have back-seat passengers, which brings us to the next approach.
---
Cargo-Area Barriers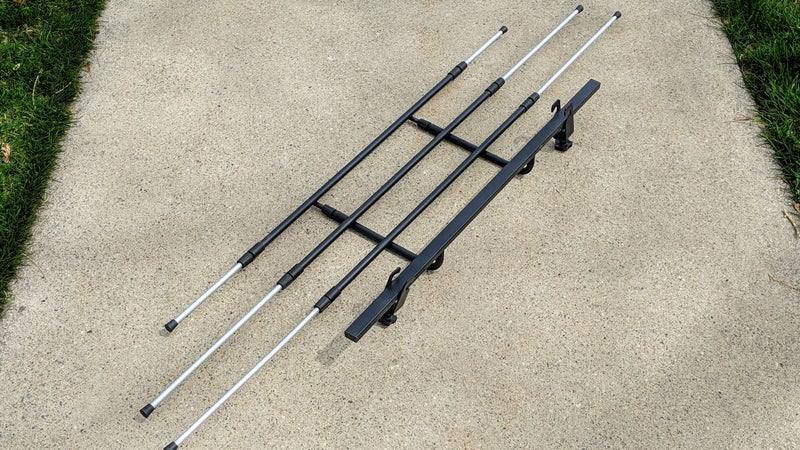 If you want to transport your dogs in the trunk of your SUV or station wagon, invest in a barrier. This separates the cargo area from the passengers and comes in a few different styles. My Walky Guard has adjustable metal bars and attaches to the second-row headrests.
Some designs use tension rods, while others forgo the bars altogether in favor of a mesh net. Make sure that whatever options you're considering will fit the unique dimensions of your vehicle, especially if you're buying online, as few back seats are exactly alike.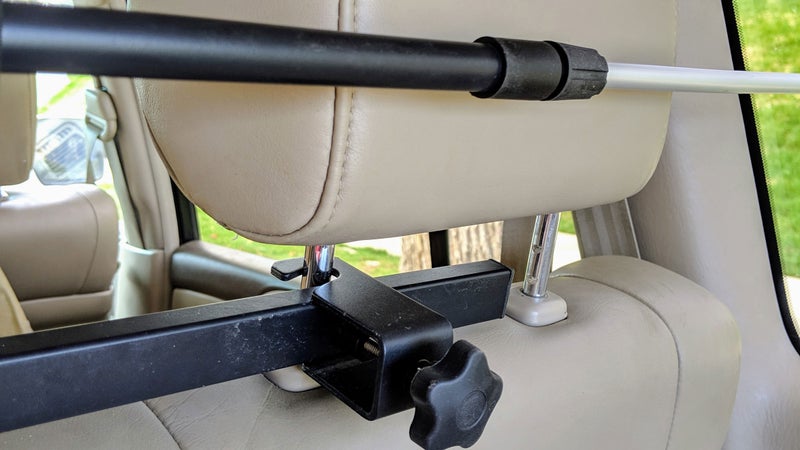 The cargo barrier works well for us in situations where it just isn't possible to have the dogs in the back seat, primarily when we've got other humans riding with us. It's also become our go-to solution for short trips; we just load the dogs in the back and get on our way. With the trunk space in my Land Cruiser, I've transported as many as four dogs at once, thanks to the Walky Guard—not possible with the hammock alone.
---
Seat-Belt Harnesses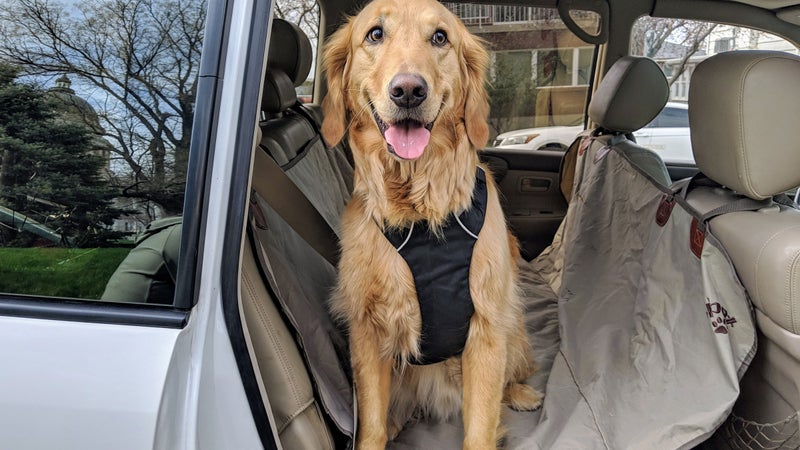 A dog-specific seat-belt harness is likely the safest, most fail-proof way to transport your pups. It keeps our dogs restrained not only before, but also during and after, an accident, when broken windows and open doors might allow them to run out of the car and into a potentially dangerous situation.
When you search for "dog seat belt" on Amazon, you're bombarded with a number of options, most of which are cheap, unproven models from questionable manufacturers. I opted for Ruffwear's Load Up Harness. It allows the dog to move around and get comfortable in the back seat. And while less sophisticated designs hold the dog awkwardly by its neck or shoulders, the Load Up puts the pressure on the chest and hips—far more natural and less likely to cause injury. At $80, it's a bit pricey but worth the added peace of mind. Timber's 50-pound frame fits in a size medium, while 30-pound Lola is comfortable in a small.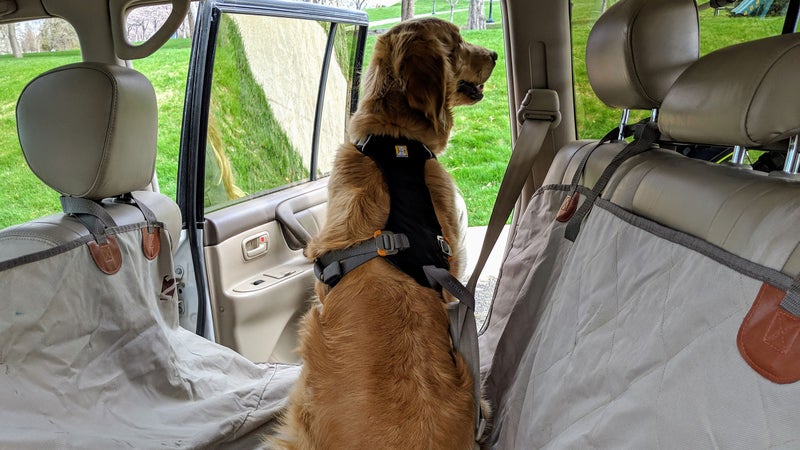 I slip the Load Up over the dog's head and clip it around their waist. Then I feed the car's seat belt through a loop at the back of the harness. I like this design because it incorporates the vehicle's own seat belts and attachment points, which lock in place if there's sudden forward momentum, such as from an impact or if the dog just suddenly decides to climb into the front seat.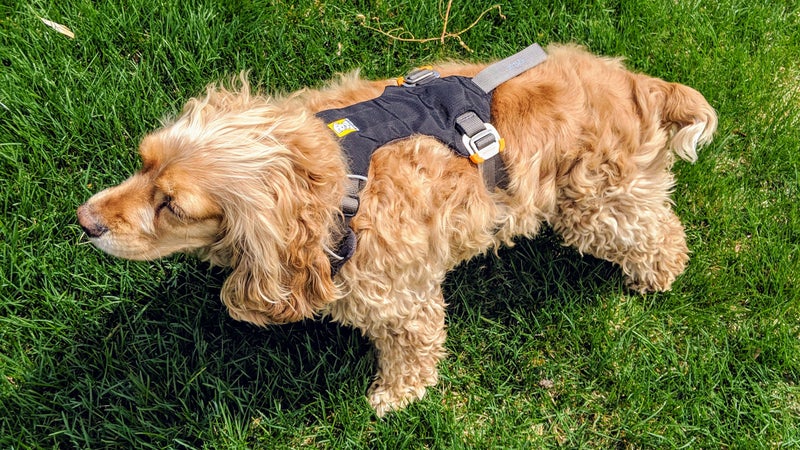 When used together, the hammock and Load Up harness create a near ideal solution for keeping your car safe from your pets and your pets safe in the car.
---
Hard Crates
Like a seat-belt harness, a hard crate will keep your dog safe even after an accident. "Some dog breeds do better in a crate, and some do better in a harness. It's really up to the owner to decide," says Wolko. Regardless of which one you choose, she says the crate should be no more than six inches longer than the pet from its nose to the base of its tail to prevent it from bouncing around too much inside during an accident. The Center for Pet Safety recommends the heavy-duty G1 from Gunner Kennels. (And though I don't own one personally, Outside's Indefinitely Wild columnist, Wes Siler, is a fan.) The G1 has been tested to withstand insane conditions—like having 630 pounds dropped stright on top of it—while built-in anchor points, a drainage system, burly handles, and a locking door serve to make this the most high-tech dog crate on the planet. But at $700, the G1 isn't exactly a bargain. Though there are other options, don't go too low on cost; a cheap and flimsy model isn't worth the savings when it comes to keeping your dog safe.
---
The Upshot
As long as vehicles are designed for humans, there will be no perfect way to keep dogs safe in them. But the gear here can help, ensuring a drive in the car doesn't get in the way of you and your pooch's adventure time.
Lead Photo: Chris O'Neill
Trending on Outside Online