Adventures of an Openly Gay Outdoorsman
The risks and rewards of being (literally and figuratively) out in the wilderness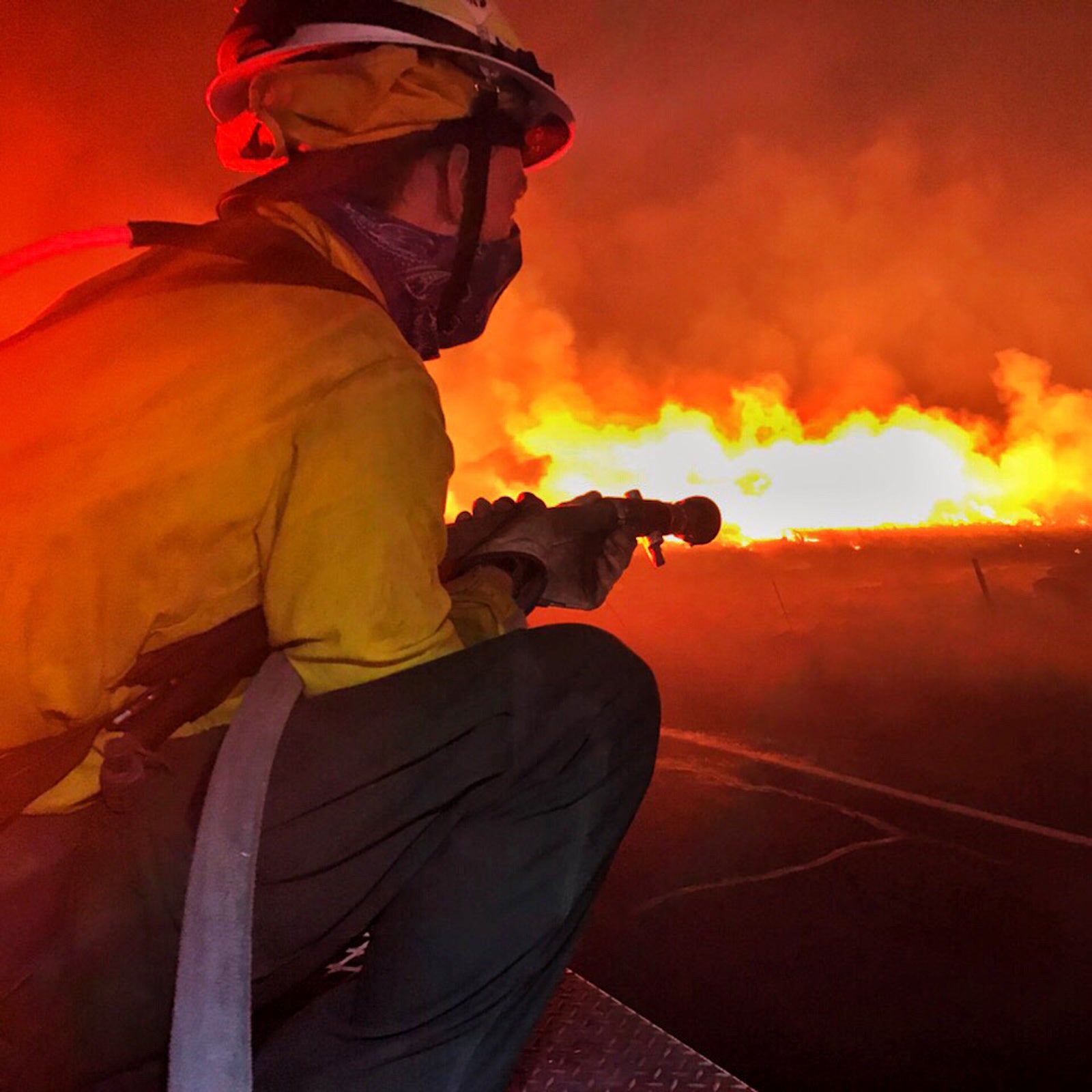 Courtesy Lance Garland(Photo)
Heading out the door? Read this article on the new Outside+ app available now on iOS devices for members! Download the app.
I've never seen a wall of fire like the one on the ridge in front of me, and our strike team of five brush trucks is driving right toward it. I'm in the truck at the front of the line, and my lieutenant tells me to grab the nozzle from the hose reel and climb on top of our vehicle. I put water on the fire as we slowly drive forward, with just a wet bandana wrapped around my mouth to protect my lungs from the thick smoke.
Just over the fire line, I see another wall of fire barreling toward us. There isn't much time to react, so I climb down and rush to the roadside as the two fronts merge into one. A wave of fire crests over my head and around me on all sides. The wind howls and pushes the water back at me. I choke on the thick smoke and heat, my eyes burning with black tears. My hose stream can't compete; I'm nearly engulfed by fire. Just as I feel it overcoming me, it burns its fuel of sagebrush and grass and dampens just enough for me to beat it into submission. We fight all night.
The next day we gather at a viewpoint above the Grand Coulee Dam, in central Washington on the Columbia River, just below the plateau where the fire had been the night before. The two other Seattle-based firefighters and I wait for the rest of our strike team, comprised of firefighters from all across Washington State. We laugh about how close to death we were last night, trying to shake off the stress. "You've got real grit," my officer says warmly, a stark change from his usual gruff demeanor. "I want you to know that if anything comes up while we're out here, we've got your back."
He's referring to the fact that I'm openly gay. My whole department knows back home, and I've been wondering how this would come up while we're out here. "Yeah, we have your back, Lance," the other firefighter says. I assume he's referring to if there's a fight. When I was in the Navy in the late 2000s, this would happen occasionally—some random guy would take offense to my sexuality and threaten violence. Their spoken support is profound to me and makes me feel like I'm part of a team out here. In places like this, you can't afford to be on your own. 
The rest of the strike team makes it to the overlook. A brash young firefighter takes a serious turn to tell a story about how some locals near Colville, Washington, pulled automatic rifles on a group of firefighters and forced them off their land. The story reminds me of my own time near Colville.
Their spoken support is profound to me and makes me feel like I'm part of a team out here. In places like this you can't afford to be on your own.
Deep in the Colville National Forest, not too far from the Washington-Canada border, my team and I fought the Bodie Mountain fire in August 2016. We'd been covered in soot and dirt for days. I'd been put in charge of the pump at the local creek, to fill up the water tenders as needed. As I sat by the creek and scribbled some poetry into my notebook, two local men stopped by to chat. They asked me where I was from, and when I told them Seattle, their tone became oppositional. "Those damn liberals and their big government," one said.
It was clear: I had to tread carefully. I was alone, my crew miles away, and even though I had a radio and could call for help, it wouldn't have come for a long while. It felt like I was across enemy lines by myself. I looked for a point of connection, and when they brought up the topic of guns, I told them that I had been a gunner in the Navy. This appeased them; they shared their respect for our armed forces.
Back at the dam, the brash young guy says those men who pulled the rifles on the firefighters are now in prison. I wonder: If I had been open and honest about who I was to those two guys in Colville, would they have run me off with rifles? For some of us, a potential danger of the outdoors is simply being open about who we are.
---
Since I was a kid, I've wanted to go off into the unknown and explore. And I wanted to find people to model myself after. But I couldn't find any openly gay guys I could look up to. Without someone charting the way, I began to think, Were the great outdoors a place for me? Would I be safe being a visibly out adventurer? 
When I was in the Navy during "Don't Ask, Don't Tell," the only stories I heard about other openly gay people were cautionary tales about the dangers of being open, the price of being truthful. When I began my firefighting career, it was much the same: the only stories I could find about openly gay people in this field were stories to beware of, inferring how being open could cost you your career. When I started backpacking and climbing, I was happy not to hear so much about the dangers of being gay, but I still couldn't find any openly gay climbers to learn from.
While I've always wanted mentors and role models, I've had to do without them. I've had to be creative and hopeful in my adventuring, always on the lookout for others like me, always eager to share what I've learned. Together we're mapping out what adventurous lives like ours can look like.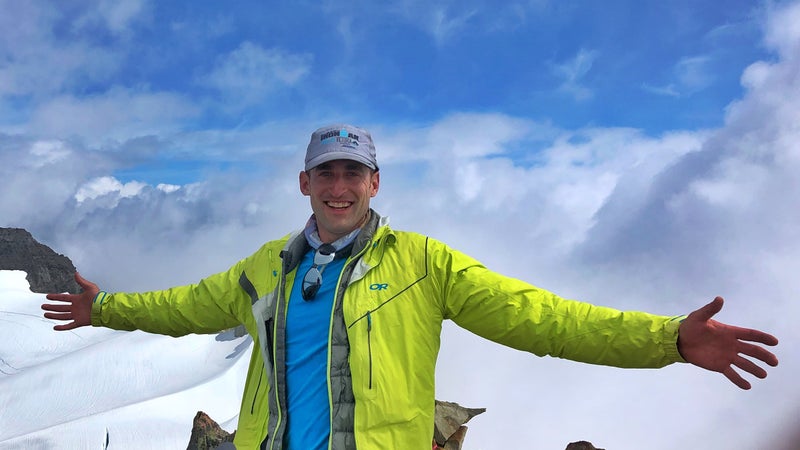 ---
It's a scorching 90 degrees, there's no wind, and the sun's glare off the snow is intense. It's mid-July 2018 and I'm with my friend in the Glacier Peak Wilderness of Snoqualmie National Forest, in a marmot kingdom, which turns out to be a hazard. They chew on gear that we don't keep an eye on. As we sit around the creek, filtering water for our midnight attempt of Glacier Peak, my tentmate makes a comment from out of nowhere: "I can't believe you never told me that you're gay." There is real emotion in his voice, but I can't place if it's anger or hurt.
We'd become fast friends the year before, climbing the steep chimney of Mount Shuksan. We both had competing, hearty laughs. He was from the Midwest and didn't grow up with access to grand mountain vistas like those of my childhood in the Pacific Northwest. But our greatest connection came from our mutual wonder of the mountain ranges we traversed. We would sit together with mouths agape, singing their praises.
His jokes often crossed the line of political correctness; he got in trouble during our mountaineering course for a comment that equated female climbers with sewing circles. His political leanings seemed very different from mine, so I steered clear of any conversation involving them, including my personal life. Even though we had climbed a handful of mountains together, we hadn't had "the talk." Over the winter, he had learned through social media that I'm gay.
As we sit around the creek with a looming Glacier Peak behind us, I do my best to minimize the importance of his revelation, saying, "Now you know." My laugh isn't the usual hearty heave, it's more timid, but it gets the job done, and we change the subject. However, over the course of the next day, he brings it up again and again, dropping the topic into casual conversation and doing his best to get me to open up about it.
Here on this grand mountain, I realize that coming out to someone isn't just a process for myself—it's a process for who I come out to as well.
Finally, I can't deflect anymore, so on the summit of Glacier Peak, in a sea of Cascade mountaintops, I tell him I had a terrible breakup last year and didn't want to talk about it. It wasn't that I was hiding anything from him. "But you're my tent partner. I just thought that I should know the guy I'm sleeping next to is gay," he says. "I mean, you're my first gay friend. Actually, you're the first gay guy I've ever met." I realize that coming out to someone isn't just a process for myself—it's a process for who I come out to as well.
To manage the dangers of being openly gay in the outdoors, we look for signals from the people we adventure with. A gay slur or an off-color joke can be a sign that the ground isn't stable beneath our feet and that we should tread carefully in such a person's presence. While my tentmate proved to be open-minded and we became even closer after that conversation, I still look for those signs with new acquaintances.
There are other times where coming out isn't a conversation you have, it's simply being outside with the one you love.
---
My boyfriend and I take our first backpacking trip together, at North Cascade National Park's Fourth of July Pass, on Fourth of July weekend 2018. On our hike, we run into a man who is openly carrying a holstered nine-millimeter gun on his right hip. I strike up a conversation, and his nervous energy is palpable as he explains he's from the East Coast and his weapon is to protect him from the bears and wolves he's heard roam these parts.
When we make it to the ridge, we find the most secluded site we can and set up camp. The bugs are in full force on this 84-degree day, so we take reprieve under the netted fortress of my tent. The northeast face of Johannesburg Mountain feels like it's right next to us as we make out.
A man walks up to our campsite and appears shaken to have witnessed two men kissing. He stumbles over his words: "Where is the stream?" Is he angry? I can't see his face through the tent, but I can see his legs, and I feel a flush of concern as I remember the man with the gun. I quickly canvas his hips and feel relieved—it's not the same man, and he has no gun.
For openly gay people outside, there's always that unknown part of the equation. What happens when something rare is made visible?
---
Being openly gay in the great outdoors has at times made me feel more like a foreign tourist in our American wilderness than a citizen. And a few times it's felt dangerous.
But it also makes me feel that spirit of adventure: I get the chance do something that might not have been done before or simply become one visible representation of nature's vivid diversity. For so long I wanted to see an openly gay man who fights wildfires, stands on the top of mythic peaks, and treks through forests so that I'd believe I could do the same. Now, I've seen that man—I've become him. And I've learned that when we see the wild ranges of our earth as our own, we care more about them and desire to protect them.
And if I weren't comfortable being openly gay in the great outdoors, then the most beautiful day of my life would never have happened. After a bluebird day snowboarding in the French Alps in December, my boyfriend told me there was something he wanted to show me. He took me down a steep trail and over a bridge with views of Mont Blanc, into a grove of larches, where a scene of lanterns and lighted letters spelled out ​the name our favorite song, "This Is It," by Scotty McCreery. He asked me, "Will you live a great story with me?"
I joined him on one knee as photographers and families with laughing children at a nearby playground looked on. There, under an Alpine sunset, my fiancé and I kissed and shared the most incredible moment of our lives in the place we love the most—nature.
Lead Photo: Courtesy Lance Garland
Trending on Outside Online