In Stride
Eliud Kipchoge Has a New Sub-Two-Hour Marathon Project
After vanquishing all his human competition, the world's best marathoner will again take on the clock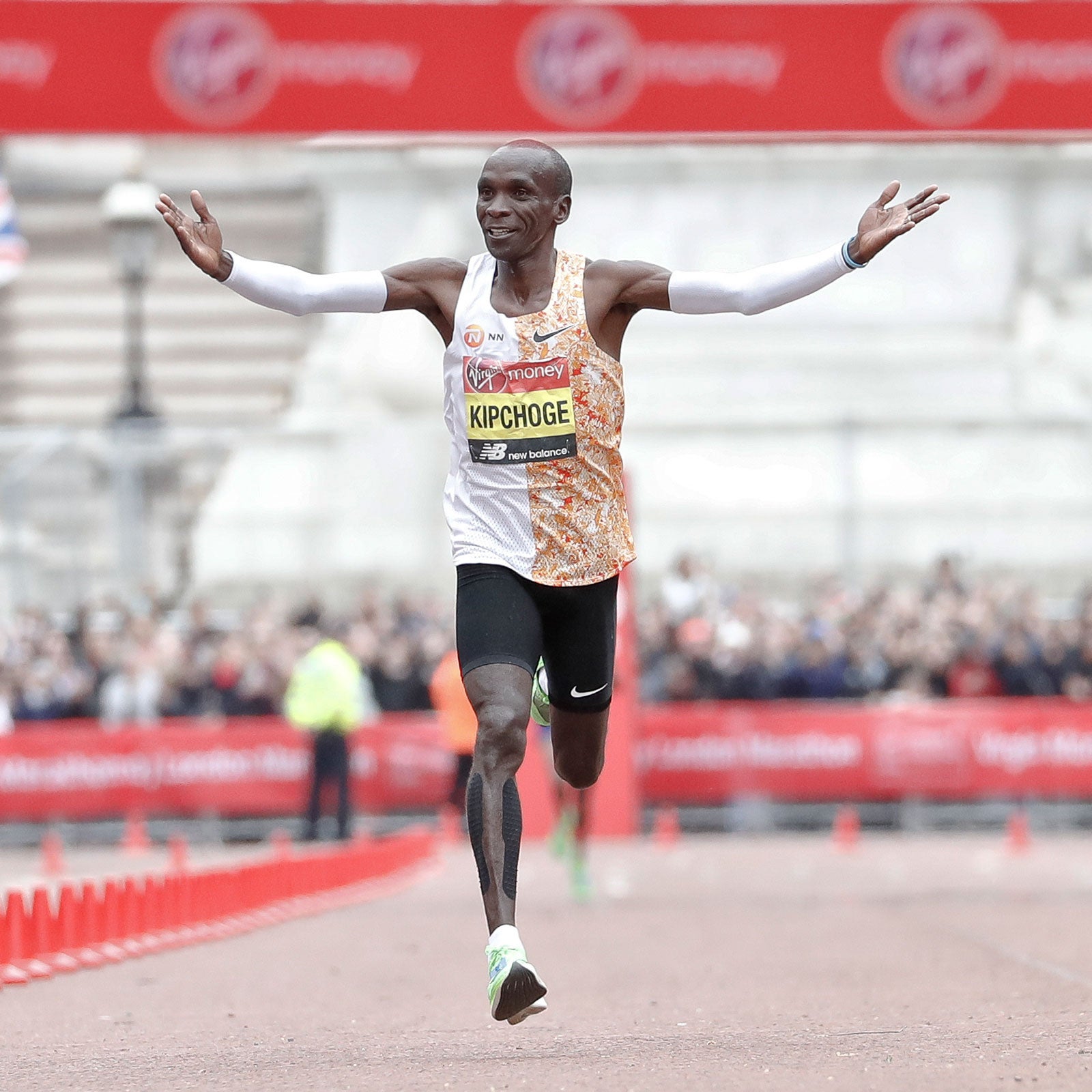 Heading out the door? Read this article on the new Outside+ app available now on iOS devices for members! Download the app.
You almost have to feel a little sorry for Hoka One One. 
Last Saturday, the company sponsored a simultaneous 100K race and 50-mile world record attempt to promote its new "Carbon X" running shoe. Things went more or less according to plan, with Hoka-sponsored superstar Jim Walmsley coming through 50 miles in 4:50:08, breaking Bruce Fordyce's long-standing world mark of 4:50:51. The effort ended up costing Walmsley the win in the 100K, but it didn't really matter. Hoka had a new world record to help sell its latest innovation and promptly fired off a press release heralding a "historic breakthrough in human performance." 
I have no doubt that I will be able to tell my grandchildren exactly where I was when I opened an email to discover homo sapiens had cracked 4:50:20 over 50 miles. But the news cycle is an insatiable beast. Before the weekend had ended, the Guardian published an article announcing that Eliud Kipchoge would once again be trying to break the two-hour barrier in a special edition marathon staged exclusively for that purpose. With no disrespect to Walmsley, these days nobody can compete with "Boss Man" Kipchoge. 
That's not just a figure of speech. The world record holder from Kenya has won an unprecedented nine consecutive World Marathon Majors. Presumably, the fact that no human seems capable of challenging Kipchoge has prompted him to take another shot at going sub-two. As a reminder, two years ago, at a Nike-sponsored spectacle in Monza, Italy, Kipchoge ran 26.2 miles in 2:00:25. The upcoming attempt is slated to take place in the U.K. in late September or early October. This time, it will be sponsored by Jim Radcliffe, billionaire CEO of the chemical company Ineos. As in Monza, Kipchoge is expected to use a rotating team of pacers–a logistical benefit that would render the attempt ineligible for official record status. Not that Kipchoge seems to care. 
"It's not about the IAAF, it's about history," he told the Guardian in a reference to track and field's governing body. "I really want to leave a big legacy."
Needless to say, Kipchoge is going to leave a big legacy even if he never runs another step, but one can see where he's coming from. At this point in his career, a sub-two-hour marathon is the last unchecked box. Everything else—another Olympic gold, a few more Marathon Majors, improving his own ridiculous world record—is just more of the same. A sub-two-hour marathon would provide a chance at immortality. 
At least that's what we are meant to believe. As with Nike's Breaking2 Project in 2017, it's difficult to see how an event that radically changes the conditions under which standard marathons are run can lay claim to the marathon's most coveted benchmark. (The Ineos 1:59 Challenge is billing itself as an attempt to achieve "the last milestone in athletics.") 
It's difficult to see how an event that radically changes the conditions under which standard marathons are run can lay claim to the marathon's most coveted benchmark.
To be fair, there's always been a sense of subjectivity when weighing the significance of athletic achievement. In pro running, these debates have intensified in recent years with the advent of super shoes that allegedly confer an unprecedented performance benefit. That was one of the a priori fallacies of Breaking2 version one: Nike was trying to portray the initiative as proof that, to borrow the marketing lingo, "no human is limited," while simultaneously claiming that they had invented a shoe that could make running fast four percent easier. 
Of course, for better or worse, the ballyhooed Vaporfly 4% shoes have always been record eligible. The pacemaking setup in Monza, on the other hand, which was estimated by Nike to save Kipchoge roughly 90 seconds compared with top-tier marathons (in which pacers eventually drop out), was unique to that event. We don't yet know the specifics of how the Ineos 1:59 Challenge is going to be staged, but it seems likely that it will raise a similar question to Breaking2: what is a sub-two-hour effort worth when you eliminate most of the variables that marathoners typically have to contend with?
Meanwhile, Monday was the 65th anniversary of Roger Bannister's first sub-four-minute mile. In a savvy PR move, the official announcement about the Ineos 1:59 Challenge was issued via a press release featuring photos of Kipchoge on Oxford's famous Iffley Road track, thus signaling that the Kenyan was carrying on a long legacy of smashing barriers. Interestingly, and as athletics aficionados will know, Bannister's achievement in 1964 was also contentious since he used (unofficial) pacemakers at a time when they were prohibited by the IAAF. It doesn't seem to have tarnished his legacy one bit, so perhaps the same will hold true for Kipchoge if he succeeds. (I think he will.)
"Records should be the servants not the masters of the athlete, preparing him for a forthcoming encounter with a respected opponent," Bannister writes in his autobiography, The Four Minute Mile. "They should not be an end in themselves." 
Yeah, right. 
Trending on Outside Online