Sponsor Content: NOLS
Can More Wilderness Trips Save the World?
NOLS (National Outdoor Leadership School) is founded on a simple principle: If you take students into the wilderness, they come back better people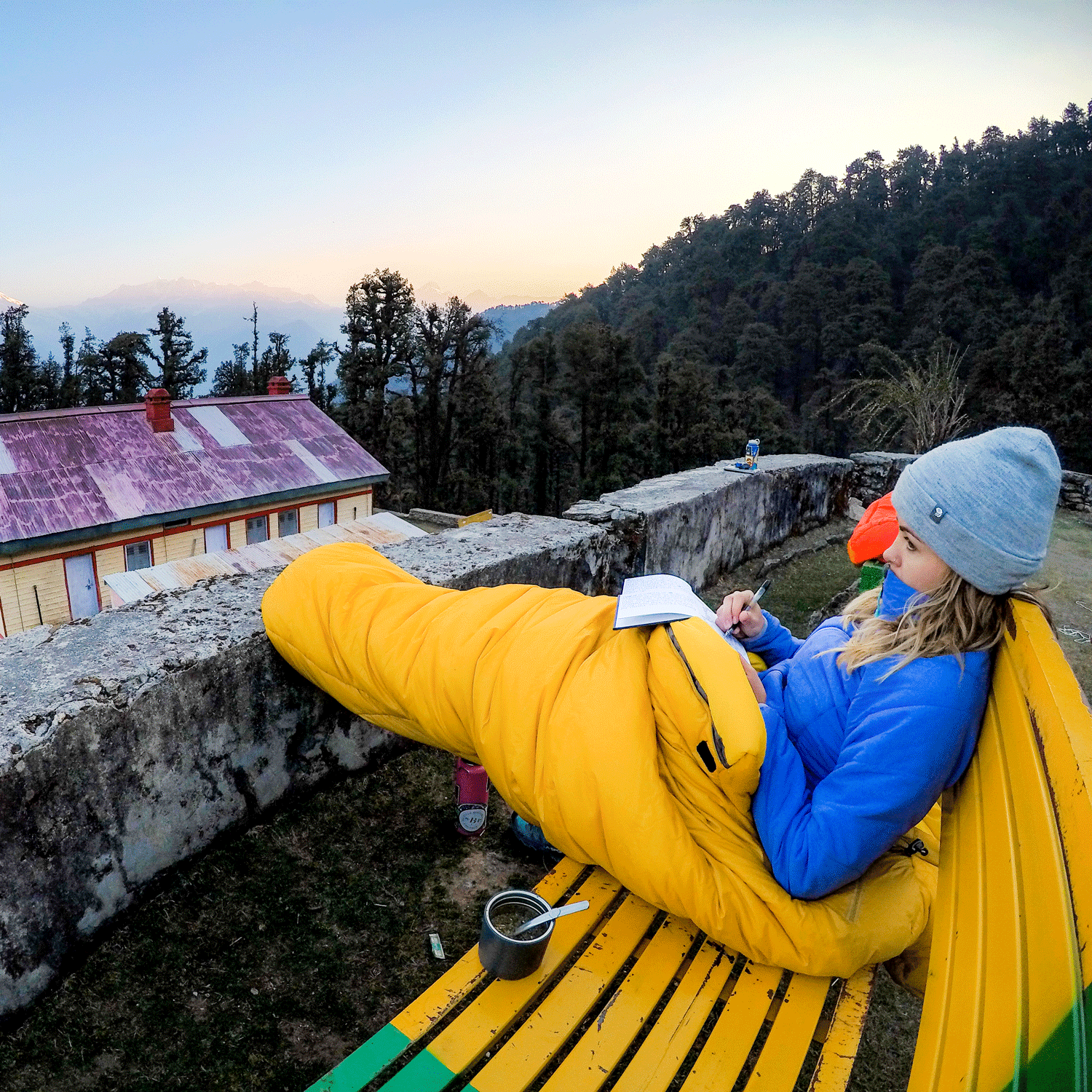 The idea that wilderness trips can save the world may sound over-the-top. But given how effective backcountry adventures can be at creating leaders, it's not as far-fetched as it sounds. Take ski mountaineer Kit DesLauriers. DesLauriers was the first person to ski the highest peak on every continent, and she is now a sought-after motivational speaker, but her path to that success began when she found herself tasked with figuring out group dynamics and logistics in the wilds of Alaska on a NOLS (National Outdoor Leadership School) trip.
Before NOLS, DesLauriers was like many other college students at the time: interested in travel, unsure of her future, and short on funds. But she caught the outdoor adventure bug while studying in Europe and became obsessed with the idea of a NOLS course, despite the fact that she couldn't afford it. DesLauriers persisted, earning a scholarship for a NOLS semester course in Alaska.
While it's easy to describe an experience as "life changing," DesLauriers's Alaska trip really was—it's the fundamental premise of many of her motivational talks. "I learned that the outdoors is my home, that the natural world is our home, and to have respect for it," she says. "When I'm walking around in the wilderness, I feel like I'm a part of something greater, and as human beings that's a feeling that we strive for." 
Of course, as human beings, we also need to learn how to get along with one another. As anyone who has ever been on any type of real outdoor adventure knows, at some point you'll get tested. You may witness the most amazing sunset you've ever seen or eat the best-tasting Thai curry in a bag you've ever had. But chances are high that you'll also get lost, have to repair a broken stove, or need to figure out how to ford a swollen river. How you handle yourself in those situations has proven to be one of the single most effective ways to learn both self-reliance and how to work well with others.
Over the years, this idea has been widely embraced by academia and management experts. "Wilderness trips provide participants with opportunities to learn how to deeply bond with peers, communicate effectively, and expand perceived personal boundaries," says Dr. D. Scott Borden, the director of the Outdoor Industry MBA program at Western Colorado University. "In this way, they build both inter- and intrapersonal intelligence. Solitude, companionship, failure, and triumph—all experienced on these trips—are the perfect guides to enabling us to realize our fullest potential as leaders."
For DesLauriers, she realized how much she had learned when she and her fellow students ran out of food trying to wait out the weather in Denali National Park, attempting to summit Mount Silverthorne. They then had to spend three days trudging out and down a glacier, exhausted and hungry, trying to conserve what few remaining rations they had. DesLauriers had saved a piece of chocolate for herself, but in the midst of the trek out she felt an urge that took her by surprise.
"I pulled out that tiny piece of chocolate and I all wanted to do was share it with the people next to me because of everything we had been through together," she says. "It hit me: Having that chocolate to yourself is just not as sweet as sharing it." It's precisely these sorts of lessons that DesLauriers draws upon every day to confront and solve the complex problems we face in the world today—and motivate others to do the same.
---
While you can learn these types of lessons on any wilderness trip, what research has found is that experience on its own is just a series of more or less unpleasant days in the wilderness. To get the judgement and perspective that the wilderness can provide, you can't just sign up with any old outfit or guided trip and expect to come back a better person with the know-how to apply what you learned to the real world. For that you need grounded teachers and an overarching ethos. That's where NOLS, the Wyoming-based school which has become the leader in wilderness education, comes in.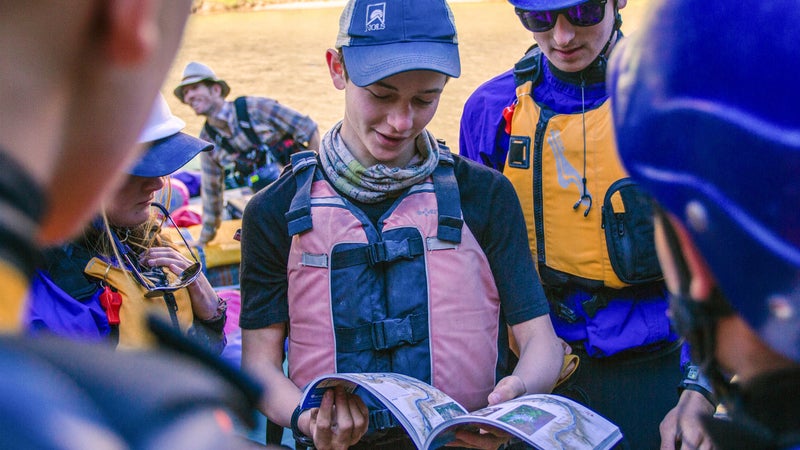 Virtually the entire outdoor industry, from raft guides to C-suite executives, is powered by NOLS alumni. The list includes many of its brightest stars, such as Academy Award–winning climber and director Jimmy Chin, Black Diamond founder and conservationist Peter Metcalf, and Olympic gold medalist Kaitlyn Farrington. But you'll also find NOLS grads in just about every other career field. The journalists Anderson Cooper and Sebastian Junger cut their teeth at NOLS, as did Netflix co-founder Marc Randolph and comedian Kristen Wiig. Spend any amount of time talking to these folks about the impact NOLS had on their lives and one thing quickly becomes apparent: while they've all pursued vastly different passions, most will tell you that it all began at NOLS.
It's a common refrain among graduates of the school. That's because, as DesLauriers and so many others have learned, wilderness is, in many ways, the best teacher. "The mountains are simply an intense classroom for life itself," says Peter Metcalf, the former CEO of Black Diamond. "How you learn to conduct yourself in a challenging mountain environment with a small group of colleagues is precisely how to approach a career and the big challenges of life."
How you learn to conduct yourself in a challenging mountain environment with a small group of colleagues is precisely how to approach a career and the big challenges of life.
Metcalf, who now serves on the Federal Reserve Bank of San Francisco's Salt Lake City branch board of directors, also credits NOLS with forging his leadership style and teaching him the fundamental idea that leadership can be learned. Growing up as a city kid who longed for the mountains, he took a NOLS course, taught in part by NOLS founder Paul Petzoldt, when he was just 15. It was 1971, his group scaled Wyoming's Gannett Peak, and he never looked back.
Petzoldt, a pioneering American alpinist who took part in the first U.S. expedition to K2 in 1938, kicked off the first NOLS course in Wyoming's Wind River Range in 1965. His vision was to teach the next generation the skills he had learned in the high peaks. Petzoldt learned on K2 that technical skills only get you so far. Far more important was creating a harmonious, high-functioning team—something that was key to accomplishing greatness.
As the nonprofit wilderness school grew, it garnered a reputation for impeccable stewardship and expedition leadership—a reputation augmented by the publication of NOLS's seminal book Soft Paths: Enjoying the Wilderness Without Harming It in 1988. The land-protection principles set out in Soft Paths have since coalesced into the Leave No Trace program, the foundational guidelines for respecting the outdoors that are employed by everyone from the U.S. Forest Service to the Boy Scouts of America.
Over the decades, the school has stayed true to Petzoldt's original vision while expanding both its reach and its mission. NOLS operates classrooms across the planet—from Alaska to New Zealand—including 16 physical campuses and offering 364 courses spanning expeditions, wilderness medicine, risk management, and more. From glacier mountaineering in Patagonia and sea kayaking in Mexico to backpacking in Scandinavia and exploring the alpine environment in the Wind River Mountains, near its world headquarters in Lander, Wyoming, students can earn academic credit and certifications. The school has also partnered with more than 50 organizations across the country to award scholarships to students to help financially support their NOLS expedition. The school makes the outdoors accessible with courses for students as young as 14 up to intrepid adults.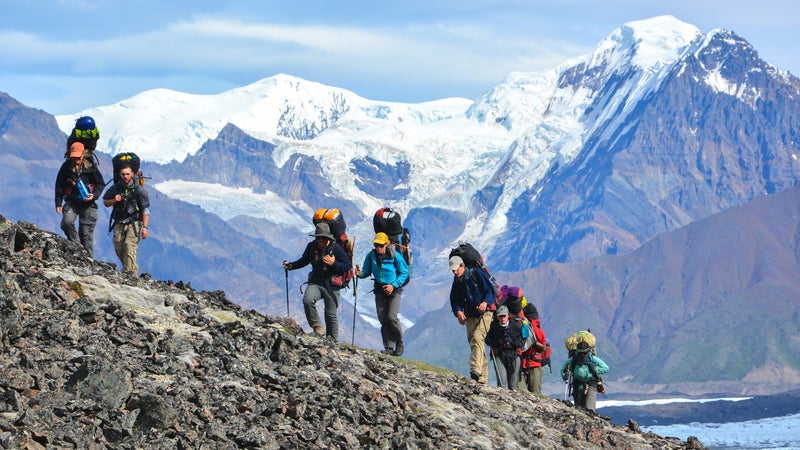 NOLS has also pushed the boundaries of what outdoor leadership can mean in the work world, translating the tools it has developed over more than five decades into professional development curricula. Founded in 1999, the school's Custom Education division provides NOLS-powered experiences for clients like GE and Wharton Leadership Ventures, who are seeking alternatives to traditional corporate off-sites and lackluster team-building activities. They come to NOLS seeking ways to give their teams hands-on experiences working together in complex, uncertain environments. Additionally, NOLS Risk Services draws on the school's decades of experience to provide risk-management consulting and administrator-level training to other proven names in the field, including the American Avalanche Institute, American Mountain Guides Association, and REI. 
Jimmy Chin, who along with his wife, E. Chai Vasarhelyi, won an Oscar for the film Free Solo, was already an accomplished climber when he became a NOLS instructor. But the lessons he learned working at the school have helped him in nearly every aspect of his career. "The skills you learn and teach for expedition planning are building blocks for skills you can use anywhere," he says. "Decision-making, risk assessment, self-evaluation, hard work, getting from A to B, and having a plan to do it. Those skills translate pretty easily to day-to-day life."
---
At NOLS, there are two official terms for all those skills Chin just rattled off. The first is tolerance for adversity and uncertainty (TAU). It means thriving when the chips are down, sharing that last piece of chocolate when you have all been marching all day without food, or breaking into song in the middle of a rainstorm. 
TAU, in turn, is one aspect of good expedition behavior (EB), the overarching term that includes everything from getting along in a diverse group to cooperating with fellow course mates to learning how to resolve conflict. It's the first thing you learn on a NOLS course, because practicing excellent EB requires empathy, open communication, and being honest and accountable. 
When it comes down to it, the NOLS experience teaches you far more than how to tie figure-eight knots or manage a tension pneumothorax in the wild. It sets you on a path and helps you manage the unpredictability of life. "Just imagine if every sixth grader or a college freshman or a new employee at a company spent a few days, or more, on a wilderness trip," says Dr. Carrie Hauser, president of Colorado Mountain College, which integrates outdoor experience into everything from nursing to English classes. "It's through such an experience that participants of any age come to appreciate and value our fragile planet, contemplate ways to make a difference, and rally others to do the same. If future leaders have that type of experience, it will frame their style and their commitment to getting out of their comfort zone. They will be able to move through problems together.  And we certainly need that in the world these days."