How Young Is Too Young for High Altitude?
There's been limited research on the risks kids face in thin air, which means parents and guides have to make some tough decisions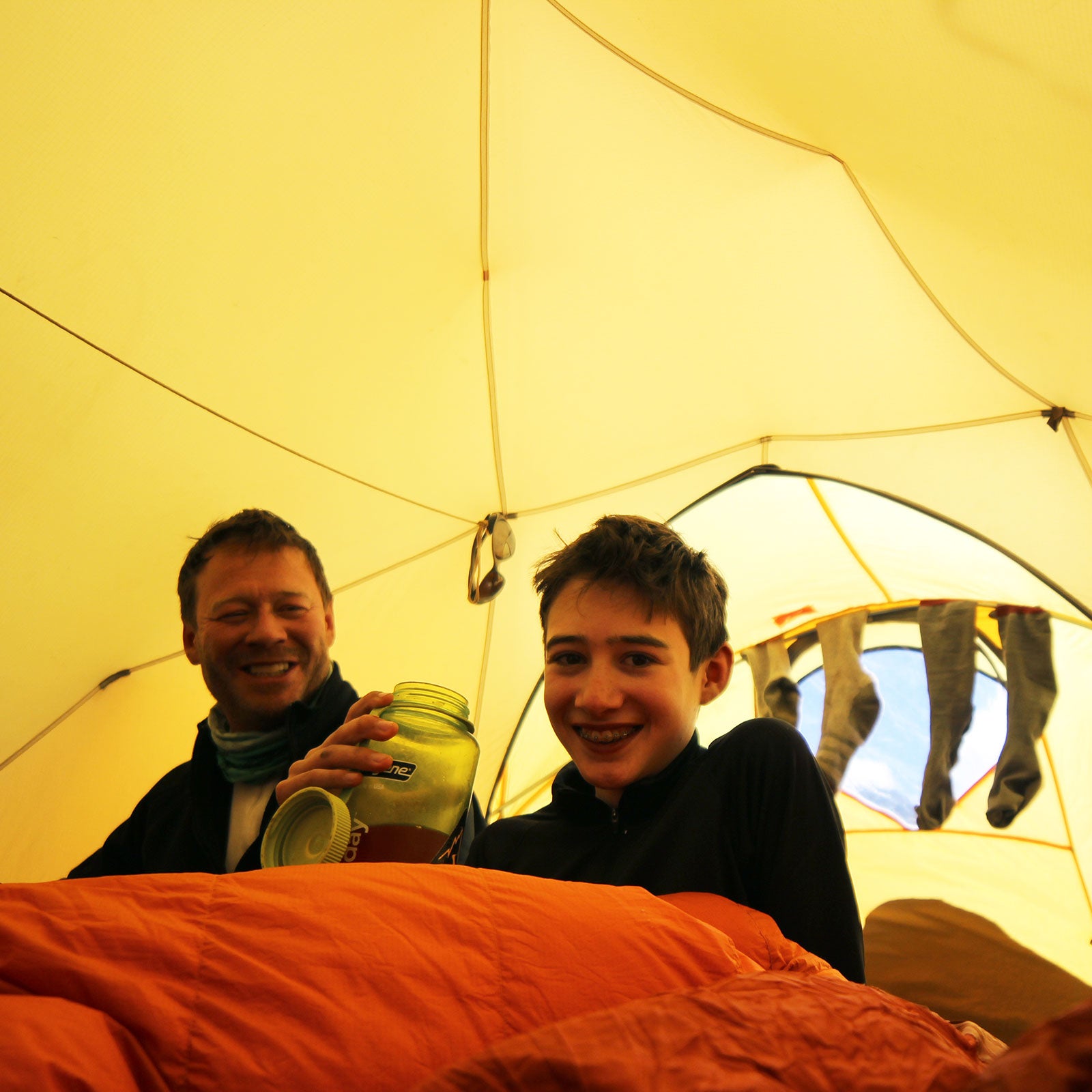 Bethany Garretson(Photo)
Heading out the door? Read this article on the new Outside+ app available now on iOS devices for members! Download the app.
"Smile," the doctor said.
One half of Henry Horvath's face obeyed, but the other remained motionless. A red flag. Paul Tirrell, a doctor of 33 years, continued to assess the 13-year-old. Hours before, the teen had been Tirrell's climbing partner, but now he was his patient. Henry's father, Tim Horvath, looked on as winds whipped the frame of their yellow expedition tent perched at 18,000 feet on the north-facing slope of Aconcagua, in Argentina. It was February 2019, and the team was two days away from its planned summit bid on the highest point in South America when everything changed.
The Horvaths are longtime family friends of mine, and I had joined them on this expedition.
"What's her name?" Tirrell said, pointing at me.
"Ga-ma, Ba-ra," Henry garbled. He looked down at his sleeping bag and tried again, unsuccessfully, producing another mouthful of word salad. I put my hand on Henry's back. He knew my name.
Tim sat near the entrance of the tent cradling a radio in his hands. His face was ashen, lost in a thousand-yard stare. An active mountaineer in the 1990s and early 2000s, with ascents of Mount Everest, Denali, and Kanchenjunga, Tim knew what peril looked like at high altitude. In 1996, he descended Lhotse during the notorious storm that killed eight on Everest, chronicled by Jon Krakauer's Into Thin Air. 
He knew the risks of bringing his young son on a high-mountain expedition. He also knew the rewards. That was why he chose Aconcagua. Tim knew the mountain well, having guided three previous expeditions here. The so-called Colossus of South America tops out at 22,840 feet above sea level. It is not a highly technical mountain, if you follow the standard route, and the objective dangers are low. The major challenge is the altitude. Even though Henry was a teenager with a developing brain, it had not occurred to us that he might be at a higher risk to develop altitude-related illnesses.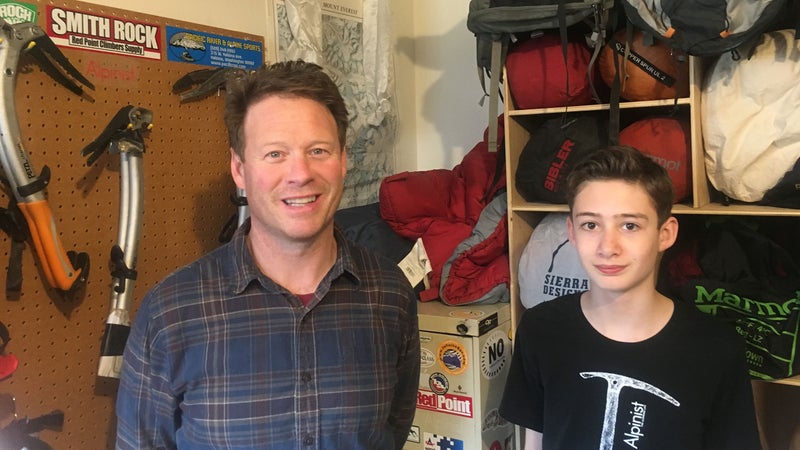 "Close your eyes," Tirrell said.
"I can't," Henry stammered. His brown eyes bulged, alarmed that he couldn't complete the task. Even with rest and hydration, Henry's condition was worsening. Tim pushed his six-foot frame from the ground pad to a squatting position.
"I'm calling in the copter," he said and left the tent.
Tirrell dug into his medical kit and gave Henry doses of two drugs, Diamox and dexamethasone. The former helps acclimatize climbers by raising the blood's pH and increasing the body's ventilation drive, while the latter is a steroid that reduces inflammation and intracranial pressure. If Henry was experiencing a severe migraine, stroke, or high-altitude cerebral edema (HACE), medicine could only do so much at 18,000 feet. It was critical for Henry to descend.
Al Mason, a leader with a British-army expedition that was on the peak who had strong Spanish-language skills, assisted Tim with his radio call to base camp. Meanwhile, Henry struggled to move and get dressed, so I helped his arms into his puffy jacket, his hands into mittens, added a hat, and guided his feet into a pair of boots that his father had worn on Everest. Tim returned to the tent, leaned down, and pulled Henry's lanky teenage frame to a standing position. He propped his son against his shoulder and descended toward the helicopter pad just as alpine glow struck the jagged summits. The thudding helicopter approached but couldn't land due to poor weather conditions. The only option was to get Henry down on foot. I began gathering his things. Tim, with help from the army team, began slowly helping Henry down the steep, rocky terrain, steadying him between two sets of shoulders at all times. 
Six hours and a mile of elevation loss later, Henry arrived at base camp, where he was given supplemental oxygen and another dose of medication. He could speak, and his coordination improved. With the first rays of dawn, the helicopter returned, taking Henry for further treatment in Mendoza, Argentina. Word of his rescue spread quickly, and reporters came to his hotel after the hospital discharged him. After the brief moment of fame came a longer conversation around minors climbing Aconcagua.
The permit age to climb Aconcagua is 14. So why was Henry, who was three three months shy of his fourteenth birthday, allowed to climb? Two reasons. He was almost fourteen and had an impressive mountain résumé: at seven, he'd completed a 50-mile backpacking trip in Wyoming's Wind River Range; at 12, he climbed the South, Middle and Grand Tetons; at 13, he finished 205 miles of the John Muir Trail in 11 days, quite literally running up Mount Whitney at the end. He also had high-altitude experience, having climbed Ecuador's 15,354-foot Pichincha volcano.
Still, it's easy for the general public to jump to conclusions when a minor is plucked off one of the Seven Summits: they were simply too young to be there.
But is that a fair assumption? Is there something about being younger that makes you physically less capable of tolerating higher altitudes? 
"People want to take their kids to Everest Base Camp or Kilimanjaro, and nobody knows what to tell them. The problem is that there's not much information on kids." Therein lies the challenge.
In the modern age of mountaineering, ascent times are getting faster and climbers are younger. Jordan Romero made headlines in May 2010 when, at age 13, he reached the summit of Everest. Then, in December 2011, at only 15, he completed the Seven Summits, finishing with16,067-foot Vinson Massif, in Antarctica, that year. The record for the youngest ascent of Aconcagua belongs to a fellow American, Tyler Armstrong, who reached the peak on Christmas Eve in 2013, when he was nine.  
Even though Romero and Armstrong summited Aconcagua, along with other high-altitude mountains, without issue, some experts have suggested that a developing brain and body may be more susceptible to altitude-related illnesses.
"It's a question that comes up a lot," said Dr. Peter Hackett, director of the Institute for Altitude Medicine, in Telluride, Colorado. "People want to take their kids to Everest Base Camp or Kilimanjaro, and nobody knows what to tell them. The problem is that there's not much information on kids."
Therein lies the challenge. When it comes to scientific altitude studies, a relatively new field, there's only a small pool of case studies available.
Back in 2001, Hackett and more than a dozen colleagues issued a consensus statement on children at altitude. It recommended that children follow the same acclimatizing principles as adults: a slow graded ascent rate in which climbers ascend no more than 984 feet per day above 8,200 feet, and a rest day for every 3,280 feet of elevation gain, both key to preventing altitude-related illnesses.
Tim used this formula to plan his team's itinerary on Aconcagua. When I later asked him if he would have done anything differently, he reflected on the above-average pace of his team and said, "I would have slowed people down more."
When a symptom of altitude sickness comes on, such as headache, nausea, or vomiting, generally rest, descent, or medication can correct the situation. But a climber has to report their symptoms immediately. Usually, children over the age of eight have reached the developmental level necessary to communicate altitude-illness symptoms. And in some cases, children are even stronger reporters than adults. A good number of altitude causalities occur with fit, healthy adults on a fixed group itinerary who withhold vocalizing symptoms.
But even if there's not a known correlation between youth and a heightened risk of altitude illnesses, climbing high poses inherent risks for anyone. This leaves parents and guides facing a big question: Are the risks worth the rewards for younger climbers?
Even Tim Horvath debates the issue.
"In every category, Henry was ready to do that mountain, and some things you can't know until you go up," he says. On Aconcagua, Tim knew the altitude was a risk but believed he could get any of his team members down the mountain if necessary. "It could've happened to anyone," he added.
Still, Tim can't forget the worst moment, when Henry could not close his eyes.
"I remember thinking that if something happens to him, it will ruin the rest of my life," he said. "Something I enjoy so much doing with him could kill him."
Three months later, the family was home in central New York, where the grass was greening. For the Horvaths, Aconcagua was a distant yet powerful memory. Elizabeth Horvath, Henry's mother, remembered when she got the call.
"My heart dropped, I went cold, I sat down," she said. She was shocked but not angry. "I never thought a 13-year-old shouldn't be on the mountain," she said.
The fact that Henry has been taking trips in the mountains since a young age is perhaps a big reason he's such an impressive kid with a solid sense of himself. Back with his eighth-grade class, he was going to school dances, acing tests, and training hard for track season. He just watched The Dawn Wall and is itching to get out on some rock routes in the Shawangunks.
When asked if he would return to Aconcagua, he paused.
"I would."
And I would go back with him.
Lead Photo: Bethany Garretson