Gear Guy
What Are the Most Versatile Camping Soaps?
You want something that's powerful enough to keep you and your gear clean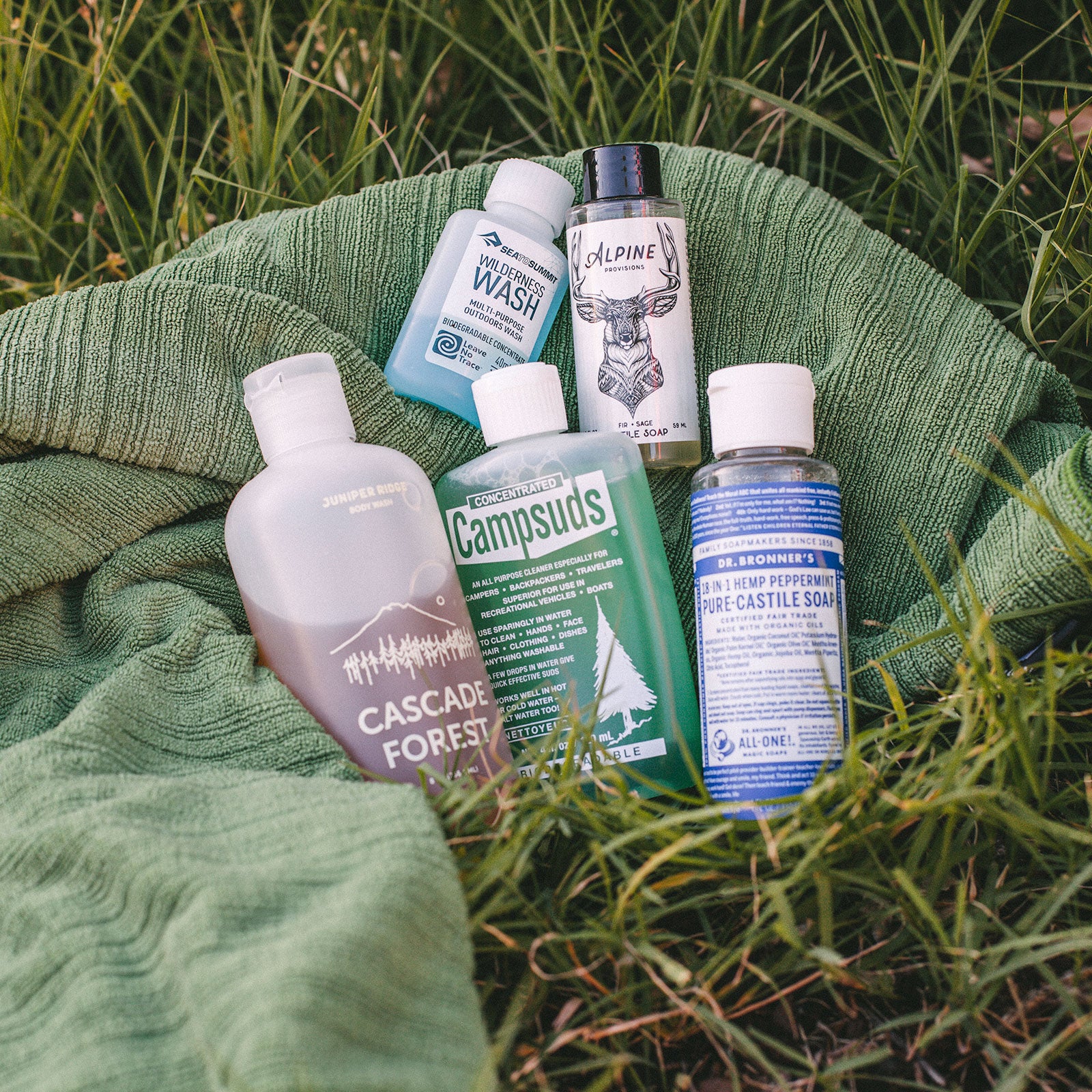 Sarah Jackson(Photo)
Heading out the door? Read this article on the new Outside+ app available now on iOS devices for members! Download the app.
A lapse in good hygiene is understandable when you're camping—to a point. You need to have some way to clean yourself and your equipment; otherwise, you could be inviting all kinds of gut-busting bacteria and bugs into your life. The solution: bring trail soap. I put these five through three weeks of head-to-head testing to determine the best.
But before we dive in, a quick PSA. I chose all biodegradable soaps, but just because they're environmentally friendly doesn't mean it's OK to bathe, clean your dishes, or wash your clothes directly in a water source with them. The soaps do break down, but it takes a while, and they can wreak havoc on local plants and animals in the meantime. Please wash yourself or anything else (and dispose of any leftover sudsy water) 300 or more feet away from rivers, streams, and lakes.
The Test
Like I mentioned, I chose biodegradable soaps. My other two criteria were that they were liquid and portable—easy to take along while camping.
I broke the testing up into two parts: personal hygiene and camp hygiene. I started by using each of these soaps in my shower at home, noting how well they cut through dirt and grease from my hair. To focus specifically on their stink-mitigating power, I started by not showering for a full day. During those 24 hours, I exercised twice, which got me nice and sweaty. Before I got in the shower, I asked my lovely and long-suffering wife to smell my armpits and rate me (on a scale of one to ten) on how badly I stunk. Then I used a dime-size application to lather and scrub my pits in the shower and had my wife smell and rate me again. I went through this whole process for each soap, and she didn't know which one I was using each time.
For the camp-hygiene portion, I poured 14 cups of water and one tablespoon of soap into a bucket. I then used the mixture to wash a dish that I had smeared with one teaspoon of peanut butter. I also picked a well-soiled cotton T-shirt from my hamper and washed it with the same water-soap combo and hung it on a line to dry.
The Results
Winner: Dr. Bronner's Organic Liquid Soap ($4 for two ounces)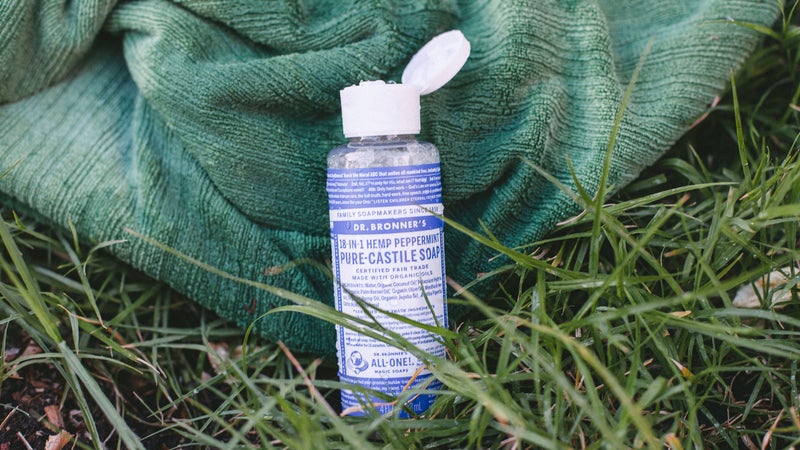 Pre-Shower Sniff Test: 7.5/10—"You smell like you just got back from raft guiding for a month."
Post-Shower Sniff Test: 3/10—"It's incredible what mint can do to mask body odor."
Hair: 3.5/5
Dishes: 4.5/5
Clothes: 4.5/5
This classic castile camp soap took the win for its versatility. Dr. Bronner's performed every task well. It imbued whatever it was cleaning with a nice dose of peppermint and fought odor in both my pits and the shirt. Even though it was one of the more runny soaps in the test, it was among the most effective at cutting through the grease in my hair and the peanut butter. Dr. Bronner's won on its performance alone, but it doesn't hurt that it's easy to find just about anywhere in the U.S.
---
2. Campsuds ($4 for two ounces)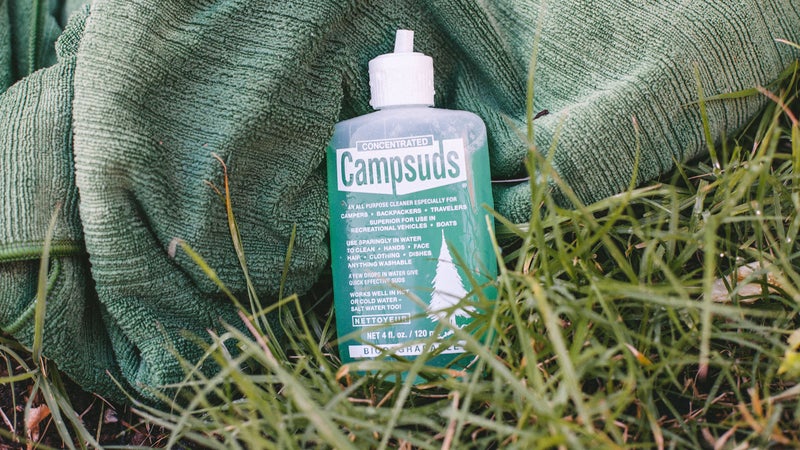 Pre-Shower Sniff Test: 5/10—"You smell earthy."
Post-Shower Sniff Test: 3/10—"There's still something there, but I wouldn't notice if my nose wasn't in your armpit."
Hair: 3.5/5
Dishes: 4/5
Clothes: 4.5/5
The Campsuds didn't do as well as some others here as a straight-up body wash. But it did a good enough job of getting me clean, and greasy hair and peanut butter couldn't stand up to it. The Campsuds left both the dishes and the shirt clean, with minimal scrubbing on my part. It wasn't too thick, so the soap washed out easily but still worked up to a good lather. The shirt rinsed completely out in about three squeezes and hung on to a fresh, but not overpowering, scent.
---
3. Juniper Ridge Cascade Forest Body Wash ($6 for two ounces)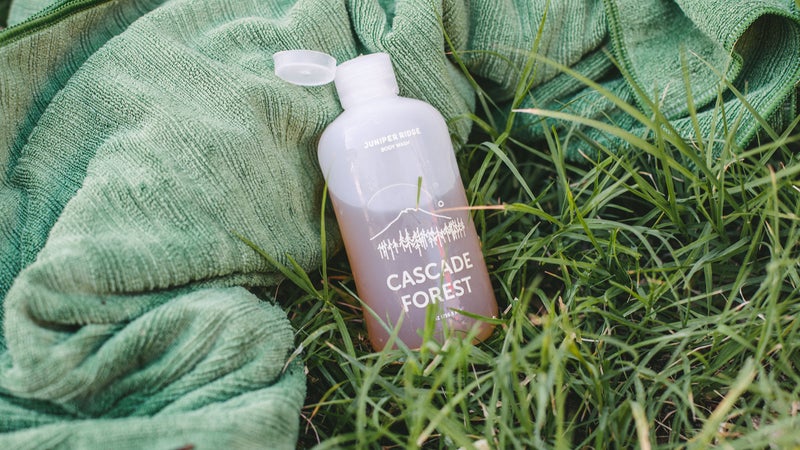 Pre-Shower Sniff Test: 8.5/10—"That is both musty and sour, about as stinky as I've smelled you."
Post-Shower Sniff Test: 0/10—"Lovely!"
Hair: 4/5
Dishes: 1/5
Clothes: 4/5
Heavy notes of pine and rosemary, coupled with a lot of fancy oils that felt fantastic on my skin, made the Cascade Forest body wash best for showering. Out of all the soaps here, it's the one I'll continue to use daily. Since it has "body wash" in its name, I didn't expect the Cascade Forest to do well cleaning dishes and the shirt, but I was pleasantly surprised when it left the shirt feeling fresh and odor-free. Though my skepticism was partially warranted: the Cascade Forest was by far the toughest to wash dishes with. I scrubbed the plate 65 times (oh yes, I counted) and was still left with a bit of grease and a slight peanut-butter smell. Mix that with the rosemary scent, and you've got an off-putting combination. It's sad to see such a powerful stink fighter in third place.
---
4. Alpine Provisions Fir and Sage Castile Soap ($4 for two ounces)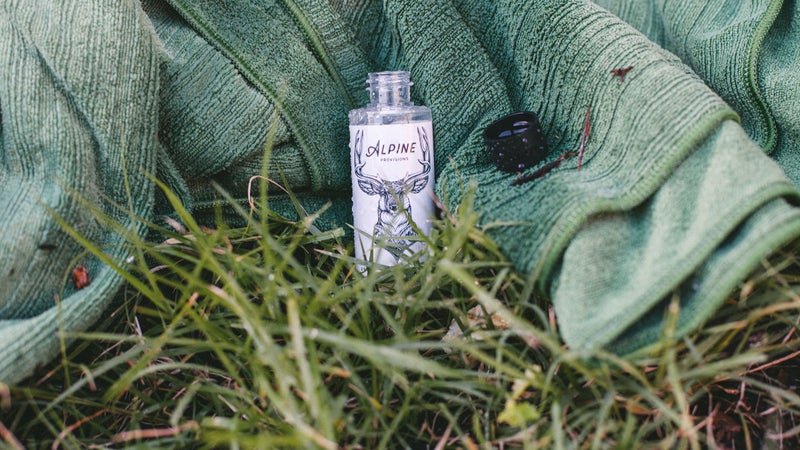 Pre-Shower Sniff Test: 8/10—"Wow, that is bad. (Lets out a slight gag.) I would have to say you smell like a mixture of chemicals and a musty abandoned warehouse."
Post-Shower Sniff Test: 0/10—"Your armpits actually smell quite nice now."
Hair: 3.5/5
Dishes: 1.5/5
Clothes: 4/5
Once I run out of Juniper Ridge soap, I'm using this castile soap from Alpine Provisions next. Its mixture of fir and sage lends a nice masculine smell and worked magic on both BO and funk caught in my clothes. The coconut and olive-oil base was soothing on my skin but unfortunately was outgunned by the oils in my hair and the grease on the dishes. Alpine Provisions only bills this for use while bathing or showering, but I wanted to put it through the same gauntlet of tests as the others in case the soap had the same powers against crusted food and grease.
---
5. Sea to Summit Wilderness Wash ($4 for 1.3 ounces)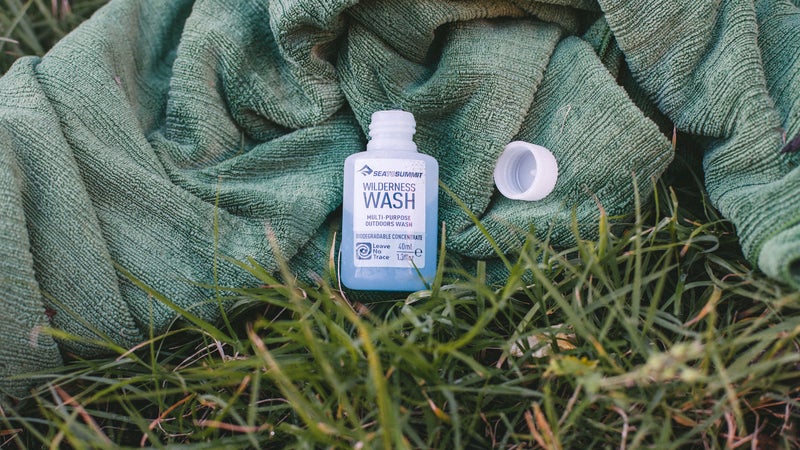 Pre-Shower Sniff Test: 6/10—"A hippy who just put on a clean shirt."
Post-Shower Sniff Test: 5/10—"It took the edge off, but you still smell like a pizza shop."
Hair: 2/5
Dishes: 3.5/5
Clothes: 4/5
If the camping tasks were all that mattered in this test, Sea to Summit's Wilderness wash would have made the race for first a tight one. It proved an excellent dish and laundry soap for a camp environment but was the worst at cutting down on odors. This wash doesn't have much of its own smell, which would have helped mask lingering stink. But I do have to say: it was nice to not have my dishes smelling like men's cologne after I was done washing them.
Lead Photo: Sarah Jackson