Luke Rowe, Tony Martin Booted from the Tour de France
For the third year in a row, tempers boiled over at cycling's biggest race, causing two disqualifications. This time it might affect who wins.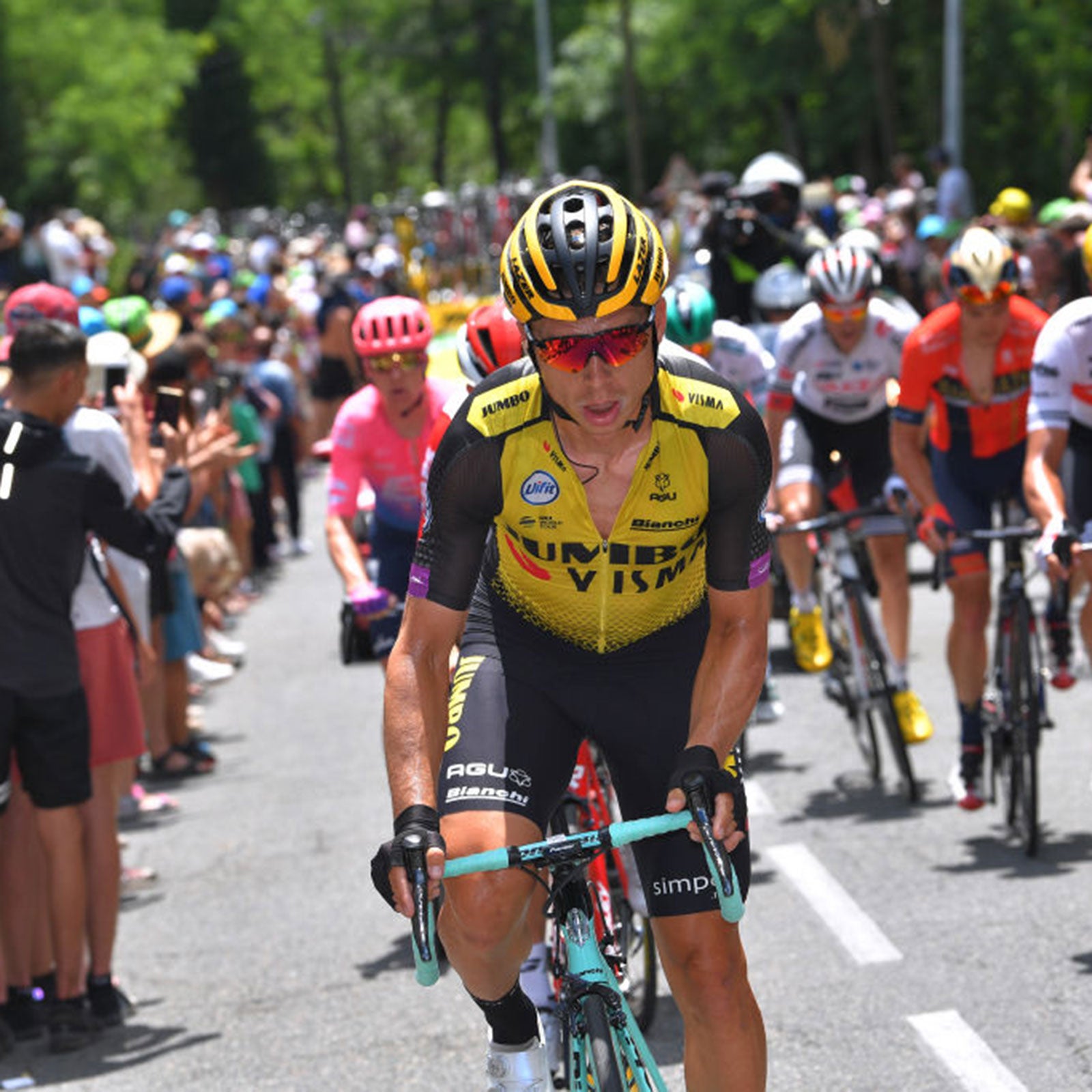 Tim de Waele/Getty(Photo)
Heading out the door? Read this article on the new Outside+ app available now on iOS devices for members! Download the app.
The heat wave has hit France, and tempers are rising along with temperatures. After a fortnight of moderate summer weather, the Tour de France entered its final week with the mercury running into the triple digits and the tarmac approaching a brain-frying 140 degrees.
That's about the only excuse for Wednesday's display of overheated temperaments that saw two riders, Jumbo-Visma's Tony Martin and Ineos's Luke Rowe, thrown out of the race for dangerous riding behavior. The disqualification was not only controversial: it could potentially affect the outcome of the race, as both teams have riders in contention for the win. For Ineos, defending champion Geraint Thomas is in third overall, just behind Egan Bernal in second. Jumbo-Visma's Steven Kruijswijk is in fourth.
The incident in question happened late in a long transitional stage, one of those filler days of the Tour that gets the race from one part of France to another and turns riders' already soft legs into pudding. A breakaway of 30-plus riders had established a huge gap (though if 20 percent of the field is up the road, is it even a break?), and the pack seemed gratefully resigned to letting riders within it fight it out. (Italian Matteo Trentin took the top step on the podium with a bold attack.) 
As the pack neared the final climb, "everyone wanted to be in the right position," said current race leader Julian Alaphilippe during his postrace press conference. "But there were a couple of guys getting nervous, physical about it." The concern, apparently, was that Alaphilippe, an aggressive racer and ace descender who is fighting to hold on to an increasingly tenuous lead, might attack at the summit to try to pad his margin by a few seconds. So, Alaphilippe said, "I went over and told them to calm it." 
He didn't go soon enough. Video footage isn't entirely clear on the sequence of events, but at some point, Rowe seemed to interrupt a train of Jumbo-Visma teammates and leaned on their leader, Kruijswijk. Manhandling a team leader like that is a serious party foul in bike racing, so Martin aggressively blocked Rowe, possibly in retaliation, and almost made him crash at the edge of the road. Rowe then angrily pulled on Martin's jersey. Boys, boys, boys!
At the finish, the race jury called in both riders and their teams, like a pair of sulky schoolchildren caught fighting at recess. After viewing evidence and hearing from each side, jurors summarily chucked both out of the race.
It's the third disqualification in as many Tours. In 2017, Peter Sagan was disqualified for allegedly impeding rival Mark Cavendish in a sprint, causing him to crash. Last year, Rowe's teammate Gianni Moscon was thrown out for swatting at French racer Élie Gesbert.
This year's disqualification might have caught both teams by surprise. They likely expected stern words, possible time penalties, forfeiture of points in the sprint and climb competitions (meaningless to équipiers who aren't riding for personal glory), and a large fine in Swiss francs, which is the UCI's currency. (Of course, the principal punishment for the latter is making the parties involved go to the trouble of finding a foreign-exchange desk to get some Swiss francs. Seriously, UCI, you guys heard of Venmo?)
Summarily handed an unexpectedly harsh penalty, the teams responded by bringing the two riders together to make nice in what was essentially a video rendition of "It's a Small World." There was discussion of a possible joint appeal. (Spoiler alert: it was not successful.) Race juries are as imperious as their reasoning is opaque, and they pretty much never revisit decisions, no matter how obtuse. 
But if this jury hoped to have the final word, it is obviously unfamiliar with Twitter. Immediately, accusations began to fly that the decision was actually a nefarious conspiracy to benefit French contenders like Alaphilippe and Thibaut Pinot by taking a rider each off their rivals' teams. (The French have not won their home Tour in 34 years.) Never mind the Michael Bay–size plot hole in this baroque theory, which would have required the race jury to convince Martin and Rowe to get physical in the first place, or the fact that the Tour jury this year is composed of a Spaniard, a Belgian, a Canadian, and (yes) one Frenchman, all overseen by an Italian. (Aha! But he's a French Canadian.)
Instead, focus on the practical effect: there are three real stages left in the 2019 Tour de France, and there are six men separated by 2 minutes 14 seconds. All three stages are hideously difficult tests in the Alps, and two of them finish on summits. Beginning in 2018, the UCI changed its rules to cut the number of riders per team in a three-week Grand Tour from nine to eight, which makes it harder for single teams like Ineos to control the race.
Now Ineos is down to seven riders, only five of whom are in support roles, because both Thomas and Bernal are coleaders. (Yes, the team said on the second rest day that Bernal would support Thomas, but Bernal's attack on Thursday's stage, which bumped him up to second overall, ahead of Thomas, suggests that was all just a misdirection. But neither will Thomas likely work now for Bernal). Jumbo-Visma is in even worse shape, with just six riders left, having lost Wout van Aert to a gruesome crash injury in the Stage 13 time trial.
Neither Martin nor Rowe is a key climber, the kind of "last man" who paces a leader late in a mountain stage. Instead, both are rouleurs, the steady, long-distance grinders who do massive amounts of yeoman's work in the peloton. The trouble for both teams is familiar to anyone who works in an already-understaffed office and now faces yet another round of rightsizing by the suits in the C suite. Without guys like Martin and Rowe, riders like Ineos's Jonathan Castroviejo and Michal Kwiatkowski and Jumbo-Visma's Laurens de Plus will be pressed into service earlier than their teams would like, leaving fewer resources for those crucial summit finishes. Sure enough, they were, and on Thursday's grind up Col du Galibier, Thomas and Bernal were isolated without teammates far earlier than they'd have preferred.
Whether it's Thomas, Kruiswijk, Bernal, Alaphilippe, or Pinot on the top step in Paris, I doubt you'll be able to trace the crucial fulcrum that put one man on top to which team had more midstage support. But it's a factor, and it's one both teams would like to have avoided. Ineos hasn't been its usual dominant self in the Tour thus far, but it's been pretty solid relative to the competition. Jumbo-Visma has been the strongest team in the race. The jury decision wasn't intended to level the field, but it'll have that effect to some degree.
As he showed on Thursday's stage, with an aggressive descent to Valloire, Alaphilippe may feel a little more willing to make those daring late-race attacks he held back today. (Personally, I think he's cooked and heading for a ten-minute crack in the Alps, but I've been known to be wrong roughly every year.) 
Pinot, with his own kick-ass climbing lieutenant, David Gaudu, may feel he can put Ineos, Jumbo-Visma, and Alaphilippe under pressure and then launch another devastating attack just so we can see his team director celebrate again. Pinot's kryptonite is the heat. And Emanuel Buchmann, the lightly regarded German in sixth, may just sit back while all these guys destroy each other and then nimbly step through the carnage to claim the prize (doubtful, but one can dream).
Whatever happens, it'll be fascinating to watch. I'll be glued to the screen with that old Inner Circle reggae song looping in my head like the video of Martin trying to flick Rowe into the rhubarb:
So why are you acting like a bloody fool?
If you get hot, then you must get cool.
Bad boys, bad boys. Whatcha gonna do?
Whatcha gonna do when they come for you?
Lead Photo: Tim de Waele/Getty