A Plant-Based Diet Fuels This Punk-Rock Ironman
John Joesph's diet is key to his longevity—both on the stage and in races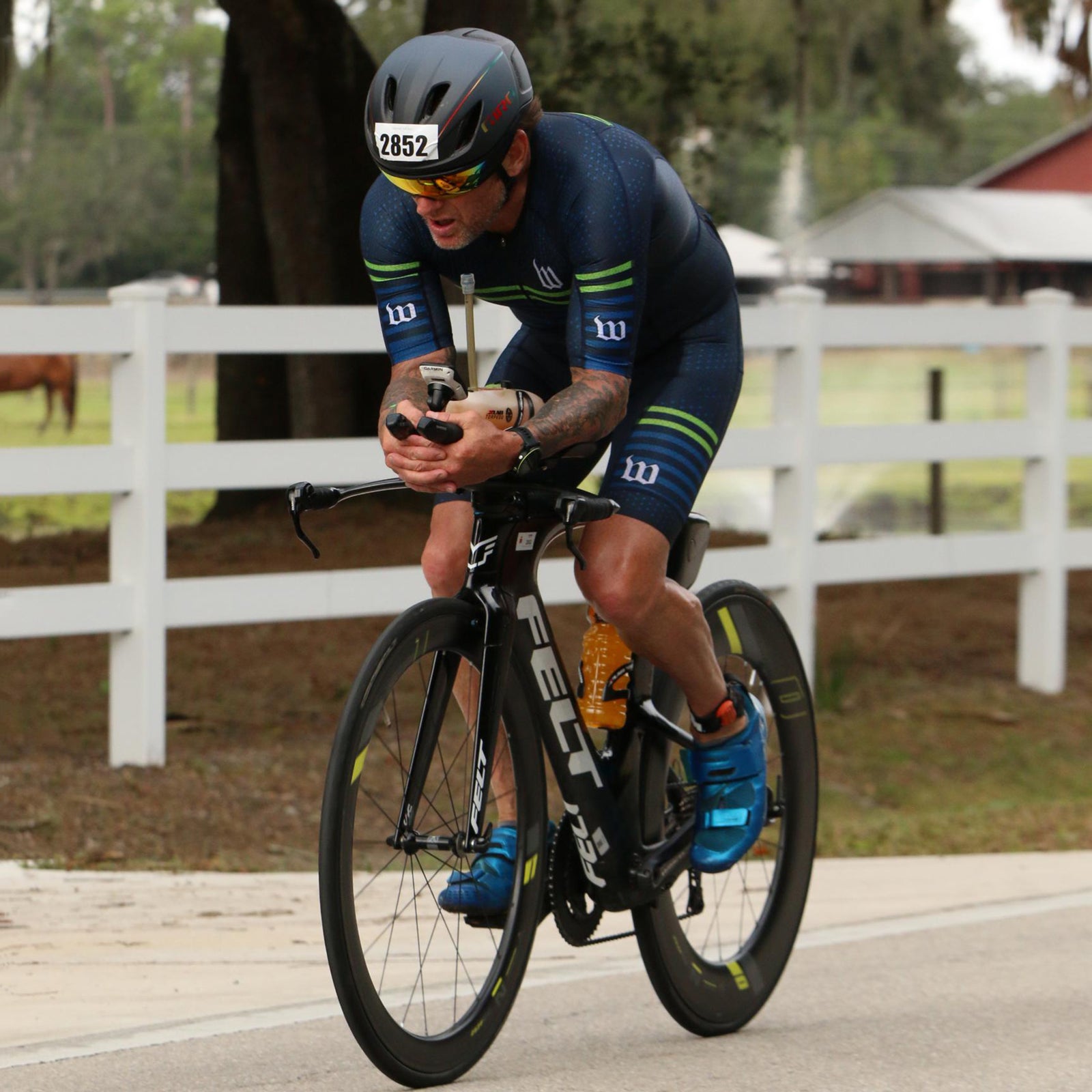 Courtesy John Joseph/IRONMAN(Photo)
Heading out the door? Read this article on the new Outside+ app available now on iOS devices for members! Download the app.
John Joseph probably should have died a long time ago. Born into an abusive family, he lived on the streets as a teenager, eventually falling into drug addiction and doing time in prison in the 1970s. Things were going south for the front man of the punk band Cro-Mags. After relapsing in 1988, Joseph took a two-year break from the band and started cycling. "People talk about rock bottom, but I was under the rock," Joseph says. "I started working as a bike messenger 'cause that was the only job I could get. I was good at it, I could ride all day. Then I started doing pack rides with other messengers at night and taking long-ass rides out to the Hamptons to swim in the ocean." He got sober in 1990 and soon returned to the Cro-Mags.
Now the 57-year-old New York City native is an Ironman finisher and the author of three books, including an autobiography and a self-help guide. Not only has he been sober for 29 years, he's also arguably the healthiest person in the room. "The whole sex, drugs, and rock 'n' roll thing is bullshit," Joseph says from his home, fresh off a tour in Europe. "It's a fantasy life. It's not sustainable."
Juggling an intense Ironman training routine and a jet-setting job has given Joseph the stamina he needs to perform in high-energy punk-rock shows. A typical Cro-Mags performance is exhausting: screaming fast-paced lyrics over guitar and drums, stage diving, mosh pits. But Joseph's life on the road sounds more like the regimented routine of a professional athlete. After each show, he retreats to his hotel room for an Epsom-salt bath, some foam rolling, and a dose of CBD oil. He sleeps for five hours, then wakes early for a run, typically 10 to 15 miles. "I have to train when I travel, because when you're competing in Ironman, you can't just take a month off when you're building up to a race," Joseph says. "You have to stay at it."
Joseph tells me that his plant-based diet is key to this healthy lifestyle and has helped him reconcile his traumatic past. In 1980, H.R., the lead singer of the seminal punk band Bad Brains, convinced him to give up eating meat. "Since the moment of conception, I've been in a violent world, and I had a lot of anger from it," Joseph says. "As soon as I eliminated meat, something clicked. This huge weight was lifted off of me. This violent nature that I had was gone. The diet was the first step. That's when I started caring about what was going into my body." Since then, Joseph has followed a strict plant-based diet for 39 years, even writing a how-to guide on the subject in 2014.
While Joseph is happy to discuss the environmental and moral implications of a meat-based diet (catch his appearance on Joe Rogan's podcast for a primer), he's just as passionate about optimizing plant-based diets for athletic performance. He didn't start competing in Ironman-distance triathlons until he was 50, when a friend scored him an entry into the New York City Ironman. Even though Joseph says his training was off for that first race, he was hooked. "I was crying as I crossed the finish line, thinking about all the people in my life who said I wouldn't amount to anything," Joseph says. "It was an emotional experience. Doing an Ironman reveals your true character." Since then, Joseph has knocked out ten more Ironman-distance races, including two Kona World Championships. 
"I was crying as I crossed the finish line, thinking about all the people in my life who said I wouldn't amount to anything."
A typical day for Joseph starts with fresh juice: usually a mix of pineapple, turmeric, ginger, and spinach, which he says helps fight inflammation. He follows this with a breakfast of acai berries topped with almond butter. After breakfast he'll tackle a brick workout, which includes a lengthy bike ride followed by a long run. On the bike, he'll eat Clif Bloks and plant-based raw bars, followed by watermelon, water with amino acids, and a banana before he runs. His postworkout drink of choice is fresh beet juice, which he says helps increase the oxygen in his blood. Dinner is a bowl of brown rice, beans, avocado, broccoli, and a tahini sauce. 
Joseph says he's seeing more athletes in the Ironman community switch to a plant-based diet, and he's on a mission to help others understand that this approach can fuel serious athletes. Joseph hosts his own YouTube cooking show, Hard Truth, which has him cooking vegan meals with special guests, whipping up classics like lasagna and pasta Alfredo with fresh, organic ingredients. "You give me one day, I'll feed you three meals, and you tell me how good it tastes and how good you feel after you eat it," Joseph says. "You'll get energized by the food. Every single nutrient can be obtained from a whole-food, plant-based diet. And it gives you the fiber you can't get from those meat-based diets." (While ditching meat is certainly working for Joseph, there's an ongoing debate about the merits of a plant-based diet for athletes.)
He's training for the Ironman Cozumel in Mexico in November and is working on a cookbook that is scheduled for release in 2020. For Joseph, the diet feeds the racing, and the racing keeps him on a healthy path. "You have to stay very regulated and disciplined when you're racing Ironman," Joseph says. "Your eating has to be regulated. Your sleeping. Your training. Living that lifestyle keeps me focused. It keeps my mind engaged in positive things and keeps me around positive people."
Lead Photo: Courtesy John Joseph/IRONMAN