This 85-Year-Old Is Visiting Every National Park
Together, Joy and her grandson Brad have driven more than 25,000 miles through 38 states—and they're not done yet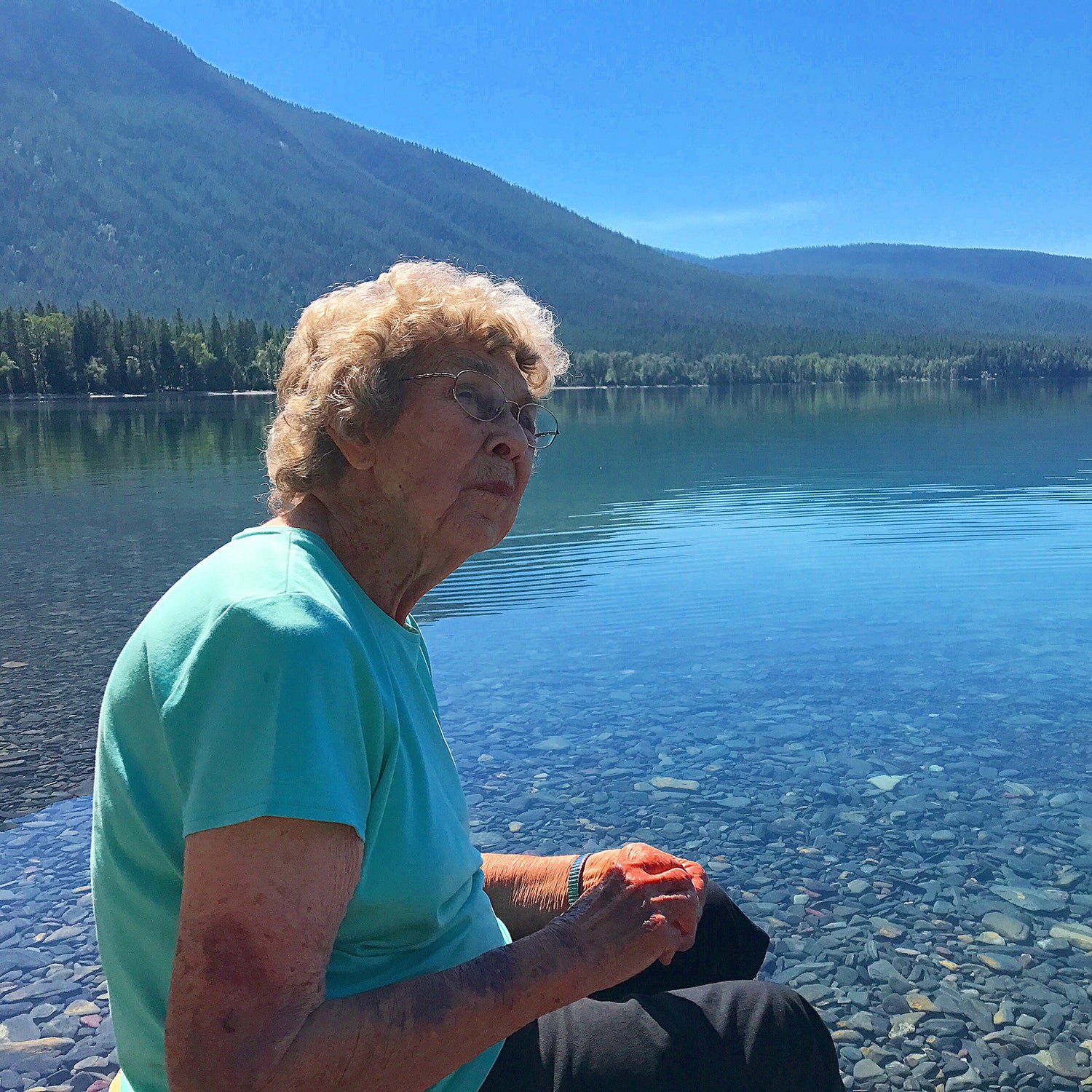 Courtesy Brad Ryan(Photo)
Heading out the door? Read this article on the new Outside+ app available now on iOS devices for members! Download the app.
For 85 years, Joy Ryan had been grinding away at life—raising a family, working nonstop at a minimum-wage job, making ends meet, wrestling with the loss of family members—and rarely left her small hometown of Duncan Falls, Ohio. She'd never seen a mountain range before, just in the movies. 
That all changed one night four years ago. Joy was on the phone with her grandson Brad, who was stressed over his veterinarian program at Ohio State and coping with news of a peer who'd just committed suicide. After some back and forth, Brad took her by surprise and suggested, "I think it's time we go see some mountains."
Joy agreed, so they started packing and that weekend drove through the night toward Great Smoky Mountains National Park. By the time they got there the next day, it was raining, and Joy held her pink umbrella over Brad as he put the tent together.
"That was the first night she'd ever been in a tent," says Brad. "The sleeping pad deflated in the middle of the night. I heard a rumbling noise and just saw her legs sticking out from underneath the thing because she rolled right off of it."
When the sun rose, Joy and Brad took in the view of the hazy ridgeline together and set out for the Alum Cave Trail, a five-mile out-and-back route which summits among a line of bluffs. "It took me two hours to get up that mountain," says Joy. "Brad kept saying we could go back, but I was getting to the top of that thing if it killed me. Never thought I'd do something like that at 85 years old. Mind over matter, I suppose."
Then they went back to Ohio—back to their routines. Two years passed while Brad finished his degree, but during that time, he quietly crafted a master plan to visit every designated U.S. national park with Grandma Joy. 
"National parks just bring out the best in people," says Brad. "In the parks, you don't talk about politics. You don't talk about the things that cause us to wage war with each other. Parks bring us back to what's important. You really do experience the best of America, not only the people you meet and the things you see, but also the way you feel."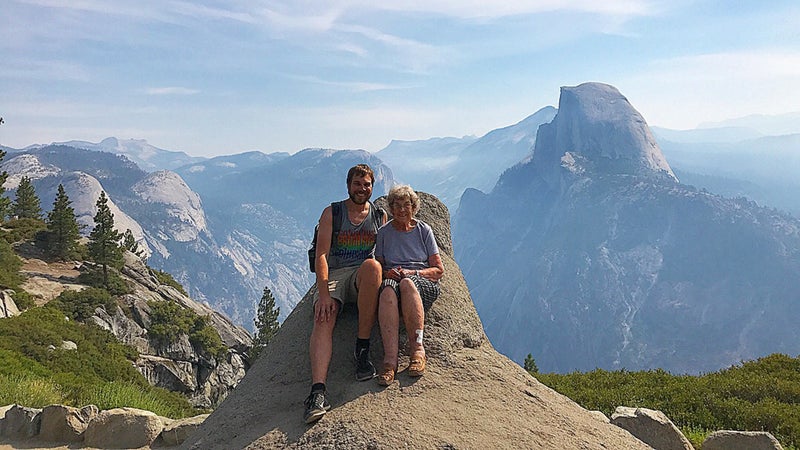 Today, four years after visiting the Smokies, Joy and Brad have checked off 29 national parks and monuments over five different road trips. They've driven more than 25,000 miles through 38 states. And they've gotten into a hell of a routine. Joy isn't holding a pink umbrella over Brad as he sets up the tent anymore. These days she's the primary tent architect, pitching it every night and tearing it down every morning, while Brad shuttles the other camp gear in and out of their Ford Escape. 
"I thought maybe this whole mission would be less satisfying, because I wouldn't be able to go climb the Tetons and that kind of thing," says Brad, an avid outdoorsman who has thru-hiked the Appalachian Trail and summitted Kilmanjaro. "But watching somebody see these things through a lens, knowing they're probably not going to be back—that's really special."
One of the most memorable experiences for Brad occurred at Glacier National Park, on the edge of McDonald Lake. "I wanted Grandma Joy to just have that moment in life next to this pristine lake and just stare at it," he says. "I stepped away from her, walked away, and watched from down the shoreline. I wanted her to think about her life. Nature. Stillness. I wanted her to have that solitude and one-on-one time with nature."
Joy would have been perfectly happy spending the rest of her days in Duncan Falls. She likes it there and says she has never needed much—people with fancy pearls and diamonds "probably have a whole lot of debt anyways." But hitting the road, sleeping in a tent for weeks on end, and seeing these parks has helped her appreciate life even more. 
"I feel pretty lucky," the now 89-year-old says. "I don't have anything wrong with me really. I take a few pills a day. I could use some hearing aids, but I can't spend $5,000 on those, so I just learned to read lips, I guess. I'm going to just keep going as long as I can."
Lead Photo: Courtesy Brad Ryan