In Stride
Kenenisa Bekele's Huge Day at the Berlin Marathon
Distance running's G.O.A.T. is unpredictable and flawed. Just like the rest of us.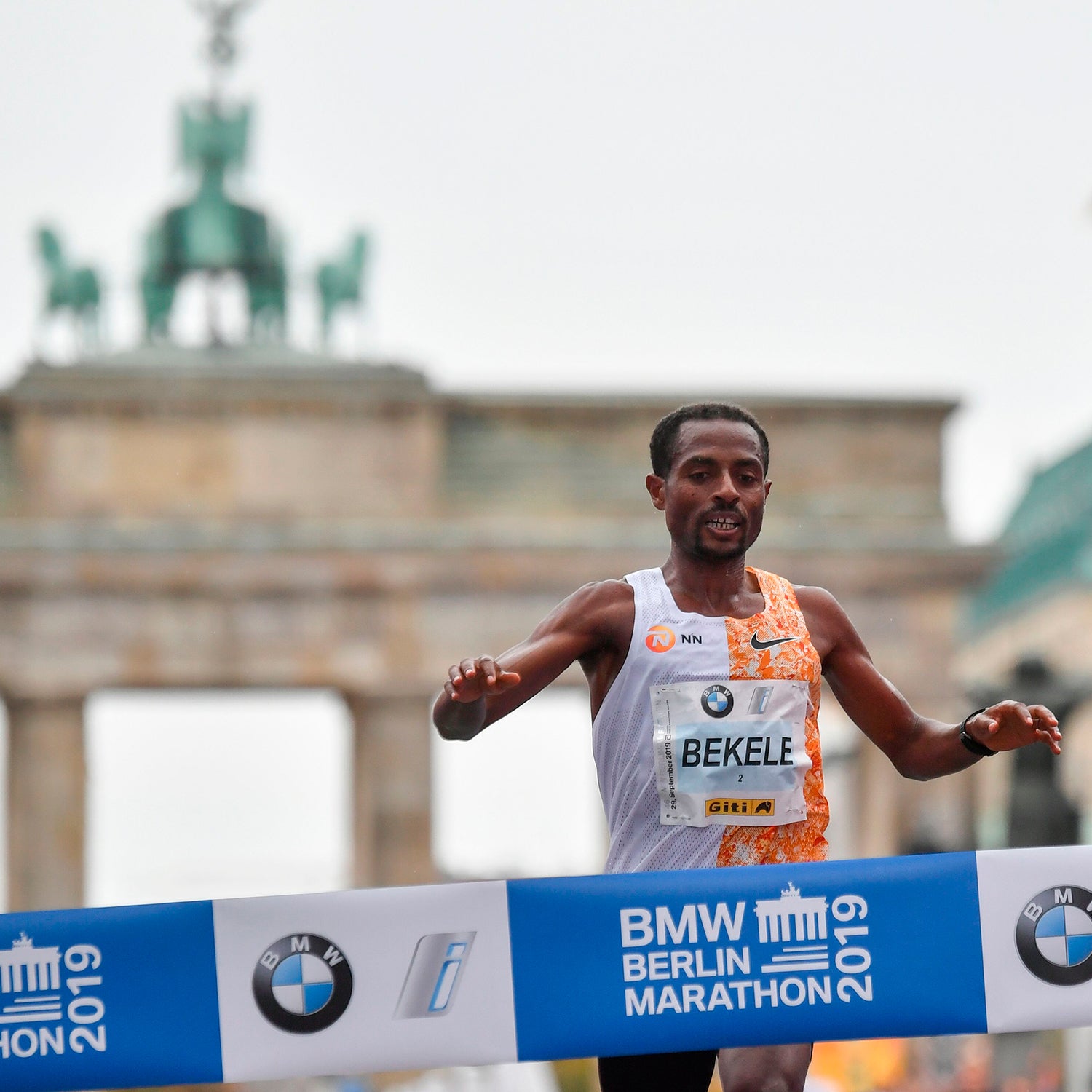 John MacDougall/AFP/Getty(Photo)
Heading out the door? Read this article on the new Outside+ app available now on iOS devices for members! Download the app.
In January 2017, Kenenisa Bekele, the Ethiopian who holds the world record in both the 5,000 and 10,000-meters, said that he believed that he was capable of running "around 2:01:30" in the marathon. Back then, those were bold words. The world record for 26.2 miles still stood at 02:02:57. Even though Bekele had just run 2:03:03 to win the 2016 Berlin Marathon, the notion that he was going to slice another 90 seconds off his personal best seemed remote. What's more, by 2017, Bekele was no longer the most formidable presence on the professional distance running scene. That distinction went to Eliud Kipchoge, the Kenyan master who, at the time, had won an unprecedented five consecutive Marathon World Majors including an Olympic gold medal. If anyone was going to produce a marathon performance "around 2:01:30," the smart money would have bet on Kipchoge. And, for the next three years, the smart money would have been right. 
After yet another victory in this year's London Marathon, Kipchoge has pushed his ridiculous WMM win streak to nine straight races. Last year, he finally claimed the marathon world record in Berlin. His time of 2:01:39 was 78 seconds faster than the previous mark—the largest margin of improvement in over 50 years. It was a feat that affirmed what everyone already knew: Kipchoge is in a class all by himself. 
"Right now, Kipchoge is the only human on the planet who can honestly tell himself that he's capable of running in the 2:01s," Alex Hutchinson wrote for Outside after the race. Like most of the running community, I agreed with this assessment. That is, until yesterday. 
On Sunday, Bekele shocked the running world by winning the Berlin Marathon in 2:01:41—a mere two seconds off of Kipchoge's astounding time from last year. It wasn't a perfect day for racing; the weather was windy and damp. Bekele, who turned 37 earlier this year, even said that he had issues with his hamstring that slowed him down. Three quarters of the way into the race, he temporarily lost contact with the leaders, only to reel them in and drop them over the final 10K. When he approached the Brandenburg Gate with less than half a mile to run, the world record was still within his grasp. He came up just short, but it's safe to assume that no one saw this coming. 
Bekele wasn't even confirmed to participate in Berlin until three weeks ago. Although he had recently run well at the London Marathon (2:06:36 for 2nd in 2016, 2:05:57 for 3rd in 2017, and 2:08:53 for 6th in 2018), he had never come close to replicating his last triumph in Berlin. What's more, he has also dropped out of three races, including a baffling incident at last year's Amsterdam Marathon where he walked off the course with less than two miles to run. 
In the coming days and weeks, there are sure to be discussions about the fact that Bekele was wearing the latest iteration of Nike's controversial Vaporfly shoes. So was his fellow Ethiopian, Berhanu Legese, who finished second on Sunday in a time (2:02:48) that one year ago would have itself been a new world record. As Letsrun pointed out in their race recap, the five fastest marathons ever run have all occurred in the last 13 months and every one of them was run in some version of the Vaporfly. (Ditto, the fastest half marathon.) Indeed, it is becoming increasingly difficult to deny that advances in shoe technology are part of what's driving the current surge in marathon times. Until recently, the question would have sounded absurd, but we might eventually need to ask ourselves how well we want our running shoes to work. 
At least for the moment, however, Bekele's achievement should be celebrated for what it is: a towering performance by the man whom many consider the greatest distance runner ever. No other athlete has had nearly as much combined success across the three major disciplines of world-class racing; 11 gold medals in IAAF cross-country world championships, eight total gold medals in Olympic and World Championship competitions on the track. And now, fulfilling his own prophecy, a marathon in "around 2:01:30."
If Kipchoge represents a kind of platonic ideal of what marathoners can aspire to—impeccable discipline, otherworldly consistency—Bekele has repeatedly demonstrated his fallibility, occasionally blowing up in races where expectations were sky high. (When it was announced that he was running Berlin, many anticipated another DNF.)  Weirdly enough, he might be a fitting patron saint for all of us who have had things go to hell on race day, only to rise again.
"I am very happy running my personal best. But I still can do this (world record)," Bekele told reporters after the race. "I don't give up."
Lead Photo: John MacDougall/AFP/Getty