Adventure Detours in the World's Most Visited Cities
Extend that layover—these megacities have plenty of outdoor activities within an hour or two of downtown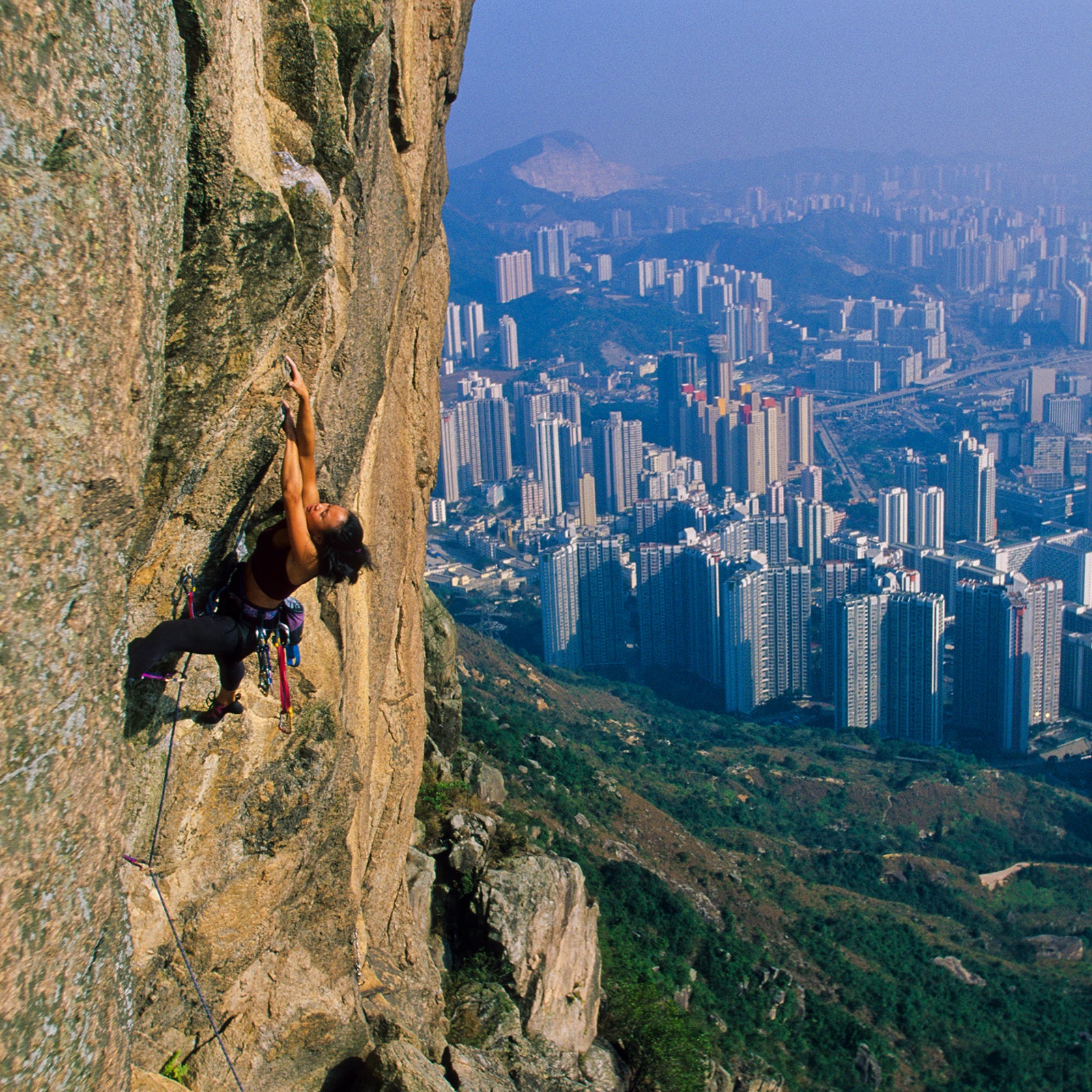 Dan Morris Photography/Tandem(Photo)
Heading out the door? Read this article on the new Outside+ app available now on iOS devices for members! Download the app.
A recent report from Euromonitor International, a UK-based market-research group, revealed the 100 most visited cities in the world last year. Major Asian hubs such as Hong Kong, Bangkok, Macau, and Singapore dominated the list, taking seven of the top-ten spots, while European and Middle Eastern metro areas followed. Many travelers have used these cities as stopovers en route to more adventure-filled final destinations, but we're here to tell you that you don't need to make onward connections to find what you're looking for—these bustling urban centers have plenty of action-packed detours within an hour or two of downtown. Here's a guide to extending that layover, packing in some time outdoors between major cultural sites, or simply making the most of these dynamic places. 
Hong Kong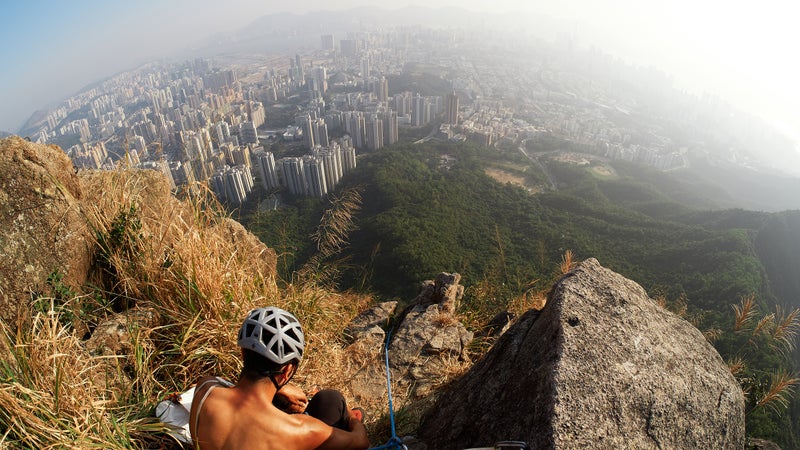 Visitor count: 26.7 million 
Hong Kong has been the most visited city in the world since 2010. The ongoing anti-government protests resulted in 2.5 million fewer visitors compared to 2018, but they haven't stopped most people from going. U.S. travel advisories have recommended extra caution but haven't discouraged taking trips there, and reports on the ground point to tourist safety. However, to minimize risk, keep an eye on local media reports to gauge which areas are most affected.
What many visitors don't realize is that close to 40 percent of Hong Kong has been designated as parks or protected lands. A fifth of the city is also covered with steep slopes, making for some of the best granite crags in Asia. Within an hour from the airport, you can go on a moderate canyoneering day trip along the Ping Nam stream. Or head 40 minutes south to hit crags like Lion Rock and Beacon Hill in Lion Rock Country Park; they offer a variety of single- and multi-pitch climbs, from 5.6 to 5.13, and there's nothing like the payoff—the skyline views from the top are some of the best in the city. For details on hiking trails in Hong Kong's 24 national parks and its 140 miles of cycling tracks, the Great Outdoors Hong Kong 2019–20 guidebook is a good resource.
Bangkok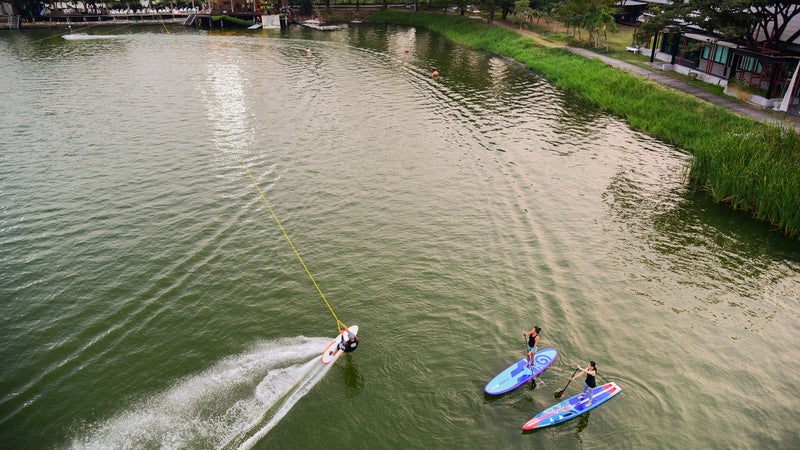 Visitor count: 25.8 million
This capital city has made the list's top five for several years, securing second place in 2017 and 2018. Most visitors spend a few days in the center, stopping by its decorated Buddhist temples and bustling street markets, before heading off to Thailand's more than 1,000 islands, including Phuket and Ko Chang.
But Bangkok is surrounded by river- and lake-based adventures that make adding an extra day or two in the area worth it. Head 50 minutes east to Taco Lake, a wake park where water-skiers and wakeboarders hold onto handle attached toa rope that's pulled along by overhead cables near the periphery of the lake, or use the park's ramps to practice your turnovers and other tricks (from $13).
Macau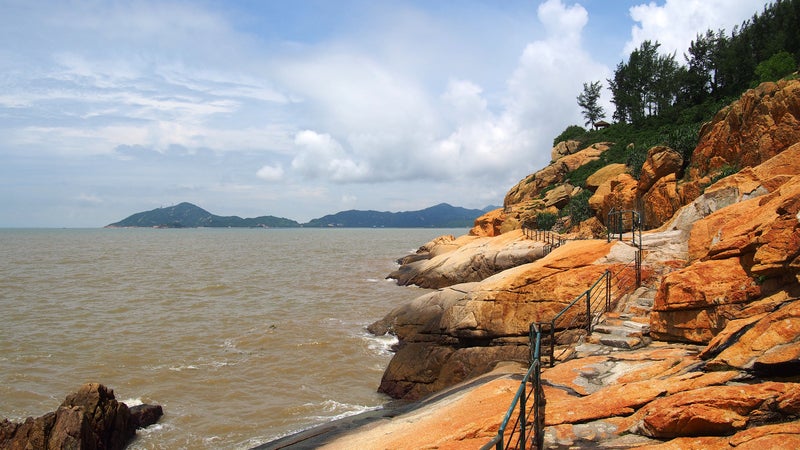 Visitor count: 20.6 million
Macau, an autonomous region on the south coast of China, is known among globe-trotters as the Las Vegas of Asia, due its giant casinos (gambling is illegal in Hong Kong and China) and malls along the Cotai Strip. But the former Portuguese colony is more than just roulettes and slot machines.
For extreme urban adventure, team up with guiding company AJ Hackett to scale 1,100-foot Macau Tower (from $299), where you can walk along the building's outer rim for sight lines that reach as far as Hong Kong and the Pearl River Delta in China on a clear day. Half an hour south of downtown, or 20 minutes from the airport, is Coloane Island, which has a ten-mile trail system that's a go-to spot for local hikers and trail runners. Don't miss the 1.3-mile Morro de Hac Sa Family Trail, with views of the azure South China Sea.
Singapore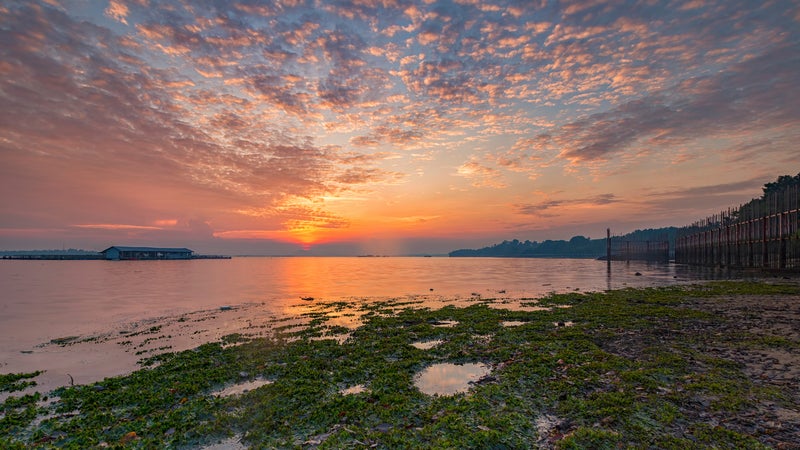 Visitor count: 19.8 million
To escape the hustle and bustle of this tiny, dynamic city, go to Pulau Ubin, an island just 12 miles from the downtown. It can be reached in less than an hour via a free bus from Changi International Airport and then a short ferry ride (from $3).
Hop on tandem kayaks from Asian Detours (from $58) and paddle around the mangrove, with hornbills and herons flying above. On the western edge of the island, Ketam Mountain Bike Park has a world-class ten-mile trail system that hosts the city's major biking events.
You're also likely to bump into wildlife photographers and birders who come to catch sight of more than 200 species of birds, 700 types of plants, and 40 varieties of reptiles.
London
Visitor count: 19.6 million
Green spaces in London are a dime a dozen, but the adventure offerings indoors and just beyond the city limits and are as innovative as they are varied.
A ten-minute drive from Big Ben is Vertical Chill, an ice-climbing gym. The facility keeps its internal temperature between 10 and 23 degrees year-round to maintain its 26-foot-tall ice wall, which features beginner slabs, dramatic overhangs, and everything in between (from $33).
Or head an hour north of downtown to Waltham Cross, Hertfordshire, and the Lee Valley White Water Centre, a rafting and canoeing destination used in the 2012 Olympics. The venue hosts two options for rafting—a 1,000-foot Olympic course with a stunning 19-foot drop, and a 525-foot loop with a milder five-foot drop—and offers Class II-IV whitewater (from $65). New to the sport? You can also take kayaking lessons there (from $78).
Paris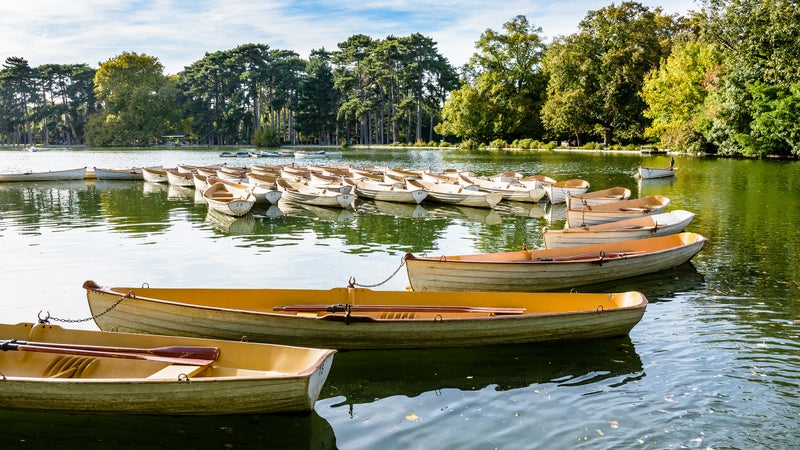 Visitor count: 19.1 million
An hour north of the Eiffel Tower, or 40 minutes from Charles de Gaulle International Airport, is the the Val-d'Oise region. The area has over 870 miles of trails that take hikers through 2,000 years of history. Châteaus, churches, castles, old towns, and megalithic sites dating back to the Roman era dot routes lined by chestnut trees.
If you don't have time to leave the city, explore its urban running and biking opportunities. Located along the western outskirts Paris, Bois de Boulogne (where the French Open is played every May) has two lakes, nine miles of cycling routes, and countless trails in its 2,100 acres, which is more than twice the size of Central Park. And don't forget about the Seine, with its four-mile waterfront walkway from Pont d'Austerlitz to Pont d'Iéna, which passes the Louvre Museum, the Musée d'Orsay, Palais Bourbon, and the Eiffel Tower.
Dubai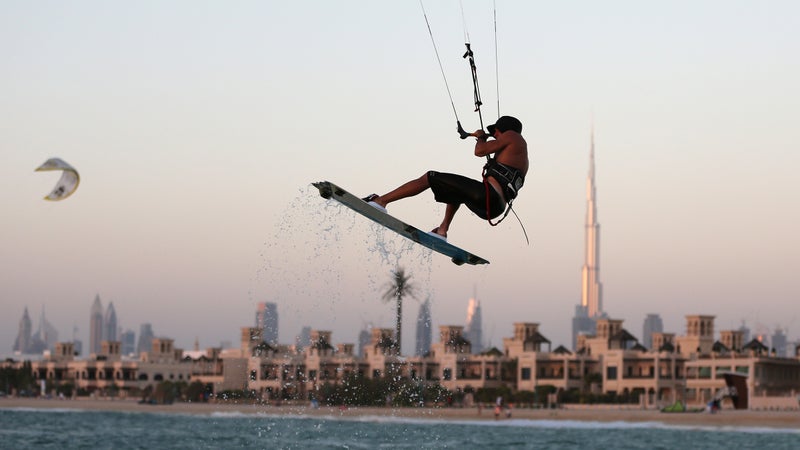 Visitor count: 16.3 million
Hotel-bar hopping by luxury limo and extravagant desert safaris may overshadow the city's biking and surfing scenes, but there's plenty of ways to play outside if you know where to look. In the cooler months, check out Al Qudra Cycle Track, a 50-mile loop that stretches from the southeast tip of downtown into the desert, where you'll catch sightings of local wildlife such as oryx and ride alongside training athletes from the United Arab Emirates national team. Rent your ride at Trek Bicycle Shop (from $15) off of the main highway, Sheikh Zayed Road.
If you prefer the water, you're not alone in a city home to more than 1,000 surfers. Umm Suqeim Open Beach, just east of the iconic Burj Al Arab hotel, is your spot for kitesurfing, wakeboarding, and surfing. It's known as the last bastion for natural waves, as more man-made islands dot the coast and interrupt western swells. Or head to the Wadi Adventure wave pool (from $18) in Al Ain, a 90-minute drive south of Dubai, which creates an 11-foot wave—the largest artificial break in the world—every 90 seconds.
Delhi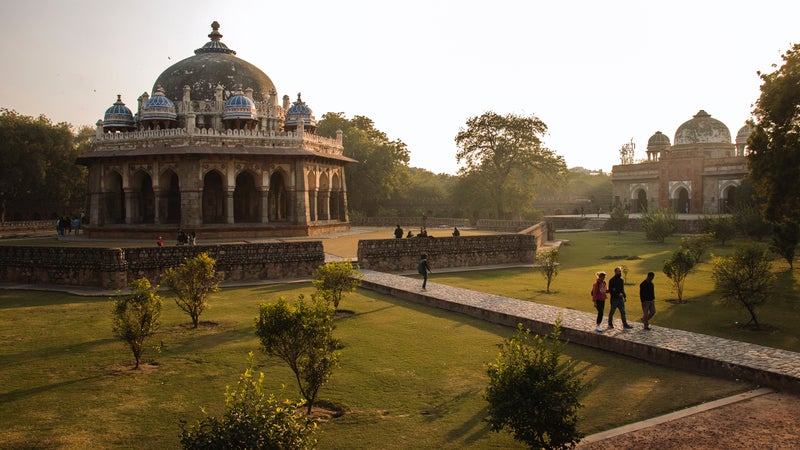 Visitor count: 15.2 million
Due to rapid development of its tourism infrastructure, Delhi witnessed a 20 percent visitor jump from 2018. This increase is only set to grow, as Indira Gandhi International Airport is set to expand its facilities by June 2022, enabling the hub to handle 100 million passengers every year. New direct routes to Delhi include Air India's flight from Toronto and United Airlines' flight from San Francisco. Its connectivity to locations across northern India, such as Kashmir and the foothills of the Himalayas, has also boosted inbound arrivals.
With wellness tourism on the rise globally, the city has attracted visitors who come for its yoga and meditation training institutes. The Art of Living, Sahaja Yoga, and Vishvas Meditation are good places to start. If you're a birder, a wildlife photographer, or just looking for some nature, head 18 miles south of the city center to Asola Bhatti Wildlife Sanctuary, which has close to 200 types of birds, more than 80 species of butterflies, and populations of nilgai, the largest Asian antelope that's native to the Indian subcontinent. The Conservation Education Center, near the entrance, organizes wildlife tours (from $2).
Visa restrictions: For stays shorter than 60 days, U.S. visitors can apply for an electronic travel authorization at least four days prior to their arrival in lieu of applying for a tourist visa at an Indian embassy or consulate.
Istanbul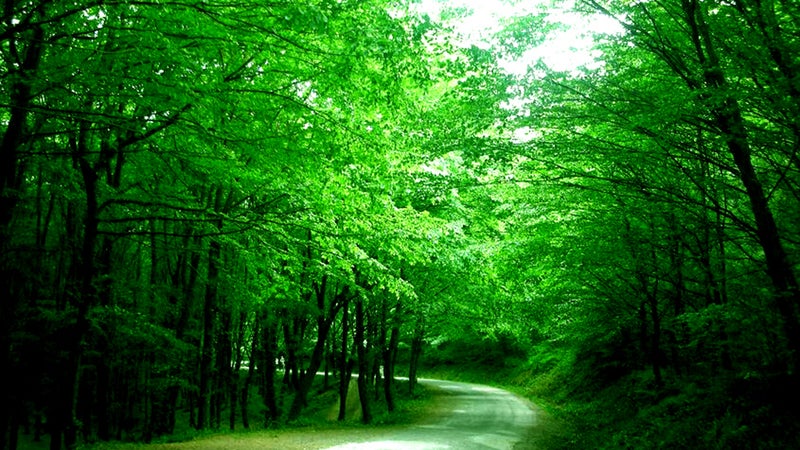 Visitor count: 14.7 million
After political and security issues in 2016 caused a drop in visitors, Istanbul has rebounded. Its downtown sites are enough to fill a weeklong itinerary (navigating the Grand Bazaar will take at least a day), but it's worth doing as the Turks do and taking a day or two to escape the city's crowds and congestion.
Head over to Belgrad Forest, just ten miles north of Istanbul. In an area encompassing more than 13,000 acres of oak, beech, and chestnut trees, runners can choose from plenty of unmarked trails. One of the most popular is a four-mile loop around the southern lake of Neset Suyu. For mountain bikers, there's a 40-mile trail that spans from the south to the center of the forest.
Visa restrictions: U.S. citizens who plan to stay less than 90 days can obtain an e-visa online.
Kuala Lumpur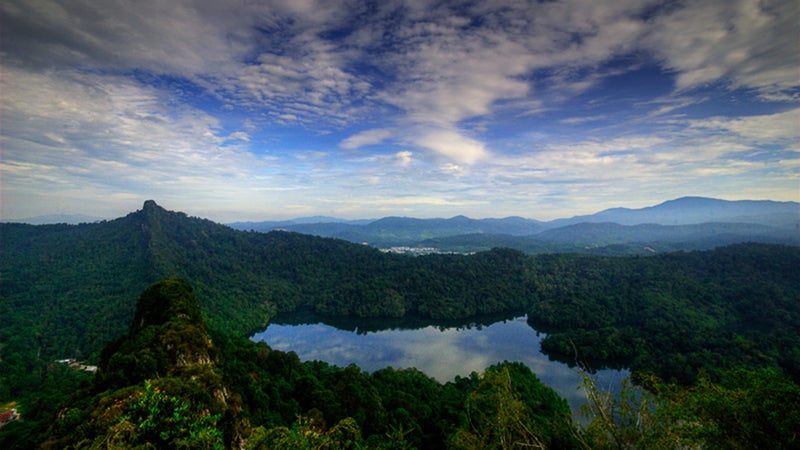 Visitor count: 14.1 million
One of Outside's 20 most affordable places to go in 2020, the Malaysian capital is no longer a stopover for visitors on the way to its surrounding islands.
For serious rock climbers, Batu Caves, a 90-minute drive north of the city, has more than 170 routes across eight limestone crags. If you left your gear at home, Mir Adventures offers half- and full-day tours with equipment rental (from $51). For hikers, the 8.7-mile-long, 660-foot-wide Klang Gates Quartz Ridge, the longest quartz formation in the world, is a challenging trail just 12 miles north of the city. Trek up through muddy jungle terrain from either of the two trailheads, Bukit Tabur East or Bukit Tabur West. You'll need the help of a wire rope to get to the very top, where Kuala Lumpur's famous skyline is visible on one side and a reservoir on the other. Looking for something less rigorous? Drive 25 miles south from downtown to Bukit Broga for an hourlong hike with scenic jungle views. Go early in the morning or at dusk to catch the sunrise or sunset views over the city.
Lead Photo: Dan Morris Photography/Tandem