Bureaucracy Could Make Some Backcountry Less Safe
In Oregon's Clackamas County, a fight between a sheriff and an elite search and rescue unit reveals how local politics can collide with recreational safety for residents and visitors alike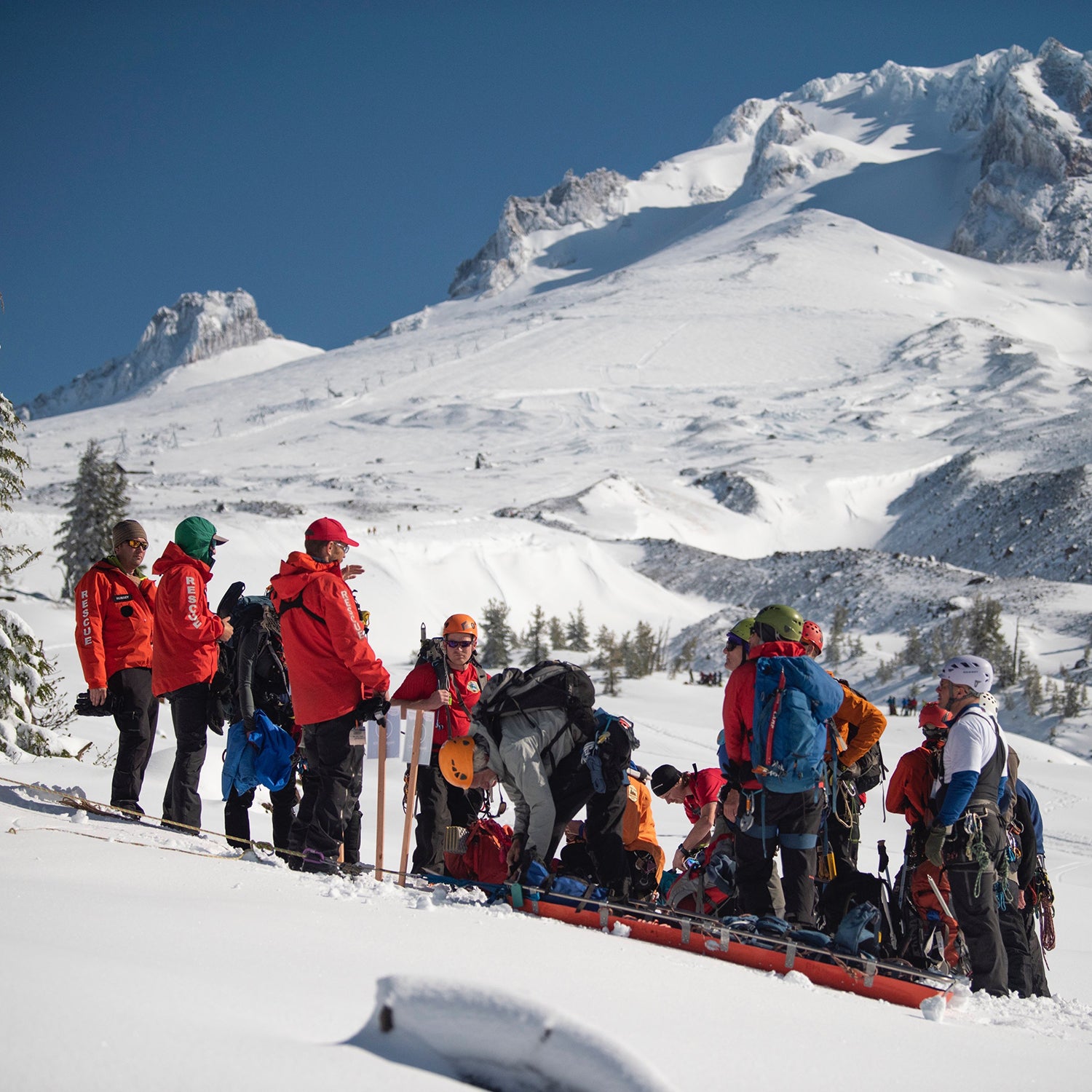 PMR Member Tim Ozerkov(Photo)
Heading out the door? Read this article on the new Outside+ app available now on iOS devices for members! Download the app.
Oregon's Clackamas County is a thickly timbered, 1,879-square-mile outdoor-recreation paradise. It's home to 11,249-foot Mount Hood, a sprawling river system, several wilderness areas, a national forest, and more than 61 miles of the Pacific Crest Trail. Around 10,000 people attempt to climb Mount Hood every year, and millions more play in the woods and waterways surrounding the peak. 
For years, the Clackamas County Sheriff's Office (CCSO) has relied on three volunteer search and rescue teams to keep all those people safe: Portland Mountain Rescue (PMR), Pacific Northwest SAR (PNWSAR), and Mountain Wave. These groups have 100 years of combined institutional history, plus nearly 400 highly trained volunteers who are on call 24/7. They are considered the best of the best by their fellow national and international search and rescue (SAR) communities, serve at no cost to taxpayers, and operate in conjunction with the sheriff's office like most other SAR teams around the country. But recently, the CCSO announced a plan to replace all of them with its own volunteer program and informed current SAR volunteers from PMR, PNWSAR, and Mountain Wave that they would stop receiving mission callouts within 18 months. (A fourth group, Northern Oregon Regional SAR, also operates in Clackamas County, but is considerably smaller than PMR, PNWSAR, and Mountain Wave.)
"Mount Hood is the gateway to mountaineering in North America and the second most climbed mountain in the world," says local big-mountain skier Matthias Giraud. "With the crowds come both experts and the completely inexperienced and unprepared. It's a fickle mountain, and without the experience and expertise of the existing teams, it would turn into a graveyard."
So why the sudden change?
"The formation of a single, unified search-and-rescue program for Clackamas County comes in the wake of recent litigation, at the recommendation of Clackamas County counsel, and following a comprehensive study that's now available for download," read a February 19 press release from the office of Sheriff Craig Roberts. 
The litigation referenced is a lawsuit filed in 2018 by the family of John Jenkins, who died after a 600-foot fall on Mount Hood in 2017. A PMR ground team reached Jenkins within minutes of the accident, but he succumbed to his injuries as a rescue helicopter brought him on board. 
Jenkins's family sought $10 million in damages and faulted the CCSO and Clackamas County 911 for communication errors that they said contributed to a more than four-hour delay in the deployment of the rescue helicopter. (The sheriff and the county have disputed the family's version of events.) The case was settled out of court for $25,000. The settlement also required that Clackamas County pay an additional $5,000 to PMR in honor of John Jenkins. 
"The lawsuit was never about the money," says Robert Jenkins, John's father. "We didn't want this to happen to someone else. The fault was not in search and rescue. The fault was in the sheriff's office and their internal protocol for handling 911 calls." Robert Jenkins donated the money from the settlement to SAR groups in the Pacific Northwest. The settlement also stipulated that the CCSO upgrade its training for internal emergency personnel, such as the staff who answer 911 calls.
Since the settlement rewarded PMR for its efforts, Sheriff Roberts's decision to disband the current SAR structure didn't seem to add up. "You have to wonder if there's vindication at play," says Allan Brettman, who covered Jenkins's death for The Oregonian. 
Further, the "comprehensive study" the sheriff's office relied on to make its decision was in no way comprehensive. It focused on only two of the 36 counties in Oregon—Deschutes and Multnomah—and a program in Mono Lake, California, and, according to many search and rescue experts, failed to analyze how SAR programs in those places actually work. There's also no sign that the study's author, a retired Clackamas County undersheriff, consulted with local experts who know the county's terrain, environment, and needs. 
"PMR is one of the top technical rescue teams in the country," says Art Fortini, president of the Mountain Rescue Association. "Losing such a resource would be a major loss to the mountain rescue community. If you are going to replace them with a new team that is less experienced, I expect it to have a negative impact on patient outcomes. And how that is supposed to reduce lawsuits is a mystery to me."
Public outcry against the CCSO's decision to dismantle its traditional volunteer teams was swift and widespread. In SAR corners of the internet, #savePMR started trending. The Oregonian ran an editorial arguing that "while Roberts has the power to make such a dramatic change, he has yet to articulate a rational argument for it," and that "his proposal to replace the existing arrangement with his own search-and-rescue team … seems more about enforcing administrative directives than promoting safety."
Then, on February 25, a Hood River man named Cory Johnston died after a fall on Mount Hood. The volunteer team from PMR had once again been able to reach the victim within minutes of the accident. A day after the tragedy, Sheriff Rogers met with members of PMR—a meeting that the search and rescue outfit had been trying to schedule for months. 
A joint statement ensued from the sheriff's office and PMR, relaying that "after a productive discussion this morning, we're excited to announce a mutual agreement in principle on general terms for a closer relationship between Portland Mountain Rescue and the Clackamas County Sheriff's Office. We all believe this arrangement will improve safety on the mountain." 
There is little doubt that public uproar over the issue, combined with the timing of Johnston's death, caused Sheriff Roberts to rethink his position, at least with PMR. The other groups still hope that he will reconsider bringing all SAR operations in-house. Diana Worthen, president of PNWSAR, said that representatives from her organization met with the sheriff in early March. "The discussion is far from over, and a resolution still feels very far off, despite the press release about the 'mutual agreement in principle' with PMR," says Worthen. "They have no actual agreement, just a goodwill handshake so far, and they've unfortunately excluded PNWSAR and the other teams from discussions. But I am very pleased to see CCSO's leadership showing an interest in discussing solutions, and I am hopeful for a positive outcome for SAR in Clackamas County." 
A spokesperson for the sheriff's office said that the public outrage had been a result of a "misunderstanding" by the media. The spokesperson declined to comment further, but Sheriff Roberts released a statement in early April that reads, "We're still working with our search volunteers and will in the immediate future through this transition. We of course understand the concerns of the volunteer teams. Their invaluable contributions have saved countless lives on the mountain and in other SAR scenarios. We also want those existing volunteers to join the unified team. This change is not designed to push SAR volunteers away—it's designed to bring them into a closer working relationship with us, with uniform standards."
While the future of the independent SAR programs remains uncertain, an election in November may hold the definitive answer. Recently retired CCSO Sergeant Lynn Schoenfeld is running for Sheriff Roberts's post and publicly spoke out against the initial plan to disband the SAR structure. "Issues such as public safety, the safety of volunteer searchers, as well as any cost associated with these changes were not examined. If these changes continue, I believe lives will be placed at risk," says Schoenfeld. Sheriff Roberts has since announced that he will not be running for reelection. However, one of the architects of the new in-house SAR program, Lieutenant Brian Jensen, is also running for the position.
"We are still not getting called out like we used to," says Russ Gubele, president of Mountain Wave. "We are hoping that with a new sheriff, we will be able to keep the independent teams. A lot depends on who wins the election."
Lead Photo: PMR Member Tim Ozerkov