Indefinitely Wild
Three Questions to Ask Yourself Before Buying a Knife
There's no such thing as one best knife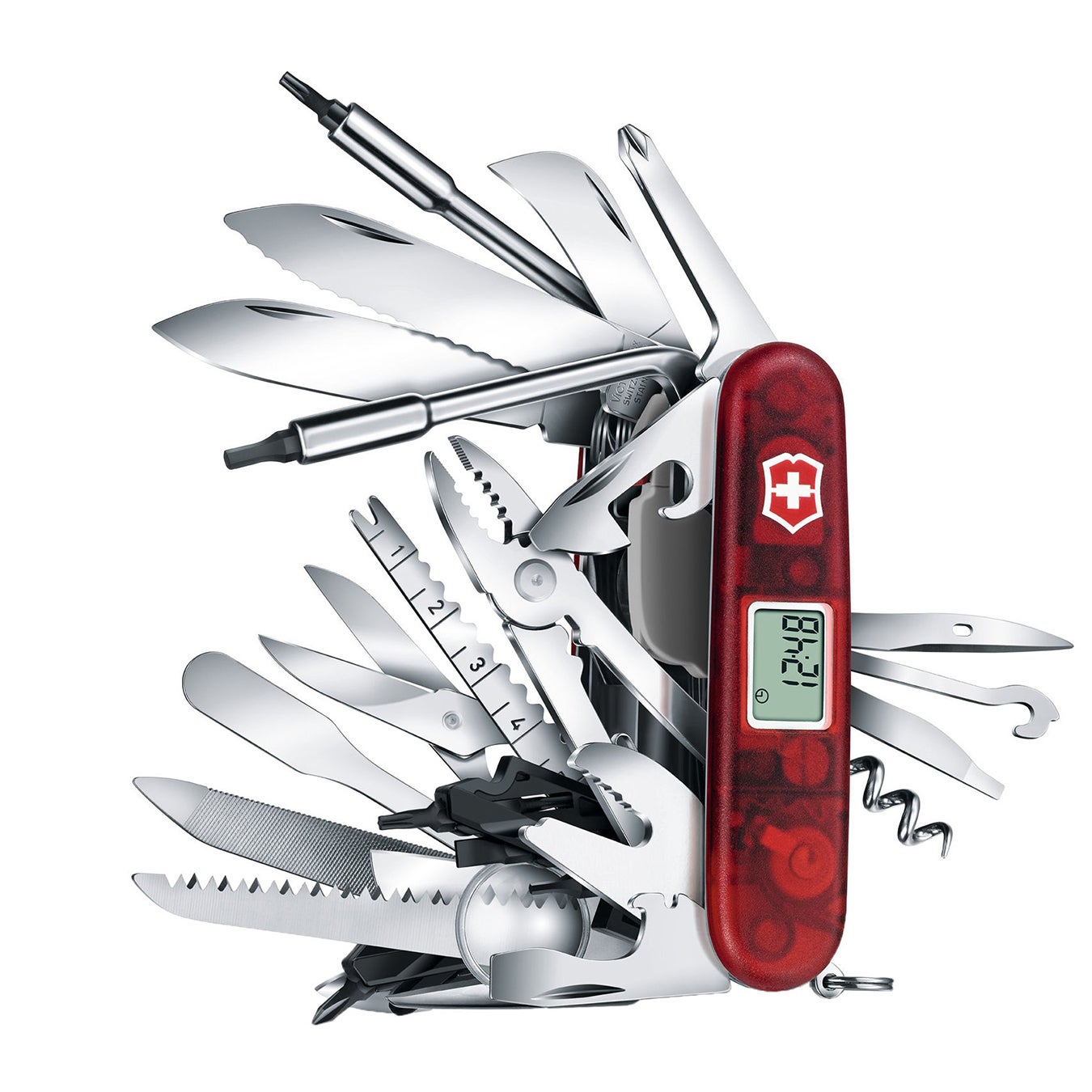 Heading out the door? Read this article on the new Outside+ app available now on iOS devices for members! Download the app.
Which knife should you buy? The answer will differ for every person and every scenario. Here are three questions to ask yourself as you're shopping to help you arrive at exactly the blade you're looking for.
How Are You Going to Carry It? 
So you want a knife to take camping. Something that'll get your fires started and fend off ManBearPig right? I think we can all agree that a chainsaw would be better for such tasks, but chainsaws don't fit in your pocket. Because the entire point of a knife is to give you a multipurpose tool that's always on hand, the most important thing a knife needs to do is to be easy to carry.
The first consideration is the outright size of the knife. A big six-inch fixed blade will span large pieces of wood better than a small folder. But that small folder will work better than nothing if it's all you can bring along.
For knives that I'm going to carry in a pocket or on my belt, I find that the sweet spot in blade length is between three and four inches. Is that a compromise? Yes. But you're going to tote a knife more than you're going to use it.
You carry a folding knife in a pocket, using a clip. The location, design, and quality of that clip should therefore be considered primary factors in choosing a pocketknife. Where the clip is determines how the knife rides in your pocket: whether the blade's tip is up or down, and whether the blade's spine is facing front or back. My own preference is tip up, spine rearwards, positioning the handle in my grasp in such a manner that I can reach for the knife and flick it open without the additional step of altering my grip. I'm right-handed and carry my knife in my right pocket, so I like my knife clips to mount to the rear of my knife's handle, on the right side. Lefties may want their clip to ride on the left side. Some knives may let you reposition their clips, while others allow only a single configuration.
Check local laws first when planning to carry a knife in public. For purposes of both retention and concealment, a clip that allows the entire body of the knife to ride under the top of your pocket should be preferred (personally, I prefer a knife that doesn't scream knife!). You also want a clip that pinches a pocket tightly, doesn't protrude unnecessarily, or include parts that are sharp. This arrangement helps prevent your knife from snagging on things like seat belts, doors, or bags, helping ensure that the knife doesn't fall out of your pocket. A slimmer knife will be more comfortable to carry than a thicker one.
You carry a fixed-blade knife in a sheath. Just like the clip on a pocketknife, that sheath should be considered the primary determining factor in your purchase. Note that it's possible to commission a custom sheath for a fixed-blade knife from a variety of leatherworkers or Kydex molders. Just allow plenty of lead time to have one made. Logger turned author turned knife designer Robert Young Pelton gave me the nicest fixed-blade knife I've ever handled over a year ago, but I have yet to actually use it for anything, because he hasn't added sheath designer to his list of careers, and it's taken me that long to have a custom item produced for it.
Quality knife sheaths come in one of two materials: leather or Kydex. Consider leather if you plan to wear your knife hanging vertically down from your belt. Leather looks nice and lasts a lifetime, but it can't retain a knife with the security of Kydex, a type of plastic that's heat-molded to fit the exact contours of a specific knife model. Because Kydex can snap around the blade's rear and the handle's contours, the material can be used to retain a knife in a variety of positions, including upside down, while still allowing you to quickly deploy it using a single hand.
If you plan to carry a fixed-blade knife on your belt, you'll want a sheath that positions the pommel at or below the top of your belt. Sheaths that position a knife's pommel higher than your belt line cause that pommel to dig into your side or back as you move, which may result in injury should you fall. If you want to carry a backpack with a hipbelt while wearing a knife on your belt, you'll need a sheath that drops the pommel below your belt.
A more comfortable solution for wearing a fixed-blade knife along with a backpack may be to fasten the knife to the pack using a Kydex sheath. This arrangement requires some sort of mount other than a simple belt loop. Some sheaths include holes in their perimeter, allowing you weave paracord through them to create easily customizable mounts. Other solutions may involve using a Tek-Lok or similar universal mount. A small fixed-blade knife can be attached upside down to the front of the shoulder strap opposite your strong hand. Larger blades will need to go on the sides or rear of a pack. But keep in mind that a major disadvantage of pack carry is that you'll be leaving the knife behind if you take your pack off.
How Are You Going to Sharpen It?
A sharp knife is a useful knife. Because it will take less pressure to cut through a given substance, a sharp knife is also a safer knife. Without exception, knives require regular maintenance to retain their sharpness.
First, figure out what kind of steel is used to construct a knife's blade. All of the blade steels are competing to strike an ideal balance between edge retention and ease of sharpening. Googling the names of different steels will lead you to a technical analysis of their various properties and user experiences with them. There's no one approach that will be applicable to all people or all uses. You need to figure out which steel is most appropriate for your budget, your expectations, and the sharpening equipment, experience, or services you may have access to or find most convenient.
A blade steel that prioritizes ease of sharpening will likely be more affordable and is appropriate for occasional, light-duty use. The steels used in picnic knives, like those made by Opinel or Victorinox, are good examples. They'll slice apples and cheese with aplomb, but if you use one to try and cut up a pile of cardboard, it'll be dull by the end of that task. However, you can bring them back to sharpness with just a few strokes along a sharpening stone.
A blade steel that prioritizes edge retention can stand up to harder use over a longer period of time. But getting it to peak sharpness after dulling it may be a task best left to a professional.
In all cases, maintaining an edge's sharpness with frequent touch-ups will be easier than trying to restore a dull edge. I perform a quick one on my most frequently carried pocketknife at least once a week. I sharpen my fixed blades after each use.
Manual sharpeners like the Spyderco Sharpmaker ($74) are ideal for any sharpening task you may want to perform on a cheaper blade steel. They may be adequate for touch-ups on steels that prioritize edge retention, but they will likely prove frustrating or inadequate if you are trying to bring the edge on one of those steels back from the dead. Beware of sharpening services that specialize in kitchen knives: their heavy-handed grinding can destroy the fine properties of more expensive steels. Employ power sharpeners carefully, and only after consulting their instructions, for the same reason. Your best bet is sending knives made from more exotic blade steels off to their makers for sharpening by their in-house specialists. If that sounds like a hassle to you, do not buy a knife made from a steel that is hard to sharpen.
What Are You Going to Use It For? 
Finally, consider the tasks you plan to ask your knife to perform. This will help you arrive at an ideal size, shape, thickness, and handle configuration.
A thinner blade will pass through whatever is being cut more easily, with less damage. Think of a tomato: cut one using a sharp, thin blade, and you'll produce uniform slices; use a thick blade, and you risk squashing the whole thing. Alternatively, a thicker blade will not only be stronger than a thinner one but can help wedge difficult materials (like wood) open with more force.
The shape of the edge is another factor. An edge with a larger angle (20 degrees is typical for outdoor knives) will be stronger and more compatible with available sharpening systems, but it won't cut with the fineness of a smaller angle. A flat or saber-ground blade will likewise prioritize strength at the expense of cutting ability. A concave blade will easily make big cuts through softer materials. Use a broad angle and grind for wood processing or other brute-force tasks and a narrow edge and concave grind for meat processing or other slicing duties.
A folding knife is easier to carry, but a fixed blade is stronger. Folding-knife mechanisms, like assisted-opening and blade locks, may prioritize either convenience or strength. Those two merits are typically mutually exclusive. A fixed-blade knife's strength is determined by how much of the blade stock continues through to the pommel undiminished. A knife that simply bolts handle material to the outside of full-width, full-length blade stock will be virtually unbreakable. One that attaches only a small length of blade material to a separate handle will not be as strong, but it will be lighter and smaller.
Blade shapes that sweep smoothly toward a point offer broad versatility for a variety of cutting tasks. Ones with straight or angled edges, or those that feature hooks or unconventional shapes, specialize at the expense of that versatility. Serrations are designed to cut rope or cord but also reduce the portion of a blade that can be used to perform other cutting tasks, and they're difficult to sharpen.
The answer to all of these questions is going to look different not just for each person but each task you need to perform. There is no universal recommendation that could be appropriate for most people. Start with these questions, analyze the ways in which your current knife does or doesn't work for you, and either modify it or buy different ones over time. A knife is a tool, and the right tool is determined by the job you're asking it to perform.