Can't Afford a Sprinter? Get a Tiny Van Instead.
With Recon Campers, your daily commuter can actually double as your weekend off-grid rig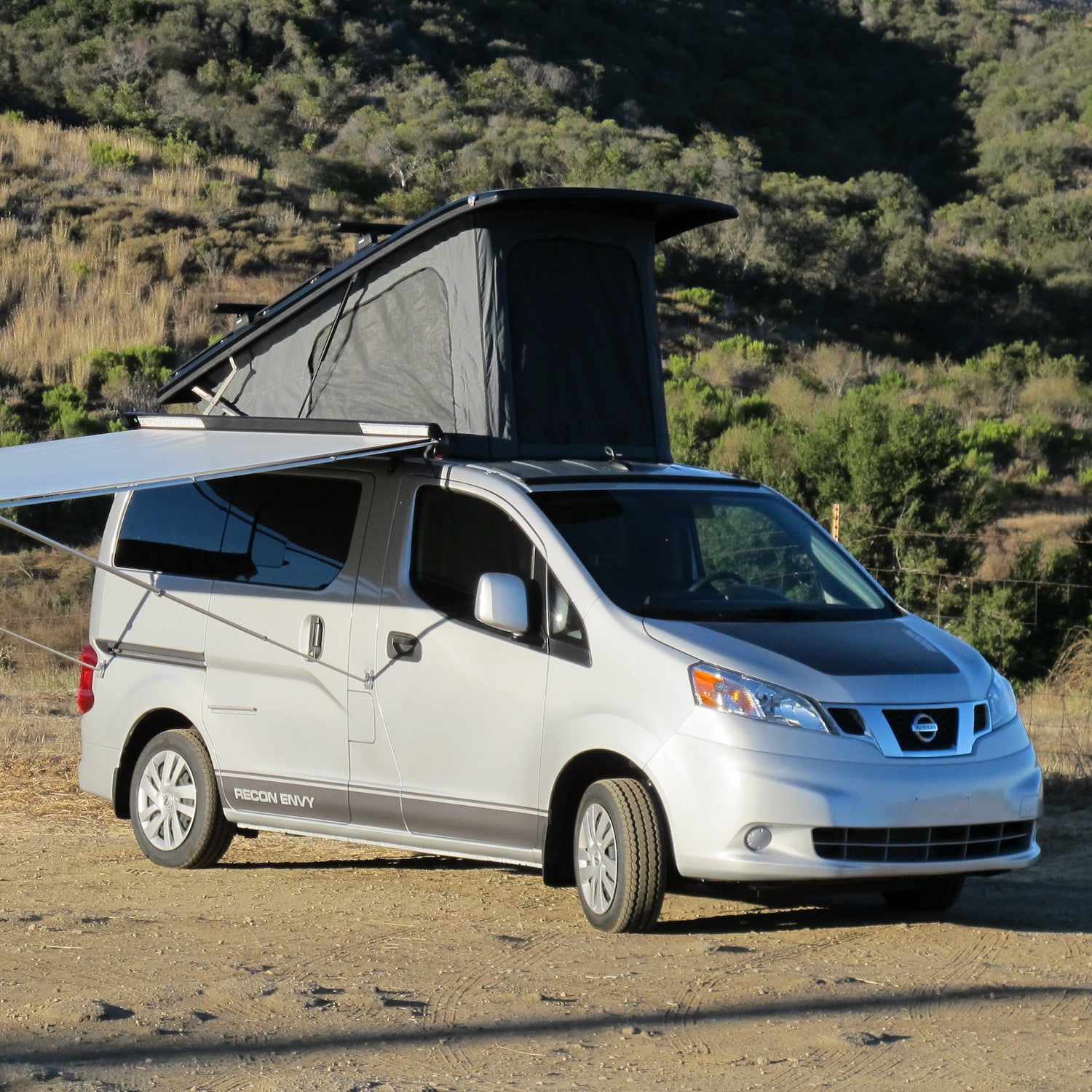 Heading out the door? Read this article on the new Outside+ app available now on iOS devices for members! Download the app.
By now we're all familiar with them: breezy videos and sun-drenched photos of carefree millennials and their vans set against backdrops of some of the most iconic natural landmarks the U.S. has to offer. In a year when a pandemic has rendered many of us anxious and seeking a safe outdoor escape, it looks like the ultimate dream. That is, until you see the price tag.
Many of those top-of-the-line homes on wheels can put a dent in your savings as large as a condo. Winnebago's website lists a starting price of $175,000 for its popular four-wheel-drive Revel, and even a used Sprinter at Vanlife Customs will set you back at least $100,000. Take into account fuel economy, parking, and the fact that you'll probably still need a commuter car if you're based in a big city, and that cavalier road-trip machine might start to feel like a logistics nightmare.
Enter Recon Campers, a Los Angeles–based company building out premium vans on a tiny Nissan NV200 chassis. "We wanted to design something that would easily fit in anyone's home garage and offer the amenities of these larger RVs," says Stephen Schank, its founder and president. "This is the core of Recon Campers—a camper that can be as versatile as your daily driver and off-grid weekend escape pod."
Inspired by the vintage Volkswagen Westfalia, the company's flagship Envy van is loaded with creature comforts like a sink, a shower with hot water, and a mini fridge, plus modern improvements including a lithium-ion battery, optional solar add-ons, and a slick touchscreen display for dimming lights, tracking battery life, and checking water levels. "We love our carefree memories of the '70s and '80s," reads the company's website, "but let's face it, that was a long time ago." The Envy's base model starts at $35,950, van not included. The NV200 starts at $23,080.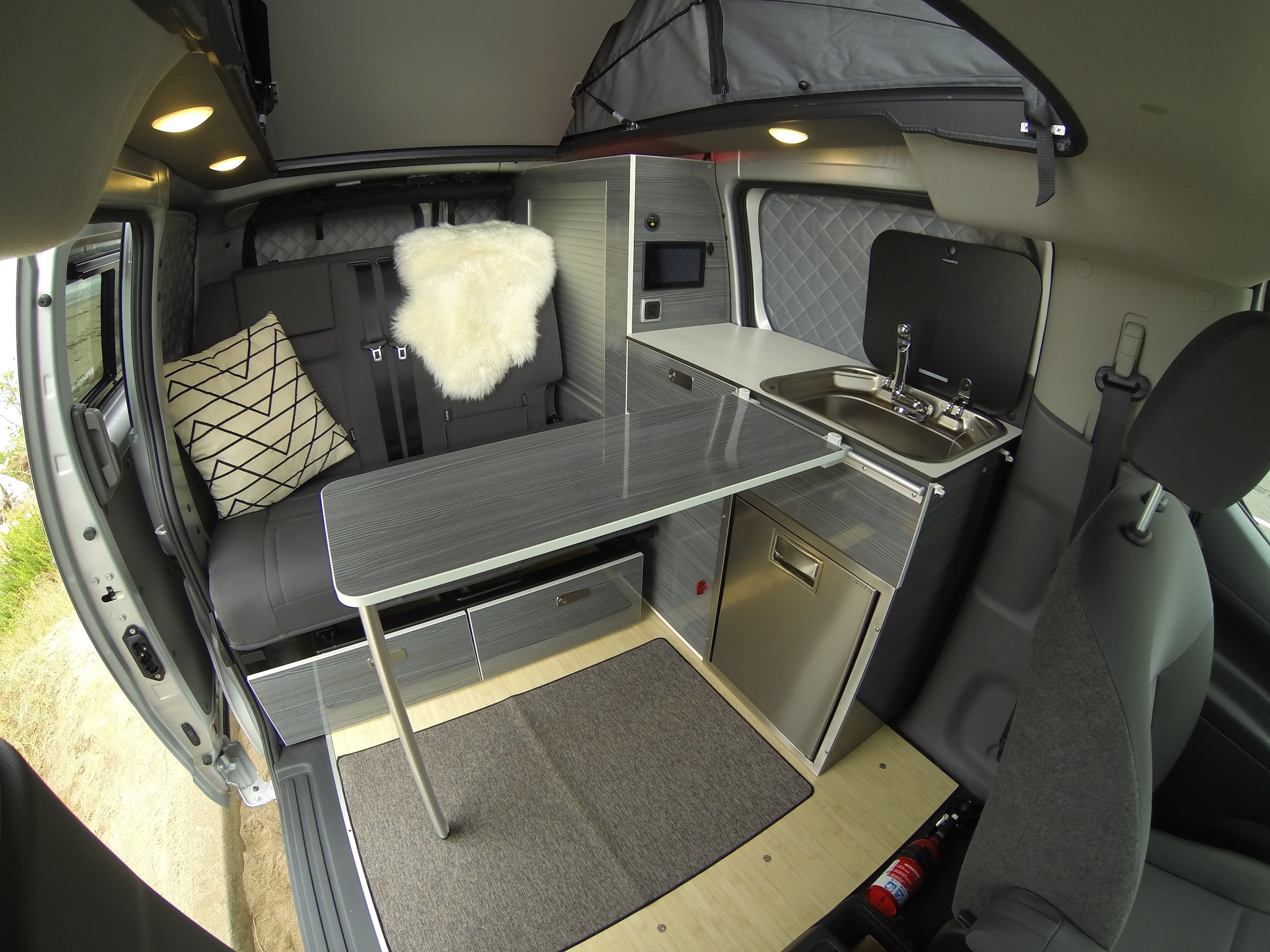 After puttering around in my own tiny van (a 2015 Ford Transit Connect I built out myself) since 2018 and living in it full-time for six months to national-park-hop, I can attest that the drivability, ease of parking in a big city, and improved gas mileage combine to make a compelling argument against larger vans, especially if you want the vehicle to double as a daily driver in a place like Los Angeles, as I did. Assuming you cover 15,000 miles a year with an average gas price of $2.75, the yearly savings on fuel alone is over $600 in a Nissan NV200 (which gets 25 miles per gallon on average), versus a 2019 Sprinter 2500 (18 miles per gallon on average). Multiply that by an expected life span of at least ten years.
Of course, Recon is not without competitors also looking to sell quick, affordable small-van conversions. Pacific Campers out of San Diego offers all-in Ram ProMaster City campers, vehicle included, for $38,900, and Colorado-based Contra Vans will upfit your existing Ford Transit Connect with options ranging from $6,000 to $15,000. Where they differ is in passenger capacity, indoor cooking space, and chic extras like Recon's touchscreen and shower. Sure, they cost a bit less, but most minivan build-outs only seat two and leave users cooking outside no matter the weather.
Conversely, Recon's campers are designed with families and small groups in mind. A rear bench seat fits two adults or children, with three-point seat belts and rated LATCH child-seat attachments. At night it flips over to reveal a true foam-mattress backside and create a 42-by-72-inch bed. The upper pop-top area provides over seven feet of standing room when cooking or hanging out and then transitions into a long, fold-down bed for two. It's a choice plug-and-play build for busy outdoor enthusiasts who want a stylish escape van but lack the time or DIY know-how to build one themselves.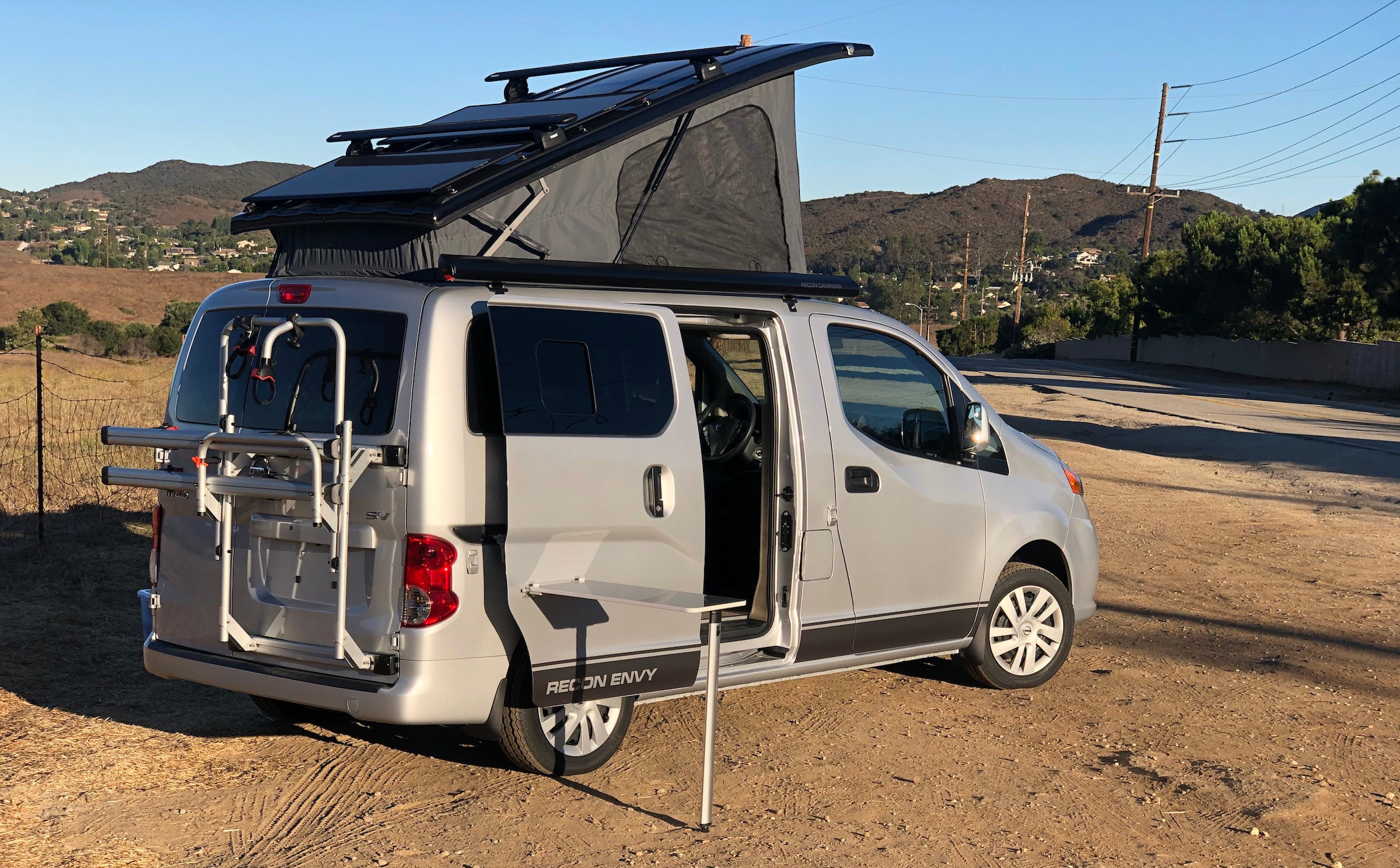 The Recon Envy is a game changer that allows apartment-dwelling city folk with limited space or underground parking to have it all—a four-seater car for work and errands that seamlessly converts into a cozy adventure cabin on wheels. Want something more minimalist? Recon also sells a Weekender model for $21,500 that sleeps up to four and leaves open storage space for anything from surfboards to coolers to bikes (just don't expect the full kitchen or shower on this stripped-down version).
Schank hopes that his company's innovations will help lift the market. The new 2021 models are sleeker and better than ever, with longer-lasting batteries, an improved pop-top, and ultra durable cabinets. "We've made a commitment to safety and quality in an industry that is not necessarily committed to either," he says.