Lindsey Vonn Is Hosting a Reality TV Show with Dogs
The legendary skier's latest project since retiring is an Amazon series called 'The Pack.' It's the perfect lighthearted binge to get you through the pandemic holidays.
Heading out the door? Read this article on the new Outside+ app available now on iOS devices for members! Download the app.
Things were cooking for Lindsey Vonn.
It was early 2020, the world had yet to shut down, and the Olympic downhiller had been retired for less than a year. An HBO documentary about her had aired a few months earlier ago, and her memoir, Rise, was set to drop in March. (The looming pandemic would push its release to October 2021.) She had launched her own ski clothing line with longtime sponsor Head and then co-created a production company with a childhood friend. Soon Vonn would be making her own film about Olympic skier Picabo Street, and Frank Marshall, producer of The Sixth Sense and Seabiscuit, wanted to team up. Now Vonn was in the foothills north of San José, Costa Rica, sitting on a rock in utter bliss with Lucy, her baby-sized Cavalier King Charles spaniel and number one travel buddy. There, at the Territorio de Zaguates Dog Sanctuary, the ground around her shimmered with hundreds and hundreds of street dogs. "It was a wave of dogs, like 1,500 of them," Vonn says. "I literally couldn't see the ground."
Vonn had come here to work on her latest television project: hosting The Pack, a ten-part reality competition series that launched on Amazon Prime Video on November 20. The show casts a dozen dogs and their owners—or "partners," as Vonn calls them—on a jet-setting journey around North America, Central America, and Europe. At each location, they race to complete tasks that are designed to showcase what producers say is the deep bond between humans and their dogs. But really it's all about which dog can tug, fetch, push, or paw its way around an obstacle the fastest. Episode by episode, the field is whittled down to a single winning human-canine team. Along the way, we learn fun dog facts (mushing started in the tenth century), see awesome landscapes (Switzerland, Costa Rica, Utah), and learn about various pup-focused charities and causes around the world. Think of it as The Amazing Race but with more barking.
https://www.youtube.com/embed/VcKsIuQ23Xg
The competition itself offers up a $500,000 prize, plus another $500,000 earmarked for various charities, including $250,000 for the winner's charity of choice. But the takeaway, fleshed out with emotional backstories and on-camera interviews, is more about how a human's unconditional love for a dog can bring confidence, patience, and growth to each. Fair enough—scores of new pandemic pet owners stuck at home will surely relate. 
The show began as an idea from Chris Castallo, Amazon's chief for alternative programming, who recruited Jay Bienstock, an Emmy-winning producer from The Voice and Survivor, to bring the show to life. Bienstock, who is himself "a dog guy," needed a host who had a spirit of adventure but who was also obsessed with dogs. "We came up with Lindsey Vonn," he says. "She really loves dogs on a human level."
The show oscillates between the cool and the contrived, depending on your own relationship to travel, adventure, and things you'd like to do with your dog. My 11-year-old loved watching the pups roll balls and play a giant floor piano, but for non-dog owners (guilty as charged), parts of the series—like dressing dogs in little hats and outfits for a Parisian fashion show—feel lame. Same goes for the more outdoorsy moments. Go stand-up paddleboarding with your dog? Standard. But rap off a thundering jungle waterfall with a sopping wet standard poodle dangling from a harness between your legs, just because? Um, OK. 
The show works best when we get to see dogs doing very dog things. Dixie, a bluetick coonhound, just cannot shut up at the least opportune times. One dog runs off to play with the other dogs instead of crossing a finish line, upending a tight race. Snow, the rappelling standard poodle, lets out a burp right into the face of his owner, er, partner, Josh White, as White goes to speak to the cameras.
Funny stuff aside, we also get to see dogs use their skills in ways we humans never could. We watch them find survivors entombed in a mock earthquake disaster zone at a research and training facility in Mexico City, and then we stare in awe as they sniff around a battleship to find puzzle clues tucked away in cabinets and forgotten recesses. Some tasks rely less on instincts and more on newly taught tricks. Humans desperately pleading with their dogs to fetch some keys to free their owners from a jail cell is pretty funny. Watching dogs try to deliver a fine French meal to discerning Parisians, on the other hand, just looks like a great waste of food.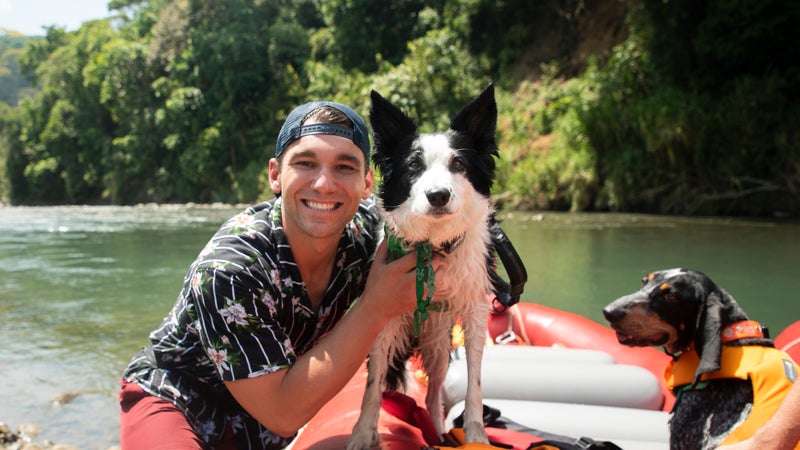 To make sure the canines didn't have to do anything that made them anxious, afraid, or stressed, the producers hired an animal safety team that had input on everything from the design of the tasks to how the dogs would travel. That included chartering a plane with a grassy "dog toileting area" and first-class seats for the pups. Veterinarians traveled with the group and helped keep track of all the shots and paperwork the dogs needed to clear customs quickly. The safety team followed the dogs wherever they went. "They were super conservative," says contestant Mark LeBlanc, partner to Ace, a border collie, who does well in the show (no spoilers!). If a dog did not want to do a particular task, the team would step in. "It was never, well, maybe the dog can do this," says Nicole Ellis, a certified professional dog trainer on the safety team. "It was nope, the dog is stressed, we're not doing it."
As for Vonn, she holds herself well as a host, with a combination of folksiness and glamour. With toy-sized Lucy often staring blankly from her arms, Vonn celebrates and empathizes with the contestants, but she isn't afraid to call out bad form: Vonn gives one contestant a real tongue-lashing before booting him off the show for hanging himself out of a moving vehicle and later taking his dog out of a travel harness. "I can say what needs to be said," she says.
In the end, Vonn's hoping this will lead to more dogs getting homes and to another season of The Pack. And perhaps, she says, the spotlight will help her launch a real acting career. "Maybe the Rock wants me to be in a movie," Vonn jokes. "I'm just going to throw that out there."
Lead Photo: Credit: David Scott Holloway Cr