Indefinitely Wild
A Bad Uncle's Guide to Dangerous Gifts for Kids
How old does a child need to be when you give them their first knife? The answer assumes you know how old they are in the first place.
Heading out the door? Read this article on the new Outside+ app available now on iOS devices for members! Download the app.
Black Friday has come and gone. And for you other uncles out there, that means your time to forget to buy your nephews and nieces entirely inappropriate gifts is rapidly drawing to a close. Allow me to help.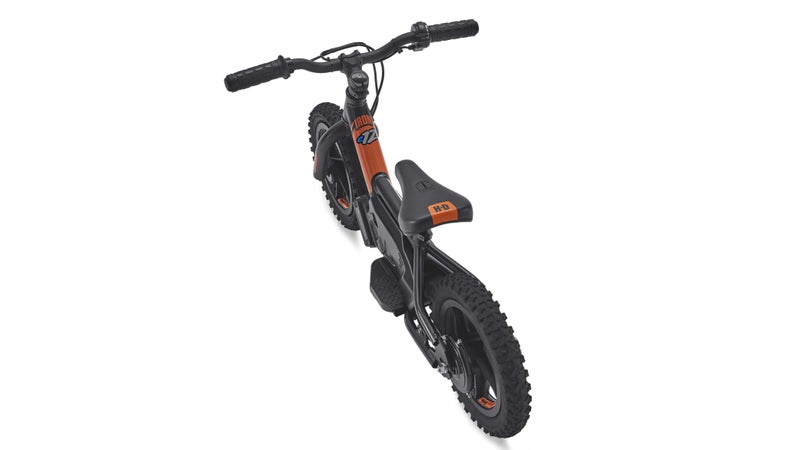 Their First Motorcycle
Everyone knows motorcycles are dangerous. Fortunately, young bones heal faster than old ones; there's no better time to start riding than when you're a kid.
How old does a child need to be before you can give them their first motorcycle? Harley-Davidson says its new range of electric balance bikes are appropriate for children ages three and up. So, naturally, I gave my best friend's son, Wilder, his first Hog for his second birthday.
The IRONe12 ($650) weighs just 17 pounds, so even Wilder's dad is able to load it into and out of his truck with ease. It operates with a twist throttle, so Wilder is learning real motorcycle control skills, as well as balance, as he rips around trails on this thing at nine miles per hour, the top speed.
The two-amp-hour battery is only enough for about 30 minutes of riding, so in addition to a helmet, make sure you order your niece or nephew an extra one, too.
Their First Knife
According to a National Library of Medicine study, knives send an average of 1,190 Americans to the emergency room every day. I gave Wilder that motorcycle because his mom told me two was too young for a first knife. What is the right age? Every kid is different, obviously, but Boy Scouts start earning their Totin' Chip (the equivalent of a learner's permit for knives) at ten years old.
I'm pretty sure my biological nephew, Roscoe, is eight, so for Christmas this year, I shipped a Swiss Army Huntsman knife ($30) to his house in France. That's the model I had when I was his age, and it comes complete with a saw, scissors, and an awl (in addition to the blades and other tools), which I remember using regularly to construct a variety of forts and weapons.
There are other knives out there featuring blunt tips and supposedly learner-friendly features, but in my opinion, as an avowed not-a-parent, a kid is better off learning how to handle the real thing. Pain remains an effective teacher. I still sport a scar from a Swiss Army knife saw across my left thumb—but I haven't injured myself with any saw since.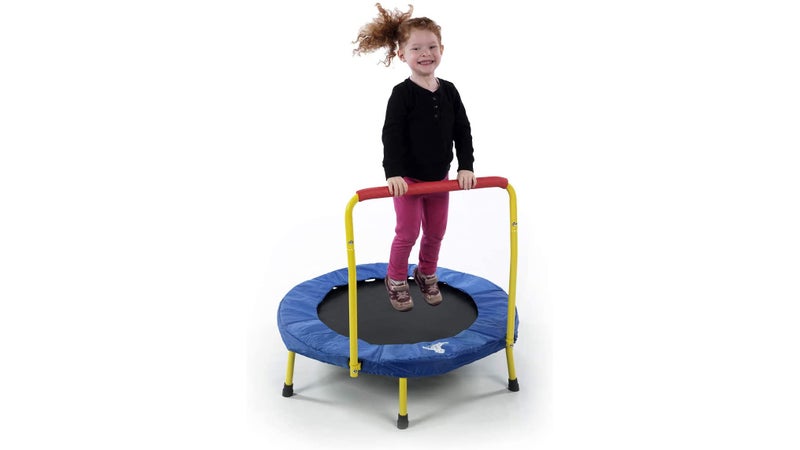 A Trampoline
My two-year-old niece, Sarah, lives in Los Angeles and doesn't have a yard big enough for archery or motorcycle riding. However, trampolines can be stored vertically, meaning they take up no more room than a card table. The Academy of Pediatrics says trampolines are responsible for injuring at least 100,000 kids a year, a third of whom break bones.
But they're also a lot of fun. So my wife and I picked out one for $90 that comes in bright colors and is appropriate for Sarah's age. We look forward to seeing her parents' faces on Zoom after a long Christmas morning of nonstop jumping.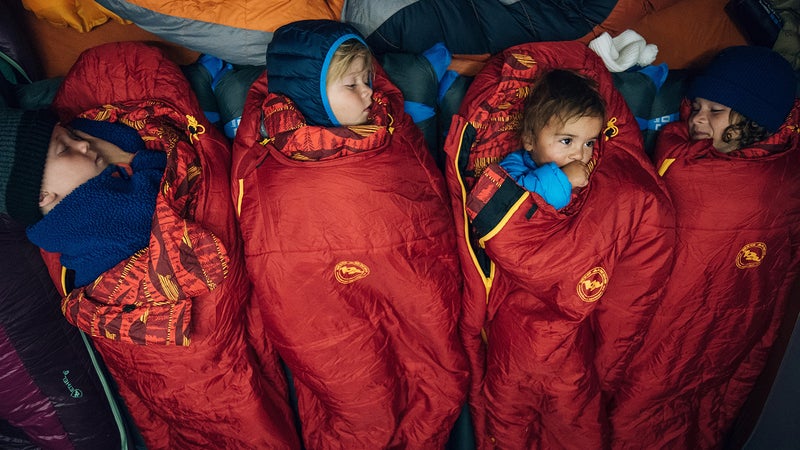 Camping Gear
There's no better experience for a kid than a camping trip. Aside from weather, the primary determinant in the enjoyment of a night in the woods is the quality of your camping gear. I figure most parents probably don't spend as much time nerding out on this stuff as I do. And since I don't have to foot the bills for babysitters and piano lessons, I figure it's my sacred uncle duty to help out with equipment.
Big Agnes makes a handful of killer sleeping bags for kids that pair with any 20-inch-wide rectangular pad. They'll keep children comfortable down to 15 degrees (when paired with an insulated pad) and use synthetic insulation that will remain warm if it gets wet. Better yet: they're affordable, with prices starting at $70.
Kids can't really go camping without an adult, so the biggest helpful hand you can extend as gift-giver may be with adult gear. Sizing their tent up to a three- or four-person model might help, as might upgrading their sleep system to something warmer, more comfortable, or lighter. You can find my recommendations for two-person backpacking sleep systems here and car camping setups here.
Of course, the best thing you can offer is to take your niece or nephew on a camping trip yourself.
Their First Bow
Once again this year, Wilder's mom explained to me that he's still too young for a knife. But a National Library of Medicine study assures me that archery is actually safer than most field sports. So I felt confident ordering Wilder a bow and arrow for his third birthday.
The Fleetwood Lil' John Youth Recurve set ($99) says it's appropriate for kids ages three through six. So Wilder should be able to enjoy this thing for at least a year before he grows out of it.
Roscoe's approximate age makes him too big for the Lil' John, so for Christmas I shipped him the Easton Beginner Archery set ($110), sized for kids eight and up. The odds that my sister actually lets him use this thing are slim, but that at least means he'll be looking forward to archery lessons during my next visit.
Both bows include only three arrows. Kids learning archery lose arrows at a frightening rate, so I ordered six extra for each bow. Make sure you do the same, with arrows of the correct length. The parents will also probably appreciate a target. The relatively minimal draw weights for these bows means that a hay bale with a few dots spray-painted on it will work just fine.