A COVID Outbreak Is Plaguing Climbers on Everest
The coronavirus has put climbers and workers in even more danger than usual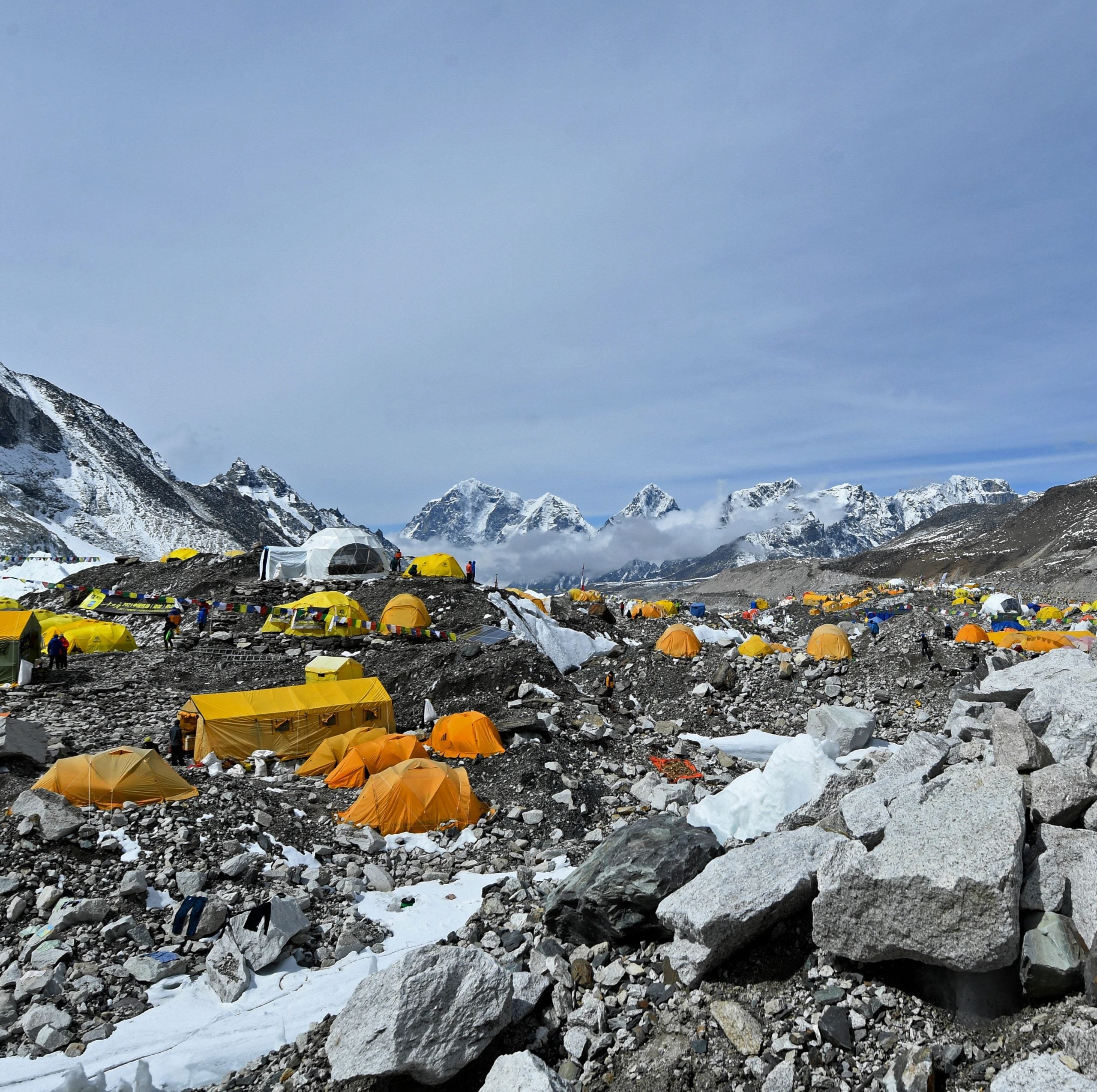 Heading out the door? Read this article on the new Outside+ app available now on iOS devices for members! Download the app.
The COVID outbreak at Everest Base Camp continues to cause chaos on the world's highest peak. At least two expeditions have packed up their tents and abandoned their climbs, and yesterday China officially canceled the season on the Tibetan side of the mountain. 
The Khumbu Valley is under lockdown orders. In the once-bustling airport town of Lukla, the local government opened an isolation center to accommodate the growing number of COVID patients descending from Base Camp in helicopters. "We currently accommodate 22 infected people, all of them coming down from trekking and Everest expeditions," said Mingma Chhiri Sherpa, an official for the Khumbu Pasang Lhamu Rural Municipality, which has jurisdiction over the valley. 
A medical professional at Base Camp who wished to remain anonymous said that a concerning number of asymptomatic cases have also been detected. Unfortunately, contact tracing has proven difficult. "We have referred positive cases to descend for a checkup and further testing," the medical professional said. "Close contacts are refusing to descend as it's expensive and results take at least a week. I worry that if we tested everyone, the majority would come out positive."
On May 10, Basque mountaineer Alex Txikon and his two climbing partners canceled their expedition due to concerns over what Txikon called a "complicated" health situation on the mountain. Today, Lukas Furtenbach, managing director of the Austrian outfitter Furtenbach Adventures, stated on social media that "to climb [beyond] the base camp with these massively increasing corona numbers and risk the lives of our 20 customers, four mountain guides, and 27 Sherpas carelessly would be irresponsible." The statement also noted that ascending further would be "too dangerous because there is, of course, much less space in the high altitude camps."
Despite the growing humanitarian crisis caused by rising COVID numbers that have now placed Nepal ahead of India in terms of deaths and infection rates per capita, the government is determined to carry on with the season. Director General of the Department of Tourism, Rudra Singh Tamang, told Outside: "There are media reports about COVID cases at Base Camp, which we don't believe. We approve only official information, which either liaison officers and expedition team leaders provide. We have also not been informed about any company canceling the expedition." 
A May 7 press release from the Department of Tourism said: "We would like to request that all concerned do not publish or circulate any information that would create fear amongst mountaineers and their families without coordinating with government agencies first. Only disseminate notices that have been verified by the official authorities." 
A shipment of rapid COVID tests arrived in Lukla yesterday, and officials are meeting tomorrow to discuss whether or not they should implement widespread testing of expedition members and establish a second isolation center closer to Base Camp. 
Back in Kathmandu, Nepal's capital, strict lockdown restrictions have been extended until the end of May. The airport remains closed to all commercial flights. Across the country, 40 percent of all COVID tests are positive. The Ministry of Health and Population has taken over the supply and distribution of medical oxygen, and put rationing measures in place. Despite setting up makeshift treatment centers in empty rooms, sidewalks, and verandas, hospitals still don't have enough resources to treat all of their critical patients. 
To make matters worse on the world's highest peak, a cyclone is percolating off the west coast of India that appears likely to send bad weather towards Everest's crowded slopes. Despite everything, another batch of expedition workers and eager clients are busy preparing to leave Base Camp late tonight to make their way through the notoriously dangerous Khumbu Icefall towards Camp One and, eventually, the summit. 
"We know there is a risk of catching COVID on the mountain," said local expedition leader Ang Tshiring Lama. "But if we don't climb, our friends will die of hunger."
Trending on Outside Online