The 10 Best Bike-Race Parties
The wildest two-wheeled events on the planet feature both world-class racing and world-class carousing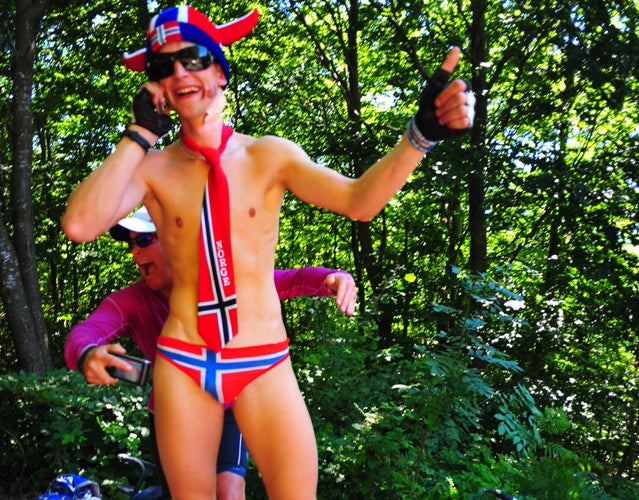 Heading out the door? Read this article on the new Outside+ app available now on iOS devices for members! Download the app.
It's no secret that cyclists like to knock back the occasional brew—a round-up of the best bike bars wouldn't have made much sense if they didn't—which is why we decided to put together a list of the best places to catch some high-level racing and have a good time. Cyclocross, which features a seemingly perfect mix of spectator-friendly loop courses, mud, and crazed fans, is especially well represented. But big races like the Tour de France and the Philly Race offer plenty chances to catch pro-level road racing and even do some riding yourself. Whichever style of riding you prefer, we suspect you'll find an event here worth celebrating. Responsibly, of course.
The Tour of Flanders
Beer, frites, and cobblestones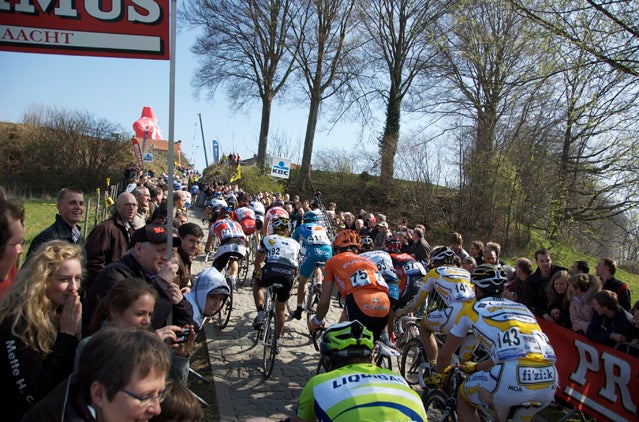 When Belgian Nick Nuyens won the 2011 edition of the Tour of Flanders—and beat favored Swiss rider Fabian Cancellara—fans reacted as if he had saved his country's honor. The next day, the newspaper Het Nieuwsblad put Nuyens on the cover and called him "Our Savior." Which is all to say, in Belgium, they take their bike racing seriously.
They also take their beer seriously. Each year, drinking begins early in the morning as riders depart Ghent for a 150-mile-plus lap around the Flanders. If you're willing to do a little General Lee-style driving—and have a competent navigator—it's possible to view the race on several of the legendary cobbled bergs, or hills. Start your day at the Grand Depart in Bruge and watch the race roll out while you enjoy a few waffles or frites, served properly in a paper cone. The debate over which of the nation's five thousand frites vendors is best never ends, but like bagels in New York City, you can't really go wrong.
Wash those down with the day's first beers at De Trollekelder, then rally to some of the most famous bergs: Oude Kwaremont, Koppenburg, Valkenberg, and Eikenmolen. For the 2012 race, the legendary cobbled hill of the Muur-Kapelmuur was eliminated in favor of finishing circuits around the town of Oudenaarde (also home to the Tour of Flanders Museum). It's difficult to get close to the finish line, but any bar you find—De Mouterij is one of our favorites—will have the race on TV. Buy the locals a round and they might even translate the commentary for you. For a more organized trip, Bike Belgium arranges travel to Flanders as well as several other spring classics.
The Manayunk Wall
With a 17 percent grade, thousands of spectators, and one of the best pro fields on U.S. shores, it's no wonder the Wall makes Philly police nervous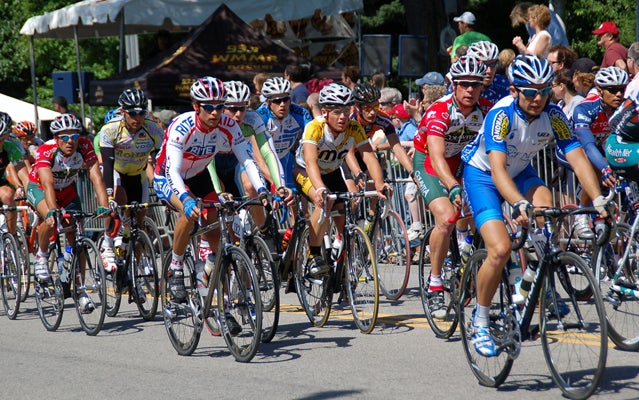 In the grandest traditions of commerce and American bike racing, this race has held many names in its 28-year history. These days, it's a mouthful: TD Bank Philadelphia International Cycling Championship. Or otherwise, the Philly Race.
Racing on the 14.4-mile main circuit, which the men's field completes 10 times, kicks off at 10:45 A.M. and draws a crowd of around 300,000. The place to be is on the Manayunk Wall, a half-mile climb with cobble stone sections and grades as steep as 17-percent. In 2011, Philly police warned revelers that they wouldn't tolerate excessive rowdiness. The cops have plenty to manage: Frat-party style drinking, fans dousing riders with booze, viking costumes, and plenty of house parties. Order a pint at O'Brien's Watering Hole, at 320 Lyceum Ave., on The Wall, site of a sprinkler to cool riders. The actual racing is pretty good, too: the UCI gives the Philly Race a "1.HC" designatation, the highest category for a bike race short of a world championship or grand tour. The winner nets $13,500; you get an early-evening hangover. June 3, 2012, procyclingtour.com
The Red Hook Crit
Because a bunch of guys racing fixies at night in Brooklyn is bound to get rowdy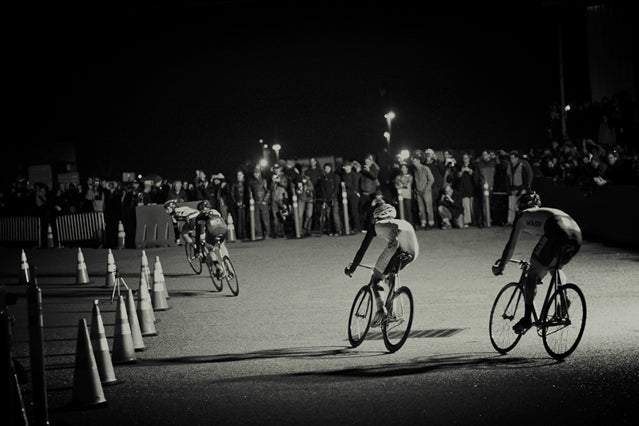 True, the Red Hook Crit has lost some of its under-the-radar appeal—the days when the race location was made public only hours before the start are gone—but it's still held at night, and three-time winner Dan Chabanov is a former bike messenger. Racers must use fixed-gear bikes with drop handlebars (and wear helmets). Before you head over to the course at the Brooklyn Cruise Terminal in Red Hook, prime yourself at The Brooklyn Icehouse, 318 Van Brunt Street. Drinking isn't allowed on site, but the hundreds of spectators usually end up at the official after party, fueled this year by race sponsor Sixpoint Brewery (from Brooklyn, of course), at The Bell House, a beer bar with a chill vibe. Runners can get in on the action, too, with a 5K in the evening before the bikes hit the street. March, 2013 redhookcrit.com
The Berlin Six
We're not sure whether racing or attending the Berlin Six is more exhausting, but we'd like to find out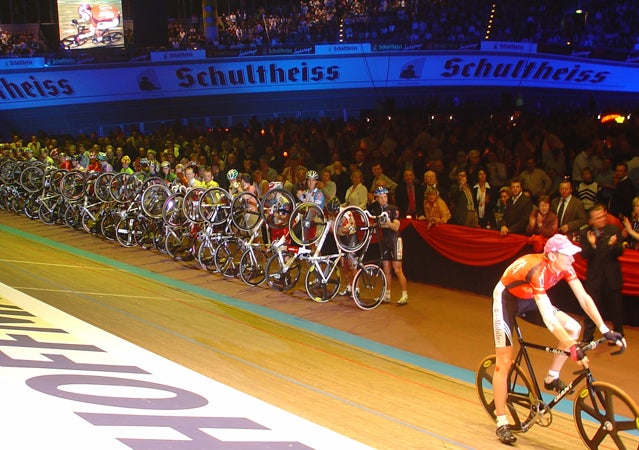 Imagine a three-ring circus, complete with the trapeze act, menagerie, and clowns. Then imagine a rock show in the middle of all that. Then imagine a world-class bike race taking place on a banked track surrounding the hubbub. That's a six-day race. The format, first conceived in the 19th century, originally had athletes racing for six whole days and nights without a break. (The winner was usually the guy who could stay awake the longest.) These days, racing is limited to evening hours, and the trapeze act has disappeared, but there's still plenty of action and free-flowing booze. This is Germany, after all, the country that invented the biergarten and the stein krug. Crowds come to watch the riding, but there's often as much dancing to live music as there is spectating. Held each January and run 97 times since the first edition in 1909, the race has seen Tour de France stars and Olympians compete in recent years. Attending all six nights requires a big commitment to partying, but for those who have less than a week of drinking in them, tickets are available individually each night. January 2013, sechstagerennen-berlin.de
CrossVegas
What happens at CrossVegas stays in CrossVegas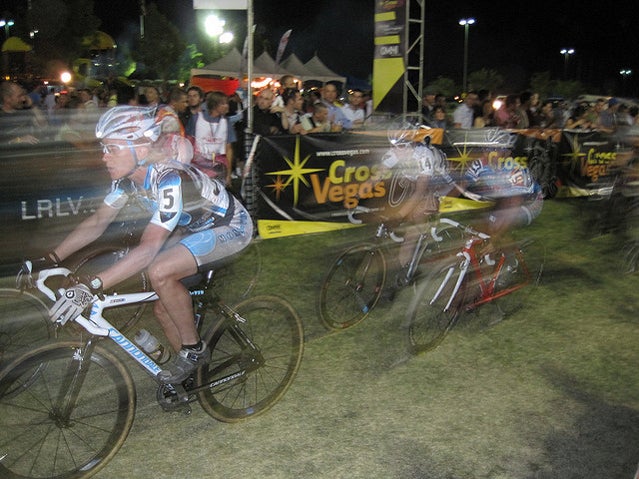 CrossVegas, which takes place each September at the cycling trade show known as InterBike, is one of the season's first major 'cross races. Held at night only minutes from the Las Vegas strip, the combination of early-season dirt and industry energy make for huge, rowdy crowds along the course. Racers without a chance at placing try to pick up dollar bills planted on the course by drunk spectators. And the more you drink, the more thrilling it is to cheer for riders grasping, and occasionally slipping, for a little cash. If you can wrangle an insider connection—and at InterBike, insiders are everywhere—head to one of several VIP areas on the course, which are usually stocked with free beer from race sponsor Sierra Nevada. And if Vegas isn't your bag, consider Louisville, which will host the cyclocross world championships in January 2013. It could be the biggest bike race party on this side of the Atlantic in years. September 19, 2012, crossvegas.com
The Downieville Classic
A five-day fat tire festival that closes with a river jump and live music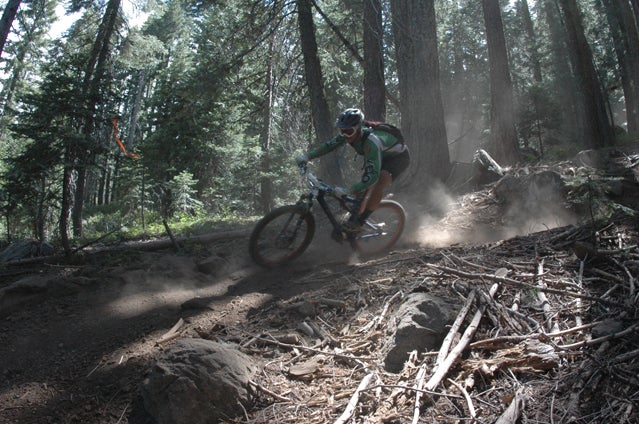 This five-day mountain-bike festival includes a downhill event and all-mountain riding, but the centerpiece is the 29-mile point-to-point cross-country race. Tracing Gold Rush-era trails, the race begins in Sierra City, California, tops out at 7,100 feet in the Sierra Nevada range, then drops down to the finish in Downieville. That's where the party gets going, with racers celebrating their ride at the famed River Jump world championships, held on the Yuba River. Live music, headlined this year by the Saddle Tramps, who will play at The Fire House, starts in the evening, providing a perfect soundtrack to sample some of the local brew. The festival also includes a weekend-long bike expo and street fair. August 1-5, 2012, downievilleclassic.com
The Tour de France
Alpe d'Huez is off the schedule in 2012, but that doesn't mean the course won't be crawling with cycling hooligans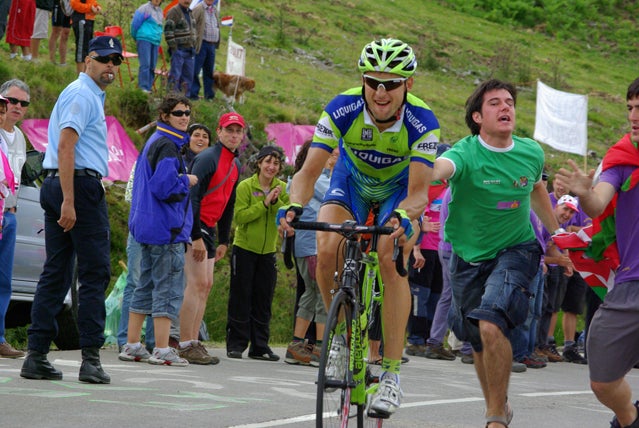 Any other year, we'd just tell you to head straight to L'Alpe d'Huez, but for 2012, the race will bypass the iconic climb for only the third time since 1976. Instead, the toughest climb looks to be the ascent to Peyragudes, on stage 17 (Thursday, July 19, 2012). Either way, if you're looking for a raucous day of bike racing and boozing, you won't go wrong by pointing yourself toward any of the major mountain stages. The most dedicated partiers—often wearing costumes—arrive three or four days before the race comes through, staking out territory along the steepest pitches or sharpest switchbacks. Crowds on flat stages can get rambunctious, but the climbs are particularly rowdy. In 1999, Giuseppe Guerini was knocked from his bike by a spectator on L'Alpe, then won the stage; and in 2001, Lance Armstrong sealed his sixth tour victory there after racing through crushing crowds. Need help traveling to France? There are several tour operators, but Custom Getaways is the Tour's official travel agency. June 30 through July 22, 2012
Your Local 'Cross Race
For those years when saving for a new bike prohibits extensive travel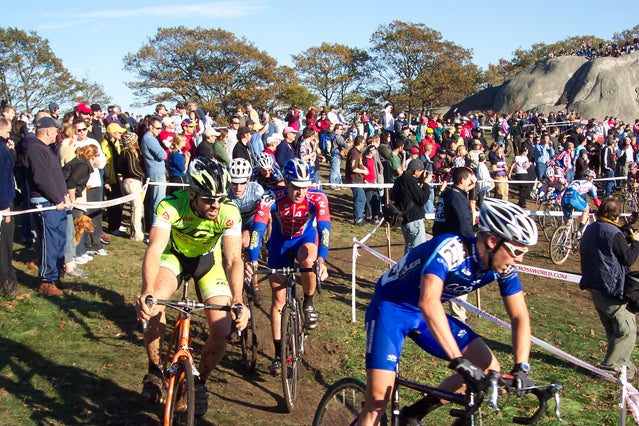 Blew out the family travel budget on your new road machine? Don't worry, there are plenty of smaller, local cyclocross races with awesome atmospheres. Cyclocross is the fastest-growing segment of bicycle racing for a good reason: whether or not you compete (races are usually between 30 and 45 minutes long for amateurs), or just cheer on your friends, the traditional short course makes for ideal viewing. And, because these are local events, you're likely to know many of the racers and spectators.
Every venue has its own rules, but many allow you to bring your own booze. Toss in a portable grill and think of it as a tailgate, only with hipsters instead of juiced-up frat boys. There are now 'cross races in nearly every state, but these three are among our favorites.
The Bilenky Junkyard Cyclocross, in Philadelphia, Pennsylvania mixes 'cross with urban-assault style racing in, you guessed it, a junkyard. Hang out for the free party post-race.
The River City Bicycles Cross Crusade, in Portland, Oregon, is one of the largest regional 'cross series in the nation and features ten races between September and December, including the Dechutes Brewery Cup, which attracts some of the country's best riders.
The Gran Prix of Gloucester, in Gloucester, Massachusetts, is part of the legendary Verge New England Cyclocross Championship Series. The race is each October at Stage Fort Park, a beautiful venue overlooking Gloucester's Harbor. Racing, from the amateurs ranks all the way up through the pros, is competitive. Drinking is sanctioned in the course-side beer tent.
The Trans-Sylvania Mountain Bike Epic
A bike race that's a little bit like camp for adults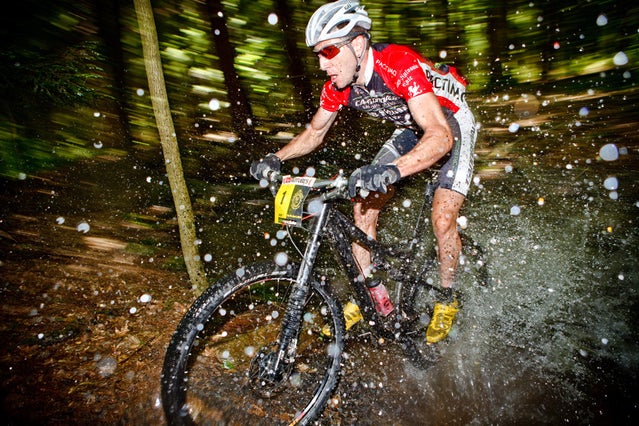 Some race parties are for spectators (see: The Philly Race). This one is for the racers. An eight-stage mountain-bike marathon, held each year in late spring in Central Pennsylvania, the Trans-Slyvania Epic is contested by a handful of hardened racers—only about 50 in 2011. But it's a perfect participant-based race party: If you want to ride hard over rough single track, you'll find plenty of fast competition. How fast? In 2011, Cannondale pro Jeremiah Bishop won the men's division, with Kenda/Felt rider Amanda Carey taking a narrow win on the women's side. More interested in camping out and enjoying drinks with friends? We won't begrudge you some soft pedaling to save your legs for the traditional 3-Beer Derby. Most racers stay at the race venue, Seven Mountains Scout Camp, in Centre Hall, Pennsylvania, adding to the spirit of community fun, but if you need a civilization break head into nearby State College. May 27-June 2, 2012, tsepic.com/
Single Speed Cyclocross World Championships
The winner's prize is a tattoo. 'Nuff said.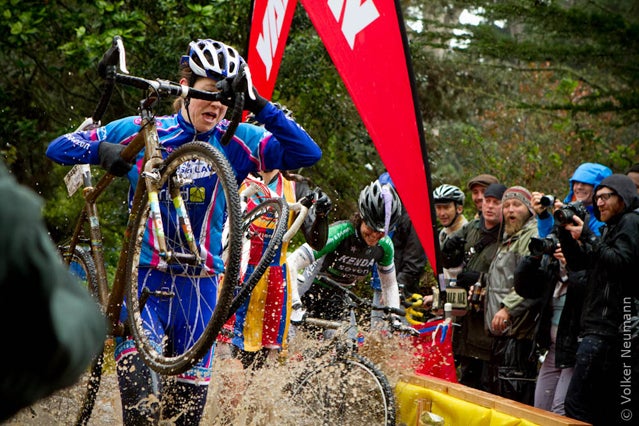 There's only one rule at this irreverent rolling circus: one gear. Held each year in a new location, it wouldn't be hard to mistake the Single Speed Cyclocross World Championships for a drinking game surrounded by a bike race. Athletes in six categories, including a new women's category unveiled last year, race 'cross bikes with single-speed drive trains over a course that combines traditional 'cross features with more whimsical elements—in 2011, racers faced a Le Mans-style start up a steep, muddy incline, a knee-deep water pit, and hip-high log barriers, although the extra fun parts change each year. Overall winners are required to get a SSCXWC tattoo, although last year's champs refused, sparking a controversy. Not racing? Don a costume and practice your heckling. So far, information on the 2012 event is sketchy, but it looks like the race will be held in Santa Cruz, California. sscxwc2011.com