2013 Winter Destinations
Winter is great, except when you're holed up with no sun all day. Take your weekends back with one of these fresh, easy adventures.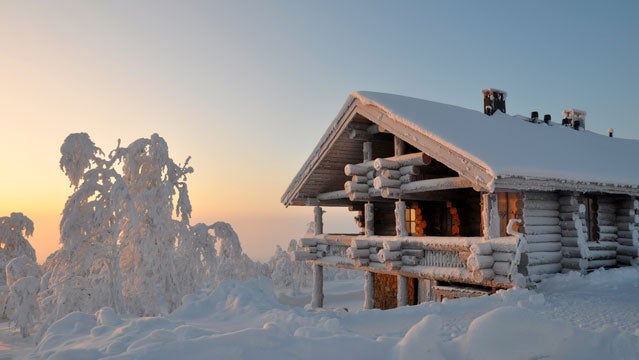 Heading out the door? Read this article on the new Outside+ app available now on iOS devices for members! Download the app.
Unfortunately, the evolutionary process chose not to bless humanity with that wonderful part of the life cycle known as hibernation. Bears have all the luck, don't they? Instead, we're cursed to wait out the winter months scuttling back and forth from our offices, shoulders hunched, trying desperately to hide from the bitter chill, sheltering faces in the prickly musk of snot-encrusted scarves. Should you feel like taking a break from the winter grind, you might consider some of these quick getaways:
: Montreal, Quebec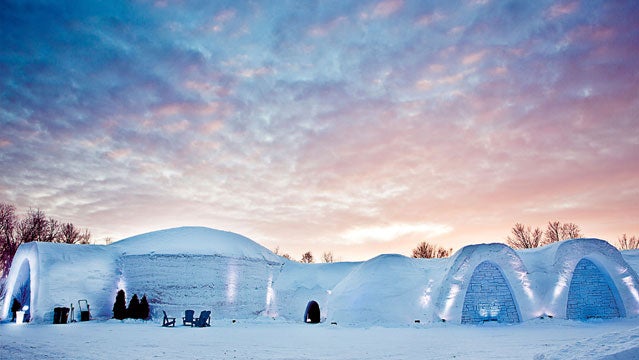 If Richard Branson were to build an igloo, it might look something like Montreal's Snow Village, which is constructed entirely of 10-foot-thick snow walls and located in Jean-Drapeau Park, an island in the middle of the St. Lawrence River. Temperatures hover around 20 degrees in the 25-room hotel, pub, and restaurant, where you can sip wine in a fur-draped ice chair while dining on elk stew and caviar. By day, drive an hour to Mont Saint-Sauveur for downhill laps through the trees and natural jumps on Sous-Bois, one of the mountain's most challenging runs (lift ticket, $53). Back at your frosty digs, order up a nightcap at the ice bar before getting some rest in your private room (think Superman's boudoir in the Fortress of Solitude). And be grateful for the toasty, minus-22-degree-rated Mountain Hardwear sleeping bag and Literie Laurier mattress (from $159 per person).
: Kauai, Hawaii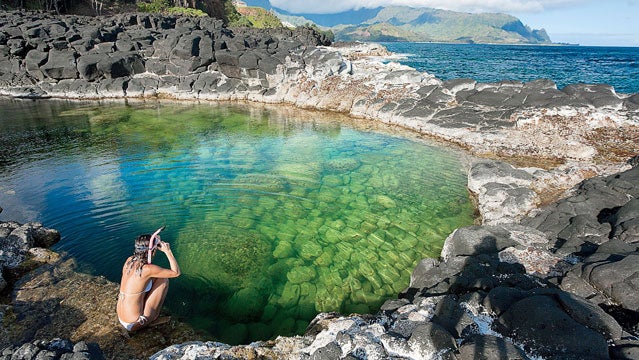 6,175
Acres of wilderness at Na Pali State Park.
Surfing gets most of the ink where Hawaii is concerned, but Kauai delivers a trio of adventures without the chest rashes and humiliating wipeouts. And thanks to direct flights to Lihue from Los Angeles (a six-hour hop), San Francisco, Denver, and Portland, Oregon, it's an easy trip. Check into the new Villas at Poipu Kai, with its lava-rock-surrounded pool (from $269). Connect with Kayak Kauai for a daylong paddle from Golden Coast at Poipu past the Spouting Horn, a volcanic-rock formation that blasts ocean water straight up through narrow tunnels created by crashing waves, and keep your eyes peeled for humpback whales and sea turtles ($145). The next day, trek the 11-mile Nualolo-Awaawapuhi Loop over slender ridgelines for pristine views of the fluted cliffs along the Na Pali Coast. Before heading back to the mainland, take a Zodiac tour with Captain Andy's, who's been guiding the coast for nearly 30 years ($185). The six-hour expedition darts in and out of sea caves, plunges beneath cascading waterfalls, and lands you on Nualolo Kai, a remote Na Pali beach where you can hike, snorkel, and feast on Hawaiian barbecued chicken and pork in an 800-year-old fishing village.
: Key West, Florida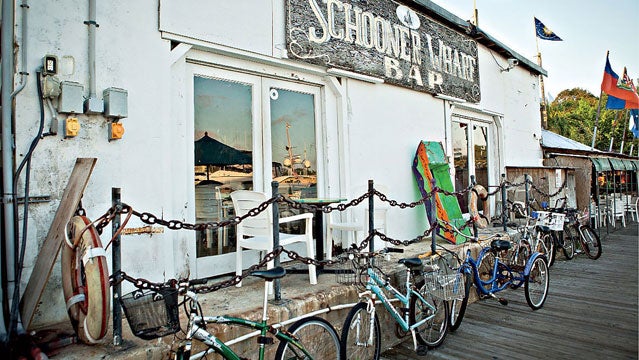 February in the Keys means flocks of snowbirds, fishermen, and Parrotheads. But the right guide can get you away from the crowds and on to trophy-size fish. Enter Bruce Chard, who's been leading clients in search of bonefish, tarpon, barracuda, and sharks for 21 years (day trips from $650). After an hour-long tug-of-war with a 125-pound tarpon (a "circus fatty," in these parts), you'll be ready for a bowl of shrimp bisque and the sweet corn-dusted diver sea scallops at downtown's Café Marquesa. And if you spend a little too much time swapping big-fish stories, the beds are a quick stroll away (doubles from $300).
: Santa Cruz, California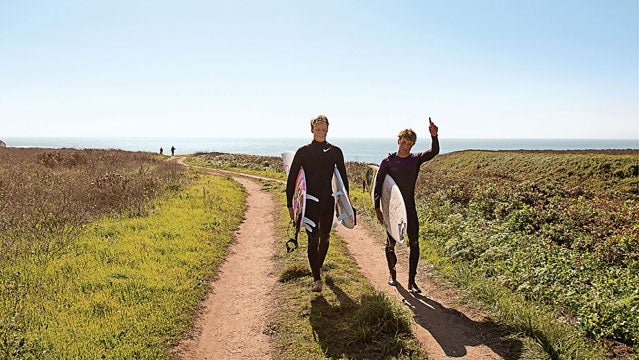 Winter is the best time to hit Santa Cruz's 10 miles of famous breaks, for a few simple reasons: between November and March, storms produce consistent swells, from two-foot rolling waves to barrelling 10-footers; the 50-degree air keeps summer crowds away; and flights from most major cities to San Jose (just 35 minutes to the north) fall to around $300. Drop your bags at the eco-chic Hotel Paradox (doubles from $165) and head to the Freeline Design Surf Shop for a four-millimeter wetsuit ($10) and six-foot shortboard ($25), ideal for these conditions. Then make your way to two-to-four-foot waves at the Hook, a point break located at the end of 41st Avenue. To tackle larger swells, head to Steamer Lane (where winter waves average six feet) or get a lesson from Club Ed ($85 per person). When you're done, treat yourself with a lobster quesadilla at Olitas Cantina and Grille, and chase it down with one of the legendary margaritas.
: Scottsdale, Arizona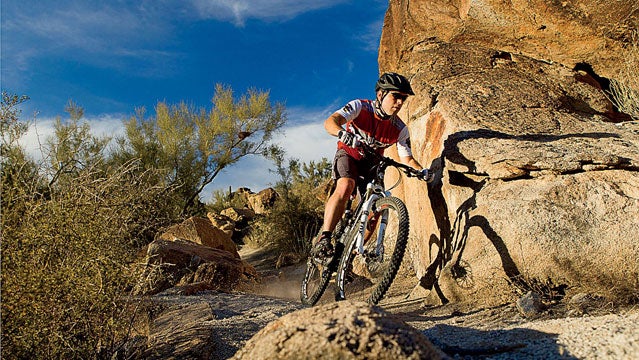 The Sonoran Desert surrounding Scottsdale is a sandbox full of undulating terrain, decomposed granite, and saguaro cactus under a 70-degree winter sun. In other words, it's the perfect place to go mountain biking. Sign on with Arizona Outback Adventures for a three-day survey of the 50-plus miles of singletrack in McDowell Mountain Regional Park. The outfitter has your gear needs covered (Trek Super-fly full-suspension 29er, helmet, gloves, and camping gear), provides a short shuttle ride to showers, and cooks up veggies, chicken, beef, and quinoa for a hearty campsite dinner ($600). Your first day calls for a 15-mile twisting ride, so you can acclimate to loose sand beneath your wheels. Follow it up with a day of laps on the park's trio of racing trails—one-way tracks with big downhills and hard corners where riders reach top speeds of 30 miles per hour.
: Grand Cayman Island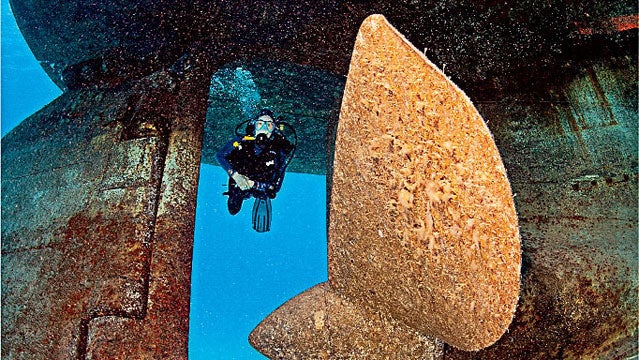 New nonstop JetBlue flights from New York's JFK and Boston's Logan airport to Grand Cayman (from $350) make the Caribbean snorkel and scuba hot spot more accessible than ever. Even better: the island recently added two new dive sites. Red Sail Sports guides clients through the Kittiwake, a 251-foot decommissioned U.S. Navy ship sunk two years ago to create an artificial reef, as schools of horse-eye jack and goliath grouper flutter nearby (from $95). For a more advanced dive (and to escape the resort crowds), join Red Sail for a 15-minute trip to Lost Wall, where a 100-foot plunge down a sheer wall puts you face to face with turtles and reef sharks. Snorkelers head to Stingray City, where 10-foot stingray are tame enough to touch. At night, settle into the Westin Grand Cayman Seven Mile Beach Resort and Spa (doubles from $429).
: Crested Butte, Colorado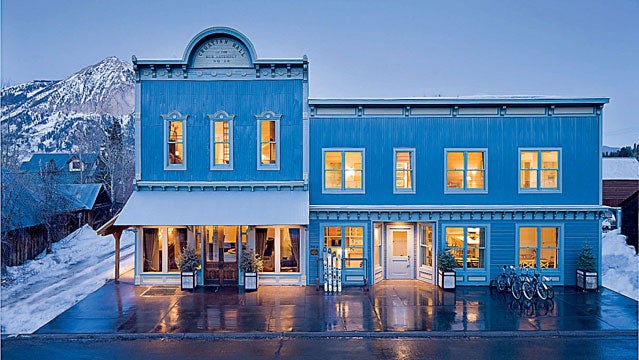 Skiers wanting to splurge on one big trip usually look to high-end resorts like Aspen, Park City, or Jackson. This winter consider Crested Butte. The funky mountain town has one of the best (if priciest) all-inclusive ski packages around, based at the six-bedroom, 13,500-square-foot Scarp Ridge Lodge. Groups of 12 get meals cooked by a private chef (try the elk tenderloin), an indoor salt-water pool, and endless fresh tracks. Each morning, local outfitter CS Irwin ferries up to a dozen guests to the West Elk Mountains via a pimped-out cat with roomy leather seats and a flatscreen TV. From there, powder skiing is guaranteed—Scarp Ridge has private access to 1,000 acres of drops ($12,500 per night for up to 12 people).