Winter Classics
Don't spend snow season carving the same old turns on your local ski slope. We present nine fresh winter activities, from ice climbing in Iceland to winter camping in Telluride.
Heading out the door? Read this article on the new Outside+ app available now on iOS devices for members! Download the app.
9 New Spins on Classic Winter Adventures
Ready for a change this holiday season? Switch it up by exploring one of these nine destinations that pair new scenery with classic winter adventures.
Tour Skating
Stockholm, Sweden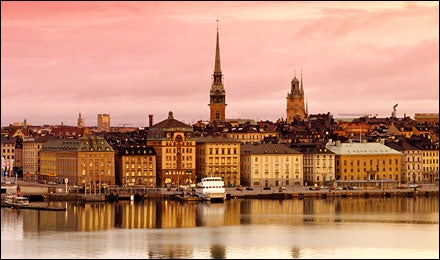 The appeal of sea skating is simple enough: Where else can you skate for hours without going in circles? But lacing up your skates and heading out to sea requires a leap of faith, because the ice has a very distinct and dangerous boundary where it meets open water. The trick is to stay close to shore, and Stockholm—set in an archipelago of some 24,000 islands that help bind the ice—is the ideal spot. By February, much of the Baltic Sea around Stockholm has frozen solid, and packs of Swedes wearing freeheel speed skates head out for day trips. Join them and you'll cover 20 miles in a day and make it back to town in time to hit the Berns nightclub, in Berzelii Park. "Skating along the ice edge is one of the most exciting experiences there is," says Anders Tysk, a guide with the outfitter 30,000 Öar. But be sure to carry the requisite ice-testing spears—and an ice pick, just in case. (If you feel sea swells beneath your feet, turn back quickly.)
OUTFITTER: 30,000 Öar; three-day excursions, including skating equipment, lodging, and meals, $960; 30000oar.se. When the skating is over, you'll stay in town at the 19th-century Smådalarö Gård manor house, a waterside hotel with a wood-heated outdoor pool and a movie theater. Feel like splurging? Order the 1970 Chateau Lafite-Rothschild ($636) from the extensive wine cellar.
Hut-to-Hut Cross-Country Skiing
Methow Valley, Washington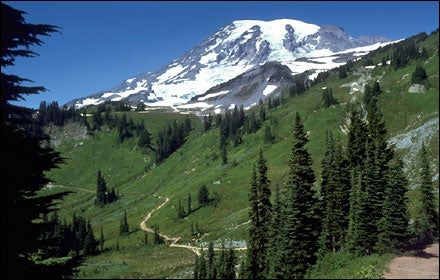 People generally associate winter in western Washington with gray skies and endless rain. But 200 miles east of Seattle, all that moisture freezes over the Cascade Range, burying the Methow Valley through late spring. With 125 miles of smooth, machine-groomed trails, Methow's is the second-longest groomed cross-country system in America. And it doesn't cater only to experts with iron quads: Winthrop, Washington–based Rendezvous Huts maintains five woodstove-heated cabins along the trails, breaking up the trip at extremely manageable intervals of three to five miles. The huts sleep up to ten, feature full kitchens, and are perfect base camps for extended day trips into the surrounding million acres of national wilderness, including the dense conifer groves of the Okanogan National Forest.
OUTFITTER: Rendezvous Huts; $175 per hut (bring your own food); methownet.com/huts. For ski and snowshoe rentals, contact Winthrop Mountain Sports (winthropmountainsports.com).
Skiing
Hokkaido, Japan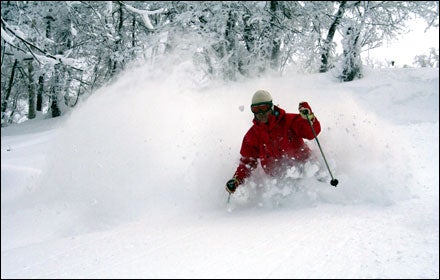 The northernmost of Japan's four major islands, Hokkaido catches an average of 500 inches of snow a year. "It gets the best powder in the world. It's very light and dry," says Daisuke Sasaki, a 30-year-old professional freeskier from Sapporo. Storms from the Sea of Japan, the Sea of Okhotsk, and the Pacific Ocean gather over the island's 6,000-foot-plus Hidaka Range. The best runs can be found three hours from Sapporo, in Daisetsuzan National Park, where locals skin to higher elevations and swerve down through hoar-caked juhyo ("snow monster trees"). Then it's off to the rustic Lodge Nutapu-Kaushipe (www.welcome-higashikawa.jp/asahidake/nutapu.htm) for a soak in natural hot springs and a cold bottle of Asahi.
OUTFITTER: Nomad; $156 for two-day backcountry trips into Daisetsuzan National Park; hokkaido-nomad.co.jp
Sledding
Schruns, Austria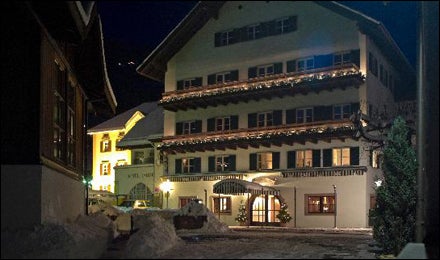 When Ernest Hemingway stayed in Schruns, Austria, in 1925, sleds, not skis, were all the rage—and not just with kids. Back then, locals sped down Austria's alpine passes on toboggans. Today, the tradition is kept alive by the Montafon Valley's cable cars, such as Schruns's Montafoner Hochjochbahnen (hochjoch.com). For $15 a day, you can rent a sled with slippery metal runners for use on sectioned-off runs. Because sometimes aimlessly sliding on snow is all you need.
ACCOMMODATIONS: At Hotel Taube, soak up the vibe that supposedly inspired Hemingway to write "An Alpine Idyll." Doubles, $110; 011-43-5556-7238-4
Winter Camping
Telluride, Colorado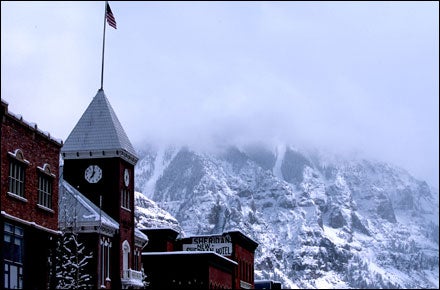 There aren't many winter camping trips that would attract the likes of both Tom Cruise and a Saudi prince. But Telluride Alpinism has done just that with its igloo tours, by turning what would essentially be bivouacking in an ice cave into a made-to-order, first-class dining-and-lodging experience. "They ask us, we do it," says co-owner Tara Butson. Her staff builds the igloo before you arrive, stokes a raging bonfire, and sculpts a low table—with tablecloth, of course—for dining in the snow. A private chef pours vintage pinot and prepares filet mignon with fresh vegetables while a concert violinist entertains you with Bach. A candle chandelier and the insulating properties of snow keep the igloo warm (and the violin in tune) until you're ready to crawl under a down comforter. $550 per night, including concert; tellurideadventures.com
Dogsledding
Arctic National Wildlife Refuge, Alaska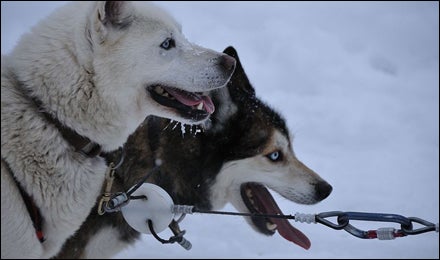 Home to over 100,000 caribou and more polar bears than we care to think about, ANWR is like the Serengeti under snow. Winter visitors don't go for the creature comforts—temperatures hover around 20 below in March—but the scenery is hard to beat. The tundra is frozen smooth, the vivid aurora borealis dances at night, and wolverine, ptarmigan, caribou, moose, fox, and, yes, polar bear spottings are common. With the rounded Brooks Range to one side and the frozen Beaufort Sea to the other, you'll mush your own sleds, trade with the local Inuit for (chewy, tasteless, calorie-packed) raw whale blubber, and build half-igloos by your tent for wind protection. And the preferred mode of transportation here—100-pound malamutes—keep the polar bears at a comfortable distance.
OUTFITTER: Alaskan Arctic Expeditions; $350 per day, including meals, dogs, and extreme-weather gear; alaskanarcticexpedition.com
Ice Climbing
Glymsgil, Iceland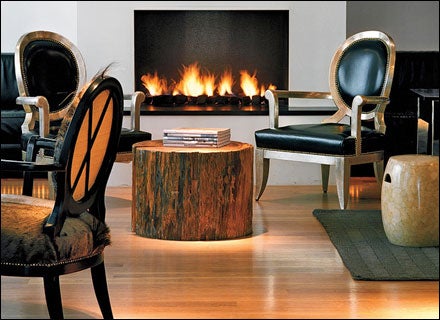 Contrary to what you might have heard, there is, in fact, ice in Iceland. Known mostly for its epic sagas, outrageous drink prices, and a 67-to-one puffin-to-human ratio, Iceland is also one of the world's best ice-climbing destinations. Most visitors climb 6,952-foot Hvannadalshnúkur, the island's highest peak (and an active volcano). But the best ice climbing is found one hour north of Reykjavík, in a canyon called Glymsgil. There's a 600-foot frozen waterfall; 40 different routes with at least two pitches each; and, nearby, a hot-springs-fed river for relaxation. "Will Gadd loves coming here to ice-climb," says Einar Torfi Finnsson, co-owner of Reykjavík's Icelandic Mountain Guides ($600 per day for a private guide in Glymsgil; mountainguide.is). For people who prefer their ice in a glass, the Ölstofan and Café Oliver bars, in downtown Reykjavík, are favorite local watering holes.
ACCOMMODATIONS: Stay at 101 hotel, a luxury boutique property that displays the work of prominent local artists. If you want a taste of authentic local flavor, order the baked bacalao (salted cod fish). Doubles, $555; 101hotel.is
Snow Kiting
Twin Cities, Minnesota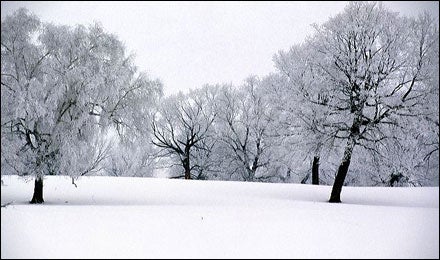 Kiteboarding has been around since Revolutionary times, when Benjamin Franklin rode an experimental kite across a pond, but the sport didn't make it to ice until the 1990s. Today, winter-happy Minnesotans are doing their best to push snow kiting into the mainstream. There's plenty of frozen water near the Twin Cities, but wide-open Lake Minnetonka, 15 miles west of downtown Minneapolis, gets the most action; on a typical weekend, the lake will see 25 kiters. When the ice is Zamboni smooth, kiters wear hockey skates, attach themselves to foil kites, and fly across the ice at 60 miles per hour. "Our winter kiting season is ten times bigger than our summer season," says Larry Freeman, owner of Scuba Center ($50 per hour for instruction and equipment; scubacenter.com).
ACCOMMODATIONS: Minneapolis's Chambers hotel is the sister to New York's hip auberge of the same name. Doubles, $265; chambersminneapolis.com
Heli-Skiing
Kaçkar Mountains, Turkey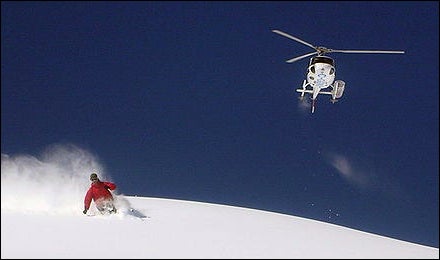 Yes, skiing and snowboarding in Turkey. During the winter, a sea effect dumps snow on the 12,500-foot Kaçkar Mountains, making northeastern Turkey the most reliable place to find bone-dry powder south of the Alps. Founded in 2003 by a group of Verbier, Switzerland, mountain guides, Turkey Heliski imports three helicopters from Switzerland for the January–April ski season and takes over the tiny mountain village of Ayder (elevation 4,625). From there, the helicopters fly daily to slopes with runs up to 5,000 feet long. The company imports a masseuse, a ski tuner, and one guide for every four clients. And on clear days, the views from the Kaçkars extends across the Black Sea to Mount Elbrus and the Caucasus Mountains. $8,200 for six days of skiing or snowboarding, including lodging, meals, and Turkish baths; turkeyheliski.com
Lead Photo: Timofeev Sergey/Shutterstock