Any cool outdoor summer camps out there?
I'd like to attend an outdoor camp this summer. Where can I find one that offers a unique adventure? Melissa C. Spokane, WA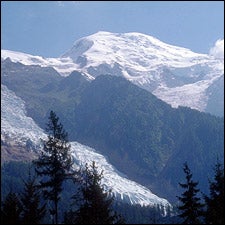 Heading out the door? Read this article on the new Outside+ app available now on iOS devices for members! Download the app.
As a kid, summer camp meant canoe rides, songs around the campfire, and finding your way to the outhouse in the dark—basically activities that seemed exciting until you got older and knew better. Now that you're grown up, you can recapture that somewhat naïve summer camp excitement by simply indulging the active child inside you. Instead of lazing on a beach, you can seek out a week of skiing in Oregon, running through the Montana backcountry, or learning the most crucial survival skills in the Idaho wilderness. And chances are you'll come home feeling, well, like a kid again.
Chamonix

RUNNER'S WORLD: Chamonix, your track for four days
To mix a little winter into your summer, head to the Pacific Northwest for one of Mount Hood's Ski Camps. Located outside Portland, Oregon, in the Cascade Mountains, Mount Hood Summer Ski Camp offers sessions on ski racing, improving your skills, moguls/freeskiing, or snowboarding on Palmer Glacier, home to North America's only year-round ski resort. With carveable corn snow and frequent bluebird skies, Mount Hood @#95;gui_include name="aa_box"@#95;gui_includeoffers 13 sessions from May to September. Adults have the option of hanging with the younger campers or participating in the adults-only session August 26 to September 1. Either way, each camp includes six nights of lodging, five days of lift tickets, daily video analysis of one's performance, ground transportation to and from the airport, all meals, professional instruction and coaching, and a multitude of afternoon activities. After a morning on the slopes, you'll have the choice of spending your day whitewater rafting, rock climbing, hiking, mountain biking, and windsurfing, among other adventurous pursuits. During the adult session, you can also swirl your snifter during a wine-tasting tour or test out their irons on 18 holes. Housing is provided in dorm rooms at the Lodges at Salmon River Meadows, with campers separated by age and gender. Adult campers also have the option of staying at the Mount Hood Inn, located five miles from the lodge, but should plan on paying an extra $450 for a single, and $250 for a double for the week. Each camp is one week long with costs starting at $875 (503.337.2230; mthood.com).
If you'd rather save the snow for winter, trade in your skis for running shoes and head to the foothills of Montana. There you'll find the Sports & Outdoor X-Training School, owned by Chloe Lanthier-Brandner, a Patagonia Trail Running Ambassador and world-class ultra runner. The school offers trail running camps from May through July in Whistler, Canada; Paradise Valley Pray, Montana; and Chamonix, France. During each North American camp you'll have the opportunity to be filmed while running to correct form, stride, or posture problems, helping you become faster, more efficient, and injury-free. You'll also experience endurance drills and learn about training techniques, as well as receive advice on injury prevention and nutritional guidance. Chloe's camps are perfect for average female runners who would like to increase endurance and stamina, or for advanced runners (both men and women) looking to increase overall speed and power while running longer distances on steeper terrain. Costs for these mini-camps start at $125. The real action, however, happens in Europe. Head to the Alps to attend her four-day, five-night camp while exploring new trails near Chamonix. You can also enjoy restorative stretching sessions and benefit from video analysis, educational daily lectures, soft tissue treatments, and instruction from an experienced, professional staff. Accommodations are located at the historic three-star Gustavia Hotel and include breakfast, lunch, and dinner. The cost of this four-day adventure begins at $1,200 and does not include airfare (406.223.6409; xtrainingschool.com).
If you miss the good old days as a Scout, try a Mountain Shepherd Wilderness Survival School course. Located at the foothills of the Blue Ridge Mountains near Lynchburg, Virginia, Mountain Shepherd teaches FBI agents and Navy SEALS—just to name a few clients. You'll find yourself surrounded by instructors who are compassionate and knowledgeable, and have been trained to handle conditions such as arctic weather, open seas, and even POW behavior and interrogation. No previous wilderness experience is required, and courses such as Survival 101 promise adults will learn life-saving wilderness skills, confidence, and fear elimination. Sound too good to be true? Throughout this two-day, one-night adventure you'll learn Mountain Shepherd's "seven priorities of survival," including a positive mental attitude, wilderness first aid, shelter, fire craft, signaling, and more. Unlike other survival schools, students of Survival 101 sleep in their own tent and are allowed plenty of food and water. It's is a steal at $295, but if you're craving a more outdoor time try their Humble Thunder course at $550. Sorry, no tents allowed. This is their most popular course, yet the four-day, three-night challenge promises an intense survival catch-all. You'll be crafting your own shelter for slumbering under the stars—after an extreme adventure while hiking to camp. Courses are offered May through September. (434.238.3718, mountainshepherd.com)
–Amy A. Clark