The Beginner's Guide to the Perfect Winter Vacation
Navigating a resort town as a tourist can be stressful. This eight-part guide—which covers everything from booking the mountain's best instructor to renting the right gear—will help.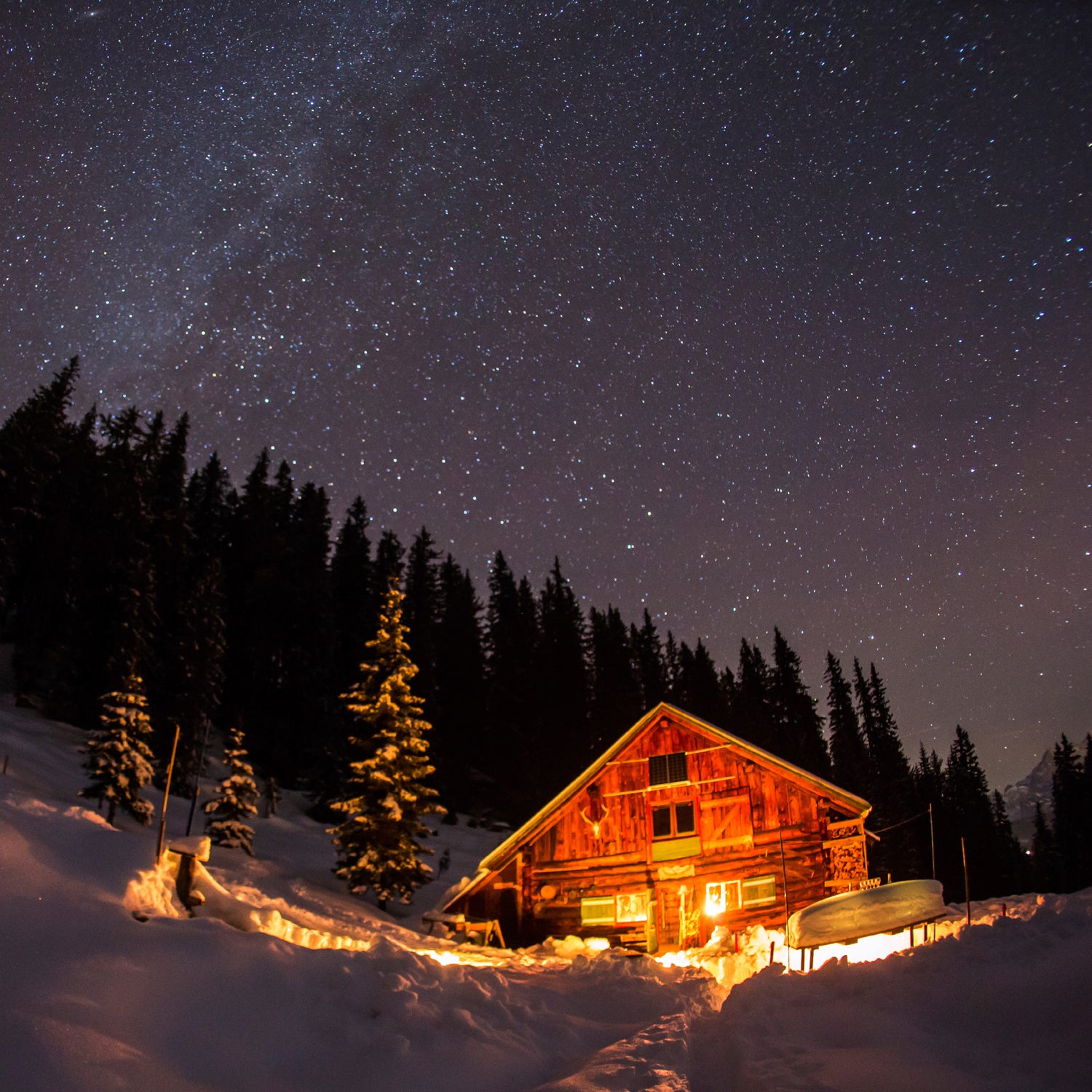 Heading out the door? Read this article on the new Outside+ app available now on iOS devices for members! Download the app.
Ski towns are a world apart. Mountains cut them off from big-city concerns and attract pilgrims from every demographic. Billionaires and bums escape to ski resorts to lose themselves in snowy summits and the addictive thrill of floating over snow.
Ski-town quirks also create unique challenges for visitors, especially first-timers who haven't yet been schooled in the local M.O. Driving your own car? Best avoided. Dinner? Often skipped in favor of après. Plenty of ski-resort travel decisions can seem baffling if you're more suburbanite than ski bum. But it doesn't have to be so confusing. What follows is your eight-part guide to riding like a local.
Book the Right Resort for Each Month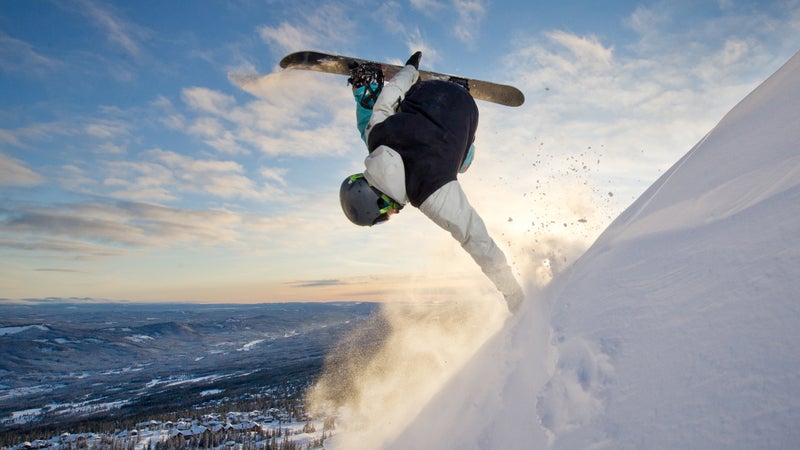 Winter visits each resort differently. Some mountains routinely receive lots of early-season snow. Steamboat tends to see epic snowfall well before the annual crush of Christmas tourists, making December a reliable bet for deep powder and thin crowds. Other resorts (such as Snowbird and Squaw Valley) generally log their biggest storms in March and April, when many city-dwellers have retired their snow boots for flip-flops.
Get a sense for each hill's idiosyncrasies by visiting onthesnow.com, which publishes historical snowfall data for resorts across the world. Along with annual snowfall totals, a breakdown of daily snow tallies lets you see when each resort received the most snow, so you can book future trips according to past patterns.
Of course, "the weather rarely repeats itself each year, so there is no 'sure bet' location that has great powder at a certain time," says Joel Gratz, lead meteorologist for opensnow.com, which issues regional powder forecasts. Gratz says last-minute travel is the only way to guarantee good ski conditions. "I wait until about two weeks out to see which areas have the best base and the highest chance for snow, then I lock in my destination about two days out, when I can get a handle on the forecast," he says.
But airlines prefer advance bookings, so you might, too. In that case, book for February. By then, most resorts will have built up a solid base and opened all terrain—resorts' steepest off-piste chutes and bowls require lots of snow for sufficient coverage, so they often remain closed till midwinter.
March is a mixed bag. It's the snowiest month for many resorts, but between storms, intense spring sun turns the snow into slush. That's when high-elevation ski areas have the edge. Cooler temperatures up high keep snow cold and carveable. Take California's Mammoth: With runs spanning up to 11,000 feet, the resort sits some 2,000 feet above the Lake Tahoe resorts, making it a good late-winter destination. Others include Winter Park (which tops out at 12,060 feet), Crested Butte (11,875 feet), and Telluride (13,150 feet).
But March and April are the ideal months for anyone who loves sleeping in. During most of the winter, ski conditions are best in early morning, when runs are freshly groomed and snow is (relatively) untracked. But in spring, afternoon sun creates slush that freezes overnight and remains icy until late morning, This holds true for groomed and ungroomed runs, such as Vail's Back Bowls. Unless it's a powder day (or you have no regard for knee ligaments), early-morning springtime laps typically promise a harsh, jaw-rattling ride. Better to hit the snooze button or linger over brunch. This is vacation, after all.
---
Snag the Best Condo in Town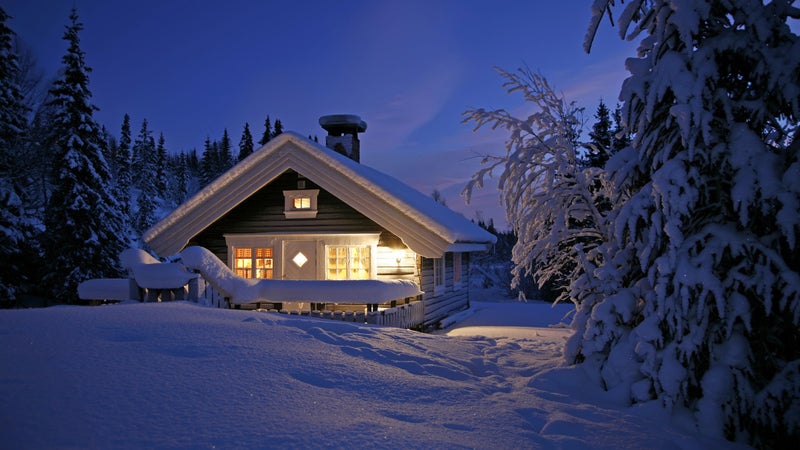 Don't settle for seas of of shag carpeting. While many resort accommodations date from the 1970s and rely on prime locations rather than décor to attract guests, you can do better. Booking a ski condo is often your best option, but the room quality is variable. Because units are individually owned, condos within the same building can run the gamut from sleazy to spectacular.
To get the best room, you'll need to know what to ask for. Many condos are booked through property management companies that sell you a generic "one-bedroom condo" from their inventory. To up your chances of scoring revonated digs, request an "A" level unit. Most companies use some sort of tiered system to rank their condos, so even though the reservationist may insist that each unit is equally exquisite, emphasize that you'd prefer the spiffiest available option. Such a request generally places you at the head of the line for the most attractive rentals.
Other strategies: Book a brand-new property or go with VRBO, where you browse photos of a particular unit and rent directly from the owner.
You can also exploit the travel experts at Ski.com. Their lodging deals often undercut resorts' published prices, and most agents (Ski.com calls them "specialists") have personally visited the properties they sell, so they have the inside line on décor, ski access, and amenities. Specialists can price out similar trips across an array of resorts, which vastly reduces the legwork of comparison-shopping.
Because Ski.com bundles lift ticket deals with lodging, their pass discounts are the deepest in the industry. "Nobody, not even Liftopia, can beat our ticket pricing," says Dan Sherman, Ski.com's vice president of Marketing. If you're dissatisfied with your accommodations, your specialist (one person handles your booking from start to finish) will go to bat for you. You can bet North America's largest provider of ski vacations wields a bigger stick than you do.
Regardless of how you book, be skeptical of ski-in/ski-out claims. Some luxury properties do provide expedient ski access, which may be worth the premium pricing, especially if you're skiing with little kids. But not all slopeside locations guarantee ease or convenience. Some are close to ski runs, but far from shops and restaurants. Others require you to shuffle across long, flat distances (or slog up a steep hill to get back to your rental). Get detailed explanations of exactly what ski-in/ski-out means at any property you're considering.
Finally, don't be afraid to leave the heart of town. Hotels and condo complexes that are situated some distance from the slopes often provide a complimentary shuttle service, which can be even handier than ski-out access. Shuttles drop you at the lifts during the day, and ferry you around at night. Not only do you get a room, you get a designated driver.
---
Rent Gear You'll Want to Buy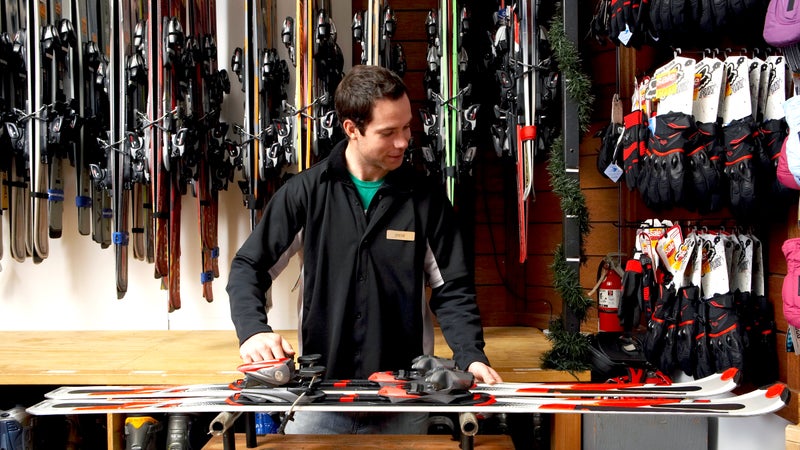 Twenty years ago, real skiers scoffed at rentals, preferring to schlep their own equipment rather than suffer with low-grade loaners. Now, many ski and snowboard shops stock both high-end and entry-level gear. Some even specialize in providing the newest technology: Black Tie (which operates in 13 Western resorts) refreshes its premium rental line every year.
Black Tie also delivers its gear, sending techs to your living room to fit boots and boards. Result: Even less schlepping, and the opportunity to sip Cabernet while someone calibrates your bindings.
Whomever you book through, call the rental supplier ahead of time—as far in advance as possible—to discuss available equipment and determine what's best for you. The secret to scoring gear you'll love? Know thyself. "Be honest about your ability level and where you like to ski or ride," says Black Tie founder Ian Prichard, who warns against rounding up when evaluating your skills. "Skiing is like golf, in that everyone thinks they're as good as their best shot," he says. But you'll have more fun on equipment that suits the way you ski or ride most of the time. So if you love cruising low-angle corduroy, say so, and spare yourself the frustration of wrestling with boards designed for high-speed schralping.
Your perfect gear may also be shorter than you expect. "I grew up on skis that were 210 or 215 centimeters long," says Prichard. But that was old-school technology. Advances such as sidecut and rockered tips and tails (which curl up from thesnow) allow short skis to match the stability and float once offered only on long-long planks. "Some guys push for the longer lengths, because they still equate ski and board length with machismo and ability level," says Prichard. Revise your thinking: 175 cm is the new expert norm for men.
It's always preferable to pick up rentals in the afternoon or evening, rather than the morning of your first day on the slopes. Shops are jammed at 8 a.m., when tensions run high as everyone hurries to distribute equipment before ski lessons start.
And if your feet are unusually small, large, or odd-shaped, buy and bring your own boots rather than roll the dice with rental options. Because if your feet ain't happy, you won't be either.
---
Ditch the Rental Car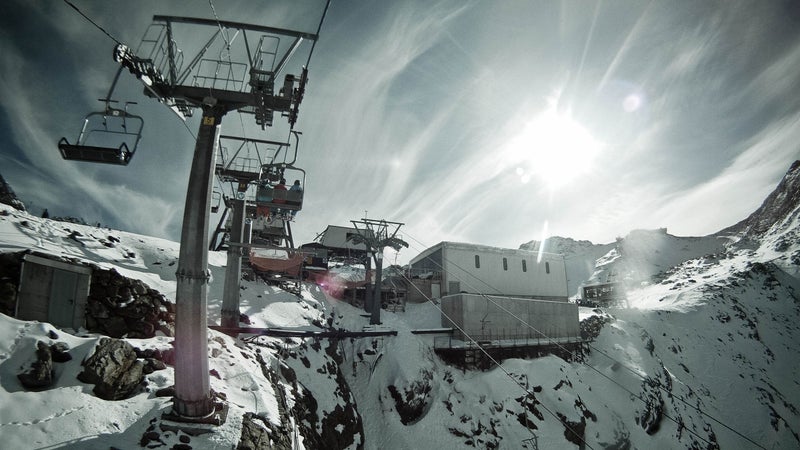 Driving everywhere may make sense in Orange County, but not in ski towns. For starters, there's the weather. Snowy mountain roads can turn what should be a short jaunt to dinner into a tense, white-knuckle ordeal.
Plus, many ski resorts weren't designed with cars in mind. Towns such as Stowe and Breckenridge were built during the horse-drawn days, and newer resorts such as Vail and Whistler were modeled after European villages where walking (not driving) is the fallback mode of transportation. Parking is scarce, and often available only on the edges of town. You'll find grippy-soled, waterproof boots to be indispensible.
But walking isn't your sole option. Most resorts operate free, frequent buses to transport people between the base areas, downtown, and lodging zones. Bus links serve neighboring resorts as well. The Squaw/Alpine Express runs continuously between the Squaw Valley and Alpine Meadows base areas. Some hotels and condos operate on-call guest shuttles (tip your driver, and he or she may even divulge their favorite powder stash).
Airport shuttles often eliminate the need to rent a car, especially if you can walk, bus, or shuttle everywhere from your lodging. Taxis (available at most resorts) can fill in the gaps.
Sometimes, you can even commute via ski lift. Running from 7 a.m. 'till midnight, Telluride's gondola is free for everybody, and provides easy access to restaurants, bars, and shops in town and at the resort. The Town Lift at Park City Mountain Resort loads right from Main Street (and there, at the foot of the Quittin' Time run, sits the High West Distillery and Saloon, the "world's first and only ski-in gastro-distillery"). The BreckConnect gondola links the town of Breckenridge to the Peak 7 and Peak 8 base areas.
So do people drive cars at ski resorts? Certainly. Sometimes driving remains your best option. Just don't expect it to be Plan A.
---
Find the Locals' Favorite Runs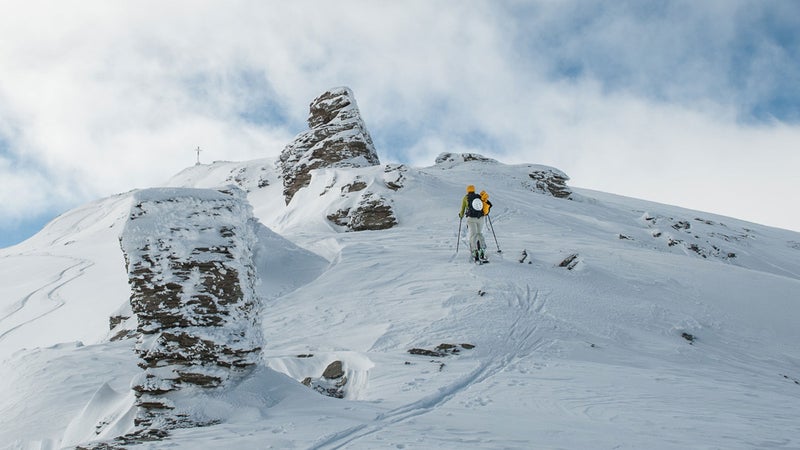 Unfold the trail map and you'll see a web of green, blue, and black lines. Most visitors choose runs by color, gravitating to the difficulty level they seek. Most locals, however, use a different set of criteria for selecting trails.
You may not have heard of it, but aspect is key. It refers to the direction a slope faces and it has a lot to do with the quality of the snow. East-facing runs soften up early, which is great if you're looking for carveable groomers. The morning sun relaxes the snow and makes it easier to edge into the hardpack. But if you love moguls, seek out north-facing runs. Their limited sun exposure makes them less icy than trails angled south, west, or east.
Scouting for powder? True powderhounds monitor regional weather stations each night to determine where the stashes will be next morning. You'll likely find the deepest snow on the out-of-the-wind lee slopes. Snow is deposited on east-facing pitches by wind blowing over the west deposits. You can also check the snow report (which often includes wind speed and direction) or ask a patroller what the wind's been doing.
Just be sure to stay out of traffic. Clusters of similar-colored runs see more riders; if a group enjoys cruising blues, it'll beeline to the intermediate neighborhood and stay there all day. So look for isolated anomalies: That single black run surrounded by beginner trails probably doesn't get many riders, making it a good bet for finding untracked powder or corduroy.
Finally, let your own observations be your guide. If one south-facing slope is luscious, others probably are too. If lower-mountain slopes are cushier than upper-mountain runs, explore those lower elevations. When aspect, weather, and elevation guide your run picks, you're bound to get the goods.
---
How to Not Dress Like a Tourist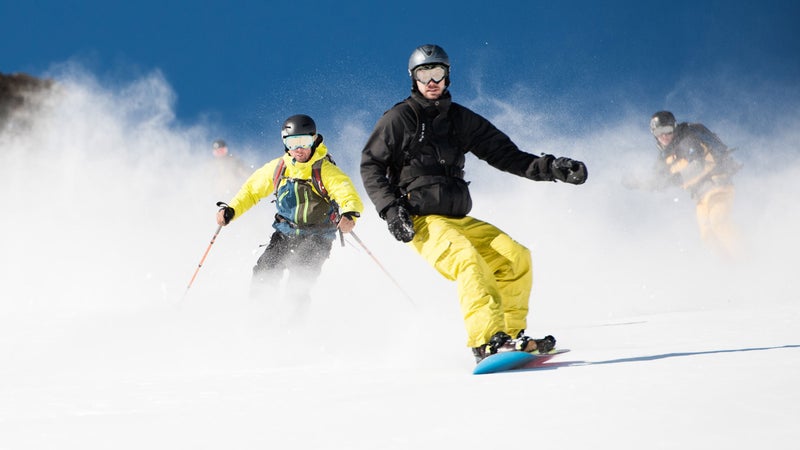 Your pants and jacket should be waterproof—that's a no-brainer. The trickier question: How much insulation should you wear for a day on the slopes?
The challenge is dressing for stop-and-go activity. You warm up while cranking turns, then cool off while sitting on the chair lift (rides average 15 minutes). Wear too little and you'll spend more time in warming huts than on the snow. Dress too warm and you'll overheat during the downhill, resulting in fogged goggles and damp clothes that freeze you once you stop moving.
The just-right Goldilocks approach leaves you almost chilly after lift rides, and just shy of sweating after a long, hard run. Multiple clothing layers work the best magic.  Start with a light- to mid-weight base layer that wicks away moisture. If you sweat heavily, opt for a quick-drying synthetic fabric that will keep you from feeling clammy (and cold). Everyone else might prefer merino wool, which wicks sweat slower, but is warmer and smells fresher at après.
Top that with a fleece zip-T or lightweight puffy midlayer. Synthetic insulations such as PrimaLoft or The North Face's proprietary Thermoball are smart choices, because they keep you warm even when dampened by sweat or snow. But ounce for ounce, goose down is the coziest: Look for down midlayers with stretchy, uninsulated underarm panels that dump heat during aerobic downhills. Top this with your uninsulated waterproof shell and you'll be ready for anything.
In your pocket: Stash a neck gaiter or facemask (we like Buffs) to shield cheeks and nose against icy summit winds, and tote a pack of disposable handwarmers. Cheap and compact, these chemical packs don't generate heat until you unwrap the plastic and expose them to air.  Make sure your goggles are compatible with your helmet (yes, you should wear a helmet), otherwise you'll suffer from dreaded 'gaper gap.' You'll want the goggle frame to nestle snuggle against the brow of the lid.
Complete the look by carrying your gear properly. Carry a snowboard horizontally and at your side by reaching between the bindings and grabbing the board's bottom edge with one hand. To carry skis, lock the brakes together and hoist the pair onto one shoulder. The tips should point down and the toe of the binding should rest on your back. Keep ski poles pointing down and at your side. Every other method marks you as the uninitiated.
---
Book the Best Instructor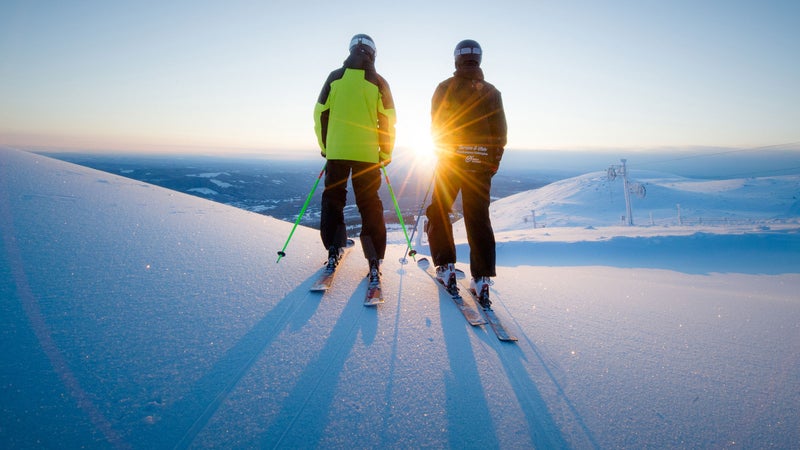 The best ski and snowboard instructors don't look for work. It comes to them in the form of repeat clients that reserve next year's sessions now. "My February dates usually book up by July," says Abi Slingsby, a highly-regarded Steamboat instructor. Her Christmas openings are filled a full year in advance.
Your best entrée to such instructors is to get a referral from someone who's taken a lesson from a superstar. Post or tweet your destination and see what recommendations surface. Then contact the instructor directly to reserve a date. You'll end up confirming the reservation and making payment through the resort's ski school, but most top instructors manage their own client calendars.
No referrals?  "Be really prescriptive when you speak with the ski-school booking agent," says Slingsby. Lay out your goals for the lesson, and indicate the type of personality you'd prefer. Ask for someone who's logged five or more years of experience, and who's certified in alpine, snowboard, or telemark. "The certification doesn't guarantee a great instructor, but it does indicate that they're committed to teaching, not just flirting with it after college,' Slingsby says.
Unless you can lock in a trusted name, avoid booking lessons around Christmas or Presidents' Day, when high demand prompts resorts to match guests with instructors who often have little to no teaching experience.
Newbies also teach most group lessons. As instructors gain experience and move up the ranks, they generally phase out group assignments and offer only private lessons. But "private" doesn't have to mean "solo." Recruit a friend or three and split the cost of a top-shelf teacher (most work with couples or families as well as individuals).
If you're out of the never-ever bracket, camps and specialty schools also offer access to elite instructors. Aspen ski guru Weems Westfeldt founded the Diamond Session, day-long private lessons offered through Aspen's ski and snowboard school that pair hand-picked instructors with intermediate and expert clients. The Camp at Whistler is a three- to four-day session taught by BC's best teachers, including Whistler legend Tom "Pro" Prochazka, a former World Cup racer and the mastermind behind Whistler's bike park (and many others).
And don't write off "expert" resorts because you're a beginner or intermediate rider. The hardest mountains often cultivate the best ski and snowboard schools. Taos Ski Valley comprises famously challenging terrain, but its instructors are among the nation's best, in part because they can't let clients idle on green runs all week. "We don't have a ton of bunny hills, so instructors here have to learn how to help students advance quickly," says Pat Brockwell, Taos's ski school manager. "Other mountains' focus on beginner skills and terrain often leads to a dead-end, because students learn habits that limit them," Brockwell explains. But the skills you master at Taos speed your journey to expert status.
Squaw Valley is another resort that's known for super-tricky terrain (its KT-22 lift serves an array of infamously hard runs) but its ski school is ahead of the curve, and its terrain thrills both experts and beginners. From High Camp, at the top of the tram, learners can cruise mellow, high-alpine runs offering vast views and forgiving grades.  At Jackson Hole, the new Casper high-speed lift services expanded intermediate terrain at mid-mountain.
Once you've found an instructor you love, try exporting them to other resorts. Colorado ski areas, for example, have a reciprocal agreement that lets instructors from one resort teach at others within the state—so you can bring your Telluride guru with you to Vail.
---
Drink at the Best Bars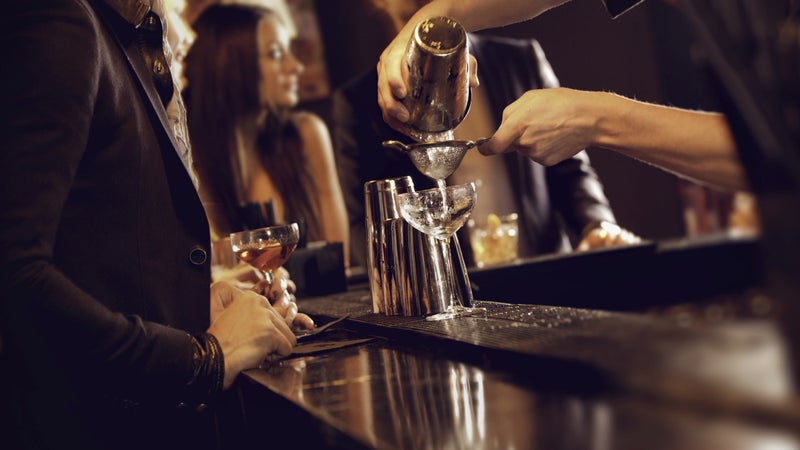 Ah, the ski-town bar. Like cafes in Paris, these institutions do more than dispense drink. They're bastions of local culture, but only if they enjoy locals' endorsement. Some watering holes, like the Mangy Moose (Jackson Hole), The Wobbly Barn (Killington) and Grumpy's (Sun Valley) are so legendary, their authenticity is above question. Judging the non-iconic options gets trickier.
You can't assume that a dive bar is the local favorite. Locals like nice stuff too, and might actually prefer Guinness to Pabst if the price is right. That's why the best metric for determining local appeal is the depth of the Happy Hour discounts. A measly fifty cents off drafts won't cut it. Half price? Now we're talking, especially if that includes wine and well drinks.
Locals do like slopeside bars, particularly on sunny spring days when 45-degree temperatures convince winter-conditioned residents to strip off their shirts. But they're not wedded to the idea of drinking within sight of the lifts. A short walk or bus ride—especially if it yields cheaper drink prices—is a popular move, so consider candidates beyond the immediate vicinity of the base area.
You'll know it's a true locals' bar when you spot a handful of professional drinkers warming the bar stools. They like deep discounts too, because they buy in bulk. And tune into the live music for clues. Nothing screams "tourist trap" like a John Denver cover band.
Lead Photo: Friedhuber/iStock