The Best Duffel Bags
After putting my favorite bags through the wringer, I found a clear winner in this cavernous category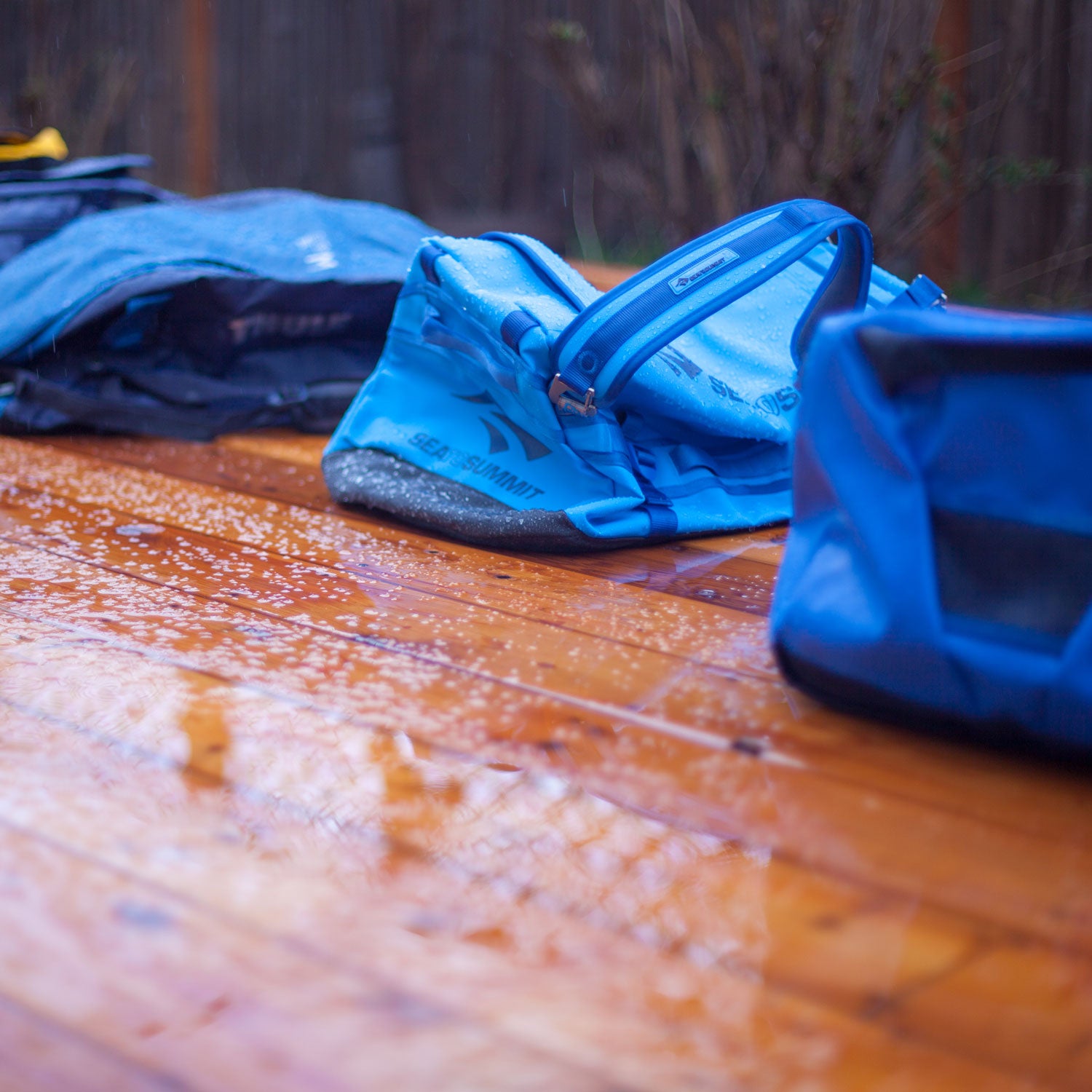 Heading out the door? Read this article on the new Outside+ app available now on iOS devices for members! Download the app.
At the end of the day, duffel bags are just big sacks. But they're really important big sacks, capable of carrying and protecting your stuff with a minimal weight penalty in situations that range from hauling climbing gear on a donkey to rolling up to a fancy hotel with your best flip-flops and a bunch of grooming supplies. A good duffel is worth its weight in gold. A bad duffel is little more than a pile of fabric with a zipper.
With all the potential end uses for duffels and so many sizes and features available on the market, I thought it would be difficult to pick a single best duffel. For the most part, that wasn't true. While I selected a couple bags for specific uses, in this test of 21 duffels, the Sea to Summit 65-liter duffel was clearly the best, getting top marks in all but one category I looked at. It's the duffel I think people should buy. For more information on how we performed our test and for other duffel-buying advice, look below for our picks.
Winner: Sea to Summit 65-Liter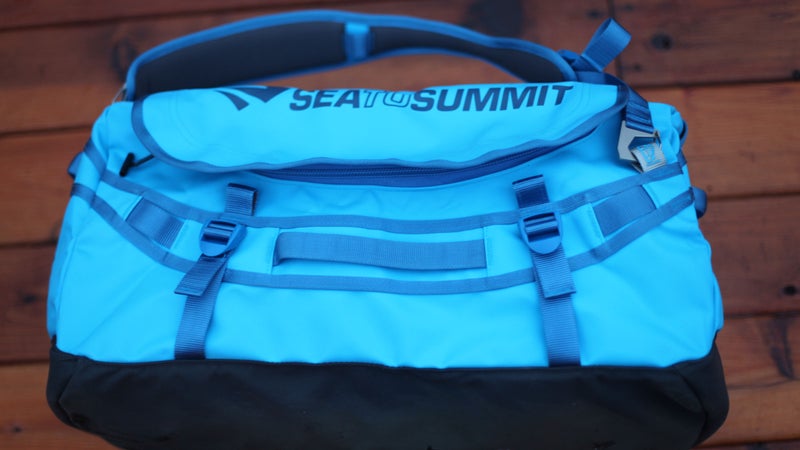 It is rare that a product is as dominant in a head-to-head test as the Sea to Summit 65-liter duffel was in this one. At first glance, its semirigid removable shoulder straps, padded lid, 1,000-denier reinforced and padded bottom, and three-pound ten-ounce weight made it seem overbuilt. (It was a pound heavier than the runner-up bag, Patagonia's Black Hole.) But it was the easiest to pack, absorbed zero water in the rainstorm, showed nearly no wear during the drag test, and was the most comfortable to carry.
The Sea to Summit 65-liter's main zipper has two sets of teeth on the same track, giving it the smoothest closing and opening action during the overpack. The main opening is oversized and drops down to the side, which made cramming it full of towels easy to achieve. Those rigid, heavily padded shoulder straps sat at a comfortable, organic angle on my shoulders; in my notes, I wrote, "Legitimately carries like a backpacking pack." The combination of ease of packing, durability, water resistance, and comfort would make me feel safe using this duffel to carry something like camera equipment, even if I needed to lug it far. The Sea to Summit 65-liter would have won the test on those attributes alone, but it didn't cut corners on small details either. Its minimalist zipper pull was long enough to really yard on, and the sturdy metal carabiner-style fasteners on the shoulder straps could not have been nicer to operate.
One area of potential concern: I found this bag's four tie-downs adequate for tying a light load to the roof of my Camry, but I would be wary if I was carrying a heavier load (say, above 30 pounds) or tying the bag to an irregular surface like a motorbike or an animal. The tie-downs were well placed at the bag's corners, but at the end of the day, more tie-downs are better, and other bags had more. My second favorite bag, Patagonia's Black Hole, has 20 daisy-chained tie-downs, a number that at first seemed excessive but made a huge difference in stability on top of my car. (Another bag I liked, Gregory's Alpaca 90, has 30 tie-down points.) In some situations, that extra peace of mind is pretty important.
---
Patagonia Black Hole 60-Liter
The Runner-Up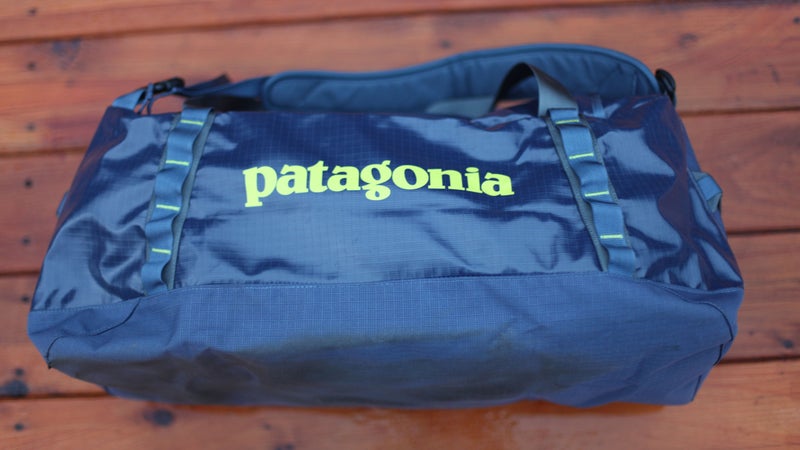 At two pounds six ounces, the Black Hole duffel was the lightest bag I tested by far, weighing in nearly a pound and a half lighter than the Sea to Summit. But that light weight didn't compromise the bag's durability. The 900-denier laminated exterior and reinforced bottom showed only minor scuffing during the drag test, just behind the Sea to Summit. But there was a deal breaker. The Black Hole let in about two ounces of water while sitting on my porch during the rainstorm, which put it out of running for first place.
Inside, the Black Hole has simple cinches that kept towels secure during the packing test, as well as two independent mesh pockets on the lid. It was about even with the Sea to Summit in terms of interior organization, although the zipper caught repeatedly when I overpacked the Black Hole with pillows and towels. It handled the load well during the walking test, and those pockets are really convenient for items I'd want to grab quickly, like a passport or spare toothbrush.
The Black Hole's 20 daisy-chained tie-downs come in four sets of five and made it the easiest to cinch down. Vertically oriented tie-downs secure the bag laterally as well as horizontally, and you rely less on brute force to hold your bag in place. I liked the Black Hole a lot, and on trips where I wasn't concerned about perfect water resistance, or if my travel plans involved lashing a bag to the outside of a bus or a donkey, this would be the duffel I'd choose.
---
The North Face Base Camp
Best For: Traveling in Monsoon Season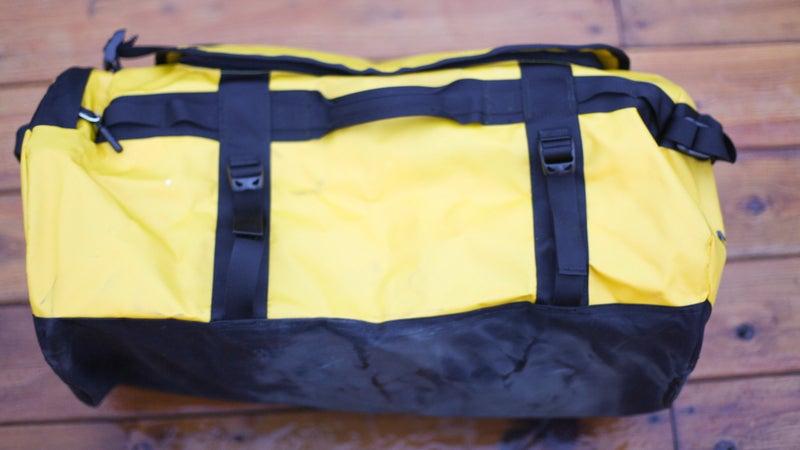 The Base Camp was the only other bag besides the Sea to Summit to keep its contents completely dry. The 71-liter size medium I tested, which weighs three pounds nine ounces, has a cavernous lid that helped it to a third-place finish in the pack test, and its wide shoulder straps made it the second most comfortable duffel to carry like a backpack.
I have a special place in my heart for the Base Camp—I've used a 50-liter size small for all of my work travel for several years. That bag has never leaked, and I find that its lid easily accommodates overpacking. But two things kept the Base Camp out of first place: Its shoulder straps are a pain to remove, and it developed a pencil-eraser-sized hole during the drag test—the only bag to wear through completely.
---
Thule Chasm 70
Best For: Hauling Gear Through a City
I didn't think it was possible for the lowly duffel to look sexy until I took a close look at the Thule Chasm 70. With a slim height of only 12.5 inches, it was the shortest of the bags to make the final cut, even though it has a carrying capacity that is a full ten liters bigger than the Black Hole and five liters bigger than the Sea to Summit. That thinness made it look like a sleek backpack during the walk test—it looked so stylish that I actually remarked, very dorkily, "Daaaaamn," when I saw my reflection in the side of my wife's Honda Element.
The Chasm isn't all looks, however: Simple metal T-style connectors on the shoulder were the easiest of any bag to get on and off, and I suspect they will add durability compared to the plastic fasteners used on the Patagonia and North Face duffels. The Chasm also has four big interior mesh pockets that would be helpful keeping toiletries and dirty clothes separate during long work trips. But it let in 2.5 ounces of water during the rainstorm, worse than the Black Hole and the most of any of the finalists. And whereas the Black Hole redeemed itself with its light weight, the Chasm isn't especially light—it weighs 3 pounds 11 ounces, slightly more than the Sea to Summit.
---
What Should I Know Before Buying a Duffel Bag?
Before digging into the test, I spoke with half a dozen people who travel extensively, including an international outfitter and an industrial-tool salesman who has more than a million miles on his duffel. I also spoke with the most prolific travel writer I know, Outside correspondent Tim Neville. If Neville is checking a bag or headed somewhere rugged, like Albania, he always takes a duffel. "I can't remember the last time I checked a large roller bag," he told me. If Neville is going anywhere with an uneven surface, like dirt paths or cobblestone streets, he finds carrying a duffel much easier than a rigid roller bag. For Neville, duffels must meet three criteria: They have to be rugged and weatherproof, capable of backpack-style carry, and outfitted with daisy chains for easy tie-down. Tie-down points are especially key when traveling internationally, because Neville never knows what he'll be strapping his bag to. "If it's on the top of a van or a donkey's back, I know it's going to get abused," he said. And while strapping a duffel to a donkey might not be in all of our futures, it pays to get a duffel that can handle anything you—or TSA—throw at it.
Hundreds of different duffels are out there, so I set some parameters to help wade through the offerings and determine which ones were worth testing. These are the main features I considered.
Size
I focused this test on medium-sized duffels. If you travel frequently, it might make sense to own a few different sizes. I take The North Face 50-liter Base Camp on shorter trips. Elsewhere, I've tested 100-liter mega-haulers, which are great for expeditions. But I believe that duffels in the 60- to 90-liter range offer the best tradeoff between carrying capacity and maneuverability.
Exterior
Based on Neville's advice and the principle that a duffel should be able to withstand some serious abuse, for this test I excluded duffels that weren't weatherproof. I also looked for bags with a heavyweight exterior, which is more durable, and limited the testing pool to bags with main bodies built from laminated fabrics in the 1,000-denier range. (Lamination means the material is coated in heavy-duty, weather-resistant plastic.) Denier, which measures fabric weight, is a rough stand-in for a fabric's toughness. A thread of spiderweb is approximately one denier; 1,000-denier fabrics are common in work pants and heavy canvas gear. At about 1,000 denier, I start feeling comfortable that a fabric is burly and worthy of abuse, based on my past testing.
Tie-Down Points and Accessories
As criteria for my test, duffels had to have a minimum of four exterior tie-down points, not counting handles. While not a deal maker or breaker, I also rewarded bags that had intelligently integrated pockets or pouches for sorting gear in the duffel's main cargo space.
Type of Carry
I decided to cut any bag that didn't have a backpack-style carry. I agonized over this choice—I liked several bags (in particular, the Watershed Yukon) that did not have this option. But at the end of the day, you can't comfortably cover a distance of more than a quarter-mile with a heavily packed duffel while carrying it like a suitcase or over one shoulder.
The Test
I've tested drybags and duffels for more than a decade, first as a raft guide and more recently as Outside's Gear Guy columnist. I usually travel with a daypack and a duffel. For this test, I pulled eight duffels out of my garage and selected another 13 bags that were well-reviewed by other outlets or came recommended from Neville or other gear reviewers I spoke to. (Check out the list at the bottom of this page to see all the bags I tested, most of which were provided free of charge by gear companies or their PR reps.) From there, I winnowed the list to four contenders based on the following criteria: ease of packing, carrying comfort, how they tied down, weatherproofness, and durability.
The test involved packing and unpacking the four finalists with two bed pillows and several bath towels, then loading them down with my Harbinger 20-pound weight vest and taking each on a half-mile walk around my house. Next, I used paracord to tie them to the roof of my 2000 Toyota Camry, noting how easily they cinched down and how well they stabilized under the load.
To test weather resistance and durability, I stuffed them with a bath towel and left them out on my deck for 24 hours. Temperatures ranged from the low fifties to below freezing, and a rainstorm rolled through that produced about a half-inch of rain from a mix of scattered showers and heavy downpour. I weighed each bath towel before and after the deck test and did a hand check for dampness afterward.
Finally, I attached each of the four finalists to the trunk of my car using a cam strap and dragged each one a third of a mile on asphalt at five miles per hour. (I liked my neighborhood before conducting this test, but my heart was truly warmed when three different neighbors flagged me down to tell me I was dragging something behind my car.) It's worth noting that the best way to test durability is over months of regular use. I'll update this article if my durability rankings change over time, but for this test, I focused on abrasion resistance and took note on places where the bags seemed well constructed and sturdy. After six weeks of abuse, I came away with the above favorites.
The Duffels 
Lead Photo: Joe Jackson