How to Find the Best Free Camping
Sometimes paying for camping is necessary, but Gaia Topo helps you find free alternatives that you won't find with Google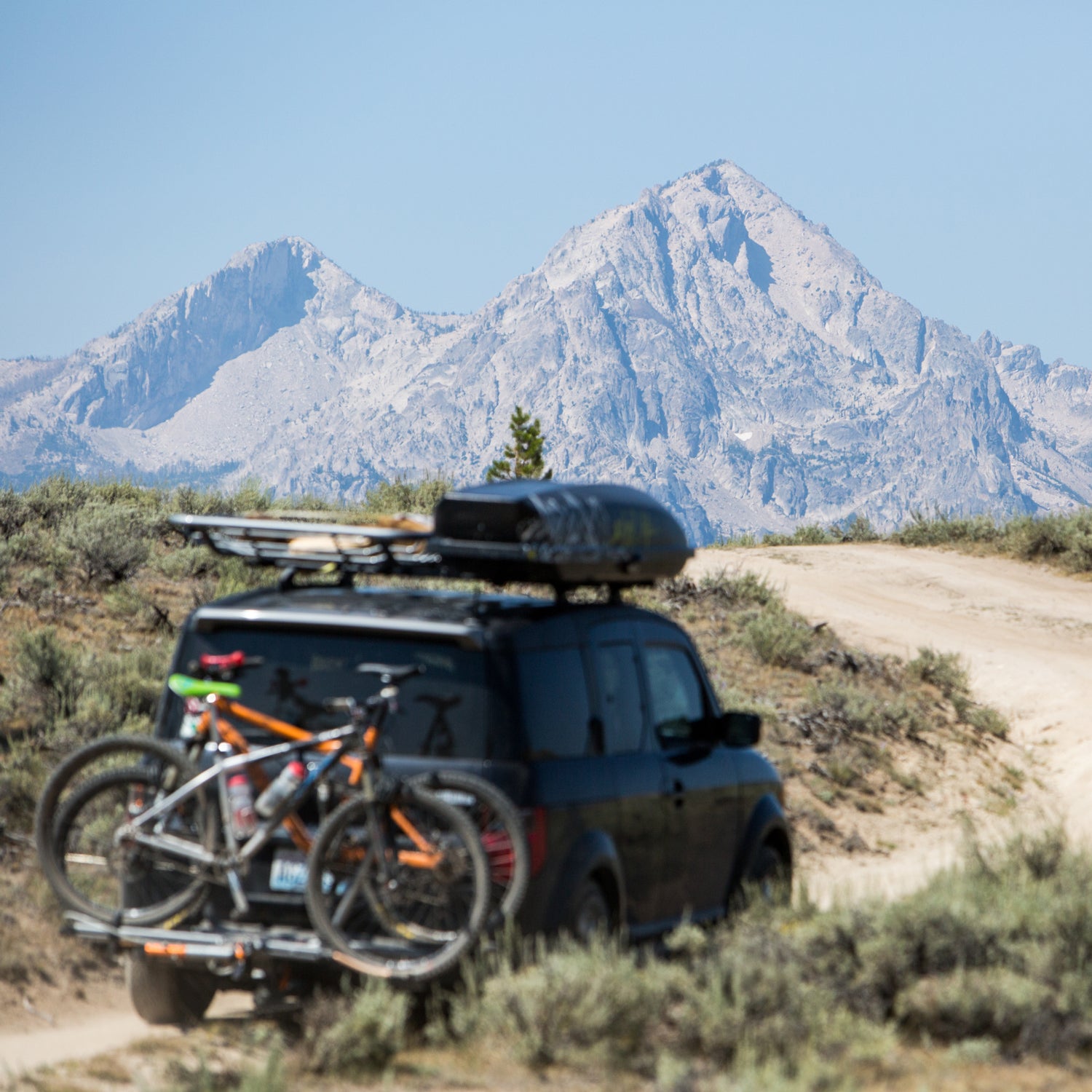 Heading out the door? Read this article on the new Outside+ app available now on iOS devices for members! Download the app.
This article was first published by Gaia GPS. To get more of its exclusive content and entire map catalog, sign up to become a Gaia GPS Premium Member.
---
Autumn's rainbow hues and cooler temps beg to be enjoyed from camp. With ten million new campers in the U.S. last year, the catch is finding where to go. Our suggestion? Ditch the fees and crowds entirely and camp for free, and without a reservation, on public land.
Public lands provide a trove of dispersed camping options. Dispersed camping simply means camping outside of a designated campground. This includes everything from pulling your car up to a fire pit on the side of a forest service road to cowboy camping next to the trail on your backpacking trip. Dispersed campsites don't include the typical amenities of a campground, such as running water, bathrooms, and a camp host. But they do generally afford more privacy and seclusion. Plus, you can find a dispersed campsite at the last minute, and it won't cost you a penny.
Once you're prepared from safety and comfort perspectives, dispersed camping can provide a relaxing getaway for even the biggest procrastinator. There's just one hitch: you can't camp anywhere you wish. That's where a mapping and navigation tool like Gaia GPS comes in, which can help you easily find BLM, USFS, state, and locally-managed lands that allow dispersed camping. Here's how.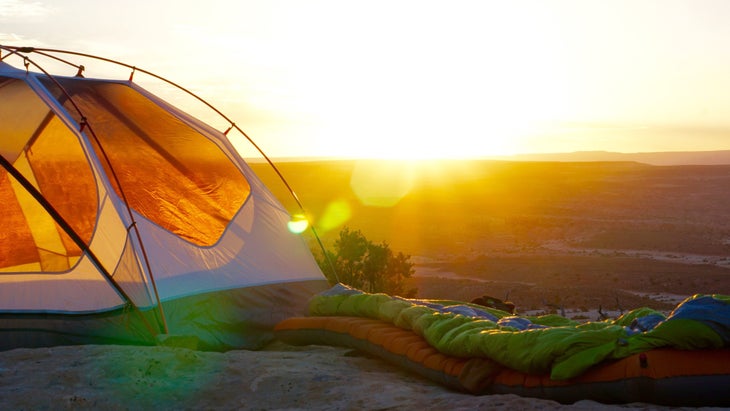 How to See Public Land in Gaia GPS
Dispersed camping is permitted on many public lands outside of designated campgrounds. Discover these places by checking out gaiagps.com from your computer, or by using the Gaia GPS app on your phone. From Gaia GPS's exhaustive catalog of maps, these are our favorites for viewing public land:
Gaia Topo
Gaia GPS's flagship map, Gaia Topo color codes public lands based on type. Bureau of Land Management (BLM) land accounts for 248 million acres of public land. That's over ten percent of American soil. Recognize BLM land by its yellow shading in Gaia Topo. Be on the lookout for BLM land especially when you're traveling out west, where most of it is located.
Zoom in on BLM land to see the field office that manages that parcel of land. When you zoom into state and locally managed land, you'll see if it's state trust land, state forest, or another publicly accessible state-managed land area.
National Forest Land and other locally managed lands are shaded in hues of green. State parks are shaded in red. While more prevalent out West, these types of public land can be found around the country. Check out the Gaia Topo Legend for a full list of color-coded public lands in the map.
Public and Private Land Maps
Few things can spoil a weekend getaway like getting caught trespassing. Double-check you're in the clear with the Public Land and Private Land maps. The Public Land map shows public land areas shaded in green. The Private Land map illustrates private land boundaries in yellow. Cross-reference these map layers to be safe.
USFS 2016
If you're looking for campsites on National Forest land, get an even deeper view into the landscape with the USFS 2016 map. USFS 2016 provides full, detailed topographic coverage of all 172 national forests and grasslands in the U.S. It's the most up-to-date rasterized map available from the U.S. Forest Service, and includes labeled trails, roads, and vegetation shading to make scouting a campsite even easier. Take note of road names so you can tell your friends where to join you.
How to Find Dispersed Camping on Public Land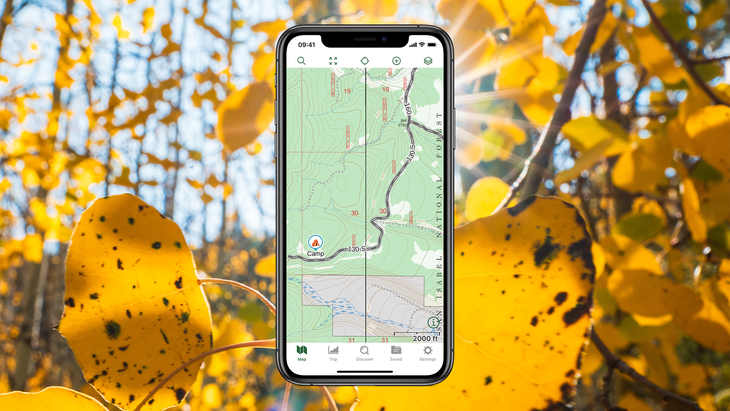 Dispersed campsites tend to be in undeveloped areas, yet right along county and forest service roads. These sites are usually accessible for car camping yet feel remote.
To find dispersed campsites, look for BLM, National Forest Land, and other federally managed land with access roads in less established areas. Chances are you will find a place to camp. Dispersed campsites are usually marked by a fire ring. Check the BLM, USFS, or relevant agency's website, call the field office, or inquire at the ranger's station to make sure dispersed camping is allowed in the area.
Choose a pre-existing campsite if possible, and camp at least 200 feet away from water sources. If you find a campsite you love, save it on the map by dropping a waypoint.
Of course, leave no trace rules apply to dispersed camping. Pick up your garbage, and follow all rules and regulations. Only build a fire if it's permitted in the area during that time. Check the local county or state website to see if a fire ban is in place.
To ensure you can navigate and find a campsite even if you drive out of cell service, download your map for offline use. Gaia Topo's tiny file size makes this easy to do without taking up too much storage space on your phone. In fact, you can download the map for the entire state to be safe.
Once you're ready to hit the road, you can navigate to your next campsite right in Gaia GPS. Just tap on the campsite in the map, and then tap the "route to" button. Turn-by-turn directions will take you there.
How to Get Gaia Topo
Access Gaia Topo here and in the Gaia GPS app on both Android and iOS. With Gaia Topo you can search for hikes in your area, record tracks in the field, and create a custom route on the map for free. Create a free account to save your routes and tracks so you can revisit them later.
You'll need a premium membership to download maps that you can take offline with you in areas without cell service. A Premium Membership also gives you access to Gaia GPS's entire map catalog, including the Public and Private Lands maps and USFS 2016.
Gaia GPS is a part of Outside Inc., the same company that owns Outside. 
Lead Photo: Carl Zoch/TandemStock