The Best Way to See the U.S. Is by Train
Not too fast, not too slow, rail is just right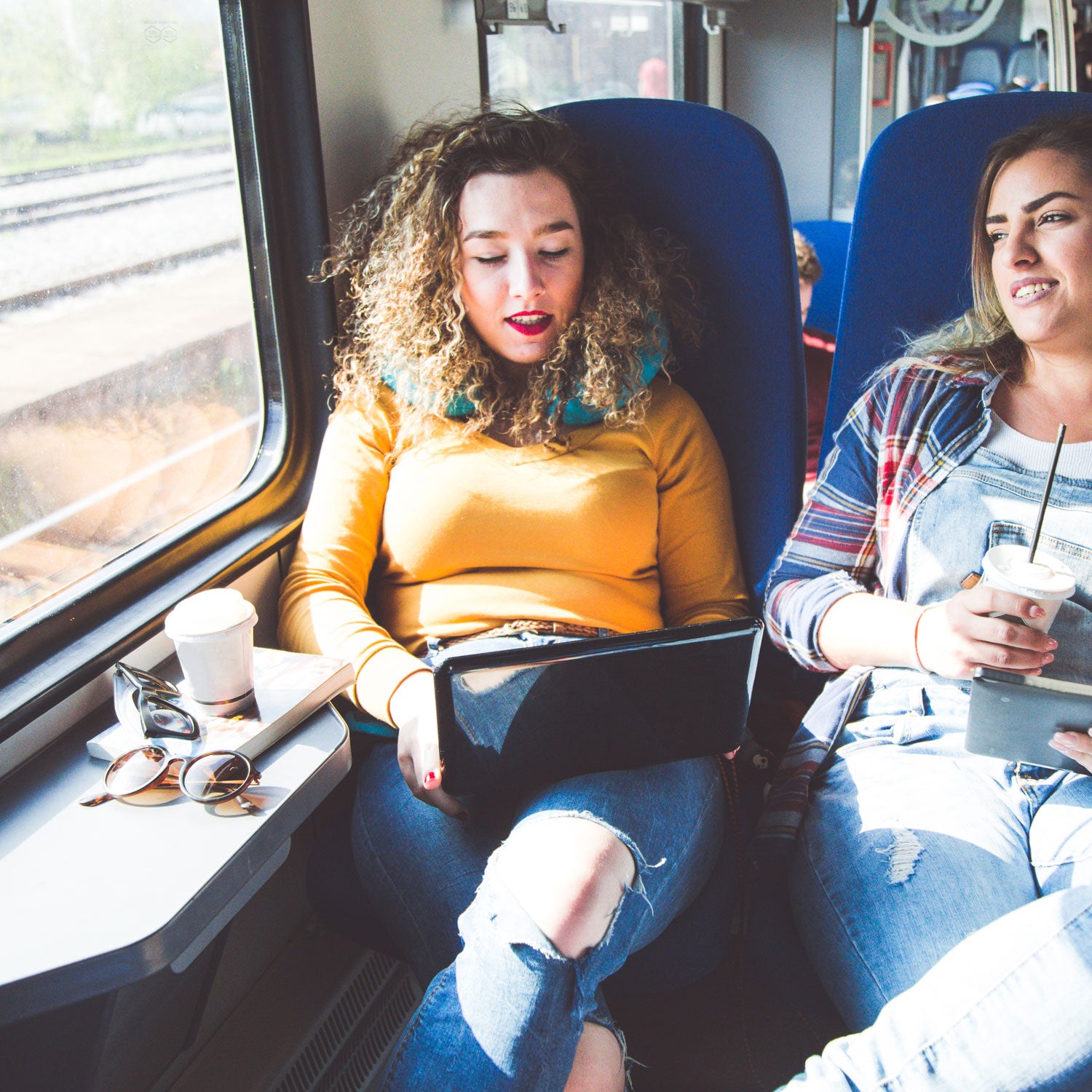 Heading out the door? Read this article on the new Outside+ app available now on iOS devices for members! Download the app.
Trains have long endured as a fixture of American industry, transporting goods and people across the country and forging what has become the United States as we know it. They still do a lot of that stuff, but long ago they stopped being a primary mode of long-haul transportation. Now they're mostly fun to gawk at while you match their speed from the highway.
Trains are more expensive than buses and cheaper than airplanes. They're definitely more spacious than both, and they chug along at just the right speed—slow enough to take in scenery and fast enough not to be bored by it—through mountain canyons, over fields of grass the settlers once trod on horseback, past decaying factory towns and deep forests.
"These secret pleasures of a railroad summon forth a vision of a sweet pastness, a lost national togetherness," wrote author Tom Zoellner in his book Train: Riding the Rails in the Modern World. "The train is a time traveler itself, the lost American vehicle of our ancestors, or perhaps our past selves."
We pulled together some of the most scenic trips from all over the country. If you're looking for a relaxing ride that'll take you back in time, here are a few that will connect you with the lost art of train travel. (Keep in mind that just like airplane prices, the cost can vary with the dates you book.)
New York to Montreal
Price: $69
This train takes off from New York City and travels the green byways of the Northeast, following the tail of Lake Champlain north for most of the ride. It's a ten-hour trip that passes through some towns you can explore. Saratoga Springs is famed for thoroughbred racing and home to the National Museum of Racing and Hall of Fame. It's also the home of Fort Saratoga, where American colonists won two naval battles against the British during the Revolutionary War. Once you've had your fill of green hills and history, the end of the line is the French-speaking Canadian city of Montreal.
The Grand Canyon Railway
Price: $67
If trains can take you back in time, then this is one route that certainly will. The trains departs from Williams, Arizona—about 30 minutes west of Flagstaff—and travels about 4.5 hours round-trip.
The journey begins in northern Arizona's ponderosa pine forest. The train is a refurbished locomotive from 1923 called the French Fry Express. While you're waiting to reach the Grand Canyon's South Rim, employees share a bit of local history and some songs and even stage a mock train robbery. If that's not your thing, just stare out the windows and take in all that high-desert scenery.
The White Pass and Yukon Route
Price: $125
Decades after the California gold rush, another crush of humanity migrated toward fortune. This time north—way north: 100,000 people sought their share in the Klondike Gold Rush of the late 1890s, and rail sprang up to accommodate the hordes of miners and panners. It's still there. The most popular tour departs from Skagway and travels 3,000 vertical feet past the furious boil of waterfalls and places like Dead Horse Gulch.
Cape Cod Central Railroad
Price: $25
If you're looking for a day trip to explore the famous scenes of Cape Cod, this 27-mile trip hauls passengers through salt marshes, cranberry bogs, sand dunes, and the Cape Cod Canal. The rail system's history goes back to 1848, when tracks were laid for the Boston and Sandwich Glass Company. The line now runs from May through October.
San Francisco to New York
Price: $230
As long as you're getting into train travel, why not go big? This route is a 76-hour trip that hauls travelers through some of the most geologically eye-catching scenery in the United States. Tickets on Amtrak can often be had for $186 and include a dining car but no bed. (That costs extra.) The train takes off from a station just outside San Francisco, in Emeryville, California, and makes its way to Salt Lake City, then Denver, along the way passing through the beautiful scenery of Donner Pass, redrock country, and the towering Rocky Mountains. After that, it heads over the plains to Chicago and finally New York. Clocking in at nearly 3,500 miles, this trip might call for more than a few stopovers along the way.
Lead Photo: Kosamtu/iStock