An Outdoor Enthusiast's Guide to Ketchum, Idaho
With beautiful trails and camping close to town, quick access to the mountains, and a vibrant downtown, this ski town is a gold mine of summer adventures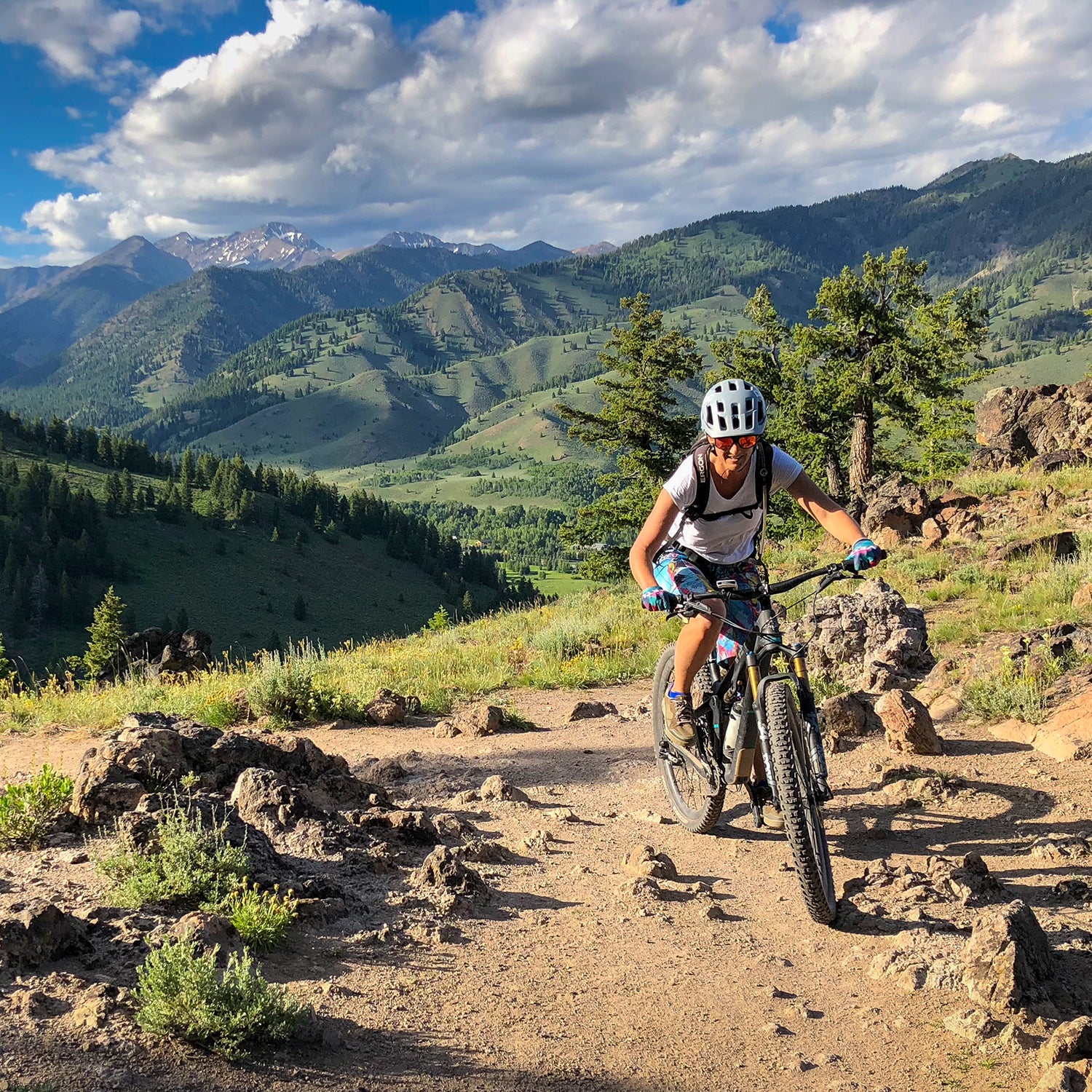 JJAG Media(Photo)
Heading out the door? Read this article on the new Outside+ app available now on iOS devices for members! Download the app.
Jen and I have taken Artemis the Airstream to a lot of sweet places in the 2.5 years we've been on the road, but we've never ended up somewhere so compelling that we'd consider parking her for good. Last week, in Ketchum, Idaho, for the first time ever, that conversation came up.
"We could move here," Jen said casually one evening while we were sitting out front of the trailer, sipping a nightcap. It was 9:30 p.m., and the summer sun was still glittering on the high peaks. I almost spit out my bourbon: We've long said that no place can compete with our permanent home in Santa Fe, New Mexico. But what astonished me, when I stopped and thought about it, was that I agreed.
Set at the base of Sun Valley ski resort, this mountain town is probably best known as a winter vacation stopover. But for active travelers, it turns out that the summer months are just as engaging. Crouching between the Pioneer and Sawtooth ranges, along the Bigwood River, with a trail system hammocking the high peaks on either side of town, it's a veritable outdoor playground.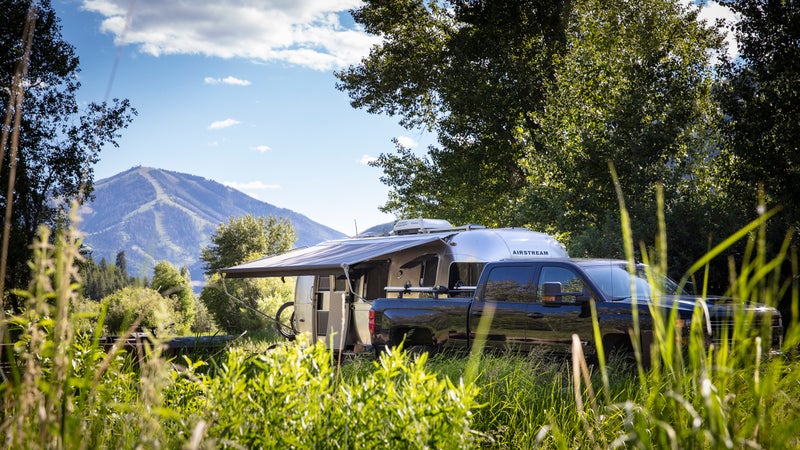 Jen and I arrived on the heels of a long overseas trip and grabbed a spot at Boundary Campground, which was close to town, with quick access to resupply and full cell service for catching up on work. And though we were just a ten-minute pedal to the nearest coffee shop, the big, steep peaks soaring straight up from camp made us feel like we were far out.
In the first few days, we explored some nearby trails, including a hike up Proctor Mountain and a mountain bike on Fox Creek, both of which got us up and out of town quickly without feeling like boring comedowns, as city trails often can. Even on those accessible trails, we encountered few other people. The farther we ventured into the high mountains, the fewer people we saw.
Thanks to a recommendation from a local friend of a friend, we tackled a high-peak adventure called Osberg Ridge, which climbs a steep thread of trail up to an almost 10,000-foot ridgeline before plunging through burned-out forest, along precipitous side hills, and down plus-tire-width singletrack back to town. (The ride usually requires a big car shuttle, though we lucked into a van and driver through Western Spirit Cycling Adventures).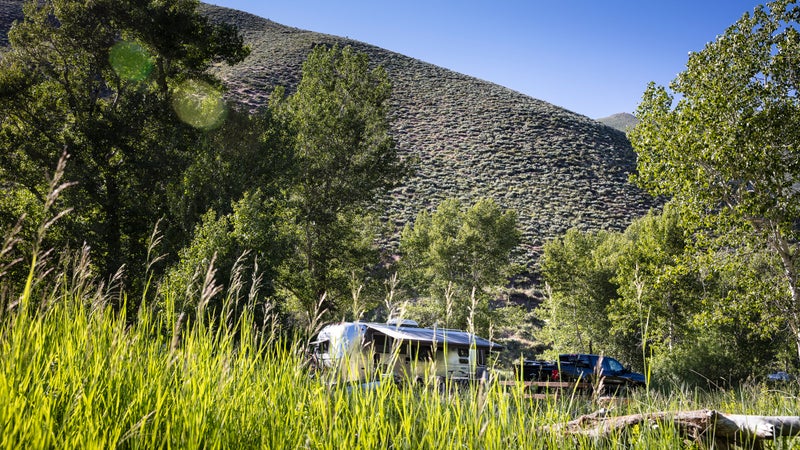 Based on the Osberg Ridge trail alone, I'd have ranked the day as one of my top ten rides of all time. But when we pedaled back into town and straight over to the deck at Sawtooth Brewery for Public House lager and totchos (tater tots crossed with nachos), the day turned legendary.
After nearly two weeks of riding, hiking, and fishing, I look at the local trail map and marvel at how little of it we've actually seen. Will Jen and I be unloading Artemis and looking for a piece of land? Unlikely—we remembered that winter, which we already flee from when it comes to Santa Fe, is long, dark, and cold up in Idaho. Besides, we haven't even been over the pass to Stanley yet, and I hear that Ketchum pales in comparison.
If you come to Ketchum, here are a few humble suggestions. This isn't comprehensive, nor am I a local, but I've had a pretty good time investigating so far.
Camping
Access from town is flabbergasting, with five Forest Service campgrounds (Boundary, Cottonwood, North Fork, Murdock, and Wood River) within 15 minutes of city limits, plus a handful more if you want to get a little farther out there. Dispersed camping is just as abundant and high quality. Sun Valley Trekking also rents two of its backcountry mountain yurts, Coyote and Pioneer, which make great long-weekend base camps for exploring the high peaks.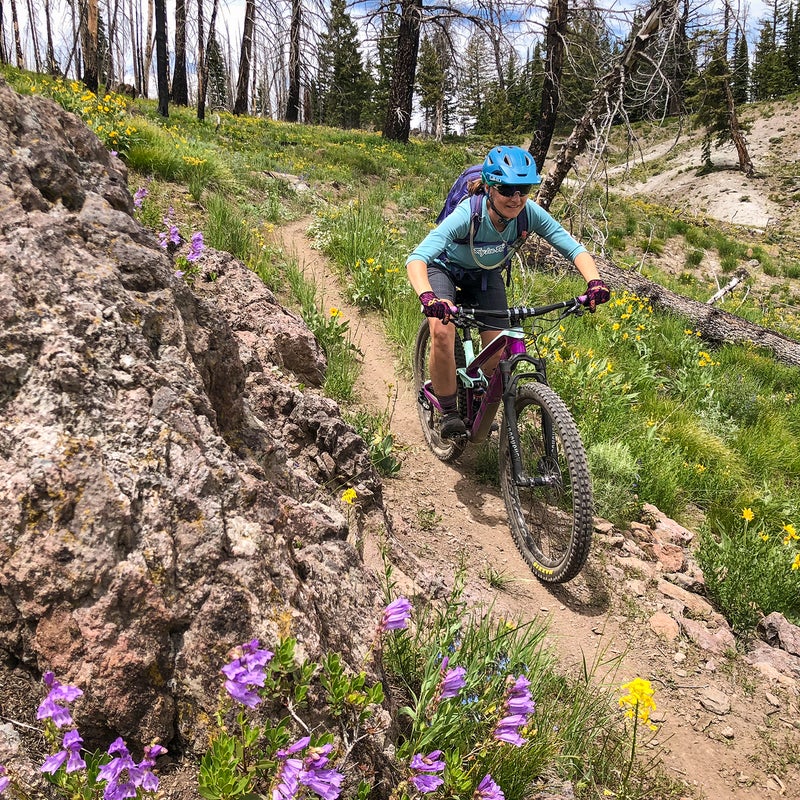 Trails
By and large, the trails in and around the valley are smooth, flowing, tight, and often very, very steep. Bring a hardtail or short-travel mountain bike, a gravel bike (not a roadie), and an extra set of lungs. The Fox Creek Loop makes a quick post-work ride from town, with a nice unwind along the water to begin, followed by a well-worn climb and swooping descent back to city limits. Tack on North Fork and Chocolate Gulch for additional vert and a more backcountry feel, or combine those two with Oregon Gulch and Saddle Trail from the Oregon Gulch trailhead for an even more challenging ride. A 15-minute drive south of town, the Greenhorn trail complex has more rocks, big views, and access to the high country. North of town, Galena Lodge, the local cross-country area, serves up lots of quick-hit loops on its cross-country skiing turned MTB trails, as well as great pastries, coffee, and lunch between laps. There's even lift-op park riding at Sun Valley, which has opened two new trails this season: the flowy, slalom-turn Mindbender and the butt-off-your-seat-steep, jump-laden Pale Rider.
In Town
Ketchum has a friendly downtown that's compact and packed with sunny patios. One word of advice: Parking can be a bear, and pedestrians mob the place, so it's best to skip the car and pedal into town. Maude's Coffee and Clothing is a quirky little place with nice people, smooth coffee, and racks of eclectic new and secondhand clothing. Unlike big towns, where bike shops can be backed up with work and a bit snooty about it, both local shops that I've visited, Sturtevants and the Elephant's Perch, were helpful, managed repairs for me in short order, and took time to offer me thoughtful advice on trail choices and conditions.
Even though it's down the road in Hailey, the Power House is worth the trip. It's part bike shop, part bar and grill, with local, organic food and a sunny patio perfect for whiling away an afternoon. There are lots of good, casual eats for refueling in Ketchum proper, too: Grumpy's is an institution for post-ride burgers and beer; Rickshaw serves Asian-inspired small plates; and Wiseguy Pizza serves more than the typical pies (the White Trash Guy, with bacon, kettle chips, scallions, Parmesan, mozzarella, and ranch dressing is probably best reserved for after very long rides). If you feel like waiting until later and getting dressed up, head to Enoteca, which serves a killer burrata, succulent mussels, and a hearty osso bucco.
Lead Photo: JJAG Media