Can you recommend a good itinerary for vacationing in India?
I've decided to take a trip to India on my next vacation. What is the one thing I should do while I'm there? Gary F. Dallas, TX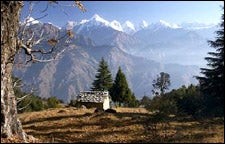 Heading out the door? Read this article on the new Outside+ app available now on iOS devices for members! Download the app.
Talk about a tough call. As the world's seventh largest country and second most populous country, asking us to narrow down the wealth of options just ain't realistic. Well, we could. But then it just wouldn't be fair. If we suggest you visit the mountains in the north, we shortchange Goa in the south. If we push you towards spiritual enlightenment in the yoga capital of the world, we discount riding camels in the Thar Desert. Instead, consider locales that provide equal measures of adrenalin rush and inner peace for the mind and spirit. But India also boasts an overwhelming wealth of cultural attractions, from world-class cuisine to some of the globe's most iconic architecture.
The Himalayas in Northern India

LOFTY RETREATS: The Himalayas in Northern India
Instead of considering just one, solitary location, narrow your focus to one region within India—or two, if you have more than three weeks in country in your itinerary. But if you've only got two weeks, max, think of this as the first of several trips.
Pressed to pick one region, we suggest the Himalayas. In the presence of the world's highest mountain range, with 100 peaks over 21,000 feet and home to Mount Everest (straddling the Nepal/China border), you will discover both adventure and spiritual contentment at the same time. Set up camp in Rishikesh, a perfect mountain town in northern India where you can raft rivers and ski while meditating on the grandeur of the scenery during your stay. From mid-September to mid-May, a two-day rafting trip on the Ganges River will bring you to the Himalayan foothills to ride some of the best rapids in India. At night, you'll camp along the river banks under a starlit sky. The Caravan (caravantraveltalk.com/whitewater-river-rafting.htm) is an outfitter based at a beach camp on the Ganges, just upstream from Rishikesh, and they offer rafting trips in packages of either one or two days on rapids that range from Class I to IV. You can also go rock climbing, kayaking, trekking in the surrounding forest, or wile away the days at camp, embracing the heavenly scenery or playing the locals at cricket, India's national pastime. Meals are primarily vegetarian and served in a dining tent. And there's no need to worry about catching Delhi Belly from the H²0: Drinking water is sourced from a mountain spring and bottled water is available. Accommodations consist of waterproof safari tents, while the toilets—in true Indian fashion—are mere dry pits. Bathing in the river is recommended, but hot water is available on request. My recommendation though? Embrace the rough and tumble. Wasn't it Gandhi who showed us the value of asceticism?
The Himalayas also boast some of the best ski slopes in the world, provided you've got the time reach them. From Rishikesh, travel 145 miles by car to reach Joshimath and then ride a cable car another two miles to Auli Ski Resort. Part of the Garhwal mountain range in the Himalayas, you'll find rustic amenities and majestic Himalayan slopes over 10,000 feet high. The first attempts on this unexploited powder were made as recently as 1958. Since then, a 2,600-foot cable car and 1,600-foot traditional ski lift have been added, allowing powderhounds to be floored by views of the surrounding 23,000-foot Nandi Devi, Mana Parvat, and Kamet mountains. Over 12 miles of groomed slopes greet those who journey to this remote paradise—not to mention earning bragging rights of skiing and white-water rafting in the same trip. Stay at The Cliff Top Club at Auli (clifftopclubauli.com/location.html), the second highest skiing resort in the world at 10,000 feet, or ride the cable car back to the town of Joshimath, where adequate lodging is also available. At night, warm your toes by small wooden stoves called bukharis, and pass the time listening to Indian folklore and local musicians. Rent equipment or purchase ski packages from Garhwal Mandal Vikas Nigam (GMVN), the regional tourism office that operates in Auli (gmvnl.com/newgmvn/index.aspx).
If all this activity and traveling has taken its toll, return to Rishikesh and find your inner self at the yoga world capital. This is home to the Transcendental Meditation Centre of Maharishi Mahesh Yogi, where the Beatles once frequented. People come here to learn from yoga masters, de-stress, and detoxify. Ashrams in Rishikesh require an extended stay if you're attending a yoga program and usually have strict guidelines when it comes to indulgent activities such as alcohol, smoking, and yes, sex. But if you're looking for a way to detach yourself from a stressful western lifestyle, you'll find it here. Immersing yourself as a student in a yoga program at the Yoga Niketan Ashram will run a minimum of 15 days, but you'll get an in-depth experience in Iyengar hatha yoga along with meditation and spiritual teachings. If your time is limited, stay in a room at the Niketan Guesthouse (yoganiketanashram.org/index.html), where you'll get two yoga classes, a lecture, and two meditation sessions with your lodging. Prices are approximately $12 per person. If you'd rather meditate in style, travel ten miles from Rishikesh to Ananda Spa (anandaspa.com), voted World's #1 Spa at the Condé Nast Traveller Reader Spa Awards in 2005 and 2006. There you'll find all the western luxury you can handle at this mountain getaway, Wi-Fi and laptops included. From a classic Swedish massage to an Ayurveda detox program, over 75 body and beauty treatments integrate the traditional Indian systems of Ayurveda with the contemporary Western spa approach. Beginning at $500 a night, it's not exactly the budget way to experience India, but then again, after bathing in the Ganges and treating the world's highest mountain range as your playground, perhaps it's time to pamper yourself.
–Amy A. Clark
Trending on Outside Online