Carmageddon Has Arrived. Here's How to Avoid a Holiday Rental Nightmare.
Car rental companies have been struggling post-pandemic with a surge in demand and limited supply—but don't let that stop you from going on the trip you've been dreaming about during lockdown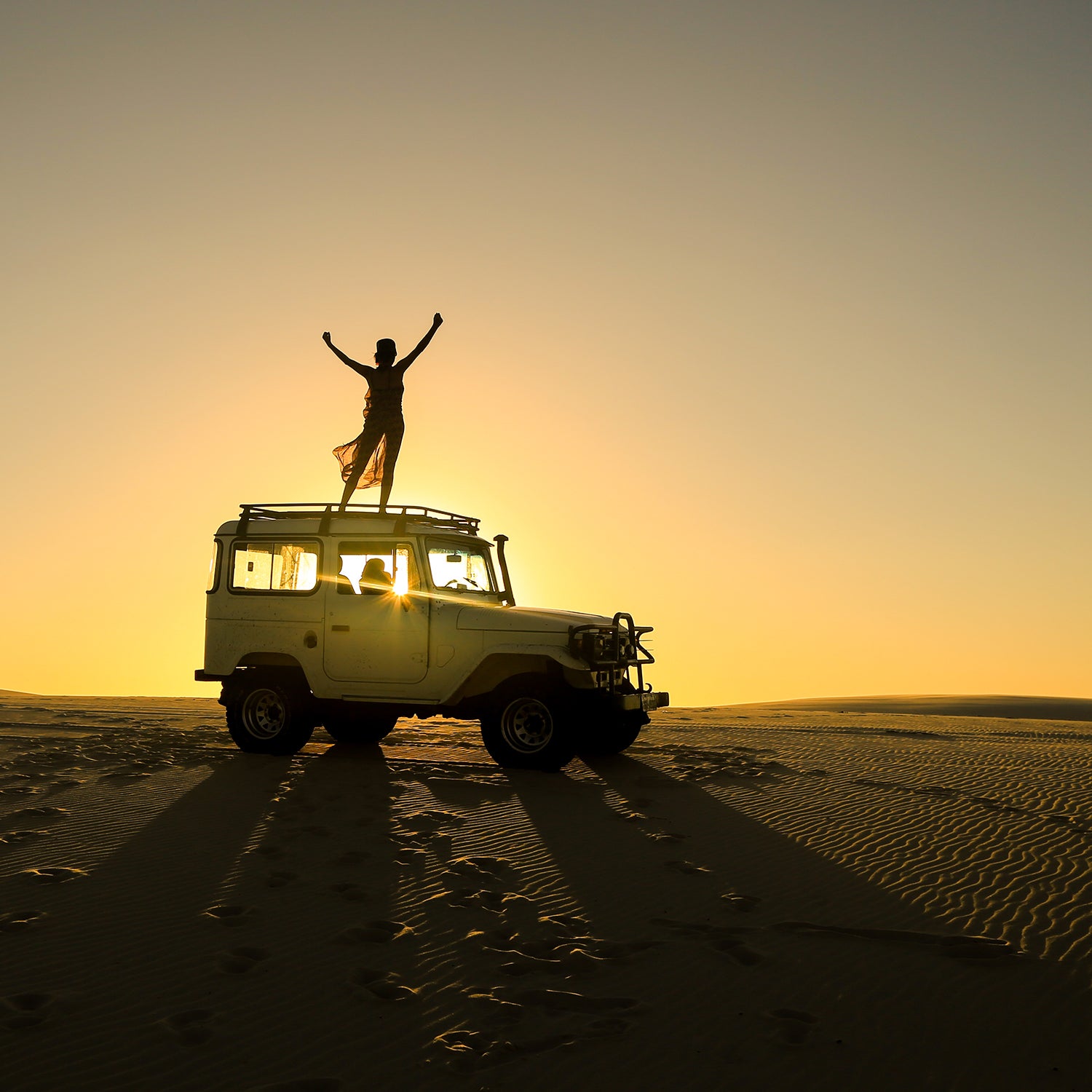 Brunomsbarreto/Getty
Heading out the door? Read this article on the new Outside+ app available now on iOS devices for members! Download the app.
After a year of fantasizing about post-pandemic adventures, millions of travelers took to the skies and roads to live out their "summer of freedom" in June and July. According to AAA, 47.7 million people traveled for the July Fourth holiday weekend, an increase of nearly 40 percent compared to 2020. The surge in travelers resulted in long lines at national parks, sold-out tickets to attractions, and sticker shock at rental car counters. Dubbed "carmageddon" or "car rental apocalypse," the high demand for and limited supply of rental cars led to consumers paying double or even triple the amount they usually cough up. And those were the lucky ones: some unfortunate travelers were stranded without a car for their much-anticipated trip. Desperate vacationers in Hawaii even resorted to renting U-Haul vans to get around.
Prices have since dipped, but the demand for rental cars is already rising again for the upcoming holidays and winter breaks, and with vaccinated foreign travelers returning to the United States for the first time since the pandemic began. Don't panic just yet: there's a wide array of conventional and unconventional options available if you know where to look. Here's what to consider when you're researching your next rental car, whether it's for a winter escape to Moab, a ski trip to the Rockies, or ice fishing in the Midwest.
Skip the Airport Car Rental Kiosks
Though convenient, the airport is not the only place to find a rental car. "You can often find better deals by renting a car away from the airport, such as on the outskirts of town or near your hotel," says consumer savings expert Andrea Woroch. "Ask your hotel if they have a free shuttle, which could get you close to the car rental office, or just book an Uber or Lyft, which still may end up being cheaper in total than renting from the airport center." Some car dealerships, including Toyota, Audi, Subaru, and Nissan, offer short-term rentals of a variety of their latest models at select locations. "In a pinch, you can also Google for off-the-radar options like non-chain local rental outfits, since those don't show up on the major booking sites," says Jonathan Weinberg, founder and CEO of AutoSlash.com, a website that helps consumers find deals on car rentals. When weighing the pros and cons of renting from a non-airport location, you should factor in the cost, time, and effort of getting to and from the airport. For example, if you have an early morning flight, will you be able to hail a taxi or rideshare to get to the airport in time, and will there be a surge charge? Or, if you're traveling with bulky sporting equipment, will your surfboard or skis fit in the rideshare vehicle?
Try an App
Peer-to-peer car rental services like Sixt and Turo let you skip the wait at the rental car counter and slide right into the driver's seat. "These apps allow you to book a car from private owners who have their own cars available for rent, similar to a vacation rental," says Zander Buteux, a senior leader at the search engine VacationRenter. These peer-to-peer apps lets you chat directly with the car owners to ask specific questions about their vehicles. "I used the chat function several times, and each time the owner was able to give me their advice on whether or not their car would be a good fit for my road trip," Buteux says. If you're dreaming of a #vanlife vacation, check out peer-to-peer sharing RV platforms like RVezy and RVshare, which enable travelers to rent from RV owners when their vehicles are not in use.
With peer-to-peer rentals, the quality and condition of the vehicle—as well as the rules and restrictions—differ depending on the car owner. Some will deliver the car to you, while others require guests to pick up the vehicle from a designated location. Sixt, Turo, and Getaround charge cleaning fees and require guests to fill up the tank before returning the car. (Some have prepaid options.) Insurance is offered through these companies, but make sure to call your personal insurance company or credit card to see if they cover peer-to-peer rentals. One downside with peer-to-peer services? If the owner flakes or if the vehicle is in an unacceptable condition, you'll have to find an alternative ride, so check owner reviews carefully. That might be difficult to do at the last minute during peak travel season—a problem you're less likely to encounter with major companies that have a large fleet of cars.
Find a Specialty Company at Your Adventure Destination
A lot of major car rental companies do not allow drivers to take their cars off paved roads, so if you're going on a rugged expedition, consider renting from specialized companies that cater to adventure travelers. "Some famous excursion towns—like Moab, Utah, for example—will have boutique adventure vehicle rentals like Jeeps and side-by-side RZR rentals," Buteux says. In Salt Lake City, Naturheit Vans rents fully decked out Mercedes Sprinter 4×4 vans with off-road suspension, wheels, and tires. And in Fairbanks, Alaska, Arctic Outfitters' vehicles are allowed on unpaved gravel roads and include a satellite phone, a warmth kit with an emergency sleeping bag, and an engine block heater to warm up the engine and fluids before starting the car.
Rent a Pickup Truck
SUVs or station wagons that have four-wheel drive (4WD) or all-wheel drive (AWD) are prime choices for outdoor adventurers. But don't overlook pickup trucks. "They're often cheaper than SUVs and may be more likely to have 4WD," Weinberg says. Avis, Budget, Enterprise, and Hertz, as well as Turo and Sixt, offer pickup truck rentals at select locations. U-Haul has a fleet of pickups available at its 20,000 rental locations throughout the United States and Canada. Rates start at $19.95, and you can drop off the truck at any location. Large home improvement stores like Home Depot and Lowe's also have trucks available for rent.
Lead Photo: Brunomsbarreto/Getty