Contemplating Solar for Your Road Rig? Do It Already
We hooked up our Airstream with new solar panels and batteries and haven't looked back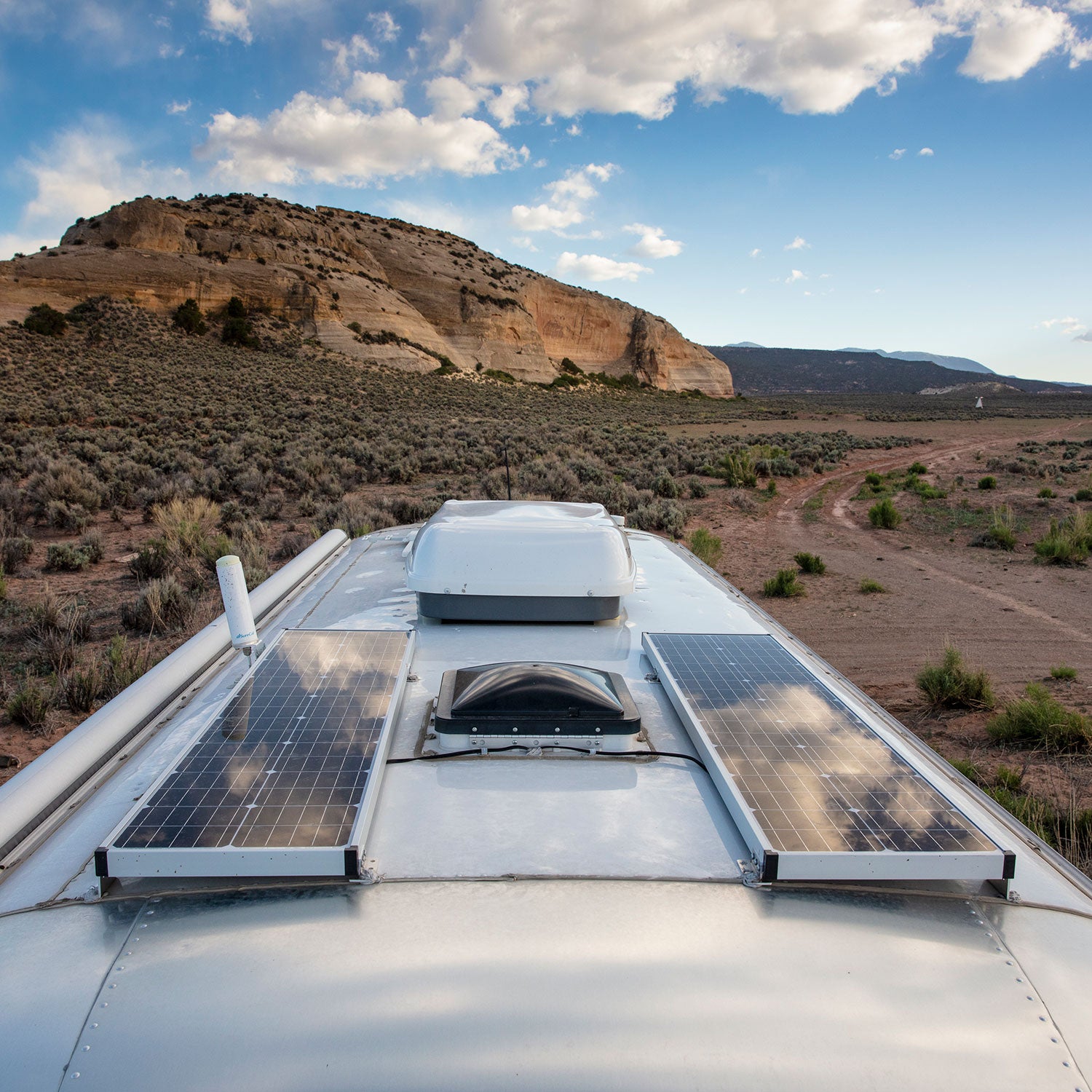 JJAG Media(Photo)
Heading out the door? Read this article on the new Outside+ app available now on iOS devices for members! Download the app.
In the desert Southwest, where sunshine is the only thing more plentiful than big vistas, it's silly that Jen and I have taken two years to hook up Artemis the Airstream with a solar system. I looked into solar a year ago and stalled out because of the seeming complexity and expense. But a month ago, I shrugged off the details and pulled the trigger on new panels and batteries. After one well-lit month, my only regret is that I didn't get Artemis hooked up sooner.
For a long time, I felt like I needed to understand every variable—watt-hours, amps, battery capacity—and arrive at the perfect system before making such a big investment. For our typical usage of 43.5 amp-hours a day, would a 100-watt panel be enough, or would I need two? Given Artemis' curves, flexible panels seemed like a better option—they don't entail puncturing the aluminum shell—but they wouldn't offer the durability of rigid panels or the adaptability of ones that could tilt. Would I need more battery capacity than our current setup (two wet-cell Interstate SRM-24 batteries), and if so, how would I accommodate the extra size? Like a kid in the candy store with only a quarter to spend, I was paralyzed by the options.
Then a funny thing happened: During our annual service interval at Airstream of Scottsdale, as I was hashing and rehashing all the options with general manager Ken Baker, he looked at me and said, "I've been installing solar systems on Airstreams for over 20 years. You don't have to figure it all out, because we already did." It was a freeing moment. I decided to just go with whatever Airstream recommended.
A month later, we installed Baker's recommended setup of two rigid Zamp Solar 80-watt long-series panels, including a 30-amp solar controller, and upgraded wiring to handle the additional electrical load. Baker said he has installed this system on countless 23-foot Airstreams like ours over the years without any complaints or problems.
Since we have had some charging issues with our wet-cell batteries, I also decided to upgrade to a pair of Lifeline GPL-24T absorbed glass mat batteries. They don't buy us more capacity—to do that, we'd need to modify Artemis—but they are more durable, have a longer lifespan by almost double, and require zero maintenance. Out the door, the whole setup, including installation, went for $2,200.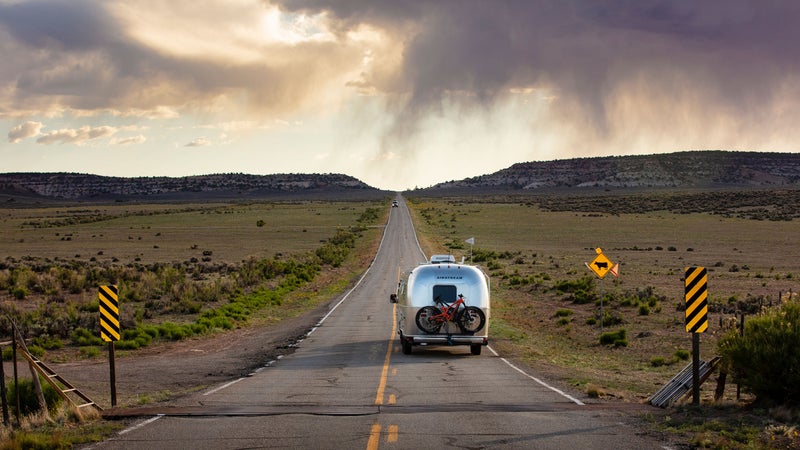 Plunking down so much money is scary, but the investment proved worth it from our first night in the field. Previously, to eke out a week of dry camping, we used portable solar lights like Luci Luxes instead of the built-ins at night, limited showers to the Navy variety, and forewent conveniences like the fans and heater, which burn through juice. That first week with our new system, we decided to eschew all austerity measures just to see what the new system could do. We used the lights and fans, took reasonable showers daily, charged our electronics off the inverter, and generally used Artemis the same way we'd use our Santa Fe home. The battery levels fell in the evening and overnight, down to 65 percent at their lowest, but when the morning sun came up, our charge level began to climb and was full by mid- to late afternoon. In short, the setup was completely regenerative. We can stay in the field with basic power as long as we like.
We've been using the system for over a month, and the energy gains and flow have held steady. The amount of energy intake may ebb some in winter months as the sun drops, or even this summer as we venture into more wooded areas, so we'll continue to travel with our portable Goal Zero Nomad 100 Panel and Yeti 1250 power pack. The flexibility of a secondary, fully mobile solar kit means we can gather twice as much energy and work off either the trailer or supplemental power depending on the weather and where we park. And thanks to the complete system, we are no longer limited by our power supply.
It's true that there might be a better solar system out there, and maybe we could have done it cheaper if we'd bought individual components and installed them ourselves. If you have the time and knowledge, internet shopping and DIY may be worth considering. But for us, the simplicity of a plug-and-play system proved the right way to go. Rather than spending another few months worrying over details, then more time on top of that futzing with brackets and cables, we're now just enjoying the fruits of harnessing our own power. More time in the field, more time to ride and hike and paddle and play—there's no better argument for hooking up to solar now.
Lead Photo: JJAG Media
Trending on Outside Online