Op-Ed: To Go or Not to Go?
While there are far more serious problems facing the world, for some people whether or not to travel in the weeks and months ahead has become a confusing and heated topic. Here's what a longtime travel writer thinks.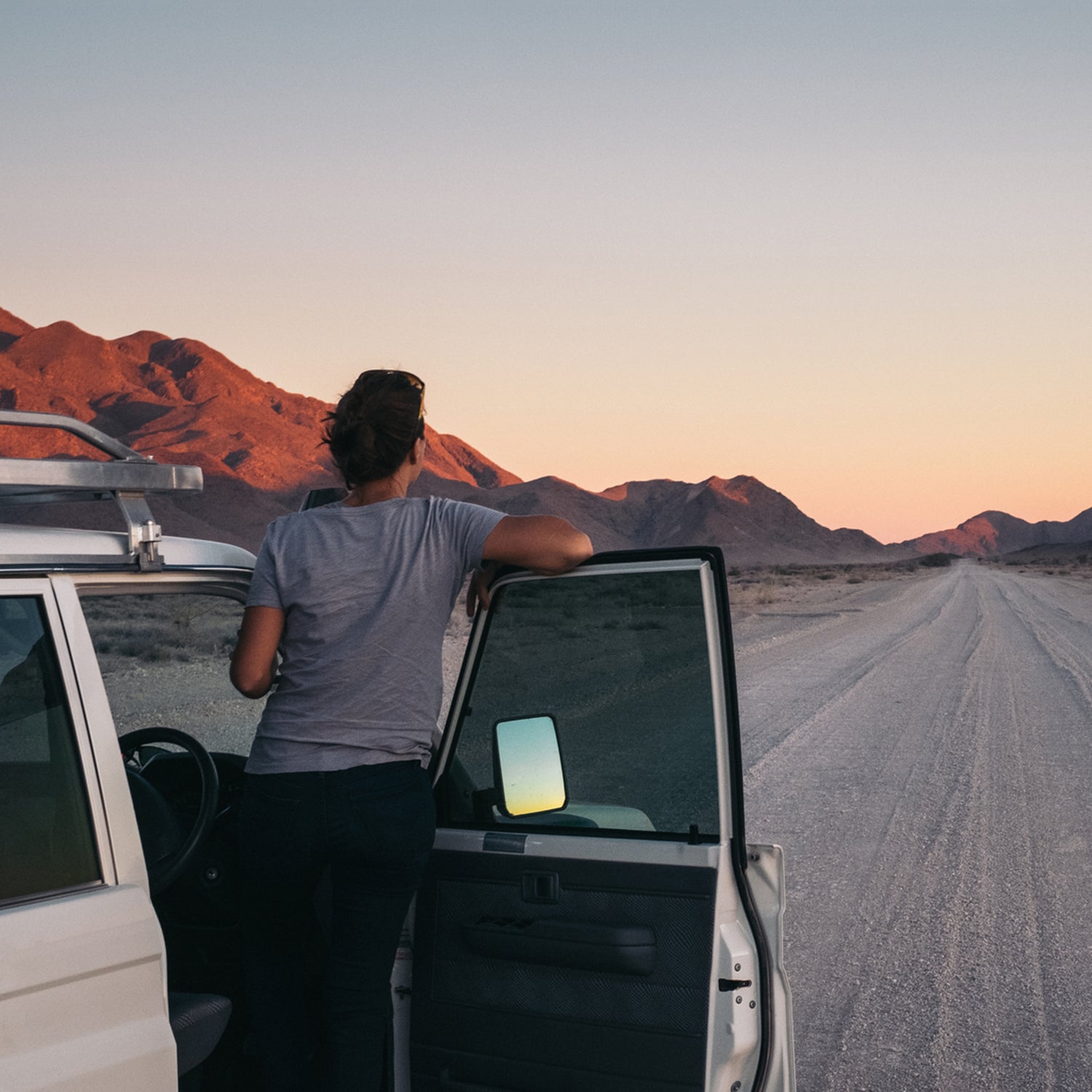 Micky Wiswedel/Stocksy(Photo)
Heading out the door? Read this article on the new Outside+ app available now on iOS devices for members! Download the app.
*A Note from the Author on March 16, 2020
Today is a very different day than the one two weeks ago when I flew home from Afghanistan and wrote the story below. Tomorrow will be exponentially different from today. Schools, libraries, ski areas, cities, countries, and continents are now all closing in the hopes of flattening the curve and slowing the spread of COVID-19. Health experts say we are deep in the mitigation phase. 
The risk we pose to others through traveling has never been lost on me even before this pandemic began. Public health must come first and limiting exposure and preventing transmission is key. I am hunkered down at home in a wait and see mode about any future travel plans and will make the safest decision for the most people when the time comes.
I have faith that as this crisis continues that we will all find creative ways to help and support each other, first and foremost those who are sick and at risk and our health care workers. And also to help those who may have to lay off employees or lose their businesses in the days ahead. As noted below in the story, just as I've seen it suggested that we buy gift certificates from restaurants for future meals, if you cancel a future trip, consider asking your outfitter, lodge, or hotel to give a portion of the refund to the guides, porters, and other hospitality employees who are being hit hard now as well. That's what being in this together means, too. I look forward to seeing you back out there when the time is right—which I hope is sooner than we may all think. Until then, be well.
---
Last week while waiting outside an airport in the central highlands of Afghanistan, I spotted something worrisome. Armored vehicles equipped with 50-caliber rifles were guarding intersections, and masked men were eyeing passing cars suspiciously. But sadly that's just Monday in Afghanistan—there is a civil war afoot. What was bothering me was more subtle. On a chair next to the airport's X-ray machine sat a lone bottle of disinfectant.
COVID-19 had arrived in a city near the Afghanistan-Iranian border, quite far from where I was. But the hand sanitizer signaled its relative proximity. I was about to spend the next 30 hours in crowded airports, buses, and planes, where a rogue snot drop might more easily find its way onto my face. (As it turns out, the plane was almost empty, and I had the entire row of a 777 to myself.) Worse, I'd be traveling through Seattle on the day we all learned the virus had forged a bridgehead there. "You are returning to a country that's freaking out," a friend warned me over text.
I had to get home, but I also wondered about the risks of traveling that day. The virus is very real, and it's easy to worry. The headlines are more and more dire each day.
In such pressure-cooker times, though, fear can escalate to hysteria. Do you have the virus? Do I have it? Instead of taking a breath, we take it out on the grocery store in a root, hog, or lose-your-tater kind of way: Fruit bins raided bare in Switzerland. Toilet paper plundered in Florida. People avoiding restaurants in various U.S. Chinatowns. And while it may turn out to be the smartest thing to stay put in order to contain the disease, I also shake my head at what has felt at times like an irrational reaction.
Rest assured, if the U.S. government tells me that I can't travel, I won't travel.
Rest assured, if the U.S. government tells me that I can't travel, I won't travel. After President Trump's addresses, Europe is off the books and companies are being advised to limit business travel. But for those of us with future plans to travel to other places, the question still looms: Should we cancel our future trips? I'm not there—yet. As a travel writer who loves obscure places, my comfort zone has grown a lot over the years. There was no place I would have rather been that day than in Afghanistan. I'm at my best when poking around the folds of our planet, surrendering unknown prejudices to unknown experiences. My tolerance for perceived risk may be higher than most, and I also understand that that doesn't make my opinion right. I respect and support the decisions that anyone makes right now about traveling in relation to the virus.
I'm aware of COVID-19's consequences as much as the next cable-TV addict and take them very seriously. I don't want to potentially spread the disease. I want to protect the elderly and the vulnerable. I don't want our health care workers and hospitals to become overwhelmed.
The Centers for Disease Control and Prevention (CDC) has said to avoid cruises and nonessential travel to China, Italy, South Korea, and Iran, all labeled Level 3 countries due to the number of COVID-19 cases there. On March 11, the CDC added most parts of Europe to the Level 3 list. The World Health Organization (WHO) usually advises against travel bans, saying on its website that: "In general, evidence shows that restricting the movement of people and goods during public health emergencies is ineffective in most situations and may divert resources from other interventions…. Travel measures that significantly interfere with international traffic may only be justified at the beginning of an outbreak, as they may allow countries to gain time, even if only a few days, to rapidly implement effective preparedness measures." The organization also cites the long-lasting economic devastation travel bans can cause. It does advise against elderly and immunocompromised people traveling to affected areas and is providing informative daily updates on COVID-19. (On March 11, WHO declared the virus a pandemic; a few days later it updated its travel advisory to recommend avoiding all nonessential travel.) 
It's important to note that travel restrictions for COVID-19 are a moving target, with countries and U.S. cities shutting down or considering shutting down borders every day. And there is a real risk that if you travel internationally, in addition to potentially spreading the virus, you could get quarantined there or upon your return to the U.S. Meanwhile I get an email every day from airlines saying that they have stepped up their sanitation games and air-filtration systems to make cabins quite possibly the cleanest they've ever been. The CDC says you'd have to be sitting within two seats of a contagious person to have a "medium" chance of catching the virus.
Initially, it didn't seem to matter whether a destination was in a red zone or not. From Florence, Italy, to Florence, Oregon, guides, hotel owners, outfitters, and other businesses that deal in travel are up against the ropes wondering if they'll escape this crisis with a limp or if this is the end. Airlines are slashing the number of flights. Some bosses now warn employees that if they take a trip, they may not be allowed back to work.
"Right now in Sicily the situation is like normal with not a lot of cases," wrote Igor Fedele, who is based in southern Italy and is the technical director of Mediterranea Trekking, in a WhatsApp chat between adventure travel professionals on which I was included. The next day, the entire country went under lockdown. "The economy and reservations have been completely deleted," he said. "I don't know how much longer we can hang on."
Having worked as a travel writer for nearly 20 years, I've witnessed times like this before, with SARS and MERS and post-9/11, too. Even today, when a bomb goes off in Baghdad, Jordanians see a drop in tourism to Amman, 500 miles away and one of the coolest, most colorful cities in the Middle East. We're hardwired to jump to conclusions. A log only has to be an alligator once for it all to be over.
But perhaps there's another way to think about it in the weeks and months ahead. As my friend Jim Johnson, who owns a travel company called BikeTours.com, recently wrote: "If I changed my plans for every disease outbreak, terrorist threat, or safety concern, I might never leave home again. That's not the life I want."
I propose that we can strike a balance, first and foremost making decisions that are considerate of those at risk, traveling smart through preparation if we eventually decide to go, practicing social distancing whether at home or on the road, and still find ways to do the things we love responsibly. And use soap. Just as I wouldn't cast off on a 16-pitch trad route without some extra cams, I'll bring hand sanitizer and won't touch my face. I'll keep a safe distance from the elderly and infirm, and forgo a handshake for the Afghan greeting of a hand over my heart. I'll get travel insurance and heed the advice of the U.S. Government, CDC, and WHO. 
Here's a thought. I've seen people suggest ways to help restaurants during this time by buying gift certificates for future meals. So if you do cancel your future trip, talk with your outfitter about contributing a portion of the refund to the guides, porters, and other people in the industry who depend on this income and are also being hit hard at this time.
"You don't want to be reckless and endanger people who are at risk, but at the same time, it's a balancing game," says Shannon Stowell, CEO of the Adventure Travel Trade Association. "My own take is that we should go as far as we are personally comfortable, to keep rolling as much as we personally can. There are a lot of communities that are highly dependent on tourism, and they are going to suffer big-time. What are the ethics in abandoning them?" 
In the days to come, circumstances will continue to change, and I'm watching it all closely. I may stay put or postpone my future plans. "Move your trip to a new date or a different destination if that makes you feel more comfortable," says Euan Wilson of H&I Adventures, which runs epic mountain-bike trips all over the world. "Make sensible decisions."
On the flight home from Afghanistan, I admittedly noticed every sniffle and dry cough, but otherwise it was all pretty chill. Despite a few extra questions in layover cities like Dubai and Seattle, nothing really seemed different until I got home and turned on the news. I watched C-SPAN for hours as if it were the new season of Homeland.
Yet I can't help but feel a little hopeful. If there's something this crisis has taught us, it is that, despite our divisions, we can mobilize when we want to on a global scale to get stuff done. Sure, we'll muck it up and make mistakes, but collectively, we'll emerge stronger, too. If the world can rally to fight COVID-19, imagine what we could do to win other big battles pressing on our planet.
In the meantime, you might find me in the backcountry, with no one else around.
Lead Photo: Micky Wiswedel/Stocksy
Trending on Outside Online