The Case for Ditching Air Travel
Slow travel is popular in Europe and catching on in the U.S. It's not a bad way to ease your climate (and possibly flight) anxiety.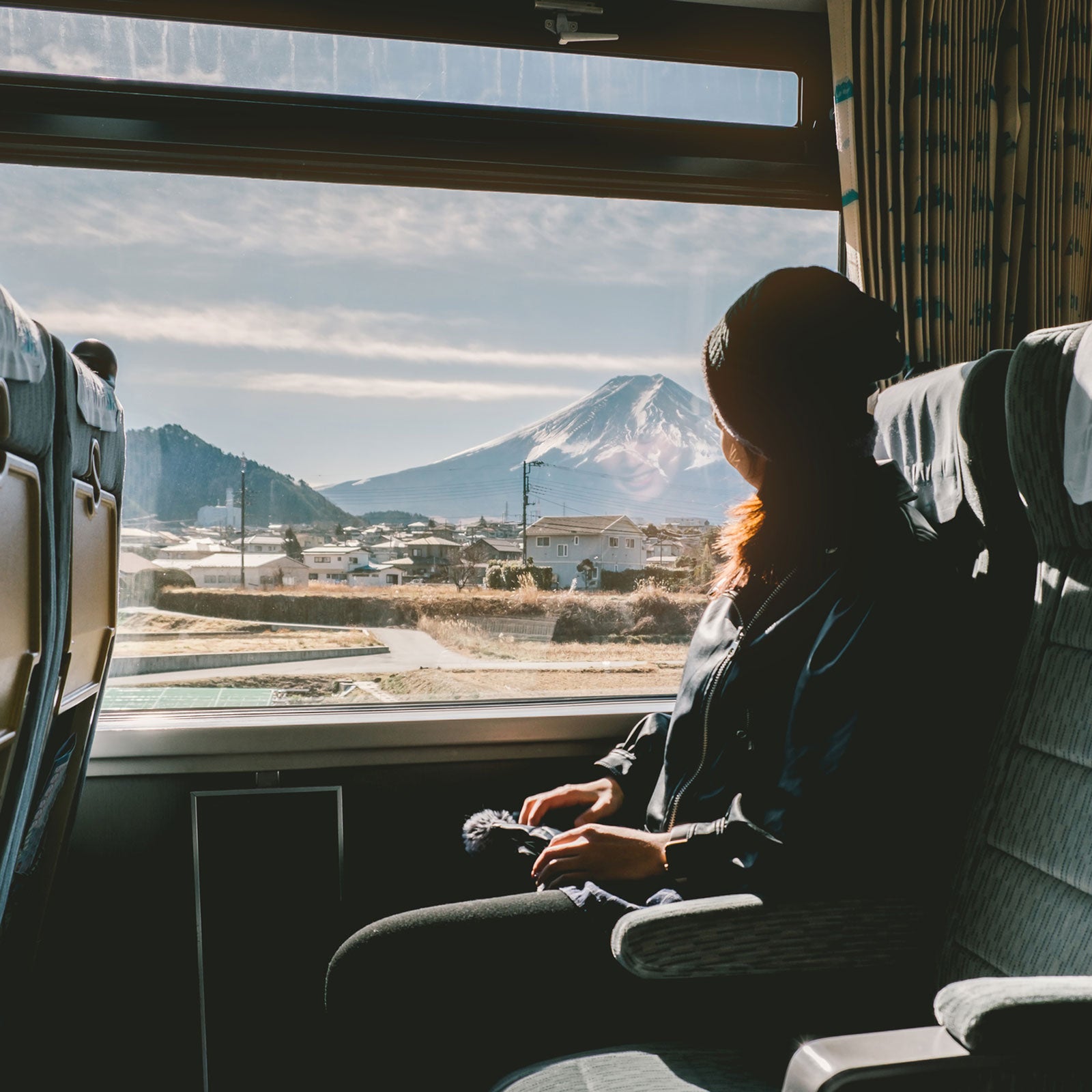 Heading out the door? Read this article on the new Outside+ app available now on iOS devices for members! Download the app.
In his former life, Olympic gold medalist Björn Ferry was a frequent flier. He traveled 180 days of the year between training and competitions, armed with the cross-country skis and rifle characteristic of the biathlon, a sport that orignated in Scandanavia and combines nordic skiing with target shooting. In all, Ferry estimates that he traveled around 25,000 miles per year by plane and another 25,000 by car or minibus. "Back then I emitted 16 tons of CO2 per year," he says with dismay. "[The] average in Sweden is eight. That doesn't look so good."
After breaking down his carbon footprint with an online carbon calculator, and realizing just how much air travel factored in, Ferry and his wife, world-champion arm wrestler Heidi Andersson, decided to change their ways. In 2015, they committed to stop flying and built a greenhouse to grow most of their own food. "Potatoes, berries—and we have a lot of elk, so we stopped buying meat in the store," Ferry explains. "Altogether we've cut our emissions by 70 to 75 percent."
Ferry and Andersson have been credited—or blamed, depending on who you ask—with provoking the feeling of flygskam, which translates to "flight shame." The two went public with their commitment not to fly in a letter they coauthored in a Swedish newspaper in 2017 with eight other people, including youth-climate activist Greta Thunberg's mother, the opera singer Malena Ernman. Thunberg herself stopped flying in 2015. At approximately one pound of CO2 emitted per passenger mile traveled, flying outpollutes all other modes of transit, compared with nine ounces of CO2 emitted per passenger mile by car and 0.79 ounces by train. Furthermore, plane emissions are released directly into the upper troposphere and lower stratosphere, where they alter the composition of atmospheric gasses that contribute to climate change. According to the independent organization Climate Central, every round-trip transatlantic flight emits enough CO2 to melt 30 square feet of Arctic sea ice.
Ferry says that while the term flygskam is associated with his name, he committed to stop flying before it was coined last year. The term has since been employed colloquially by Twitter users in various countries who are looking for help with train itineraries, coming clean about upcoming plans to fly, or calling out high-profile frequent fliers. Ferry says he thinks this social pressure has led Swedes to be more low profile in their travels. "People used to go on vacation and come home, post pictures, and say, 'I've been to Egypt with my family, and I've seen these big stone pyres, and it was so great,'" he explains. "Now they go, but they don't even say that they've been abroad."
Traveling is a status symbol that people don't know how to separate themselves from, says Maja Rosén of Sweden, who has been working on a more targeted campaign to get people to abstain from air travel, called We Stay on the Ground. Rosén made a quiet commitment to stop flying a decade ago, after facing what she refers to as a long, difficult "climate depression," once she realized how much damage human-induced climate change has already made. She and her friend, graphic designer Lotta Hammar, are aiming to get 100,000 Swedes to commit to being flight-free in 2020. Last year they convinced 14,500. Now their campaign has spread to Belgium, Denmark, France, and the United Kingdom.
We Stay on the Ground isn't pushing people to stop traveling. "But I think it's important to change this norm that you have to go far to have a good life," says Rosén. Since committing to not flying, she and her family have begun visiting one of Sweden's northernmost islands, Nordkoster, each summer. "You take a train and then a ferry. And that island is so beautiful," she says. Going there only emits 22 to 26 pounds of CO2 per person, as compared to approximately 2,200 pounds if they were to travel to Spain, or 6,600 pounds if they visited Thailand. If Nordkoster was situated somewhere more "exotic," like the South Pacific, Rosén says she thinks it would be a more attractive travel destination for Swedes, who take an average of 1.2 international trips per year, putting its citizens fourth on the list of the world's most frequent international travelers (Americans take an average of .2 trips a year). "It's a bit ironic that more Swedes have been to Thailand than have been to that island," she says. "We have paradise just around the corner, but it's not something to talk about…. so many people just take it for granted."
In addition to flight shaming on social media, there's also a rising culture of making flight-free travel both retro and contemporary. Signs posted by climate-focused accounts like @theclimatecards ("FLY LESS to impress on Insta!"), and random users' hometown portraits paired with messages to look more locally for adventure, challenge people to flaunt the decision to travel by rail or bus. Calls to action and messages like #smarterliving and #lessismore accompany the thousands of Instagram posts, with hashtags like #flyless, #flyfree, and #nofly.
Although this degree of pressure around not flying has seen more social traction in Europe, the climate conscious in the U.S. have been flying less for just about as long as their European counterparts. Over the past decade, thought leaders like NASA climate scientist Peter Kalmus have given up flying altogether, and others, like climate scientists Katharine Hayhoe of Texas Tech University and Kim Cobb of Georgia Tech, have drastically reduced the number of flights they take each year.
That's more difficult in some parts of the U.S. "California is currently building a high-speed line, but I'm stuck in the Southeast with really old rail infrastructure and crumbling Amtrak service," says Cobb. The U.S. doesn't currently have the market to support continuous, affordable train travel in North America, she says, but it is essential to demonstrate the demand. In 2017, passengers logged 604 billion miles on air carriers, in comparison with 15 billion miles on commuter or light-rail means. "We need to look across the ocean on that," Cobb says. In Sweden, to continue with the leader in the trend, a cultural shift has resulted in one out of six Swedes opting to take trains over planes. As The Guardian reports, train-centric travel companies like Centralens Resebutik announced an eightfold increase in sales in January 2019, as compared to two years ago.
In the U.S., websites dedicated to public commitments to cut down on air travel, like Kalmus's No Fly Climate Sci, have targeted climate scientists across the world. But they've also attracted fly-less commitments from academics and average citizens, like Ken Garber, a 61-year-old science writer and rock climber based in Ann Arbor, Michigan. Garber says traveling has actually gotten more exciting since he's ditched air travel. Last summer he took a train from Michigan to Sandpoint, Idaho. After hopping off, he hitchhiked into British Columbia and made it most of the way to its Selkirk Mountains. "I never expected, at my age, to find myself pitching my tent by the side of the road when I couldn't get a ride, or hopping on a train at 3 A.M. and trying to find my way to a place where I could sleep," he says. "But I've met a tremendous number of local people who are fantastically friendly that I wouldn't have met if I had been traveling in the conventional way."
Despite the name of the movement, those committed to no flying insist they don't actually mean to shame people. "I don't write every day, 'No one should fly!' I just do it," Ferry concurs. Part of the puzzle is to get others to believe there is a sustainable lifestyle that is also desirable. "If the answer is no, then we have no chance to curb emissions," he says.
"We still travel, we still enjoy life," Ferry says. It just takes more planning and patience. A recent work trip from his hometown of Storuman, Sweden—just south of the polar circle—to Antholz, Italy, took him about 50 hours by train. The trip was long, but it allowed him time for reading, listening, and thinking, time he never found as a frequent flier. And he says that his commitment is not a sacrifice. "I don't dream about Mount Everest or anything," he says. "I just put on some glasses, and I go to my neighborhood. I study the birds, I study the forest. There's a lot to see."
Lead Photo: Natee Meepian/iStock