The Ultimate Road Trip
The Gear Vanlifers Can't Live Without
Essential items from five full-time road-trippers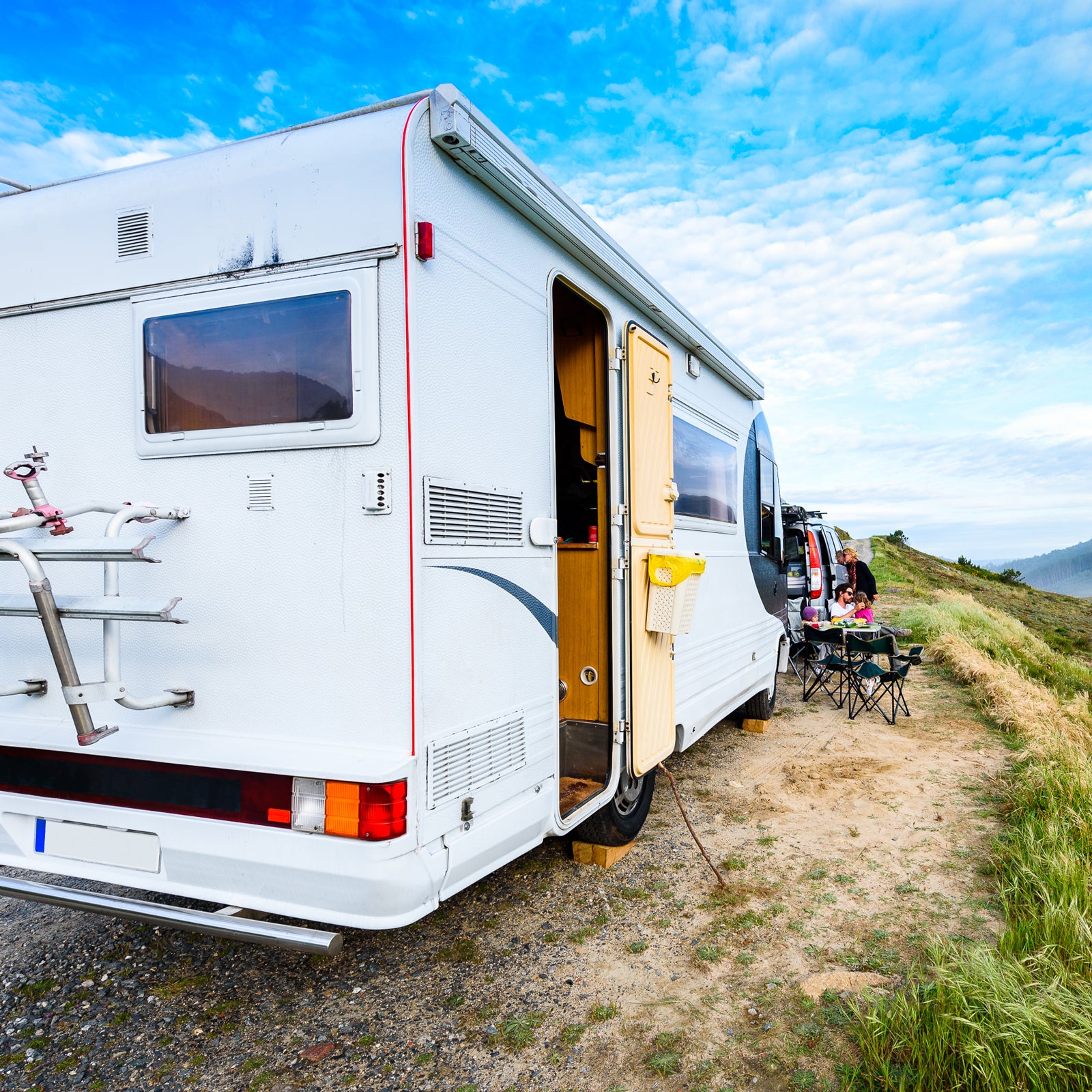 _jure/iStock(Photo)
Heading out the door? Read this article on the new Outside+ app available now on iOS devices for members! Download the app.
Vanlifers are the ultimate minimalists, because living in a small space for extended periods of time requires filtering down to only your most useful, multipurpose, or prized possessions. So who better to put road-trip travel gear to the test? I asked five vanlifers with different types of rigs what item they can't hit the road without. Here are their picks.
2020 Transition Sentinel Bike ($3,200 and Up) and Bing Surfboards Cypress 6'2″ ($785 and Up)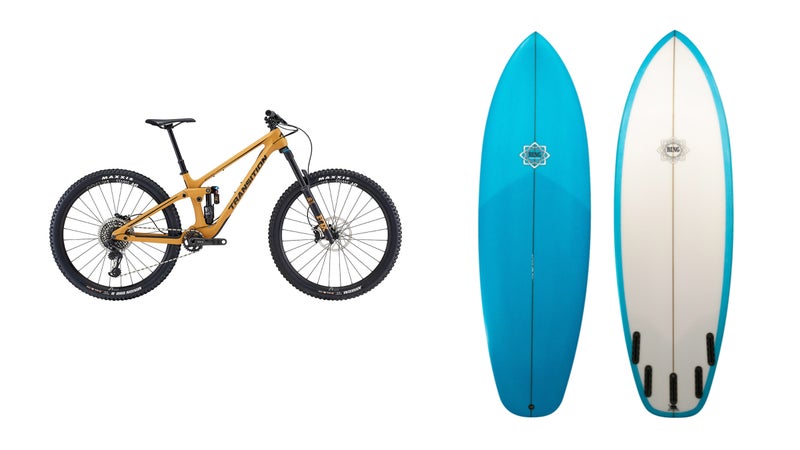 Corey Smith, creator of the #vanlife blog Where's My Office Now, is a New Hampshire native who's been living in his 1987 Volkswagen Vanagon with his wife and two dogs for seven and a half years. He started traveling in a van originally to bike and surf, so naturally, his 2020 Transition Sentinel and Bing Surfboards' Cypress tied for his top pick. Because he's short on space, he needs both to serve many purposes. Thanks to the Sentinel's geometry, which includes a slack, 63.6-degree head angle and steep seat-tube angle, the bike is playful yet planted. Smith says he's able to use it for everything from laps at the downhill park to long backcountry days. Meanwhile, the Cypress's shape and size (available from 5'4″ to 6'8″) allows him to surf everything from knee-high to well over head-high surf. "It's hard to pick one piece of gear," Smith says, "but I would say that, without my bike and board, life might be empty."
---
Berkey Water Filter ($278 for Two)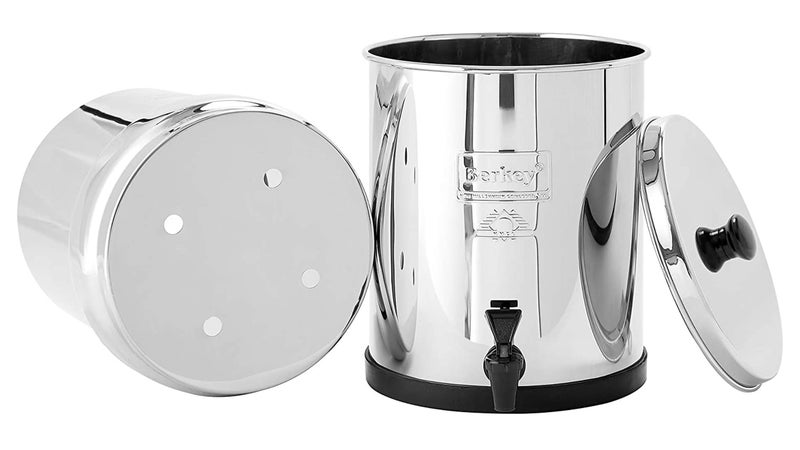 Kevin and Mandy Holesh, an app developer and a wedding photographer, respectively, from Pittsburgh, Pennsylvania, have been living in a camper for five years. They originally renovated an older Keystone Cougar but upgraded to a Grand Design 328M Momentum this year. Mandy's must-have item is their Big Berkey filter. "We don't always have access to great water on the road, so it's awesome that we can use it with rivers and lakes or RV-park water," she says. The filter is gravity fed, so the couple doesn't have to pump it or use pressurized water. They also appreciate the high output and the fact that it's easy to clean. The Big Berkey can purify 3.5 gallons per hour with two filter cartridges installed and seven gallons per hour with four installed.
---
LG 335-Watt Solar Panel ($300 and Up) 
Filmmakers Bee Roper and Theo Gove-Humphries, the duo behind the Indie Projects, are currently roaming around the world in a long-wheelbase Mercedes Sprinter, but they've been living in various vans since 2014. "It's the best decision we've ever made. Our lives completely changed for the better when we realized we didn't have to continue down the path we thought we had to, like staying in the city and getting a mortgage," says Roper, who can't imagine being this mobile if it weren't for their van's solar setup. It consists of an LG 335-Watt solar panel, two Sterling 100 amp-hour lithium batteries, and a Victron Charge controller and inverter. They also have a Sterling Battery to Battery charger, so they can charge while driving and hook up to shore power if needed. "Our job as filmmakers means we need constant power to work on our laptops, which can use a lot of energy. Harnessing free power from the sun means we're absorbing energy all day," says Roper.
---
Four Wheel Campers Hawk Slide In Camper ($12,995 and Up)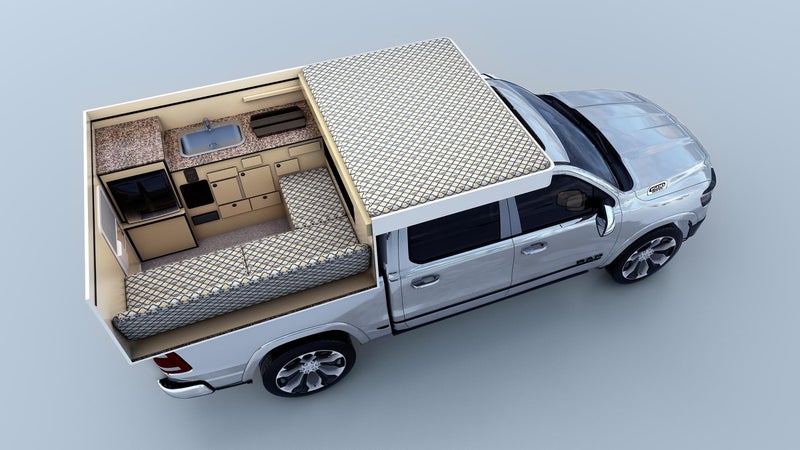 I first met van builder Jon Burtt a few years ago at Overland Expo West while drooling over the 2015 Tacoma he'd converted into an off-road-capable camper. While he's spent much of the last four years living out of different rigs for extended periods of time, he went full-time in May and now lives in a 2000 Ford F-250 that's outfitted with Four Wheel Campers' Hawk Slide In camper, a pop-up trailer with a custom flatbed that Burtt says is the one item he couldn't do without. He likes the Hawk Slide In because it's more compact and "semi-livable" compared to other models.
---
Camp Chef Outdoor Camp Oven ($235) 
Colin Boyd and Sofi Aldinio run the lifestyle production studio Afueravida and live full-time in a 1978 Mercedes 508D German Command and Control Center called Orange Crush. Being on the road with two kids has its challenges, but the family of four loves their lifestyle, and Boyd says one of the keys to happiness is keeping everyone fed. "We decided to put a Camp Chef Outdoor camp oven in our rig to the detriment of additional storage space, but this is really the heart and soul of our space," says Boyd, who adds that it only costs about $8 in propane every month to run. "We do not eat out, and we've easily cooked over a thousand meals, warmed loads of hot drinks, and baked hundreds of cookies and dozens of loaves of bread."
Lead Photo: _jure/iStock