The Guide to Every Kind of Carry-On Bag (And Which You Should Choose)
The final word on what to pack it into for your summer getaway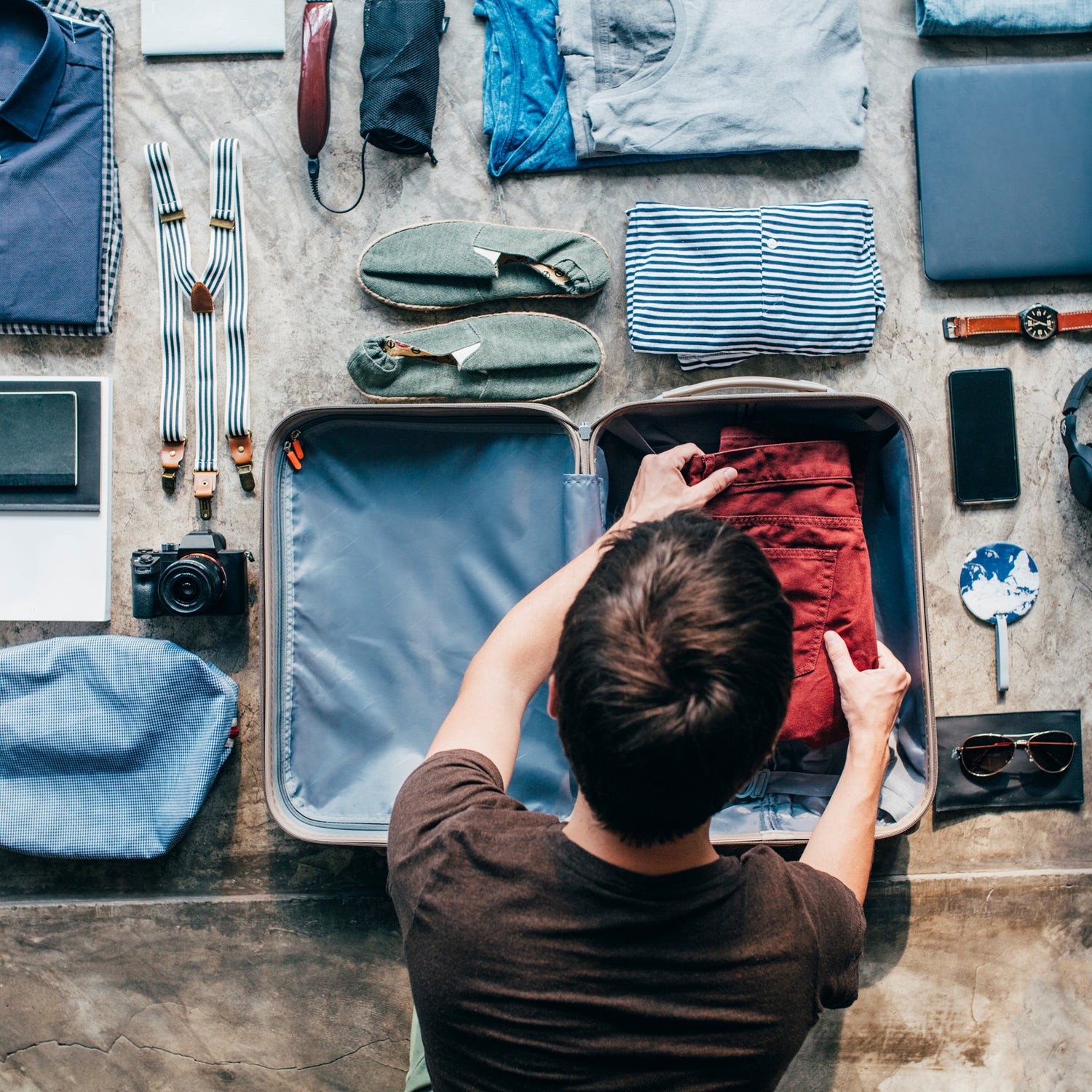 Heading out the door? Read this article on the new Outside+ app available now on iOS devices for members! Download the app.
It pains us to say, but long gone are the days when you could bring pretty much any bag on a commercial flight. Some airlines will let you check one bag for free, others charge a premium. Meanwhile, the size restrictions for carry-on bags are getting stricter; the industry standard set by the Big Three (American, United, Delta) requires any carry-on bag to be 22 x 14 x 9 inches. Any bigger, and they may make you check it. To help you maximize that overhead bin space, we've compared five styles of carry-on bag so you can pick the best option for your summer getaway—you probably didn't want to wait around at the baggage carousel anyway.
The Duffel Bag 
It might seem like a primitive choice, but the beauty of the duffel lies in its simplicity. It's a big, cavernous hole that you get to fill. Most duffels are a fraction of the cost of proper luggage, they're lightweight, and most importantly, they're versatile. You can pack a weekend's worth of clothes in a duffel for a flight, or use it as a gym bag, or use it to carry all those cams and shoes to the crag. 
Pros: It's malleable. The restrictions for overhead bags are in constant flux. That snazzy piece of luggage you bought that just barely meets size restrictions today might not meet new restrictions down the road. With a duffel, you can always pack a little lighter and squeeze it into that annoying box at the check-in line. Plus, it'll fit below the seat in front of you if space is truly at a premium.
 
Cons: Lack of organization. There typically aren't a lot of pockets, zippers, or holders in a duffel. It's just a bag, so your dirty clothes will mingle with your clean clothes. If you need Trapper Keeper-level organization, this might not be the choice for you. 
Our Pick: Patagonia Black Hole 45L ($99) 
There actually is a little bit of organization in this simple duffel. A couple of interior zipper pockets and one exterior pocket can keep your toiletries from mingling with your underwear, which is nice. It looks good, so you don't have to feel like a dirtbag carrying it through the airport, but its 900-denier Ripstop material is burly enough to withstand use as a crag bag too. Bonus: It's treated with a durable water repellant, so your clothes won't get soaked between the cab and the terminal.  
The Soft Roll-Aboard 
The most common carry-on bag is popular for a reason. You can pack a lot of clothes and souvenirs in here and keep it all organized to OCD standards. With the right accessories, you can pack a suit without completely ruining it, keep your shoes away from your underwear, and sprint through the airport to catch your plane thanks to those handy things called wheels. 
Pros: Efficiency of space. Soft roll-aboards allow you to pack the most variety of items in the smallest amount of space. Organization is typically at the forefront, with different pockets for everything you can think to bring. Plus, wheels. Some soft roll-aboards are expandable too, just be careful you don't expand yourself out of the overhead bin. 
Cons: You're stuck with the size. Most soft roll-aboards designed for carry-on max out the airline standards of size requirements. Some airlines have stricter requirements, and many have been known to "adjust" their restrictions to maximize overhead bin space. Also, this thing is not going to fit beneath the seat in front of you, which means if overhead bin space is too tight, you might have to check it. 
Our Pick: TravelPro TPRO Bold 22" ($150)
TravelPro sets the industry standard for roll-aboards. This model has compression straps that run through the luggage, allowing you to shrink the profile a little. Multiple handles enable you to sling it around, and the telescoping handle stashes away in its own zippered compartment. The TPRO Bold also has a padded tablet sleeve, compression straps in the main compartment to keep your clothes neat, and a "hidden" pocket on the back panel to hold keys and your phone. My favorite touch is the "wet pocket" that can keep dirty clothes, or a bathing suit, separate from your clean clothes. 
Hard Plastic Roll-Aboard 
The truth is, not everyone needs a hard plastic carry-on, but if you're carrying camera equipment or other valuables that absolutely have to be protected from the elements, hard plastic might be the solution. Think of it as the old-school trunk your grandfather traveled with, except with wheels and a telescoping handle. 
Pros: Bomber protection. That's essentially what you're getting with hard plastic luggage. Forget water resistant, most of these "bags" are waterproof and will actually float. If you're traveling with valuables that need to be protected at all costs, this is the solution.  
Cons: Hard plastic bags are a few pounds heavier than most soft-sided options, and they're not expandable. Also, you'd better hope the airlines don't change their overhead bin restrictions. And did we mention the price? They're often twice as expensive as their soft-sided counterparts. The hefty cost alone will limit the number of people who turn to hard plastic. 
Our Pick: Pelican BA22 ($427)
I'm pretty sure the "BA" stands for "Bad Ass." Injection-molded resin with stainless steel hardware makes this luggage durable as hell, and the water-tight O-ring seals mean this thing could probably be used as a flotation device in case of an open-water landing. We like the recessed handles, which keep it streamlined in the overhead bin, and the fabric interior, which adds a soft touch to an otherwise utilitarian package. 
Travel Backpack 
Even though the humble backpack has elementary school connotations, it's actually a solid choice for business travelers who have to carry laptops, phones, cords, and TPS reports with them when they travel. Thanks to the backpack's superior organizational skills, all of these items are easily accessible. And because of the smaller, soft profile, you can cram a backpack into the corner of an overhead bin, or slide the pack beneath the seat in front of you if overhead space is too limited. 
Pros: Hands-free luggage. Wheeling a suitcase through an airport is okay, but not as convenient as strapping your luggage to your back. Steps, crowded elevators, long lines in the airport food court—everything is easier if you're just carrying a backpack. If your trip involves public transit or long treks down cobblestone sidewalks, this is a no-brainer. 
Cons: Space is more limited than either roll-aboard options we picked, and you're probably not going to keep a suit wrinkle-free in a backpack. We're also aware that not everyone wants to hump heavy loads on their back. 
Our Pick: Osprey Ozone 46 ($160) 
This bag has a relatively spacious main compartment, a padded slot for your laptop, and a separate padded sleeve for your tablet. There's also front zipper and organizational pockets to keep your toiletries, pens, and phone handy, and a separate pocket on the bottom for stashing shoes or dirty clothes. Osprey knows how to make a pack, so you can load this thing to the gills and it's still comfy. We like the external water bottle and snack pockets (something no other carry-on bag we tested offers), as well as the exterior compression straps that keep the whole package tight.
Aluminum Roll-Aboard 
Aluminum luggage offers a level of protection that goes beyond your standard soft-sided bag, but falls a little short of most hard-plastic models. They're not gonna stop a bullet, but they'll withstand whatever abuse the cabbie and your flightmates throw at them. They're a hell of a lot lighter than hard plastic versions, and are typically comparable weight-wise to their soft-sided counterparts. Plus, you look like a spy wheeling one around the airport. 
Pros: Aluminum luggages offer the same benefits as aluminum bikes: they're relatively light and relatively strong. Also, most come with TSA-approved integrated locks so the nuclear codes that you're obviously carrying will stay safe. 
Cons: They're expensive, usually three times as much as their soft-sided counterparts.  And make sure you pay close attention to the measurements of the luggage—some popular brands of aluminum "carry-ons" actually don't meet the airline restrictions for carry-on luggage. Also, there is no expansion or stuffing with this luggage—no matter how light you pack, the size of the bag does not change. 
Our Pick: Zero Halliburton Geo Aluminum 2.0 ($750)
This is a 20-inch carry-on with four spinner wheels, and it actually fits inside an overhead bin—a rare thing when you're considering four-wheel aluminum luggage. The spinner wheels seem like a ridiculous luxury, until you actually use them; then you realize what you've been missing all these years. We like the interior of this case, which is divided into two compartments with soft panels that strap down to keep your clothes separate and tidy.
Lead Photo: Lumina Images/Stocksy