How 11 Explorers Are Embracing Staying Put
From polar explorer Eric Larsen to rock climber Sasha DiGiulian, here's what adventurers are doing with their downtime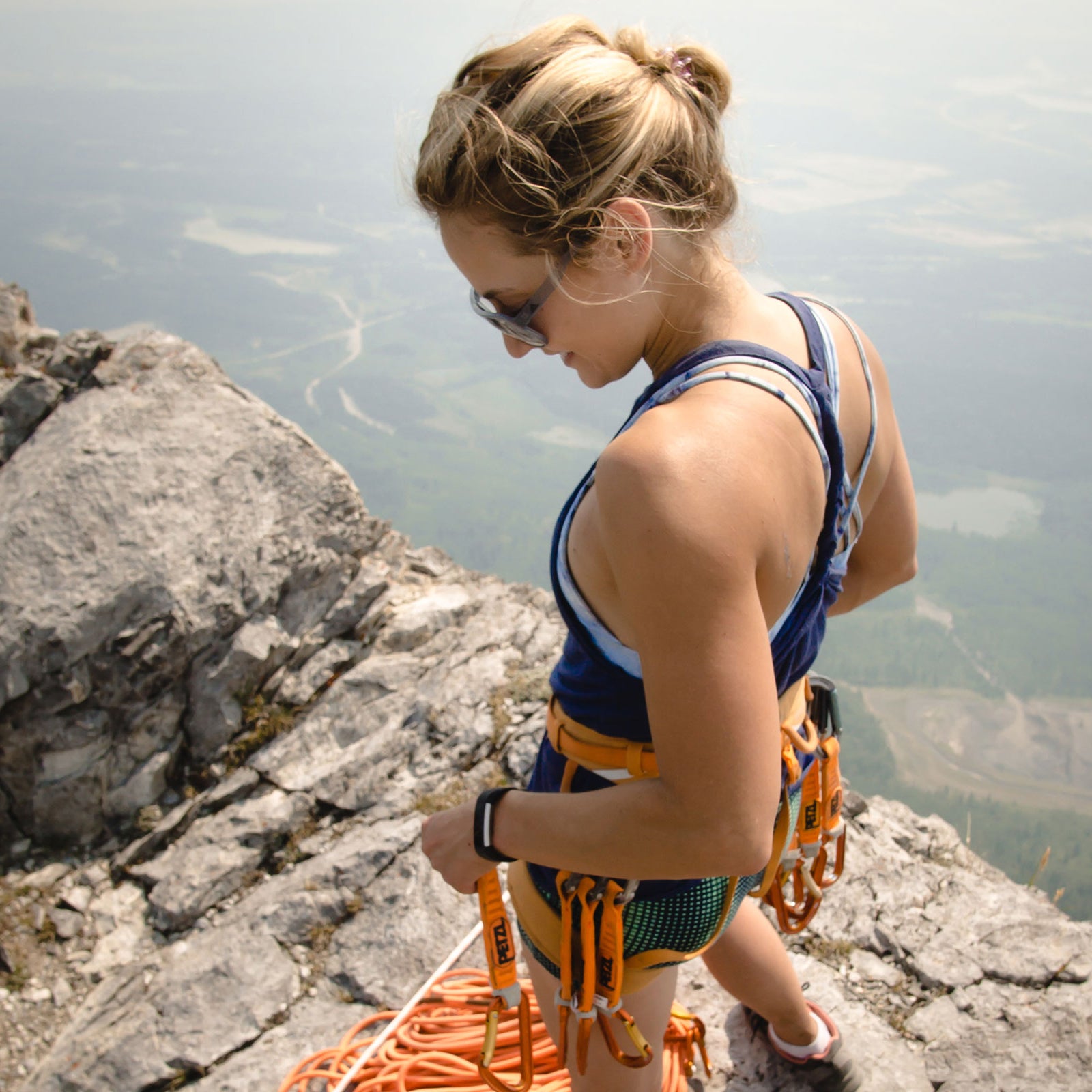 Priscilla Mewborne(Photo)
Heading out the door? Read this article on the new Outside+ app available now on iOS devices for members! Download the app.
Training for a polar expedition, preparing for the 2020 Olympics (now postponed until 2021), and reporting from far-flung destinations are just a few ways these adventurers would usually be spending their time. But now that we're all hunkering down, we were curious: What are our favorite travelers doing with their downtime? From taking online philosophy classes to getting creative with at-home workouts, their answers will surprise and inspire you to make the most of staying in one place for a while. 
Eric Larsen
Polar explorer
Based in Crested Butte, Colorado
"I should be in the Norwegian archipelago of Svalbard right now, preparing for the North Pole, but instead my days are a mix of homeschooling my kids, nordic skiing, fat biking, and running my expedition business remotely. Oh, and I've been working on my polar poetry and meme game."
There once was an explorer of the North Pole

Who wanted so badly to achieve that big goal

When a virus came along

It became his swan song

And now his Arctic dream is flushed down a big hole.

 

There once was a guide who loved the cold and ice

He told all his friends that it was pleasant, real nice

When the North Pole was tossed

All his money he lost

And now he subsists on meals of expired freeze-dried rice.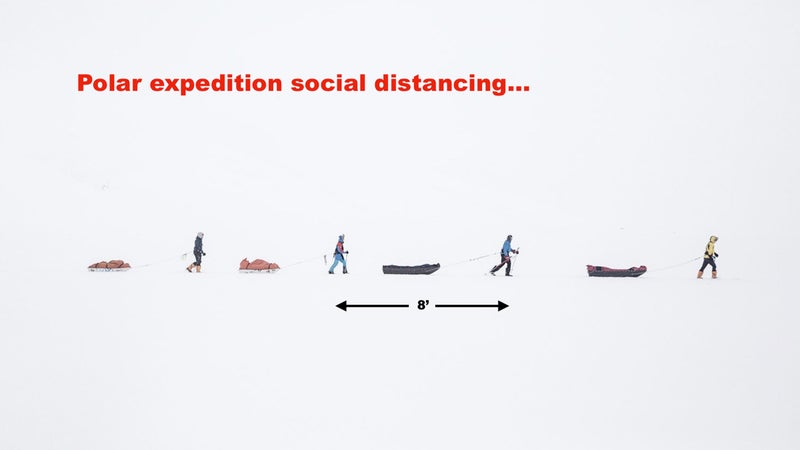 Larsen has skied 700 miles to the South Pole, skied 500 across the melting Arctic Ocean to the North Pole, and summited Everest, all in the same year. 
Ami Vitale 
Photojournalist
Based in Missoula, Montana 
"Now more than ever, I feel how intricately connected we all are to one another. Hopefully, I can have a lighter footprint and take more time to help others. I've been doing a lot of online teaching, just rescued two very sick cats who could not find homes, and am working on a campaign right now to raise money for the Ol Pejeta wildlife conservancy in Kenya. It's hard to comprehend how the most vulnerable are being affected by this."
Vitale has traveled to more than 100 countries as a photographer and documentary filmmaker.
Sasha DiGiulian 
Climber
Based in Boulder, Colorado 
"I've found a lot of gratitude. This time has allowed me to reflect and to just dive into some side passions, like learning more about cooking, taking some online courses—including a nutrition class at Stanford and a psychology class at Yale—and staying fit with lots of at-home workouts. I'm in the process of producing a documentary of one of my expeditions from last summer, so that has been nice to be able to focus on as well. It's ironic to say 'opt indoors' instead of out, but I recognize that that is the most responsible thing to do at this time."
DiGiulian has made over 28 first-female ascents (including one of the Eiger in Switzerland) and was the first North American woman to climb a 5.14d route.
Pattie Gonia
Backpacking queen
Based in Lincoln, Nebraska 
"What's kept me going has been people coming together, a ton of memes, FaceTiming loved ones, putting down screens for half or full days, and realizing that, through all this, I am the same person I always have been. I have the same 200 creative bones in my body to laugh and cry and rest and make art, and maybe those bones staying put will challenge me more than I ever thought. Also, this time has made me realize that: 
I don't have to suddenly find replacement adventures at home. Instead, I can just rest. 

You should never assume you have time to do the things you dream of doing. 

Mother Natch is saying, 'We can't go on like this.'"
Pattie Gonia is the first backpacking drag queen and the alter ego of photographer Wyn Wiley.
Forest Woodward 
Adventure photographer
Based in Crested Butte, Colorado
"For me, staying put has been about re-rooting in the landscape I call home. We often say that the creative mind thrives under constraint. When we are forced to narrow our focus and explore within limitations, that is when creativity truly blossoms. And the same, I think, could be said of adventure. We do not have to climb the highest peak or run the longest trail to find it. It is here, in our backyards, as it has been all along. I have been enjoying skiing the cross-country trails out my back door, following them up the valley, and then making my own trail through the aspens along the Colorado River, encountering no risk—no adrenaline-pumping look at my own mortality—but, rather, stopping often in the landscape that I so often hurry through. Otherwise, I have been reading, writing, cooking, calling old friends, doing house chores, editing film and photos from the past decade, Skyping with my personal trainer, stretching, dusting off home workouts from college, chopping wood, taking baths, lighting fires, reading too much news, worrying, dancing, stirring spirits, playing board games, and watching snow fall out the window, hoping the world somehow comes out of this loving itself a little more than when it began."
Woodward is a mountain athlete, photographer, and filmmaker whose clients include Filson, Patagonia, and REI.
Carissa Moore 
World-champion surfer
Based in Honolulu, Hawaii
"I've been scrapbooking, cooking, gardening, hiking, doing home workouts, spending time with my husband, sister, and dogs, and, very fortunately, still surfing! I'm grateful to still have a pretty normal routine at home." 
Moore was the 2011, 2013, 2015, and 2019 World Surf League Women's World Tour Champion.
Mercy M'Fon Shammah
Outdoor-inclusivity advocate
Based in Portland, Oregon 
"For busybodies like myself, I have found that continuing to make a schedule for my days is helpful, even if it includes a lot of self-care time. Also, making sure everything for an emergency-preparedness kit is in one place helps ease a lot of worries."
—M'fon Shammah is the founder and executive director of Wild Diversity, an organization that works to promote black, indigenous, people of color, and LGBTQ+ inclusion in the outdoors. 
Darcy Gaechter 
Kayaker and author
Based in Glenwood Springs, Colorado
"I've started story posts on my Instagram account of daily isolation activities, some of which include outfitting kayaks and teaching my dad how to take a selfie. I'm also reaching out to people in my community who may not be able to shop for themselves, to see if I can help. My favorite activity has been scheming up what adventures I'm going to do when this is all over—busting out the maps, getting creative, and dreaming of better days. But while I can, I'm trying to enjoy the forced downtime, because, honestly, when do we ever get time like this in this day and age?"
Gaechter is the first woman to kayak the Amazon River from source to sea and author of the new book Amazon Woman.
Kellee Edwards 
Travel-show host
Based in Los Angeles, California
"I've been toying with the idea of camping in the backyard. I certainly had adventures like this as a child. Time to relive some of those experiences, because why not?"
Edwards is a pilot, scuba diver, and host of the Travel Channel's Mysterious Islands.
Tommy Caldwell 
Climber
Based in Estes Park, Colorado 
"I've been implementing a strict hang-board routine. I've also been catching up on a little reading, doing some house-cleaning projects, and spending a ton of time with my kids. I'm not prone to boredom and have actually been really enjoying being less hectic for a bit. It's sure going to be nice when I can go back in the mountains again, though."
Caldwell made the first free ascents of several routes of El Capitan, including its Dawn Wall, a 5.14d. Need some reading-list inspiration? Check out some of Caldwell's recommendations.
Jessica Nabongo 
Travel-company founder and blogger
Based in Detroit, Michigan
"To keep busy, I am revisiting all of my travels. On my Instagram, every day I post a picture from one to two countries that I have visited, in the order that I visited them. In each, I'm sharing the current number of COVID-19 cases, to show the global outcome. In response, people have shared fond memories of traveling to the countries, and those living there have also shared their experience with the virus. A few have also contributed to a video on my blog about how important it is to stay home. I do so much travel that I never truly look back on past trips, and this has resurfaced so many beautiful memories."
Nabongo is the first black woman to travel to every country in the world and is founder of the travel firm Jet Black.
Corrections:
(10/01/2023) In a previous version, we incorrectly stated that Caldwell made the first free-solo ascents of several routes of El Capitan. Outside regrets the error.
Lead Photo: Priscilla Mewborne
Trending on Outside Online