How can I plan a trip around riding the biggest, fastest roller coasters?
I'd like to plan a trip around erica's biggest and fastest roller coasters. Any suggestions on where I should head to maximize my riding time?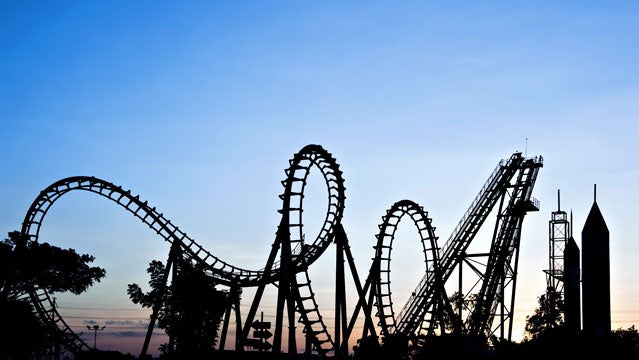 Heading out the door? Read this article on the new Outside+ app available now on iOS devices for members! Download the app.
You're either a coaster junkie or you're not and it sounds like you are. So, without preamble, here's my list of three don't-miss spots. Only catch: they're scattered around the country, so plan a cross-country road trip, or find the one that speaks to your inner child, and plan accordingly.
In Southern California, little kids migrate to the land of Mouseketeers while the big kids head to Magic Mountain. Six Flags boasts 16 "thrill" rides classified as either moderate or max under the thrill scale all coasters so you'll get in plenty of extreme ride time. Steel tracks include a couple rides that have records among the top ten in the world. You'll also find some unique adventures that may not turn you green but will give you a good ride just the same. The Riddler's Revenge opened in 1998 and remains the world's tallest and fastest stand-up coaster. Fly over almost a mile of inverted steel track including a 360-degree vertical loop, oblique loop, two diving loops, and 150-foot-long barrel rolls. You'll repeat this course six times at speeds topping 65 mph in under three minutes. Or try X2, a unique set-up with seats extending off the side of the track allowing them to rotate 360 degrees while moving at speeds up to 76 mph. But if 76 mph isn't fast enough for you, try Superman: The Escape. Ranked number four on the list of tallest steel coaster drops, 15 passengers fit in a vehicle that accelerates from zero to 100 mph in just seven seconds and that's just to get the 15 riders to the top of a 41-story, 415-foot tower. From there, ain't nowhere to go but down in free fall, achieving a full 6.5 seconds of weightlessness, a true super hero sensations. And if your need for vertical falls exceeds more than one, step next door to Goliath, Superman's neighbor at Six Flags. The ride itself features two vertical drops and many more hills. Prepare yourself for a 255-foot, 61-degree descent into a 120-foot-long underground tunnel (the ride only stands 235 feet high). You'll continue racing along at 85 mph through massive positive Gs in the second half of the ride, including a helix, spirals, and plenty more plunges. Located in Valencia, California, north of Los Angeles, Six Flags Magic Mountain has the second-highest number of coasters in the world.
If you're dying to ride the tallest and fastest coaster in the world, head over to Six Flags Great Adventure in Jackson, New Jersey. Towering 456 feet high, Kingda Ka has a vertical drop of 418 feet with passengers speeding along at 128 mph. This steel green monster is visible from the parking lot where riders can be seen shooting horizontally from the station up the tower into a 90-degree turn. At the tower's peak, riders drop into a vertical descent turning into a 270-degree spiral and then up and over a 128-foot hill for an official total ride time of 50.6 seconds (28 of those being actual travel time). For a different kind of ride, hop on El Toro, the world's third tallest and fastest wooden coaster with a height of 181 feet, a drop of 176 feet and speeds of 70 mph. El Toro's big drop is also the second steepest of any wooden coaster in the world at 76 degrees. Feelings of the passenger train being pulled and dropping out make this one of the best descents in the world. Riders experience weightlessness at nine points on the track and are plummeted down a total of four steep drops. Be prepared for serious airtime and tight lap bar restraints. For another steel thrill, give Nitro a go, one of the parks most reliable rides. When it opened in 2001, Nitro was the tallest, fastest roller coaster in New Jersey with a height of 230 feet and speeds up to 80 mph. While the coaster is now dwarfed by the world-record holding Kingda Ka there's little comparison. Fortunately, Nitro continues to prove satisfying for thrill-seekers. The coaster's selling points are a 540-degree helix, six camelbacks, a 215-foot drop at 68 degrees that continues on to a second 189-foot-tall hill and dives down to a 161-foot G-force hill before reaching an "S" curve and a double helix. Passengers experience three more G-force peaks before returning to the station. To maximize airtime, sit at the back of the passenger car. The park itself has 14 "thrill" rides.
And in the Midwest you'll fine high-flying 310-foot lifts, speeds up to 93 mph, and 80-degree descents on the Millennium Force at Cedar Point in Sandusky, Ohio. The park holds the world record for the most coasters at one spot, with a total of 17. But Millennium Force and Top Thrill Dragster are two reasons alone to visit the record-holding adventure park. Top Thrill Dragster takes riders on a hydraulically launched vertical lift up 420 feet, turns them 90 degrees, and drops them straight down while twisting them another 270 degrees. Riders wait patiently at the start to shoot from zero to 120 mph in 3.8 seconds on this strata coaster the world's first a complete circuit coaster that stands 400 to 499 feet tall. Millenium Force pulls passengers up a 45-degree hill at just 15 miles per hour and drops them 300 feet at an 80 degree angle with speeds reaching up to 93 mph. Passenger cars continue to climb another 169 feet through a 122-degree turn and travel over a 182-foot hill with negative G-force. The train then continues on to a 105-foot, 360-degree, right-handed helix, followed by some more airtime on subsequent hills before heading back to the station . Some serious adventures for those who are willing.
Lead Photo: Antonio V. Oquias via Shuttersto