How can I turn cheap airfare to Las Vegas into a killer outdoor holiday on the cheap?
My husband and I are looking to escape the city for four nights and five days. We want to cp, hike, and kayak, preferably in the southwest. We are not climbers, but flying in and out of Las Vegas looks practical given our short stay. What do you suggest? Alex A. Washington, DC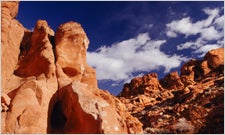 Heading out the door? Read this article on the new Outside+ app available now on iOS devices for members! Download the app.
Your instincts are spot-on, Alex. As long as you can avoid the lure of the blinking lights that has defined Vegas for years, the low-cost round-trip flights to Las Vegas from…well, anywhere…can offer all sorts of outdoor escapes.
Red Rock Canyon National Conservation Area

Vegas on the Rockes: Red Rock Canyon National Conservation Area
And you don't even have to look far. Just 17 miles west of the famed Strip is Red Rock Canyon National Conservation Area. While known for world-class climbing routes, Red Rock also boasts over 30 miles of hiking trails. Formed over 100 million years ago, sheer limestone and sandstone cliffs were carved by shallow streams, along with the serious help of shifting faults below earth's surface, resulting in rugged canyons, waterfalls, and oasis pools. Hiking trails can be accessed from the visitor center, or from points along a 13-mile scenic driving loop. Start with the Calico Hills Trail. An easy hike with lots easy outs, the route begins at Calico Basin and follows the Calico Rocks to Sandstone Quarry over six miles. With just 400 feet of elevation gain, be prepared to scramble over rocks and skirt around boulders. All hiking trails at Red Rocks require some fancy footing, but the views are worth it. Once you've got a feel for the area, try a hike with a little more kick. Turtlehead Peak Trail is just five miles long, but it's got a hefty 2,043-foot elevation gain. Starting at Sandstone Quarry, the trail heads north and continues along the northwest side of Turtlehead Peak. To reach the peak, scramble up a ravine to the saddle and follow the steep ridge to the top. If you find yourself ready for a full day of hiking, try the Grand Circle Adventure. This 11-mile round trip hike starts at the fee booth parking area and heads toward Calico Hills Trail, up to White Rock Springs upper parking lot. From there, head toward Willow Springs, and veer to the left at the junction on top of the ridge. You'll wind up at the visitors center having conquered 1,570 feet of various climbs and descents. Red Rock also has both developed and primitive campsites. The proximity to Vegas proper means you can take advantage of the low-cost hotel rates, but Red rocks also have 71 camping sites, each with picnic table, grill, and water and restrooms nearby. Fees are $10 per night plus a daily $5 park entrance fee.
If you'd prefer to see the sites from the seat of a kayak, try a day trip along the Colorado River. Evolution Expeditions offers a full-day adventure on the Class I river beginning at the base of 727-foot high Hoover Dam, 30 miles southeast of Las Vegas. Tour down stream, stopping for a steam in the Sauna Cave, a man-made tunnel originally blasted for the dam that now serves as a 130-degree hot spot for river rats. Another stop along the route includes a site to soak in natural hot springs pools, offering kayakers a chance to exit the watercrafts and don swimming attire. Emerald Cave is a serene detour along the river with iridescent pools as well as shady respite from the sun. This 11-mile paddle tour concludes at Willow Beach, a historic Indian Trading Camp. Hotel shuttle, equipment rental, and instruction, along with lunch and snack are all included in the tour package, priced at $175.
Or you could get of both. Colorado River & Trail Expeditions offers a five-day river rafting adventure through the Grand Canyon topped with a hike to the South Rim. The mile-deep, ten-mile wide canyon stretches for 277 miles. Formed over six million years ago by geological activity and erosion of the Colorado River, the Grand Canyon National Park was visited by almost 4.5 million travelers in 2008. Over 100 rapids draw so many water enthusiasts that the National Park Service recently implemented a "no repeat rule" meaning visitors are only allowed one rafting trip (commercial or private) per calendar year. Expiditions' five-day row begins at Lee's Ferry (3,116 feet), winding through the cliffs of Marble Canyon. Points such as Temple Butte (5,308 feet) and Venus Temple (6,257 feet) face the canyon's eastern rim, also known as the Navajo Indian Reservation. A final float through Granite Gorge brings rafters ashore at Phantom Ranch. Finally, test your ability to transition from sea to land legs as you embark upon a nine-mile hike up to the South Rim. Price is $1,772 per person and includes transportation to launch site, equipment rentals, meals and guide.
Of course there's also the bounty of other national parks all within easy striking distance of Las Vegas, including Zion, Moab, Bryce, and Arches, each entirely uniquely suited to marvel and amaze, and all perfect for a DIY adventure.
–Amy Clark