The Ultimate Road Trip
A Step-by-Step Guide to Planning Your Van Build
Now is a great time to build out a van, truck, or station wagon for adventurous road trips. We consulted vanlifers Grizel Caminas and Eric Hallworth to break down the steps.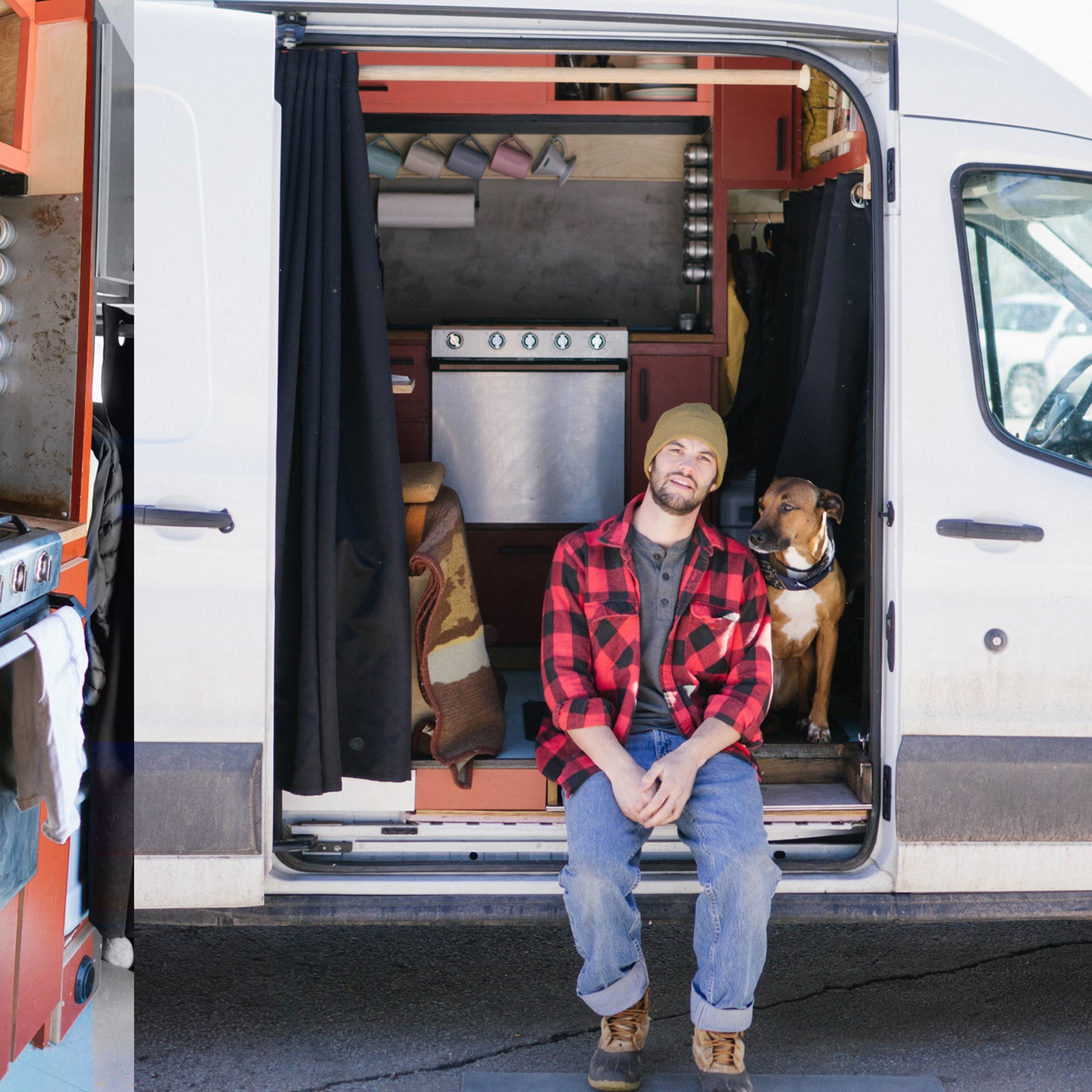 Heading out the door? Read this article on the new Outside+ app available now on iOS devices for members! Download the app.
One of the few positives of being confined at home is having the time to tackle projects that have been on the back burner. With road trips likely to replace flights in the near future, a self-sufficient van or RV is one of the best ways to travel as state restrictions lift. 
If you choose a van, figuring out where to start a build-out can be overwhelming, which may be why you put it off in the first place. We sought the advice of writer and outdoor enthusiast Grizel Caminas and her partner, Eric Hallworth, a designer and builder, who turned their 2015 Ford Transit into a personal home on wheels in 2019, to give us a comprehensive, step-by-step guide. 
Step 1: Set Your Priorities
Caminas and Hallworth took the full-time vanlife plunge after living out of a stationary van in Nashville for a year. They had looked at a lot of different vehicles but settled on a high-roof Ford Transit, mainly because of the extra space it afforded them. 
"It took us a whole year to really figure out what we wanted to buy," Caminas says. "We wanted to feel like we were at home wherever we went. It wasn't necessarily about being remote or getting down rough roads."
Building a rig for weekend use is a lot different than living in a van in full-time. You need to take into consideration everything from how often you want to cook in the vehicle to whether you need a shower. Each of those seemingly small decisions should inform the type of vehicle you buy. 
To start, Hallworth recommends asking yourself the following questions: 
What will you be using the vehicle for?
What activities will you be primarily doing?
Do you want to store your gear inside or out?
Do you really need four-wheel-drive capabilities?
What length of trips do you plan to take?
How much water storage do you need?
Will you be using the vehicle during the winter or in cold climates?
How much headroom would you need to be comfortable?
How do you want your bed positioned, and what size mattress do you need? (A bed will take up the most room. The space needed for it should be considered before adding other amenities.)
Do you want a full bathroom?
Will you be working from the road?
Step 2: Determine a Budget
Once you have your priorities settled, the next step is working out a budget. This is extremely subjective and depends on what type of build you're going for, but in general, Hallworth says to expect to spend at least $10,000 for building out a full-time, live-in van. "I'm an avid do-it-yourselfer, and I could have probably gotten it down to just below ten grand, but I don't think that's realistic unless you want to live with no infrastructure in the van," he says, citing amenities like a heater and kitchen with plumbing.
Material costs alone run high because van builds rely on a lot of RV or boat products, which are more expensive than traditional home-building materials. "You can get a cheaper oven for your home than you can for a van," Hallworth says. 
The couple spent $23,878 on the van itself, and the build cost them $13,311. While that might seem like a lot, the pair says that going all out on the build saved them money in the long run. Having comforts like a full kitchen, for example, allows them to cut other expenses, like dining out. "You're going to spend a lot of money on things you don't need if you're not honest with yourself and what your needs are up front," Hallworth says. 
He says the heater, which he spent around $1,700 on, was probably the most unexpected expense, but it has been worth every penny because of how comfortable it keeps them. 
If your goal is to use your vehicle for shorter weekend trips and you don't mind skimping on certain things, you can certainly get your costs much lower. (For instance, Outside staffer Brian Smith built out his 2015 Ram ProMaster for a budget-friendly $4,000.) Caminas and Hallworth's first van, which they lived in temporarily while they completed the process, cost them between $1,500 and $2,000 to build out, thanks to hacks like using a Coleman camp stove for cooking and running extension cords to a friend's house for power. 
Step 3: Get the Tools You Need
Working just one day of each weekend, it took Hallworth four months to complete the build. He notes that with his experience in construction, this was a compressed timeline, so set aside at least six months if you go this route.
Thankfully, you don't need that many tools to complete a build. "I just finished a build-out on the road with another vanlifer, and I did everything with two drills and a jigsaw," he says.
Here are all the tools you need to get started:
Drill
Jigsaw
Circular saw (While it's possible to make all of your cuts with a jigsaw, a circular saw will save time.)
Pliers/wire cutters 
Socket set 
Safety glasses (Hallworth says he got hit in the eye a lot while working in tight spaces.)
Pencil
Utility knife
Impact drill
Drill
Tape measure
Hallworth says that while renting tools isn't economical in the long run, if you don't have a place to store them after the build, you can rent from a store like Home Depot. (A jigsaw, for example, starts at $17 per day.) 
Step 4: Establish Your Layout
Before starting the actual build, make a sketch of your floor plan. Hallworth and Caminas made cardboard cutouts and placed them in the van to get an idea of what the space would look like and how much room they'd have. They also marked certain installations using blue painters' tape. 
One of the main considerations to think about early on, the couple says, is whether you want your bed to fold out or be a permanent fixture. For full-time life on the road, a dedicated bed space might be worth it. If it's your vehicle just for weekending, a foldout bed will probably work just fine. 
Next, Hallworth made some drawings using the 3D design program Sketch Up, which he recommends because it's free and has a simple, intuitive interface. He then built a "rough draft" version of the van's interior—a bare-bones iteration without permanent cabinets or fixtures that they lived in for a month before starting on the final build. This let them get a feel for living in the van so they could better determine how they wanted to use the space. 
Step 5: Choose Your Materials
Hallworth recommends using stable woods, or those more likely to keep their form without bending or twisting, since everything will shift around constantly during transit and swell or shrink depending on the outside temperature. Wherever possible, the couple used locally sourced domestic birch for its sturdiness-to-weight ratio and lower environmental footprint. Hallworth notes that builds get heavy fast and recommends using half- or quarter-inch instead of 5/8-inch plywood to save money and weight. He also says a uniform laminate floor that's easy to wipe down is far more durable and easy to clean than snap-together flooring.