How to Drive in Snow: A Useful Beginner's Guide
No matter where you live, you have to be prepared when the white stuff starts falling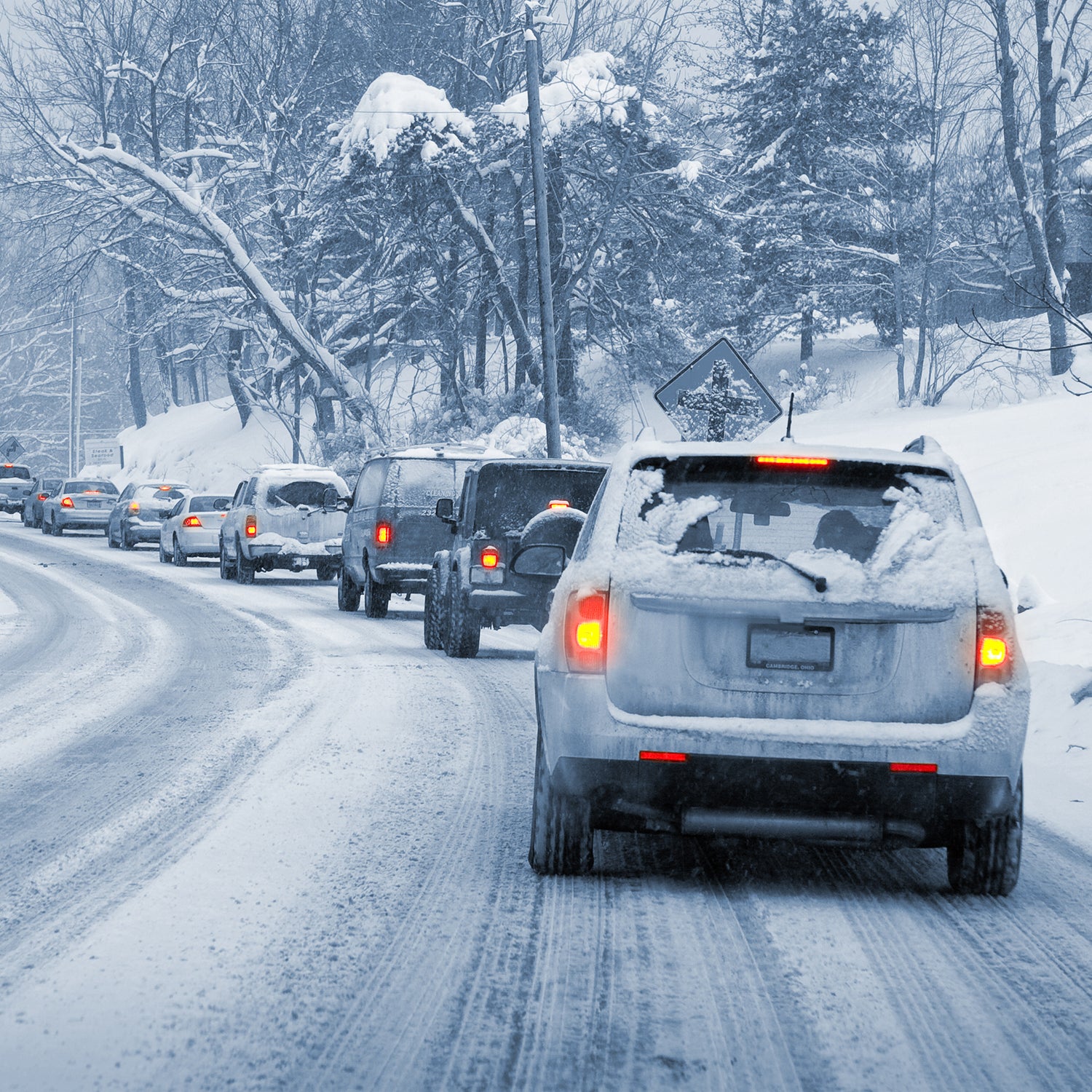 njw1224/iStock(Photo)
Heading out the door? Read this article on the new Outside+ app available now on iOS devices for members! Download the app.
Folks who live in cold areas pride themselves on their ability to handle snow better than their southern counterparts. However, whether you live in Minnesota or North Carolina, a quick glance at the news reveals a string of wrecks and pile-up accidents whenever snow starts.
Learning how to drive in snow is a tough task no matter where you live. The first step to safer driving is knowing what kind of winter weather you'll encounter. Snow is more manageable than sleet or freezing rain. If it is going to snow, will it be a blizzard or a quick-hitting clipper? You're more likely to wreck in a short, fast moving storm or snow squall, and you're more likely to get stranded during a blizzard or lake effect snow.
The best thing to do in either case is to be proactive. Here's how.
How to Drive in Snow: 3 Tips for Noobs
Don't Underestimate a Light Snow (and Don't Panic)
Most people worry about getting stranded by a foot of snow, but a foot of snow isn't always what you need to worry about. A dusting of snow can be more dangerous than a thick blanket of it. A thin layer of snow on roads easily melts under the heat from heavy traffic. Subfreezing temperatures can refreeze the snowmelt and turn roads into a sheet of ice. The resulting ice can lead to horrendous traffic disasters, like the ones in Birmingham, Alabama, in 2014 or Washington D.C. in 2016.
If you hit an icy patch, the worst thing you can do is panic. The second worst thing you can do is slam on the brakes. Hitting the brakes when you're on ice turns you into a curling stone without anyone there to steer you in the right direction. You can easily lose control.
The simple fact is, you can't do much when you're sliding on ice. There's no real way to bring your vehicle to a stop without regaining traction or coming to rest against something like the guardrail or another vehicle. What you can do is try to keep your vehicle going as straight as possible by turning your wheel into the spin. Keeping the vehicle straight lowers the chances that you'll regain traction when you're sideways, which could subject you to a rollover.
Unfortunately, not everybody is able to keep control of their car when they slide on ice. A wreck is bad enough. A pile-up wreck is many magnitudes worse. Each winter, somewhere in the United States, we inevitably hear about some stretch of highway closed because dozens of vehicles got into a chain-reaction accident.
If you're ever caught in a pile-up accident, odds are high that people are going to hit you from behind. That could be exceptionally dangerous if the traffic is moving at high speeds. Sometimes the best option is to get out of the vehicle and get away from the road. However, you only want to get out if you have a clear shot to the side of the road or behind a barrier or wall. The most dangerous place to be in a pile-up wreck is a pedestrian at risk of getting hit by oncoming cars or flying debris.
Don't Accelerate Your Way Out of a Jam
In deep snow, it's common for travelers to get stuck on roadways or even stranded.
If you're ever stuck in the snow or ice while driving, don't try to floor your way out of the situation. Attempting to get unstuck through acceleration could suddenly launch you forward or lurch you to the left or right, endangering anyone outside of the car and putting you at risk, too. It's also not good for your vehicle. Remember the infamous flaming snow car incident in Raleigh, North Carolina, a couple of years ago? That car caught fire because the driver revved the engine too hard trying (and failing) to drive up that icy, snow-covered hill.
It's helpful to have a couple of simple supplies in your trunk to help you get out of a sticky situation for when you do get stuck. Carry something like kitty litter or a long strip of cardboard to help your tires gain enough traction if they become stuck. Keep a small shovel in your car to clear snow away from your tires. Don't forget to stock some food and water just in case you're stranded on the road for the long haul.
Clear Your Car
The most useful safety advice for winter driving is the one too many people ignore—clean the snow off the roof of your car. There's nothing more infuriating after a snowstorm than to see someone flying down the road with a roof full of snow, locked and loaded like an icy gun, ready to cause an accident. Slabs of snow and ice could fly off the back of your car and hit the vehicles behind you. The snow could also slide forward when you hit the brakes, completely obscuring your view of what's ahead. Driving around with snow still covering your roof or windows is illegal in some states and it's not safe. Invest in a snow brush. It takes a little bit of work, but it's worth it to avoid an accident or hefty fine.
Lead Photo: njw1224/iStock