Indefinitely Wild
How to Plan Summer Adventures in the Era of the Megafire
Everything you need to know about how the burning West will affect your summer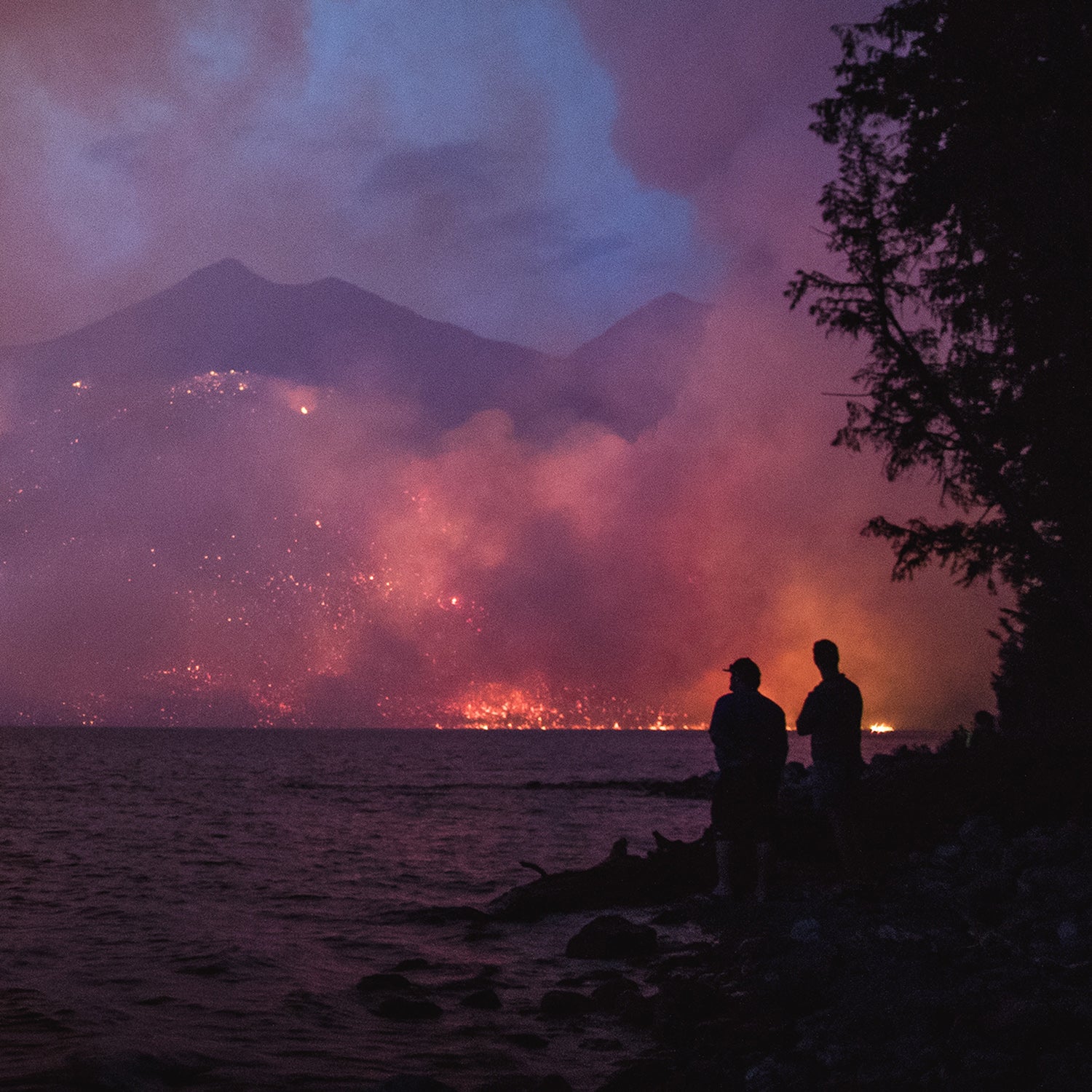 Heading out the door? Read this article on the new Outside+ app available now on iOS devices for members! Download the app.
It's wildfire season in the American West, which used to ramp up in late summer, but has come earlier and stretched later in recent years as drought builds and temperatures rise. Already this year, New Mexico has seen the largest wildfire in the state's history and more than 9,000 acres of California have burned. But how will those fires change your travel plans?
To put together this guide, I enlisted the help of my friend Stuart Palley, a wildfire photographer, who's had to learn how to safely operate on the frontlines of fires across the West. Here's everything you need to know about how fires could affect your summer. 
The Problem
Fires start more easily, grow faster, and are bigger than ever before. And there are more of them. Plus, all those fires create smoke—an awful lot of it. 
That results in multiple threats to your outdoor adventures, from life threatening to simply annoying. On the most severe end of the spectrum, you know you certainly don't want to find yourself fleeing a fast moving wildfire on foot. But you'll also probably be peeved if the gorgeous view advertised by that summer rental property is totally smothered by smoke and wilderness ares you were hoping to explore are closed. 
Forecasting Fires
While wildfires have grown much worse, information around them has gotten much better. The National Interagency Coordination Center publishes a Wildland Fire Potential Outlook map month by month that analyzes the following four months, as well as a seven-day Significant Fire Potential map. Use it to plan trips to places and regions with lower risk. 
InciWeb provides a central hub through which all government agencies—local, state, and federal—share information about current fires. InciWeb is the primary spot for news outlets, apps, and other third-party reporting, so you might as well go directly to the source. The tool was upgraded from an indecipherable text-based website to a much more user friendly map-based visualizer in 2018.  It's updated once every 24 hours—usually in the morning—but also provides links from each fire's incident page to the relevant hashtags on Twitter and Instagram, where you can find even more current user-based information. Those same incident pages include links to the Facebook page of the agency in charge of managing the fire. Most local fire departments push regular updates through those Facebook pages. 
"Inciweb is the official clearinghouse for wildland fire updates on incidents across the United States," says Palley. "While the updates may not be as play-by-play as social media, it is vetted by wildfire incident commanders and public information teams, and is the official source for public record." However, he cautions, never ignore a mandatory evacuation order distributed through other channels. If you feel threatened by an advancing fire, leave.
In the event of an evacuation, notice may be given using Emergency Alert System broadcasts to AM/FM radios and televisions, Wireless Emergency Alerts sent to cell phones, National Oceanic and Atmospheric Administration (NOAA) Weather Radio broadcasts, or possibly even door-to-door by police and other officials. 
What about smoke? NOAA produces an air quality forecast map, but it only predicts eight hours into the future. The wildfire smoke map on FireSmoke.Ca goes out 48 hours, and provides much more intuitive visualization. Most weather reports also include an Air Quality Index (AQI) number and visibility distance. And by simply Googling the name of a location plus "web cam" you can typically access live video feeds of current conditions. 
The Trouble with Smoke
Where I live in southwest Montana, smoke can blow in from fires anywhere along the Pacific coast, from southern California to British Columbia. It can also come from local fires. That smoke can show up as anything from a light haze, to something that blankets the entire region and genuinely puts your health at risk if you spend time outside. That means it can absolutely ruin outdoor activities. 
How should you decide if it's OK to spend time outside? Use the NOAA AQI forecast to assess near term conditions. AQIs are ranked on a numerical scale from zero to 500, from green to maroon, and good to hazardous. This tool calculates the damage equivalent air quality has to smoking cigarettes; spending 24 hours outside with an AQI of 376 is equivalent to smoking a pack of cigarettes. 
Localized smoke conditions can actually be a lot more hazardous. While simple wood smoke is already very harmful, when wildfires start burning manmade structures and all the artificial materials contained in them, many toxins can find their way into the air. 
Monitoring AQI has become a facet of daily life here in the West during the summer. We'll check it before any outdoor activity, and alter plans to suit. It's often bad enough that the only safe thing to do is stay inside with the air conditioning running through a HEPA filter. 
Don't Make the Problem Worse
Be sure to Google any area you plan to visit, plus "fire restriction," and look for relevant signage at road sides, campgrounds, and trail heads. When campfires are banned, those bans should be very obvious. 
And you should expect fire bans. Plan on not having a campfire or using a grill while camping this summer and you won't be disappointed. Liquid and gas fueled stoves typically remain permitted. Stay warm by packing adequate clothing for changing conditions. 
Fires aren't just started by campfires. Idling or driving through dry grass is another common source of ignition. As are cigarettes.
Gear That Helps
Whether planning a frontcountry vacation or backcountry adventure, there are a few items of gear you need to add to your mandatory list when visiting fire country. 
Satellite Messenger: Many areas of the mountain west are without cell phone signal. You should still tell a responsible person where you're going and when you'll be back. With a satellite messenger, you're able to communicate with that responsible person from the field. Make sure that's someone who's able to understand the information published on InciWeb, and who you can trust to relay it to you. All my friends, family, and me use Garmin InReach Minis ($350, plus subscription). 
Weather Radio: Carrying a dedicated weather radio, or a radio capable of tuning into the correct frequencies, will allow you to listen to the NOAA Weather Radio All Hazards broadcast. This provides up-to-date information on storms, earthquakes, wildfires, and other emergencies. Often these broadcasts reach areas not served by cell phone signal, but they may not reach some very remote backcountry spots. Think of a weather radio as the equivalent to a smoke detector for a multitude of emergencies. 
Medications: Wildfire smoke is particularly hazardous to people with asthma and other respiratory conditions. Make sure you have any necessary medications, and extra inhaler cartridges.
N95 Mask: Thanks to the pandemic, you already probably have a few around. Throw at least one in your pack or car for every member of your party. N95 masks will catch the small particles that make wood smoke hazardous, but may not stop the toxic gasses emitted by burning buildings.
Have a Game Plan
Last September, two friends of mine relayed their travel plans to me before heading into the backcountry to elk hunt. I also served as a hub for fire information. Checking InciWeb each morning, I was able to see when a fire broke out about 11 miles from their location. Using our satellite messengers, I gave them a heads up, then let their wives know that I was on top of the situation. Following Facebook posts from the responding agency, I could see that the fire was moving away from them, and no evacuations were being called for in their area, so we just stayed in touch, and they kept hunting with the knowledge that they were safe. 
With an adequate communication plan, there was little risk that they may suddenly have found themselves fleeing a wildfire. This summer, get a strong communication strategy in place before you travel. There's no reason you should ever risk being surprised by a fire. 
And start any summer plans in fire country with a plan B. "Preparedness and situational awareness is on you—do not underestimate the speed and ferocity with which modern fires can and do spread," says Palley. "Is it worth risking your health with significant smoke and AQI impacts, or your life in an evacuation because you didn't double check? This is our unfortunate wildfire reality."
If there are fires in the area, or even heavy smoke, then the best plan may just be to go someplace else. 
Lead Photo: NPS