I want to take an awesome adventure trip with an operation run by indigenous people, any ideas?
I want to take an awesome adventure trip with an operation run by indigenous people, any ideas? I want to be able to give back to the place I visit!—CharlotteSarasota, Fl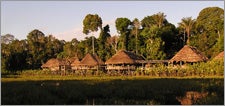 Heading out the door? Read this article on the new Outside+ app available now on iOS devices for members! Download the app.
Charlotte, bless your do-gooding heart. You'll notice a common theme among these indigenous-owned adventure outfits: they're all extremely eco-oriented. Funny how a business run by locals in an exotic destination puts such emphasis on protecting (and being at one with) their surrounding ecosystem, instead of building the typical air-conditioned, energy-sucking, swimming pool-filled, Wi-Fi-accessible luxury cabana complex. Here's a few places that rise above the rest…
Ecuador's Kapawi Lodge

Ecuador's Kapawi Lodge

POSADA AMAZONAS, PERU


Sitting in a 5,000-acre private rainforest park on the edge of the 1.9 million-acre Tambopata National Reserve, this out-of-the-way 30-room lodge is a joint effort between the Ese'eja native community and the conservation outfit Rainforest Expeditions. It's built using indigenous designs and locally harvested materials (note the palm frond roof, clay walls, and mahogany floors). Just getting there is an adventure, involving a 45-minute motorized canoe trip and a ten-minute jungle walk. Although there's no electricity or hot water, Posada Amazonas maintains a luxurious feel thanks to its we-aim-to-please-even-really-rich-people service, the exotic jungle views from the veranda of each room, as well as the candle-lit dining room where three-course meals of local cuisine are served for breakfast, lunch, and dinner. Tours of the rainforest are organized daily, and for a monkey's view of the forest, you can climb the 11-story-tall canopy tower, about a 20-minute walk from the lodge.
How you're giving back: The Ese'eja community owns the lodge, and makes up most of its staff, though it's operated by Rainforest Expeditions. The money you spend on your stay makes a direct impact in protecting the rainforests of the Peruvian Amazon. And, let's face it, these people will benefit a lot more from your tourist dollars than the Marriotts would.

KAPAWI ECOLODGE AND RESERVE, ECUADOR


Accessible only by puddle jumper (the closest road is a ten-day hike away), in the middle of a two-million-acre jungle that makes up the territorial land of the Achuhar people, Kapawi is as remote as any jungle resort on the planet. Its 19 cabanas are built on stilts above a lagoon in the Capahuari River (to reduce its footprint) using indigenous designs and no nails. Power comes from solar panels on the lodge roof, the drinking water is filtered naturally from nearby sources, and only biodegradable soaps and shampoos are used. To pass the time, you can hike deep into the immensely diverse surrounding Amazon Basin rainforest, visit local villages, and kayak or swim in the river and nearby lakes.
How you're giving back: About three-quarters of the people who work at the resort are local, and within the next year full ownership of the Kapawi will be transferred to the Achuhar people. (It was founded as a partnership with an eco-tourism company.) Until recently, folks in this area could only make money by helping cut down the forests and turn the land into cattle farms. The lodge provides an alternative to protect the ecosystem and generate incomes.

SARARA CAMP, KENYA


There's nothing rustic about the six tents that make up the Sarara Camp in Kenya's Rift Valley. There are the cushy, king-sized beds that you'd expect to find at the Ritz, there's the morning tea service on the private terrace, and the outdoor hot shower with views of the surrounding plain that gives proper meaning to going au naturel. The camp is solar-powered, uses only naturally-felled timber for its structures, and is owned by the local Samburu people. You can spend your time on safari catching glimpses of elephants, buffalo, cheetahs, giraffes, leopards, and hyenas in area game reserves. Or you can climb into the nearby Matthews Range, or just laze by the pool, built to look like a watering hole. Don't miss a chance to see the "Singing Wells"—when Samburu men sing traditional songs as they haul water buckets out of 30-foot-deep wells (bucket brigade-style) to feed their cattle.
How you're giving back: Elephant poaching used to be rampant in this area, and when the elephants all but disappeared a couple of decades ago, so did a lot of the other animals native to the Rift Valley. The Namunyah Wildlife Conservation Trust helped create the Sarara Camp, and has been working with the Samburu people on ways to survive and flourish while protecting the local habitat and reviving the animal populations. For the most part, the results have been impressive.
–Greg Melville
Trending on Outside Online