I want to take a trip to the Amazon rainforest. What is the best way to do so?
I want to take a trip to the Amazon rainforest. What is the best way to do so? Kyle Staten Island, NY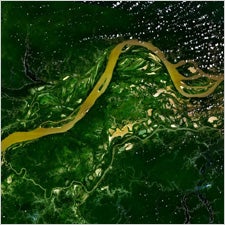 Heading out the door? Read this article on the new Outside+ app available now on iOS devices for members! Download the app.
I don't blame you for feeling overwhelmed, Kyle. You won't find a habitat crawling with more insects, birds, and mammals anywhere else on the planet. More than 438,000 plant species thrive in a climate that spans 1.4 billion acres across Brazil, Peru, Colombia, Venezuela, Ecuador, Bolivia, Guyana, Suriname, and French Guyana—massive, until you also factor in that parts of the rainforest are being destroyed at alarming rates due to farmers, who clear thousands of acres for raising cattle, crops, and development. @#95;gui_include name="aa_question"@#95;gui_includeThis tropical deforestation accounts for up to one fifth of greenhouse gas emissions—more than all of the trains, planes, and cars in the world. But more than 430,000,000 acres of dense jungle and forest continue to thrive thanks in large part to eco-tourism practices introduced to the Amazon over 30 years ago. Today, eco-friendly development practices, low-impact ecolodges, and established hiking trails allow visitors to experience the Amazon rainforest without worrying about damaging the biodiversity (and hopefully serve as an example to the less responsible developers).
The Amazon

The Amazon, as seen from space
Wildlife is one of the top reasons that visitors flock to the Amazon, and over 2,000 species of birds and mammals call the forest canopies home. Peru's Manu Wildlife Center is the only lodge in the Manu lowlands and is adjacent to the protected, million-acre Amarakaeri Reserved Zone within Manu National Park, the most extensive tropical forest Reserve on the planet. Watch one of the Amazon's best collection of exotic birds at a nearby Macaw and parrot lick (a natural saline deposit, where avian species congregate), and get a glimpse of the Amazon's heaviest land animal (averaging 550 pounds) at the world's largest tapir lick. Lose yourself on 30 miles of hiking trails surrounding the center, where species like the black spider monkey, red howler, and Bolivian squirrel monkey can be seen. Canopy platforms and towers offer stunning views of flowering or fruiting trees, which attract monkeys and birds like toucans and iridescent tanagers. Private bungalows with hot showers and toilets make this remote lodge reminiscent of home.
If you're looking for a more remote location, visit the Kawapi Ecolodge & Reserve. Located in the indigenous territory of Ecuador's Achuar tribe near the Peruvian border, the lodge is only accessible by air and consistently ranks as one of the top eco-lodges in the world. After arriving, plan your adventures according to your active appetites—easy, moderate, or difficult; you won't find any pre-planned tours or programs, and lodge guides organize everything from short hikes to day-long adventures, as well as night hikes, swimming, and kayaking. But you won't sacrifice comfort. The lodge was constructed by Achuar craftsmen using local materials, and each cabin has a private bath, fully screened room, and thatched roof. All cabins have been built on stilts and are connected by raised boardwalks. A professional staff prepares meals, including traditional Achuar cuisine, while guests stay connected to the world via satellite internet and phone.
But the best way to experience the rainforest is to get out your sleeping bag and camp. GreenTracks Outfitters provides a bag for you on their Pacaya Samiria Expedition Program. Sleep under the stars inside the Pacaya Samiria National Reserve, 10,800 square miles of protected wilderness area in Peru. You'll be surrounded by wildlife—pink and gray river dolphins, packs of monkeys, hundreds of species of birds, lagoons filled with thousands of fish. Each traveler can customize their activities and truly experience their ultimate adventure. This seven-day journey begins in Lima with the first two nights spent in lodges on the way to the reserve. On the way to the campsite, float the Ucayali and Marañon rivers (which merge to form the Amazon) and visit a 100-foot observation tower. On days three, four, and five, choose to fish for piranha, canoe or hike the rainforest. You get to call the shots.
–Amy A. Clark