I Want to Try Deep-water Soloing. Where Should I Go?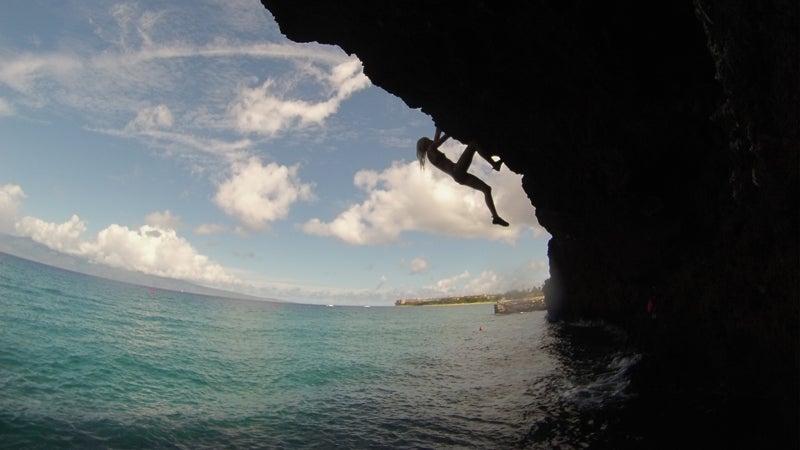 Heading out the door? Read this article on the new Outside+ app available now on iOS devices for members! Download the app.
Called the purest form of climbing, deep-water soloing (DWS) is free rock climbing practiced on sea cliffs, lakeside ledges, or climbing walls above pools. In deep-water soloing, water serves as the safety net.

In deep-water soloing, water is your safety net.
"It's an exciting type of climbing; usually you can't free climb past 20 feet or so," says professional rock climber and U.S. bouldering team member Sierra Blair-Coyle." With deep-water soloing, you can climb 70 feet or more. It's really freeing to climb above the ocean or a lake."
Here's where to go—and a few tips for climbing from Blair-Coyle:  
Majorca, Spain
DWS got its start on this island in the 1970s when Miquel Riera began climbing the sea caves at Porto Pi. Here, DWS earned its Spanish moniker: "psicobloc," or psycho bouldering in English. In 2005, top American climber Chris Sharma made an epic line at Es Pontas famous, but there are climbs of varying difficulty at Porto Cristo, Cala Barques, and Cala Sa Nau.
Ka'anapali, Maui
Blair-Coyle has climbed at Maui's Black Rock twice. The sea cliffs have plenty of holds, which make them a fitting spot for DWS beginners, but experts can also excel here while navigating the sharp lava rock. Add in idyllic views above tourmaline waters, and it's clear why this spot is one of Blair-Coyle's favorites.
Azores, Portugal
This archipelago west of Lisbon is on Blair-Coyle's climbing wish list. The island of San Miguel and its horseshoe–shaped bay have hosted cliff-diving championships, but it's also a prime spot for DWS as adventure athletes climb the volcanic seawalls.
Blair-Coyle offers these tips for those new to psicobloc:
Bring a few pairs of climbing shoes. If you fall and one pair gets wet, you'll want a spare—or two.
Leave your fleece-lined chalk bag at home. Choose one with a plastic lining. And bring three or four Ziplock bags of chalk. If your chalk gets wet, it will be useless; you'll want a spare in case of a splash.
Your climbing technique might stay the same, but you'll need to master a different fall: Enter the water straight, like a pencil.
To become accustomed to the drop, you might want to practice climbing a bit and falling intentionally. 
Trending on Outside Online