Indefinitely Wild
Never Camp in a Campground Again
The ins and outs of overnighting in the actual wilderness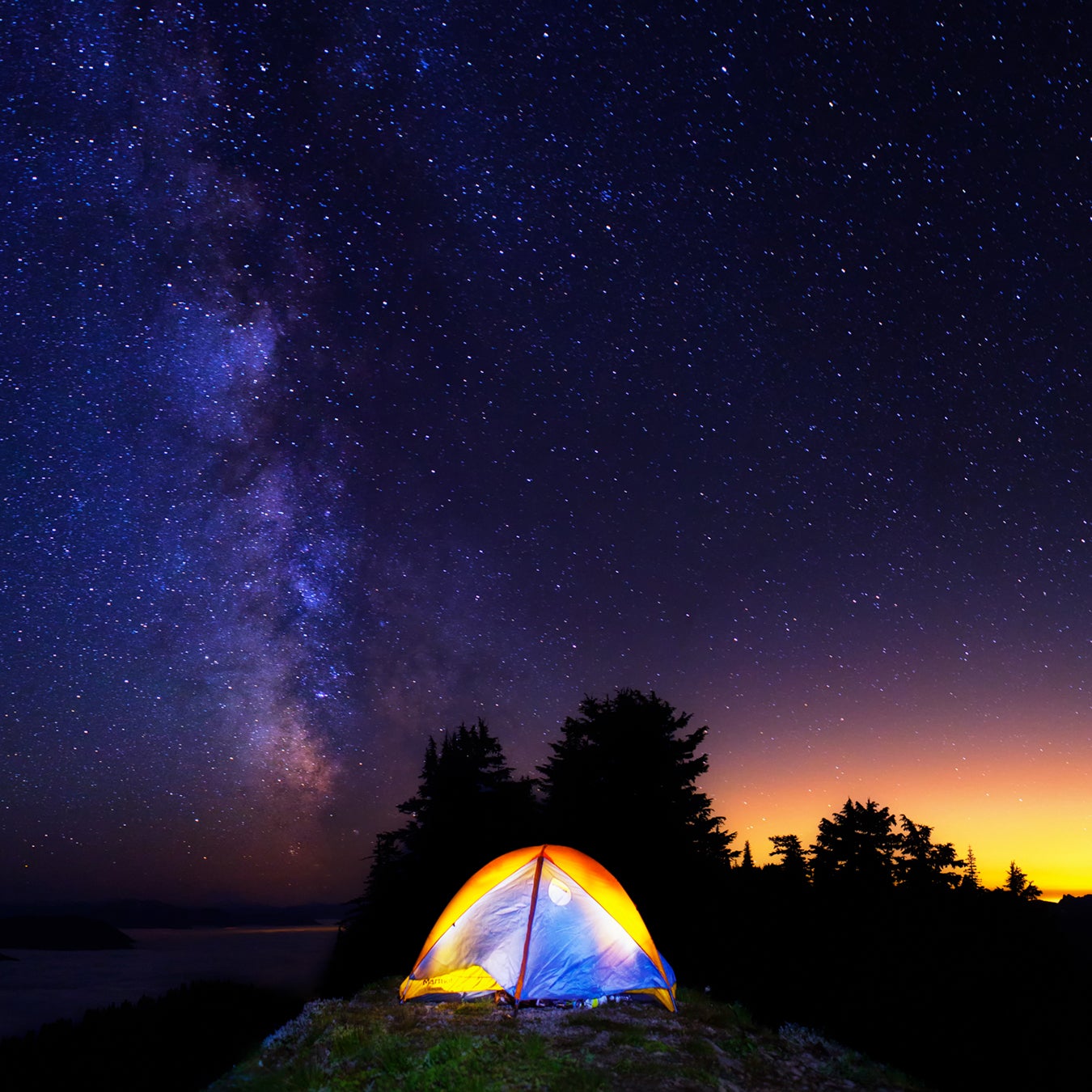 Heading out the door? Read this article on the new Outside+ app available now on iOS devices for members! Download the app.
Maybe it's just me, but noisy neighbors, overflowing dumpsters, and smelly bathrooms combine to represent the exact opposite of the experience I'm looking for when I camp. But campgrounds aren't intimidating and make spending a night outdoors as easy as possible. Is there some way you can leave them behind without sacrificing convenience?
This is my attempt to give you the tools you need to leave crowded sites behind forever.
Where Should You Go?
The other week, I wrote a basic guide to understanding and using all the different types of public lands. The relevant thing to this discussion is that while we're drawn to the iconic attractions found in national parks, camping is often easier and more fun in the National Forest and Bureau of Land Management acreage that surrounds those parks.
On that less regulated land, camping is typically permitted pretty much anywhere, with some basic guidelines I'll cover below; you're free to just go find a pretty spot and camp there.
The trouble is that freedom also comes with a big unknown. What's up that dirt road? The answer could just as easily be a locked gate or vehicle-damaging obstacle as it could be a beautiful lake. Lucky for you, a new app called OnX Offroad combines in-depth dirt-road navigation data with detailed maps into one slick, intuitive solution that you can use even after you leave cell reception behind.
Empowered with those two pieces of knowledge—freedom to camp on national forest and BLM land, plus the ability to navigate them—your approach to finding an epic site can simply be identifying a general area in which you want to go, asking yourself how far down a dirt road you want to travel, then looking for a cool destination. That's the approach I use when I'm planning a camping trip, whether it be a night outdoors just outside town, a destination for a big trip, or just a place to crash when I'm travelling.
What Are the Rules?
Camping outside of a designated campground on U.S. Forest Service or BLM land means that you're doing something called dispersed camping. There are some basic guidelines to doing that in order to minimize your impact.
Where:
At least one mile away from any designated campground, trailhead, or recreation area
At least 100 feet away from any water source
Within 150 feet of a road or trail
Don't drive off a road or trail
Try to avoid setting up camp in a meadow, and try to do so on bare ground rather than on top of grass or other plants
The best least-impactful sites are places where someone has camped before
Fires:
Check with the relevant land-management agency to ensure no fire bans are in effect. Just Google the name of the area you're visiting, plus fire. (So: "Los Padres National Forest fire," for example.)
Try to build your fire within an existing fire ring, or if one isn't present, build a fire ring on bare earth, away from anything that may be flammable like plants, or overhanging branches. You can use dead wood you find in the area to make your fire, but don't disturb any live vegetation. You can also bring wood, but try and buy it from a source local to the area to avoid spreading invasive bark beetles.
Before going to bed or leaving the campsite unattended, and especially before heading home, make sure your fire is totally extinguished by pouring copious amounts of water onto it, then stirring through the ashes and coals. Do that until you can detect no residual warmth by touching the fire debris.
Human Waste:
At least 100 feet from any water source, and well away from camp, dig a hole that's about six inches deep (no deeper, the bacteria that break down waste live in the soil's surface), do your business, then fill that hole in with the soil you removed
Leave behind only human waste (you need to pack out your toilet paper and the like)
Or: pack everything out and dispose of it in a municipal dumpster back in town
For further guidance, consult Leave No Trace.
What Do You Need to Bring? 
Organized campgrounds provide picnic tables, fire rings, grills, bathrooms, and dumpsters. That probably gives you some idea of the extra stuff you're going to need to bring along. Let's start there.
Camp Convenience
Table
Chairs
Lantern
Paper towels
Hand sanitizer
Trash bags
Shovel or trowel
Tunes
Water
Food Prep and Storage
Stove
Fuel
Cookware
Plates or bowls
Cutlery
Cooler
Dish cleaning supplies
Sleep Gear
Shelter
Sleeping pad
Sleeping bag
Personal Gear
Extra clothing layers
Rain jacket
Shade hat
Warm hat
Sunscreen
Extra socks
Toiletries and medications
The more you learn about the all of the above through your own experience or by reading reviews and other articles here at Outside, the more comfortable you'll be. You don't need to spend a fortune buying the best stuff out there; in fact, I'd encourage you not to. Learn what works for you over time, and scale your gear according to your budget and your own personal needs.
What Do You Need to Worry About?
First: you'll be fine. But you'll be more fine if you analyze risks and take some precautions.
Critters: You will not be attacked by animals. But bears, rodents, and birds might get into your food at night. By taking care to clean up camp before you leave it or before you go to bed, then storing anything that may contain food odor either in a strong cooler or inside your locked vehicle, you'll avoid attracting animals to your campsite.
Bad Weather: This is probably your biggest concern. Look up weather reports ahead of time, but realize that in the mountains, weather can be localized, unpredictable, and extreme. Note that you'll also lose 3.3 degrees for every 1,000 feet you gain in elevation. Prepare for colder, wetter conditions than you expect to face and you'll guarantee your comfort.
Getting Lost: Practice using offline navigation apps ahead of time, then make sure you take along the ability to charge your device both while driving and in camp. Bring a backup map. Use the buddy system to ensure that no one leaves camp or travels to and from it alone. When group camping, I always rendezvous with friends in a town where there's cell reception, then travel to the destination in convoy. Radios—or simply a basic group travel plan where every vehicle is responsible for keeping an eye on the one behind it—are great insurance against someone falling behind. Plan on arriving at your destination several hours before nightfall.
Getting Sick: We're talking about car camping here, so just take a gallon of bottled water per person per day for everyone to drink, plus a little extra for washing up after cooking. If you must drink water you find outdoors, bring it to a rolling boil for at least one minute before cooling and consuming it. Use hand sanitizer after going to the bathroom or touching raw food.
Breaking Down: If you'll be traveling on dirt roads, potentially way out in the middle of nowhere, then this is something you need to spend a little time on. First, scale your trips so that they're suitable both to your experience and the capabilities of your vehicle. Then, as you drive, constantly analyze obstacles and conditions, and make a plan for tackling them. There's no shame in turning around and staying safe if you feel something is beyond your ability. The most frequent problem you'll encounter is a flat tire. Make sure you know how to change a tire and that your spare is inflated and in good condition. I'd also encourage every driver doing anything to carry both a puncture repair kit and air compressor, and to practice using those ahead of time. When in doubt, travel with at least one other vehicle.
Trending on Outside Online