Nine Lessons from a Year Living on the Road
From the mundane (check the water in your batteries) to the brash (sell your home)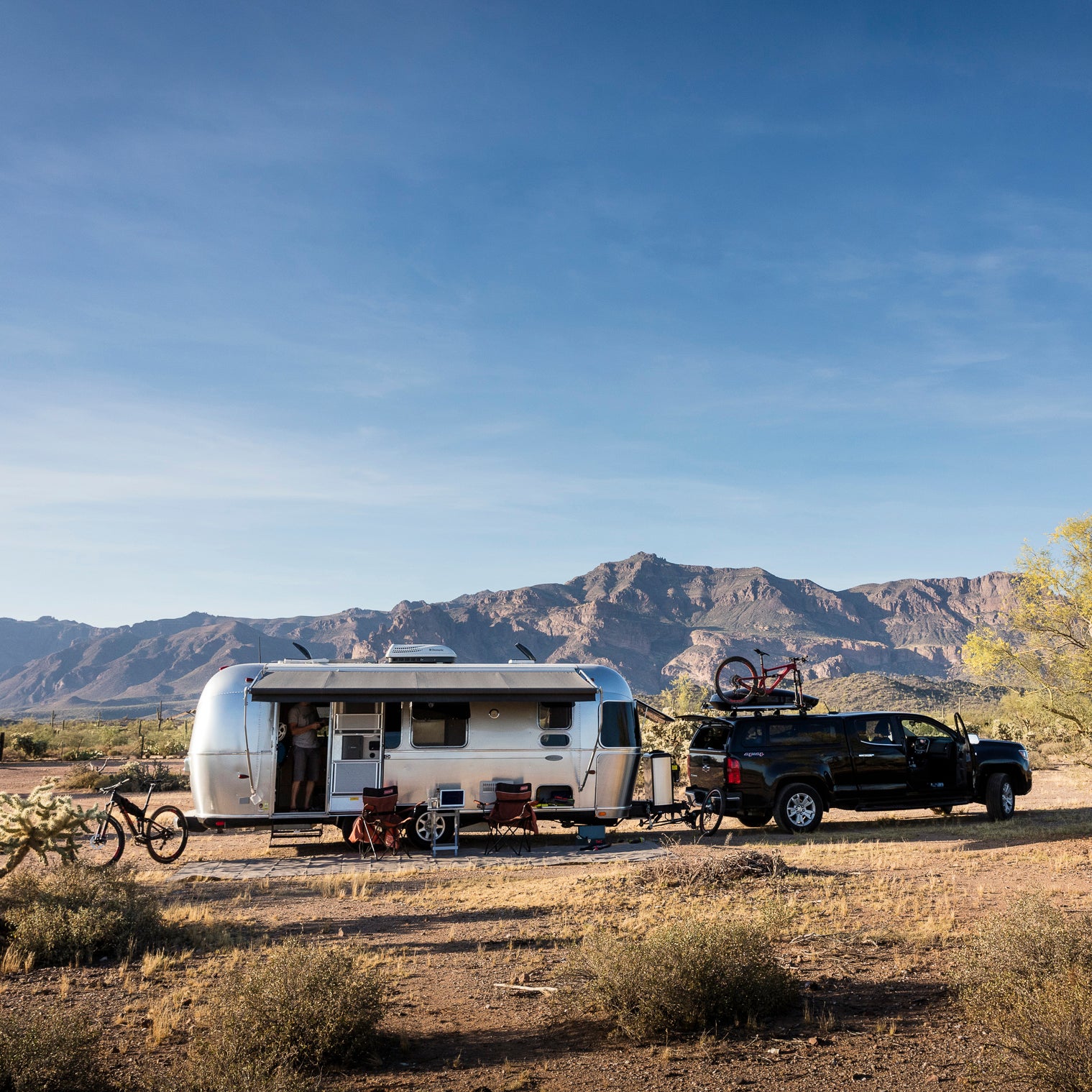 Heading out the door? Read this article on the new Outside+ app available now on iOS devices for members! Download the app.
On our first anniversary in Artemis, our Airstream, we ended up exactly where we started—dry camped outside of Gold Canyon, Arizona. It was never a plan to be there. But we'd just flown in from an assignment in Siberia, with minus-20-degree temps for several weeks, and though we were due back in Santa Fe, New Mexico, in a few days, my wife, Jen, and I decided to post up and defrost. Camped below the Superstition Mountains, with singletrack out the door and temperatures that were warm enough to have coffee outside at dawn, it was a good time to take stock.
Since purchasing the Airstream last year, Jen and I have toured the Four Corner states. We've spent a little over eight months living out of Artemis, with the remainder of the year split between international work travel and a couple of weeklong stints in our hometown of Santa Fe last fall. In January, we went full time. Road life has been rewarding in many ways, but the move to a trailer has had its challenges. One year in, thinking about what it took to get here, I realized there were a few things I wished I'd known from the start. 
---
#1. Just Do It
First and foremost, if you're considering a major lifestyle switch, be it to a trailer, a van, a smaller house—or even moving somewhere new or hitting the road to travel for a while—don't hesitate. Just do it. Less than a month passed from the time we tried out an Airstream to the time we moved into our own, and there were moments when we both worried that we had rushed into a crazy and untenable thing. We both had a bunch of assignments and travel come up throughout last spring and summer, which wasn't ideal with the trailer, but we worked it out. Had we waited for the perfect situation, we might still be at home thinking about it.
---
#2. Sell Your House 
Once you've committed, rent or sell your house immediately. We did not do this, and I wish that we had. For the first few months, the idea that there was a home in Santa Fe waiting for us if we changed our minds was a comfort, but it was also a financial drain and an unnecessary waste of resources. We only used the house a few times when we had to stop back through, and then only because it was there. We rented it full time in January, and the peace of mind that comes with the mortgage covered can't be overstated. Don't get me wrong: it's nice to come back to your own space. But the longer we travel, the more Artemis becomes our space, and these days I'd rather camp on forest service land outside of Santa Fe when we must be in town.
---
#3. Redefine Luxury 
Our goal has been to boondock, staying off grid and away from campgrounds as much as possible, but the big question is how long you can get away with it. Electricity, water, and your tanks are the limiting factors, but if you are used to conserving a bit and have spent any time camping, they are far less a restriction than you think. We have 29-gallon fresh- and gray-water tanks, and 19 gallons black, and we've stretched those stores to last three weeks without dumping or replenishing. That means no luxuriating in long showers and occasionally taking advantage of the woods for bathroom duties, but with some solar input (or a few hours of generator every couple of days if there's no sun), we keep our batteries charged, our electronics running, and ourselves clean. 
---
#4. Have No Fear
One of the biggest questions I get is whether it's dangerous to post up on public lands. After all, you don't have the relative security of other campers. From our experience, there's nothing to fear. We have had exactly one questionable experience, a week after moving in, when I woke in the desert to a stranger disconcertingly close to the trailer. The man seemed a bit out of it and unbalanced but was indifferent to us. Besides a bit of nerves, nothing came of it. Since then, it's been nothing but either cordial experiences with passersby or blessed silence and solitude. The woods are big and you generally don't see other people. Besides, living in a trailer, you're a pretty meager target—and a difficult one to nail down given the unpredictable nature of road life—compared with all those neighborhoods stuffed with big homes full of things. 
---
#5. Splurge on Your Cell Plan
Sign up for unlimited data, from day one. We spent six months choking down our usage and finagling free WiFi. It worked okay but meant that I was frequently putting off communications for a day or two or driving to find a coffee shop where I could plug in. It doesn't seem like it, but that can add up to a lot of time moving around and going into town, which defeats the point of being in the woods. For $20 more a month, we signed up for unlimited data with Verizon at the beginning of the year, and it's probably the best money we've spent in 2017. With full access, work gets done even quicker than before, and the time we were using for errands is now free for riding, reading, and other recreation.
---
#6. Maintain Your Batteries 
Yes, it's a bit idiotic on our part, but we assumed that the batteries in the RV were maintenance free in the same way as a car battery is. Not so. The stock batteries are basic flooded-cell, lead-acid marine variety. Without geeking out on the details, these batteries need to be replenished with water. (Also, as with many types of batteries, they shouldn't be run below half charge.) It's a simple process that involves popping open the caps to check the levels every 30 days or so and adding water if they are low. If you don't know that, as we didn't, they'll run dry and won't hold a full charge thereafter. Less than a year after moving in, we got replacement batteries. Credit where it's due: the folks at Interstate batteries were extremely helpful and gave us half off on the new ones as they said there might have been some problem with ours to begin with. Also: there are maintenance-free batteries out there, which I'll get into in a coming post. 
---
#7. Prepare for All Seasons 
We knew that if we spent any winter time in Santa Fe or points north, we'd need to empty the tanks and blow out the lines so they wouldn't freeze. But we kept putting it off because the weather was good in December and we thought we might head south again soon. Then temperatures unexpectedly plummeted below zero, and we woke one morning to find an icicle emerging from the kitchen sink. Fortunately, no damage was done. But the lesson learned was to winterize early. It's a simple process that you can do yourself. Even if you end up running the trailer wet again soon, all you'll have lost is an hour or so of time. If the pipes freeze or tanks burst, you could be looking at thousands in repairs.
---
#8. A Cozy Duvet and Propane Heater Are Musts 
Despite what we initially thought, winter isn't the enemy. Warm weather is nicer: without the outdoor space for eating, reading, and recreating, you can start to feel a bit cooped up in such tight quarters. But we spent a couple of weeks this winter in snowy conditions and it was fine. We'd worried about the pipes freezing, running out of propane, and being too cold. None of that happened. A good duvet made for warm sleeping, even with the thermostat set low (55 degrees) at night. But we were surprised how comfortable we were running the propane heater. Even after two weeks with it mostly on, we didn't deplete one seven-gallon tank. 
---
#9. Plan for Storage
If you are going to have to store your trailer or RV, plan well in advance. Mostly, we let our schedules and interests guide our wanderings, with no real agenda. But one of the trickiest challenges has been finding a place to leave Artemis when we both get assignments elsewhere. For short stays, we sometimes find a secluded spot in the woods and lock her up. But long trips, like the almost month away in Siberia, necessitate proper security and logistics. Three months before that trip, Jen spent over two hours and three dozen phone calls searching for a spot in Phoenix. We lucked out when someone happened to cancel a storage reservation while Jen was on the phone enquiring. But it made us realize that spontaneity is tough when you need to find a spot for 4,600 pounds of rolling home.