How to Photograph This Year's Rare Natural Wonders
Use these tips to make sure you get the shot this year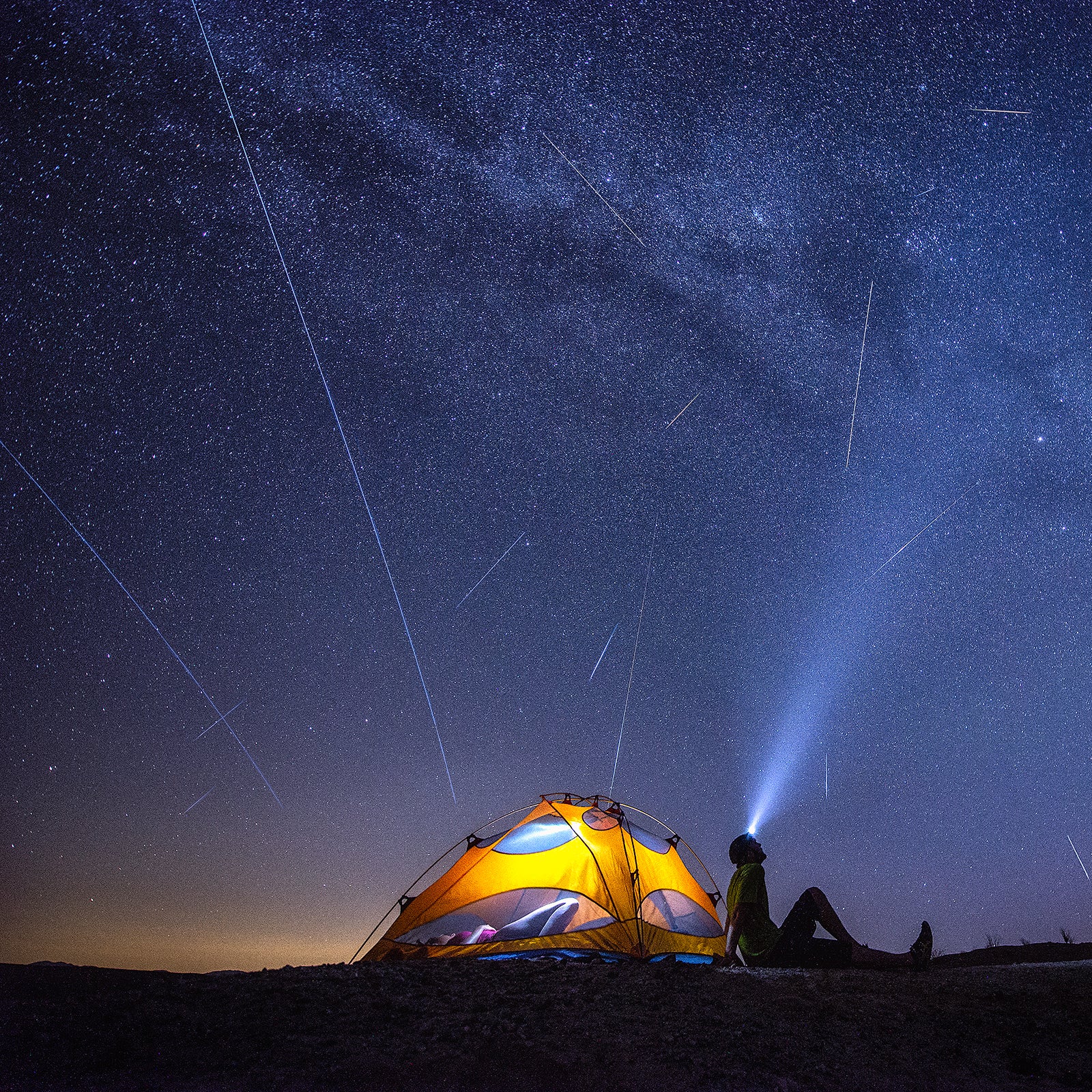 Heading out the door? Read this article on the new Outside+ app available now on iOS devices for members! Download the app.
For aspiring landscape and nature photographers, there's a long list of natural occurrences happening in 2020 worth traveling for. And if you're investing the time and money to get to Yosemite for Firefall (when Horsetail Falls turns a flaming red) or Patagonia for the total solar eclipse, make sure you don't miss the shot. I called my friend David Silver, a hobbyist who specializes in astrophotography and has snapped pictures of events like 2017's Great American Eclipse in Casper, Wyoming, for his advice on the tools and techniques necessary to capture some of this year's most stunning natural events.
For the Solar Eclipse in Patagonia
If you missed the eclipse in 2017, you still have a great opportunity for a photo (and a once-in-a-lifetime trip) in 2020. A total solar eclipse will be visible from Argentina, Chile, and some parts of the South Pacific on December 14. Any DSLR or mirrorless camera will do, but if you're serious about getting the perfect shot, it's hard to beat Sony's A7RIV (from $3,500). Its 61-megapixel sensor offers extraordinary resolution and detail.
Once you've got your camera, you'll want a telephoto lens with a focal length of at least 500 millimeters to fill your frame with the sun. If you don't plan to use this level of zoom in the future, Silver's advice is to rent a lens. Purchasing high-quality zoom lenses for full-frame cameras can range from $900 to over $3,000, so you might opt to lease a pair from Lens Rentals starting around $100 per week. Alternatively, you can add a teleconverter (from $500) to a shorter lens to double its reach.
The trickiest part about getting a photo of an eclipse is making sure you don't hurt your eyes and your camera's sensor. While totality is the only brief moment when it's safe to look at or photograph the sun without a solar filter, you'll need one if you want to capture the moments leading up to it. Finally, never look at the sun without eye protection. Make sure to pack a pair of eclipse glasses.
For Firefall in Yosemite
Chances are you've seen photos of Yosemite's famous Firefall by now. Every year in late February, when conditions for the falls to run are just right (like enough snowpack) and the skies are clear, Horsetail Falls will glow red, giving the illusion that it's on fire.
Peak Firefall season is February 15 to 23. The event happens around 5:15 P.M. and only lasts about ten minutes. To get a good photo, you'll want to set up at the El Capitan picnic area. The same camera mentioned above will work well, but you won't need as long of a lens. "If you have a typical 70-to-200-milimeter lens, you can get a pretty damn cool picture," Silver says. This level of zoom will allow you to quickly change your focal length and reframe the shot so you can get a variety of different images—both close-up and far away. In terms of settings, keep your ISO low (around 100), so you get less noise, and your aperture narrow (f/12 or above) for more detail and a wider depth of field. Adjust your shutter speed according to the light conditions.
You should also consider bringing a tripod with you to compensate for slower shutter speeds, considering that Firefall happens at sunset when the light is fading.
For a Meteor Shower
The Perseid meteor shower, the most active of the year, will peak on August 12 and typically features 50 to 75 meteors per hour.
To snag a solid photo of the night sky, you'll want a fast prime lens—meaning one with a wide aperture that lets in a lot of light. This will allow you to use a lower ISO and have less noise in your image. A lot of folks recommend a superwide angle lens, like Rokinon's 12-millimeter 2.0, but Silver's go-to is the Sony FE 35 1.8, because it's sharp while allowing plenty of light in. "You don't always need a superwide angle lens," he says. "Sometimes a 35- or 50-milimeter lens will get you an awesome picture, with objects like trees in the foreground." For starters, set your aperture as wide as possible (f/1.8 in the case of the Sony lens), and adjust your ISO down—to between 200 and 400—from there.
As for shutter speed, you'll want to use a long exposure to get the effect of meteors streaking across the sky. If your camera has a bulb mode, using a remote trigger will allow you to vary the exposure time better than the camera's built-in timer settings. Silver recommends starting with a 15-to-30-second exposure for your first few test shots and adjusting based on the results. He also urges using manual focus and not blindly relying on the infinity mark (which is supposed to allow for sharp photos of faraway objects). The mark on some lenses might not be accurate, so shoot with it before heading out at night to make sure you don't end up with a bunch of blurry photos the next morning.
The less light pollution you have, the better. Silver recommends using Dark Site Finder's light-pollution map to search for a good shooting location.
For the Northern Lights
The northern lights are on most photographers' bucket lists, but they're difficult to capture simply because it's rare to see them. Your best bet is to head somewhere like Alaska, northern Canada, Iceland, Finland, or Norway between September and April. You'll need clear skies, darkness (which won't be hard to find), and aurora activity, which tells you when and where they're likely to appear.
If you're lucky enough to see the northern lights, capturing them in a photo isn't difficult. The same kit you use for any type of astrophotography will work great—meaning you'll need a DSLR or mirrorless camera; a fast, wide-angle lens; a tripod; and a remote trigger. You'll want to use as wide of an aperture and as low of an ISO as possible so your shots don't blur, and adjust your shutter speed accordingly.
For Wildflowers in Crested Butte 
Plenty of Instagrammers took notice of last year's incredible California Superbloom—and caught flack for their unfortunate behavior while trying to snap a photo. While the Superbloom doesn't happen every year, there are plenty of wildflower blooms worth capturing.
I'd recommend heading to the high country surrounding Crested Butte, Colorado, in July or August. Known as the Wildflower Capital of the World, and home to over 50 varieties, Crested Butte also hosts a wildflower festival from July 10 to 19, featuring wildflower-specific photography classes.
As for gear, you'll want a 90-to-100-millimeter macro lens. A macro lens is optimized to focus on subjects at an extremely close distance and can capture highly detailed images of small objects—any close-up shot you've seen of a bug or flower was taken with a macro lens. Try shooting in aperture-priority mode, in which the camera automatically sets the shutter speed and ISO based on whatever aperture you chose. This gives you creative control over how much of your subject will be in focus and how blurred the background will be.