7 Endangered Places You Should See Before It's Too Late
Some of the world's most unique places are disappearing fast, as a result of climate change. It might be time to rearrange your bucket list.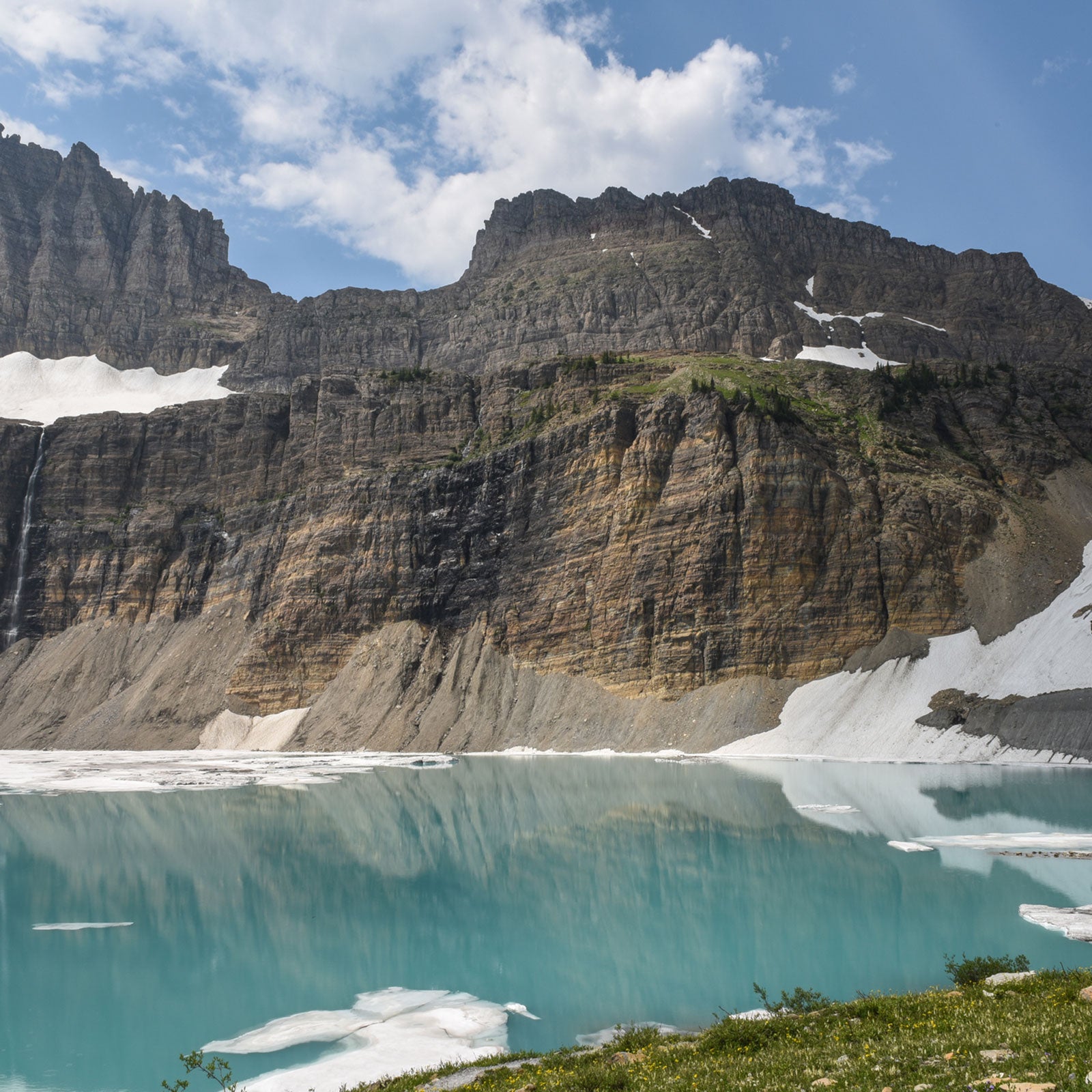 Tim Speer/iStock(Photo)
Heading out the door? Read this article on the new Outside+ app available now on iOS devices for members! Download the app.
If you think strictly in terms of global warming, the list of must-see, critically endangered natural settings is relatively straightforward. It's also very long. A number of places have been dubbed the "ground zero of climate change" by the media, including Florida, Alaska, and the earth's poles. Any spot along a coastline, on the banks of tidal rivers, or on lonely Pacific atolls is in danger of changing drastically due to rising sea levels. Destinations known for winter sports, deep glaciers, and snowcapped summits will, at the very least, be much warmer in the future.
Where to go and what to see is, like most trips, dependent on your budget and also how much of the getting there you can handle. To help you plan and make decisions about where to head, we've gathered up some grim facts and spoken to a few people who've seen these bucket-list-worthy places change in their lifetimes.
But before you go anywhere, know that traveling to these places is also furthering the problem by putting more carbon into the atmosphere. People live in these locations and love them deeply, but yes, make a living from them, too. Tread lightly. Merely gawking at an imperiled place isn't much different than slowing down to look at wreckage on a highway. Ultimately, whether you can or can't get to one of these destinations, or the many others threatened by climate change, donating money to and advocating for the organizations trying to stem the tide will help. 
Everglades National Park, Florida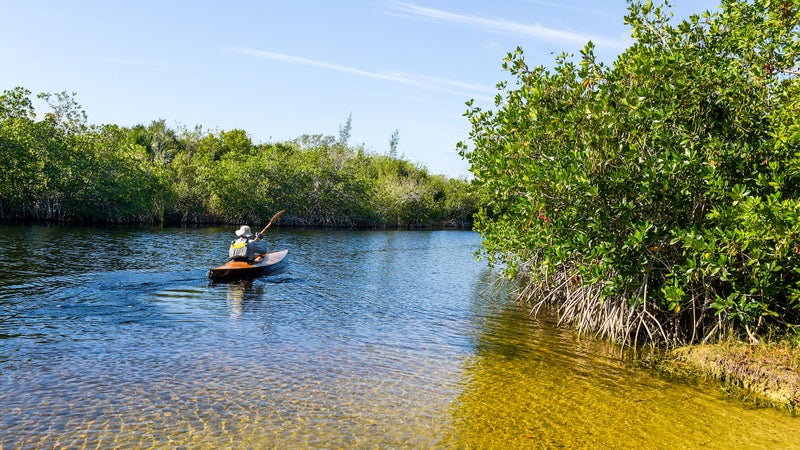 The National Oceanic and Atmospheric Administration says global sea levels are rising at a rate of about one-eighth of an inch per year. And with warmer ocean temperatures generating stronger coastal storms, more water is surging inland. Athan Manuel, director of the Sierra Club's Lands Protection Program, says Everglades National Park is at the top of the list when he thinks about vulnerable places. The 1.5-million-acre expanse of fresh water and saw grass prairies could basically "melt into the ocean," he says. One recent study by Florida International University warned that it could happen within a generation. 
"I used to live in South Florida, and the Florida Keys and the Everglades are both changing so dramatically," Manuel says.
Airports in Miami, Fort Lauderdale, and Fort Myers make the Everglades and Big Cypress National Preserve, just north of it, one of the easiest destinations to get to on this list. In the spirit of Florida, tourists can lather themselves in sunscreen, sit in fan-powered airboats, and whip around the marshes for $28 or take simpler, muckier excursions on foot with Clyde Butcher, a longtime Everglades photographer who looks like Santa in expedition khakis and a cowboy hat. Butcher's motto is "To know the swamp, you have to get into the swamp," and for $125 he'll take two people on a two-hour tour where old tennis shoes are a must.
Kayaking and canoeing the Everglades are ideal ways to experience the landscape if you've got time, but the vastness can be daunting for beginners. One waterway there is appropriately called the Nightmare. Trip-planning help is available through the National Park Service, and guided tours abound. The most unique way to camp in the Everglades is on a chikee, an elevated wooden platform over the water where people can tie up their boat and pitch a tent above the alligators. Like an Appalachian Trail shelter, you might be sharing a chikee with fellow campers. Some even come designed with a portable toilet.
Glacier National Park, Montana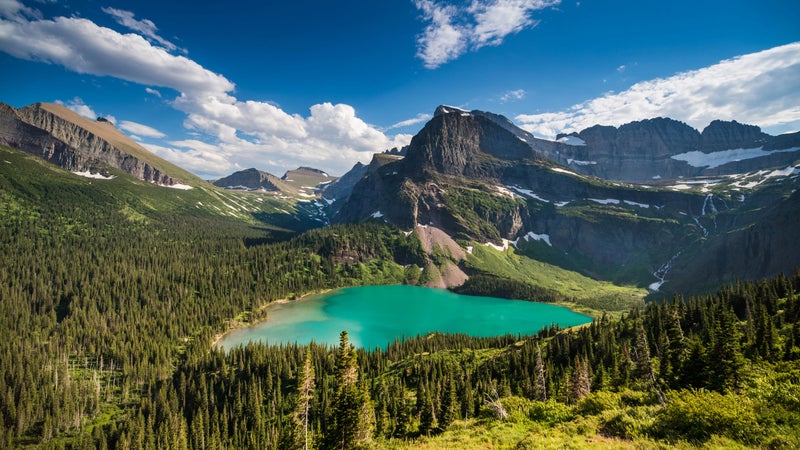 Glacier National Park has already lost a vast majority of its namesake. A 2017 USGS report titled Retreat of Glaciers in Glacier National Park found that of the 150 present in the park in 1850, only 26 still fit that definition. It also noted a previous report suggesting that the glaciers of Blackfoot–Jackson Glacier Basin, the largest concentration within the park, would disappear between 2030 and 2080. 
The park has experienced an increase of a million visitors over the last six years. Harvey Lemelin, a professor at Lakehead University in Ontario, Canada, who literally wrote the book on the subject, Last Chance Tourism, says Glacier's uptick in tourism coincides not coincidentally with the dire climate outlook. "Everybody's seen the pictures of the retreating glaciers in Glacier National Park," Lemelin says. "It is out there."
But he says the government agencies that run and regulate national parks all over the globe, along with many tour operators, wring their hands over the ethics of last-chance tourism. When asked if the disappearing glaciers were driving tourism, Glacier National Park spokeswoman Lauren Alley told me, "There are probably a lot of factors at play."
"You know, we don't have a scientific study that says X number of visitors came for this reason and X came for this reason. Certainly, people are coming to see glaciers," she says.
Like many national parks in the American West, Alley says visitors should expect crowds and parking lots at capacity by 8 A.M. Finding a place to stay can be difficult as well. If you've ever tried to book a room in national-park lodges or hotels, you know that gauntlet well. Glacier accepts reservations up to 13 months in advance. There are also 13 drive-in campgrounds, many first-come, first-served, and ample backcountry camping. Another transportation option is Amtrak, which stops at East Glacier Park Village and has packages that start at $849.
The Great Barrier Reef, Australia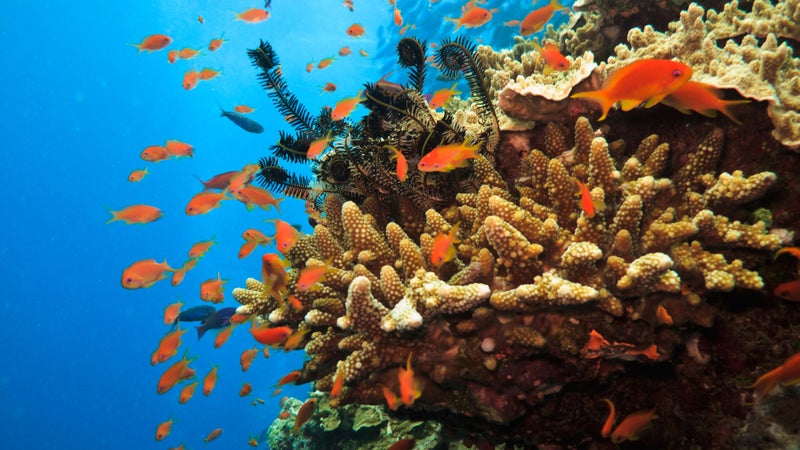 As the world's largest coral reef, the Great Barrier Reef often appears as the poster child for nature on the brink. It's roughly half the size of Texas, and according to National Geographic, half of it has been "bleached to death." But that means there's still a vibrant coral reef out there to visit, only now just a quarter the size of the Lone Star State. 
Getting there, obviously, isn't the easiest the trip, and it's certainly more expensive than heading to reefs off the Florida Keys. It could require sacrificing other vacations or planning for years down the road.
The city of Cairns is considered the gateway to the Great Barrier Reef and is home to the nearest airport, which has connections from Brisbane and Sydney. You can sleep in luxury resorts along the Coral Sea, but there are a lot of options on a coastline that runs north for 500 miles. Tourism Tropical North Queensland compiled a list of eight campsites on the Great Barrier Reef, and each one, replete with palm trees and aquamarine waters, could easily be your most liked Instagram post of the year. The nonprofit Great Barrier Reef Foundation recommends visiting "with purpose." That means choosing kayak, diving, or cruise outfitters deemed to be high-standard tourism operations by the Great Barrier Reef Marine Park Authority. 
Majuli Island, India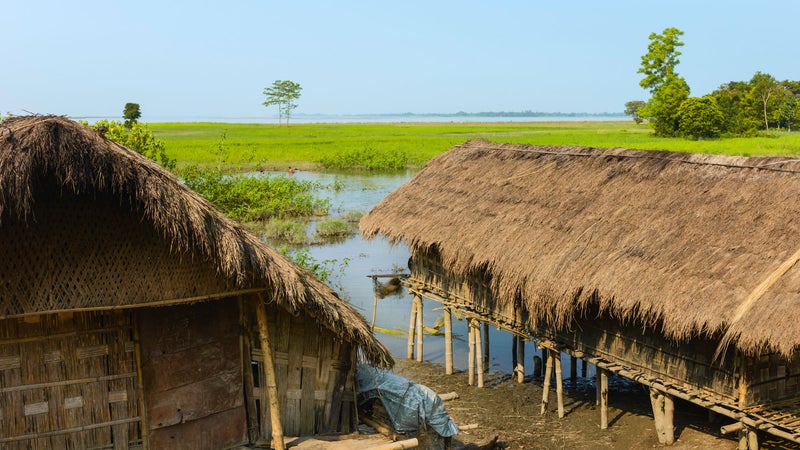 The world's largest river island, Majuli, sits amid the snaking tendrils of the Brahmaputra River in the northeastern state of Assam. In 1979, one resident, Jadav Payeng, single-handedly planted an entire forest there to help stem erosion that's been steadily shrinking the island (and perhaps to balance the cosmic ledger of misdeeds done by mankind). Today, Majuli's Molai Forest is home to Bengal tigers and rhinoceroses.
"There are no monsters in nature except for humans," Payeng says in Forest Man, the 2013 documentary about his efforts. "Humans consume everything until there is nothing left."
Visiting Majuli, a pilgrimage site for Hindus, will require some homework when leaving from the U.S. The nearest major airport is in Dhaka, 475 miles to the south, in Bangladesh, though there's a much smaller airport much closer, in Jorhat, India. From there, it's a slew of bus or train rides and a ferry from the mainland. If you can get there, you can sleep at La Maison de Ananda, which has both bamboo and concrete huts starting at $21.
Kilimanjaro, Tanzania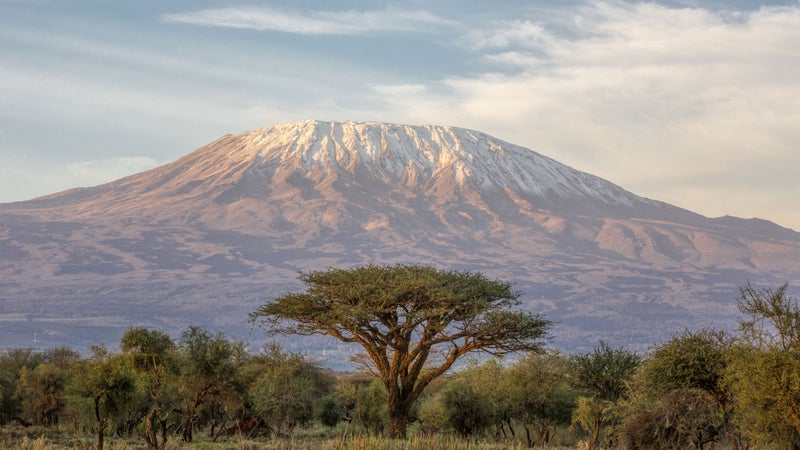 In his 2006 documentary An Inconvenient Truth, Al Gore said that "within the decade there will be no more snows of Kilimanjaro," referring to the iconic, snowcapped peak, the tallest in Africa. Many have pointed out that snow remains on Kilimanjaro today, part of the danger in putting any one endangered place on a precise timeline.
Protus Mayunga, who grew up in Tanzania, first climbed the mountain when he was 17. Now 43, he says he's climbed it hundreds of times since, and after returning from a recent trip, he compared the pictures he'd taken there decades ago and saw a stark difference, not in snow cover but rather its glaciers.
"They are definitely shrinking. I think by 2020, some glaciers will still be standing, but yeah, it's definitely a big difference for sure," Mayunga says. "I was there in August, and there was tons of snow—starting at 16,000 feet and going to the summit, everything was covered. But when the season changes, everything usually melts."
Mayunga travels from his home in New York's Catskills several times a year to lead groups on climbing expeditions in Tanzania with his Roof of Africa Adventures. Prices to summit can range from $1,200 to $6,000 per person, Mayunga says, depending on your outfitter and the route.
The North and South Poles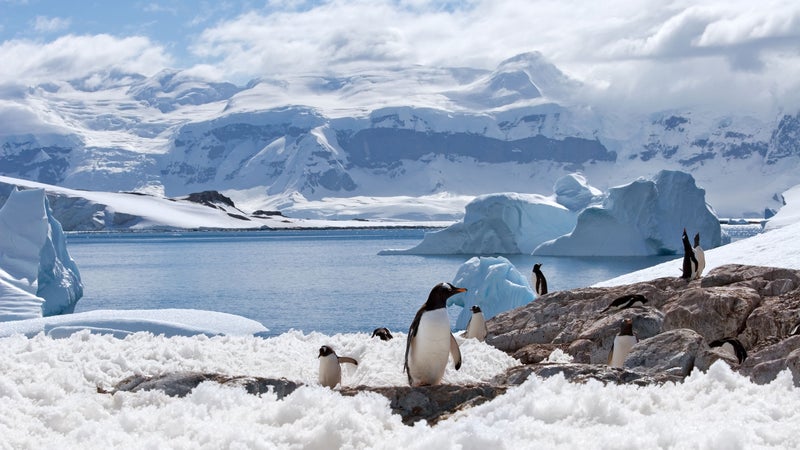 The Antarctic and Greenland ice sheets, according the National Snow and Ice Data Center, "contain more than 99 percent of the freshwater ice on earth," and each, if global warming continues unabated, would likely be the main source of rising sea levels.
Veteran adventurer and climber Guy Cotter, owner of Adventure Consultants, a travel company that runs expeditions to far-flung places, says ice on the North Pole is undoubtedly thinning. "In a few years, it may be that it will be impossible to ski to the North Pole because it will be open ocean," Cotter says.
Tasermiut Expeditions, based in southern Greenland, runs two-week kayaking and ice-hiking trips starting at $2,450 and ice-cap expeditions into "unexplored" territories for just under $4,000.
British researchers say that Antarctica has seen an increase in both water and air temperature in recent decades, causing the growth of plant life and the dispersal of its ubiquitous penguin colonies. While the South Pole may not change as quickly as the North Pole in our lifetime, it's worth a visit if you can afford it. Adventure Consultants runs ski trips there that can last for two months. A shorter, 16-day ski expedition to the South Pole costs $64,000, and most of that pays for the flights on and off the ice.
Lead Photo: Tim Speer/iStock
Trending on Outside Online